10 Best Places to Stay in El Nido
Welcome to the world's most beautiful island.
(SPOT.ph) El Nido, which is on the northwestern tip of Palawan, is a beach-lover's paradise. Its white-sand shores and one-of-a-kind sandbars are just too beautiful to miss, its crystal-clear water is perfect for snorkeling, and its underwater world is every diver's dream come true. But this travel destination has a history that's older than any of us. Evidence shows that the island had inhabitants more than 16,000 years ago—that's 16 centuries of changing and growing ecosystems that we now enjoy.
These days, El Nido—named for "the nest," a prized commodity that the Chinese from our neighboring country used to make bird's nest soup—also serves as a "nest" for travelers who just want to rest and relax.
We round up a few of the best "nests" that you can book in El Nido:
El Nido Resorts – Pangulasian Island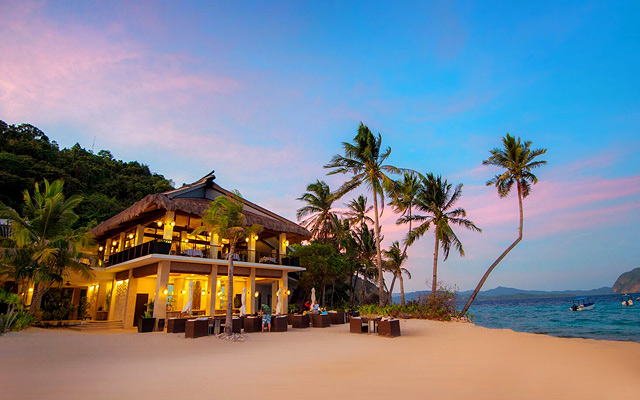 Pangulasian Island, El Nido, Palawan
Contact: (02) 902-5934
E-mail: holiday@elnidoresorts.com
www.elnidoresorts.com
Rates start at P48,100
ADVERTISEMENT - CONTINUE READING BELOW
Hailed as one of Condé Nast Traveler's favorite resorts, El Nido Resorts on Pangulasian Island is cited for its picture-perfect accommodations that feature Filipino design, a strict sustainability policy, and almost complete privacy. It's a bonus that the island has breathtaking views of both the sunrise and sunset, plus a clear sky by nighttime. Their vow to offer services and activities that have the least impact on the environment, such as bottom fishing, is something that hotels and resorts everywhere should look into.
Cauayan Resort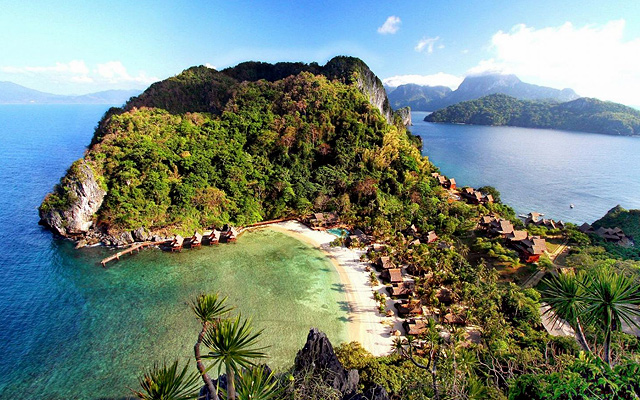 Cauayan Island, Bacuit Bay, El Nido, Palawan
Contact: 0919-587-7350
E-mail: reservations@cauayanresort.com
www.cauayanresort.com
Rates start at P32,000
Whether you want to explore everything the island has to offer or spend your vacation relaxing and unwinding, Cauayan Resort has you covered. It has a total of 23 villas, each designed to complement the tropical paradise vibe—from wooden fixtures to thatched roofs. They also have rooms raised above the water with stilts so you can wake up to the sound of the ocean. If you're looking for some pampering, the resort also offers spa services ranging from a sea salt body scrub to their signature massage.
CONTINUE READING BELOW
Recommended Videos
Seda Lio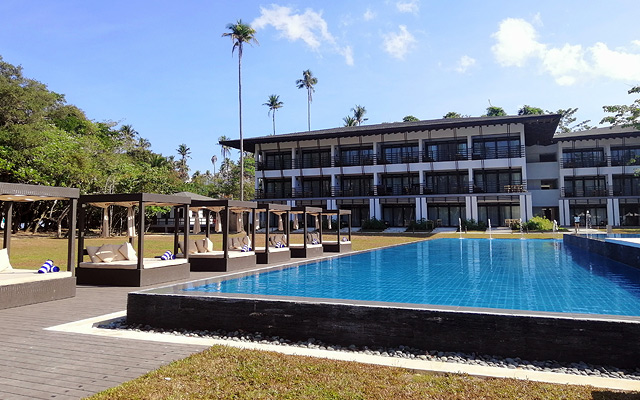 Lio Tourism Estate, Barangay Villa Libertad, El Nido, Palawan
Contact: (02) 956-8888
E-mail: lio@sedahotels.com
lio.sedahotels.com
Rates start at P13,500
Seda Lio, the first-ever resort property of Seda Hotels, follows Lio Tourism Estate's commitment to preserve its surroundings as much as possible. It has a lot of green spaces, rows of coconut trees, and a mango tree that has been around for decades. Rooms are spread out in three three-storey buildings, ensuring that they're not taller than surrounding coconut trees. The resort also has a two-level infinity pool for when you're tired of the ocean and all kinds of water sports—but why would you be?
El Nido Cove Resort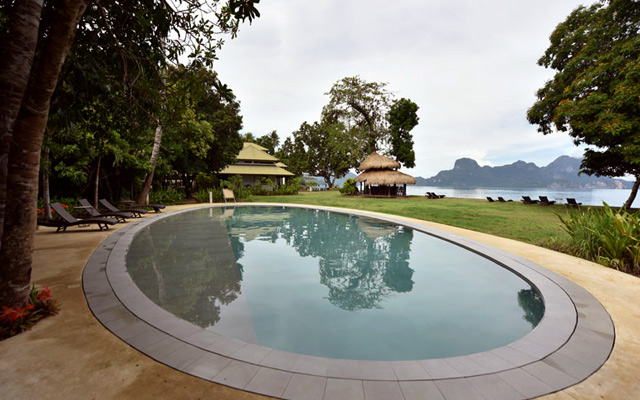 ADVERTISEMENT - CONTINUE READING BELOW
Sitio Lamoro, Barangay Pasadeña, El Nido, Palawan
Contact: (02) 902-5969
E-mail: reservations@elnidocoveresort.com
www.elnidocoveresort.com
Rates start at P6,600
Whether you're planning to go solo or take your whole family, El Nido Cove Resort's variety of accommodations might just be what you're looking for. They have six beachfront lofts that can accommodate up to five people each. There's also a restaurant, a spa, and an outdoor pool within the premises. You can even rent kayaks to explore and enjoy the water.
Vellago Resort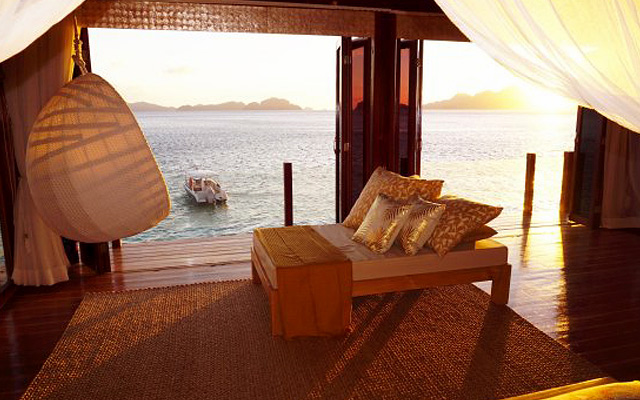 Seven Commandos Beach, El Nido, Palawan
Contact: 0917-8844-082
E-mail: info@vellago.com
vellago.com
Rates start at P33,000
Vellago Resort has everything you want in a getaway—drinks, food, and tour options. You can even book a tour around Linapacan, an under-the-radar group of islands located between El Nido and Coron. You can also have a romantic three-course dinner all set up by the beach so you can surprise a favorite travel buddy.
ADVERTISEMENT - CONTINUE READING BELOW
Last Frontier Beach Resort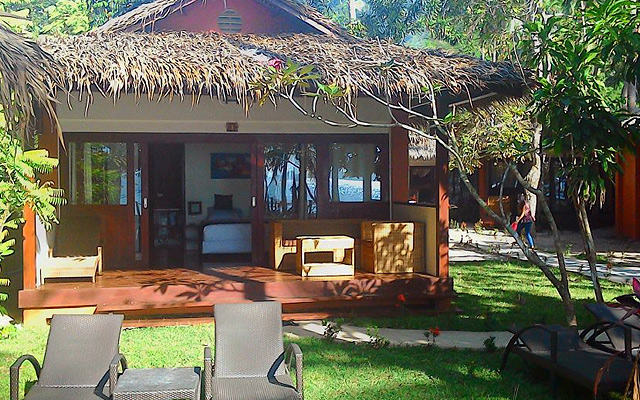 Barangay Corong-Corong, El Nido, Palawan
Contact: 0909-330-1330
E-mail: lastfrontierelnido@gmail.com
lastfrontierbeachresort.com
Rates start at P5,550
Last Frontier Beach Resort is known for being right in front of El Nido's sunset view. It has six cottages spread out within the property to ensure that all guests have a view of the ocean. There are two standard rooms for budget-travelers and two honeymoon suites if you're willing to splurge a little. The resort has its own restaurant that serves Mediterranean, Filipino, and Japanese cuisine.
El Nido Coco Resort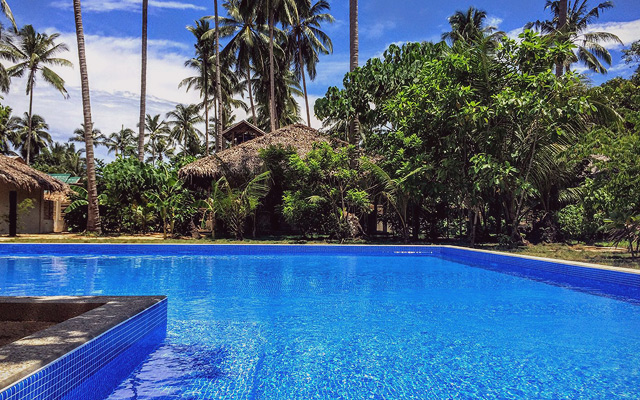 ADVERTISEMENT - CONTINUE READING BELOW
Barangay Corong-Corong, El Nido, Palawan
Contact: 0919-587-7569
E-mail: elnido.cocoresort@gmail.com
www.coco-resort.com
Rates start at P15,000
El Nido Coco Resort has eight villas surrounding a beautiful garden where all guests can lounge around while planning their next big adventure—a trip down El Nido's famous lagoons or an exciting trek up the mountains. If you're looking for souvenirs, the resort's CocoBoutik has pasalubong choices that your friends and family will love.
The Nest El Nido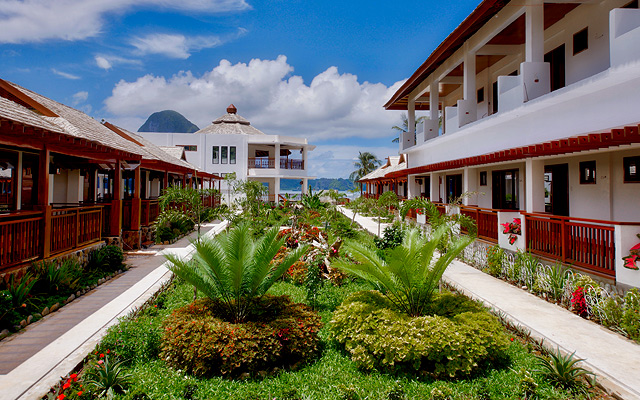 Sitio Caalan, Barangay Masagana, El Nido, Palawan
Contact: 0917-714-5779
E-mail: info@thenestelnido.com
thenestelnido.com
Rates start at P8,900
The Nest is a great place to unwind after a long day exploring the island. The resort offers different views depending on the room you book. You can wake up to a view of the bay, the sea, or lush gardens in the property. The in-house restaurant and the large yoga space above it are right in front of Bacuit Bay, perfect for enjoying a meal with a view or for meditating with the sound of the crashing waves in the background.
ADVERTISEMENT - CONTINUE READING BELOW
El Nido Overlooking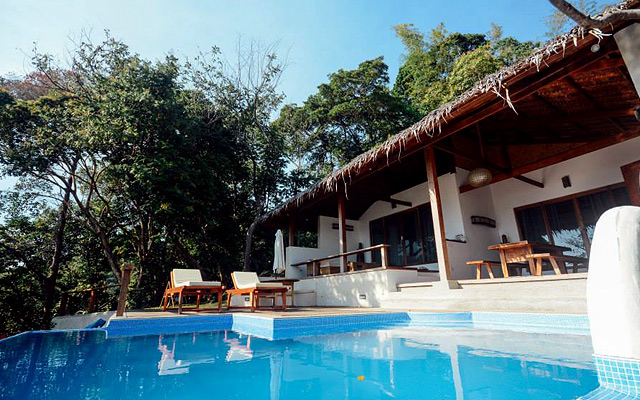 Barangay Corong-Corong, El Nido, Palawan
Contact: 0916-631-7078
E-mail: hello@el-nido-overlooking.com
www.el-nido-overlooking.com
Rates start at P7,500
The beach isn't all that El Nido has to offer. It also has rich wildlife, which you can experience when you book at El Nido Overlooking. It's located among the island's pocket forests where you may see monkeys, hornbills, geckos, and exotic birds. With only four villas, it ensures privacy among guests. Splurge on a Deluxe Villa and enjoy your own garden and infinity pool, or get the Cottage for a cozy romantic getaway.
Hotel Covo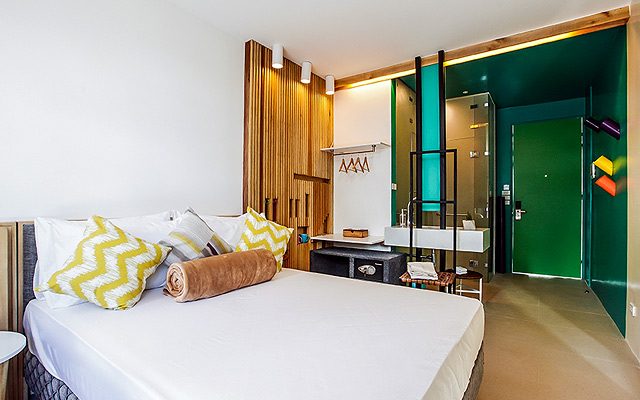 ADVERTISEMENT - CONTINUE READING BELOW
Lio Tourism Estate, Barangay Villa Libertad, El Nido, Palawan
Contact: (0917) 659-7694
E-mail: reservations@hotelcovo.com
www.hotelcovo.com
Rates start at P4,900
Hotel Covo was built with the young adventurer in mind. Unlike Casa Kalaw and Balai Adlao within Lio Tourism Estate, this bed and breakfast features a spacious common area where guests can just plop down on bean bags with their sandy slippers or share a drink with fellow travelers on one of the couches. It has 20 rooms, each designed with geometric shapes, bright colors, and Instagram-worthy corners.
Share this story with your friends!
---
Help us make Spot.ph better!
Take the short survey
Load More Stories