10 Best Places to Stay in Seoul, South Korea
From a luxurious five-star hotel to a homey hostel.
(SPOT.ph) Seoul is a city that straddles the high-tech, cosmopolitan future and the quaint, nostalgia-filled past of South Korea. It is a place where one can wander through the storied halls of Gyeongbokgung Palace while simultaneously uploading photos on Instagram using the world's fastest Internet connection. But the city itself is comfortable with its contradictions, and it invites travelers to explore and enjoy them as well—even inside its myriad of hostels, guesthouses, aparthotels, inns, and hotels.
Also read:
10 Cool Things You Can Do for Free in Seoul, South Korea
10 Exciting Things to Do Around Seoul, South Korea
10 Delicious Korean Street Food to Try in Seoul
The Girls' Guide to Seoul, South Korea
Here are 10 places for a cool stay in Seoul:
Sky Guesthouse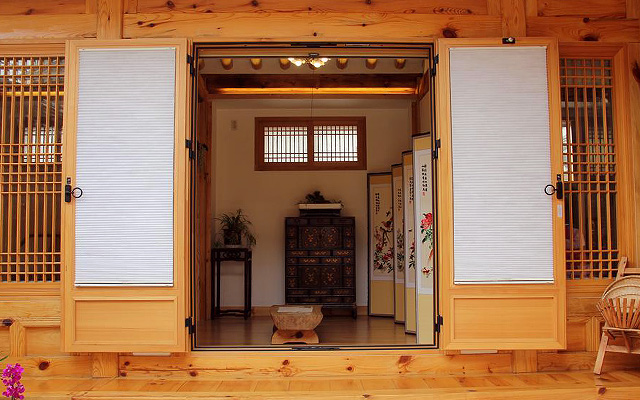 56 Bukchon-ro 15-gil Jongnu-gu, Seoul, South Korea
sky-guesthouse.seoul-hotels-kr.com
Rates start at 10,000 won per person (approx. P4,300)
Sky Guesthouse is perfect for travelers who want to go sightseeing and experience authentic Korean culture and history. Located inside the heritage village of Bukchon Hanok, Sky Guesthouse's traditional rooms are equipped with heated floors and mats, fast WiFi, and—unlike hanok houses—private bathroom facilities. While the kitchen is shared, a continental breakfast is available on a daily basis for free. Sky Guesthouse is also very close to the Owl Museum, the World Jewelry Museum, and Gyeongbokgung Palace.
ADVERTISEMENT - CONTINUE READING BELOW
Chiwoonjung Hanok Hotel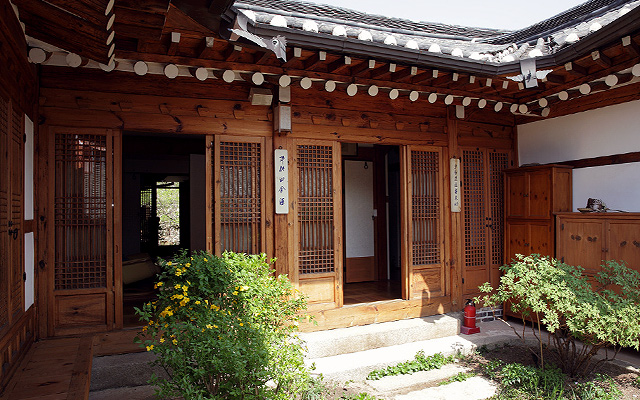 39 Bukchon-ro 11-gil, Jongno-gu, Seoul, South Korea
chiwoonjung.com
Rates start at 300,000 won (approx. P12,900)
Also in Bukchon Hanok, Chiwoonjung is the place to go if you have cash to spare and want to experience the luxe version of traditional Korean life. How can you not feel like a noble when you can have a mineral bath in a tub of cypress wood, a relaxing session in a red clay sauna, a daily traditional Korean breakfast, and a view of a garden so beautiful that it would make you contemplate the ephemerality of the seasons?
Haha Guesthouse Itaewon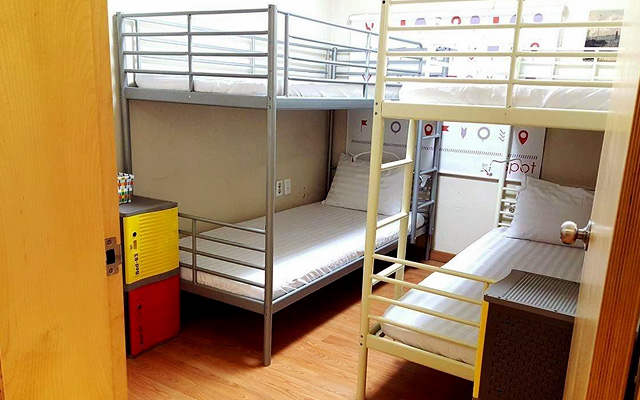 CONTINUE READING BELOW
Recommended Videos
29-3 Hangang-daero 52-gil, Yongsan-gu, Seoul, South Korea
www.hahaguesthouse.com
Rates start at 16,200 won per person (approx. P700)
Haha Guesthouse Itaewon may be little more than a dormitory, but what it lacks in luxury amenities, it makes up for in warmth and homey-ness. Miss Haha, who clearly loves to entertain, cooks traditional Korean breakfasts for her guests during weekdays and Western breakfasts during weekends. She also offers cooking classes. Guests looking for a quiet place to rest and recharge may do so in her garden, which is one of the best-kept secrets in the heart of Seoul. Offered for free are WiFi, luggage storage, and bicycles. The guesthouse is walking distance from Itaewon, and guests can easily get to the following attractions: War Memorial of Korea, the National Museum of Korean Contemporary History, and the National Museum of Korea.
Orakai Insadong Suites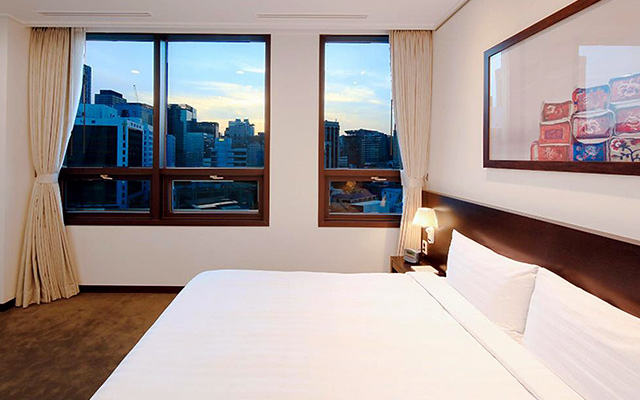 18 Insadong 4-gil, Jongno-gu, Seoul, South Korea
www.orakai-insadong.com
Rates start at 148,500 won (approx. P6,400)
ADVERTISEMENT - CONTINUE READING BELOW
Culture lovers who want to live in a more modern way may well like the aparthotel rooms of Orakai Insadong Suites. The spacious apartments are self-catering and come with a washer, satellite TV, kitchenette, and living room. Meanwhile, the amenities include a sauna and a swimming pool. Nearest landmarks are Beautiful Tea Museum, Jogyesa Temple, and Changdeokgung Palace.
Dormy Inn Premium Seoul Garosugil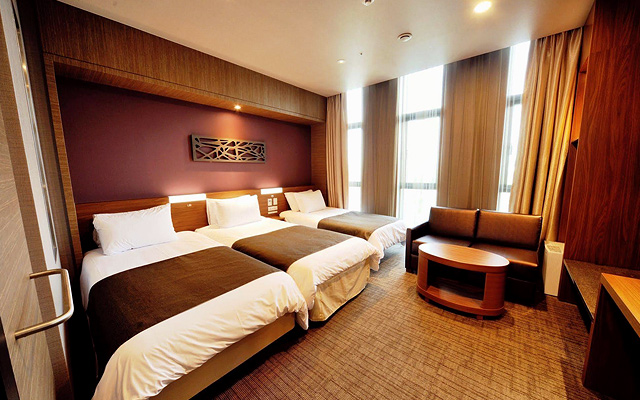 119 Dosan-daero, Gangnam-gu, Seoul, South Korea
dormy-inn-premium-seoul-garosugil.hotel-ds.com
Rates start at 138,000 won (approx. P5,900)
If living the high life at the world-famous Gangnam district is on your bucket list, consider the Dormy Inn Premium Seoul Garosugil Hotel for your accommodations. With interiors that look like the love child between Korean traditional patterns and modernity, you'll really feel like a VIP living the luxe life. Some of its best features include beautiful views of the Seoul skyline through floor-to-ceiling windows; a spa, sauna, and pool; usage of the Sky Lounge's library and corner bar from 6 p.m. to 1 a.m.; and from 9:30 p.m. to 10:00 p.m., a free ramen snack of "Yonaki Buckwheat Soba Noodles." You can also splurge at the upscale boutiques of Garosu-gil, a three-minute walk away.
ADVERTISEMENT - CONTINUE READING BELOW
Makers Hotel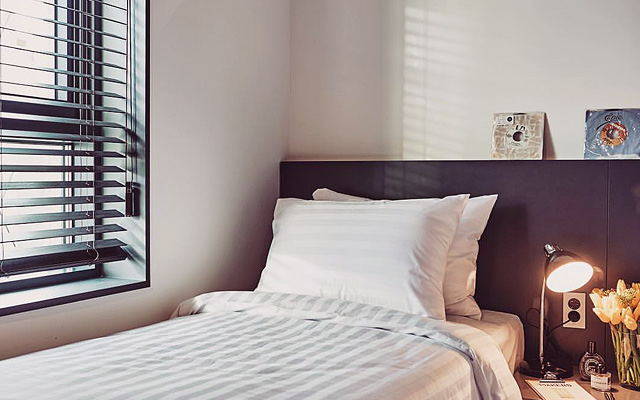 33 Donhwamun-ro 11-gil, Jongno-gu, Seoul, South Korea
www.makers-hotel.com
Rates start at 75,000 won (approx. P3,200)
Are you a culture connoisseur on a budget? Consider Makers Hotel, which has interiors and exteriors that sport an 1800s-inspired black brickwork but whose rooms feature modern, customized furniture. If you're in a hurry to go sightseeing, they also offer storage space for your luggage. Nearest landmarks are Jongno 3-ga train station, Jongmyo Shrine, and Changdeokgung Palace. Right outside the hotel are street vendors who offer Korean delicacies for late-night snacking.
J.W. Marriott Dongdaemun Square Seoul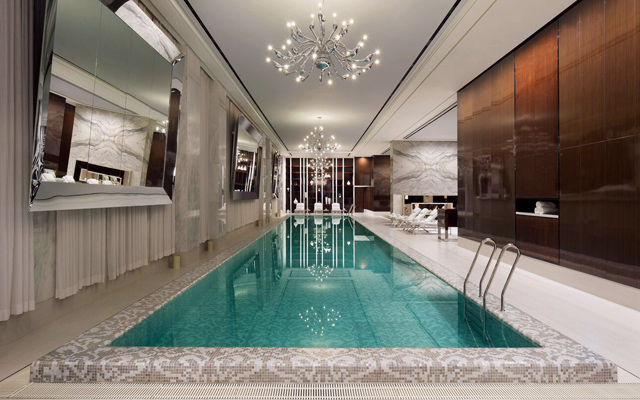 ADVERTISEMENT - CONTINUE READING BELOW
279 Cheonggyecheon-ro, Jongno-gu, Seoul, South Korea
www.marriott.com/hotels/travel/seldp-jw-marriott-dongdaemun-square-seoul
Rates start at 255,000 won (approx. P11,000)
If you're looking for luxury, you can splurge at the five-star J.W. Marriott Dongdaemun Square Seoul—you probably deserve it anyway. Their stylish suites come with a comfy bed, a marble bathroom that will make you feel like royalty, and floor-to-ceiling windows—if you're lucky, you might just score a room that lets you wake up to a great city view of the Dongdaemun gate. It's located minutes away from the Seoul Art Center, Changdeok Palace, and Dongdaemun Design Plaza, where you can bask in Korean culture, art, and design. A few steps from the hotel is the Seoul Fortress Wall if you want to go on a quick hike, and a part of the Cheonggyecheon stream, where you can jog or hang out with a book in hand.
Hyundai Residence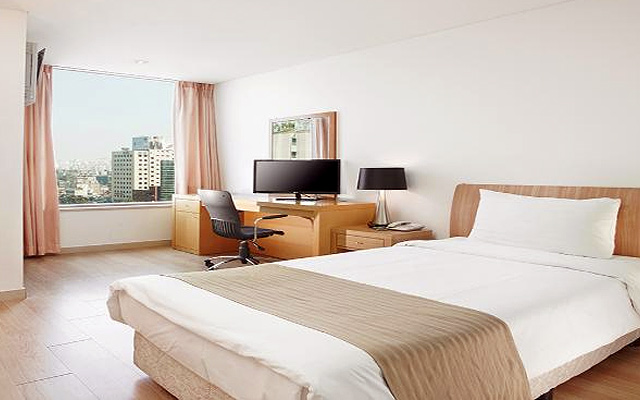 22-5 Chungmuro 5, Seoul, South Korea
www.hyundairs.com
Rates start at 58,000 won (approx. P2,500)
ADVERTISEMENT - CONTINUE READING BELOW
North of the Han River rises Hyundai Residence, a modern affair ensconced between trees and mountains. It's located in Chungmuro, a business and shopping district that's also known for art, culture, and movies. The rooms are modern and come with free WiFi, washing machine, and kitchen. The hotel is a five-minute walk to Dongdaemun Stadium Subway Station, while the nearest landmarks are Myeongdong and Pagoda Park.
Benikea Noble Hotel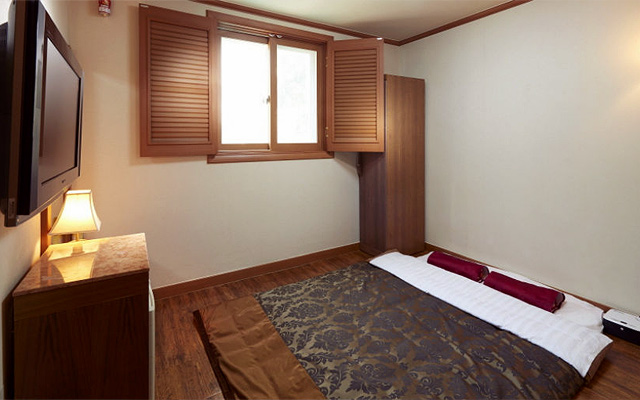 19 Unni-dong, Jongno-gu, Seoul, South Korea
www.benikea.com
Rates start at U.S. $63 (approx. P3,200)
Seated at the foot of Changdeokgung Palace, Noble Hotel's rooms are clean and quiet, and feature a flat-screen TV, a spacious toilet with seat warmers, and big beds with luxurious spreads. Both Insadong district and Anguk Subway Station are just a short walk away, which is good news, particularly because Noble doesn't have its own restaurant (though there is a convenience store next door). A 10-minute drive will get you to the business and shopping districts of Myeongdong and Nandaemun.
ADVERTISEMENT - CONTINUE READING BELOW
Signiel Seoul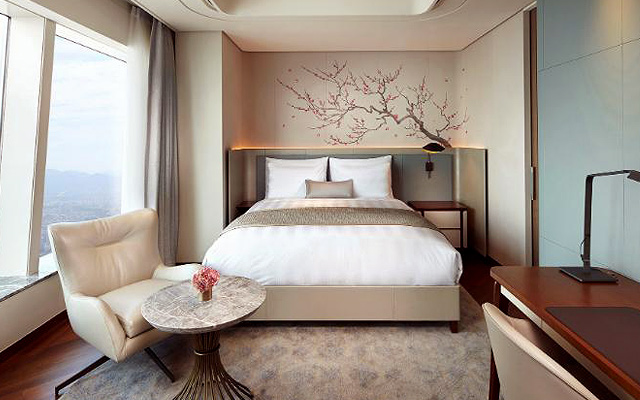 76/F Lotte World Tower, 300 Olympic-ro, Songpa-gui, Seoul, South Korea
www.lottehotel.com/seoul-signiel
Rates start at 380,000 won (approx. P16,300)
You might wonder why a hotel would be sandwiched between the 76th and 101st floors of the Lotte World Tower. But at Signiel Seoul, the goal is clear—to make you feel like a VIP. How could you feel otherwise when you have a 360-degree view of Seoul; a chic, modern suite with just a touch of color via the cherry blossom branch painted on the wall; access to a Michelin-starred restaurant and indoor pool; and a direct connection to Jamsil train station?
Share this story with your friends!
---
Help us make Spot.ph better!
Take the short survey
Load More Stories