10 Romantic Things to Do in Kuala Lumpur for Newlyweds
Fortune telling, batik shopping, and noodle-slurping await.
(SPOT.ph) Kuala Lumpur in Malaysia may not be exactly top of mind when you think, "romance." But you can bet on two things: it will be different and it will be diverse. With a multi-racial mix of Malays, Chinese, and Indians, a contrast between gritty neighborhoods and glitzy buildings, it's sure to add one thing you may have never sought out for your honeymoon like having your fortune told or getting inspiration for your new home.
Also read:
10 Romantic Places in Bali for Newlyweds
10 Romantic Getaway Spots in the Philippines
10 Places to Visit in Taipei for Couples
Here are 10 romantic things to do in Kuala Lumpur for newlyweds:
Take a break from planning mode and join a tour by locals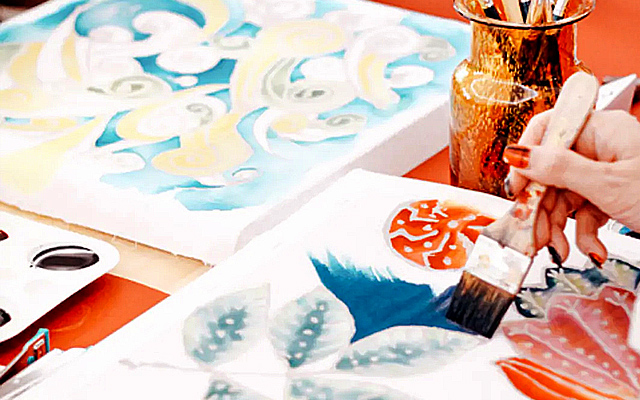 Wedding planning fatigue got you down? Solution: Leave the honeymoon planning to someone else. AirBnB offers tours for people who don't like tours through its Experiences platform. There are no big groups and jam-packed itineraries; instead, you get to connect with locals sharing a specific skill, for a short amount of time. Spend an afternoon learning batik, where you'll create distinctly Malaysian patterns on fabric using an intricate dying process. Whatever you make is something you can take home and tell the future grandkids about.
ADVERTISEMENT - CONTINUE READING BELOW
Or you can learn self-defense tactics by joining a workshop on silat, a Southeast Asian form of martial arts. Before joining an Experience, check at least a week ahead for available dates. 
Have a breakfast date at Chinatown's old-school coffee shops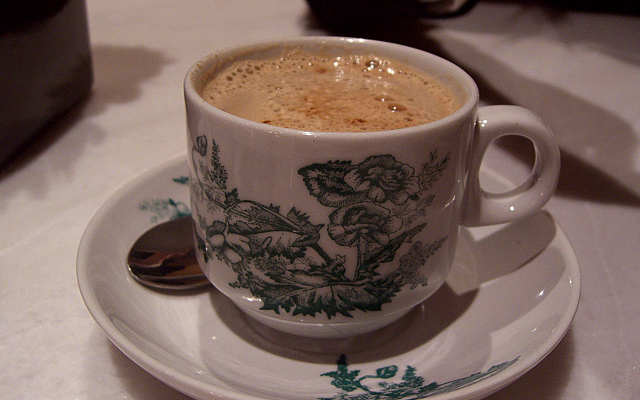 CONTINUE READING BELOW
Recommended Videos
Kopitiams, a combination of the words kopi (coffee in Malay) and tiam (shop in Hokkien, a Chinese dialect), are the classic cafés of Kuala Lumpur. The menus differ across shops but some staple items include roti bakar, toast with butter and kaya (coconut egg jam), telur setengah masak (soft-boiled eggs) and kopi ais (iced coffee). You can go for a uniquely KL breakfast date as early as 7 a.m. for some kopitiams. Rice and noodle dishes are also served; with each kopitiam having a specialty. 
Chinatown is home to some of the city's oldest kopitiams. With its Chinese owners and British-inspired dishes—owing to Malaysia being a former British colony—it's a peek into the multi-cultural makeup of the city.
ADVERTISEMENT - CONTINUE READING BELOW
The presence of kopitiams are getting rarer today as rents rise and newer coffee shops offer a more refined alternative. Like a time capsule of your honeymoon, take a picture and experience the kopitiam while you can. 
Get inspiration on building a tropical home at The Row
Yup, you've probably talked about your dream home. But before you begin to argue on who gets to choose the color of the wall, try to keep an open mind. A visit to The Row is a good example of urban design amid tropical surroundings. Much like Manila, Kuala Lumpur likes its malls and tall buildings, and The Row is a refreshing contrast to that. Occupying 22 pre-war shophouses, it's an enclave that maximizes history, open spaces, and fresh air while remaining a place you'd want to hang out in.
Stroll around its inner courtyard, plant-lined walkways, then take in the energy of the creative offices that occupy the lot. Hip restaurants and bars offer a look into the local design taste, while later on the day, check out a live music performance. 
ADVERTISEMENT - CONTINUE READING BELOW
The Row is at 22 – 64 Jalan Doraisamy, Chow Kit, Kuala Lumpur, Malaysia.
Toast to the past with cocktails categorized by decade at PS150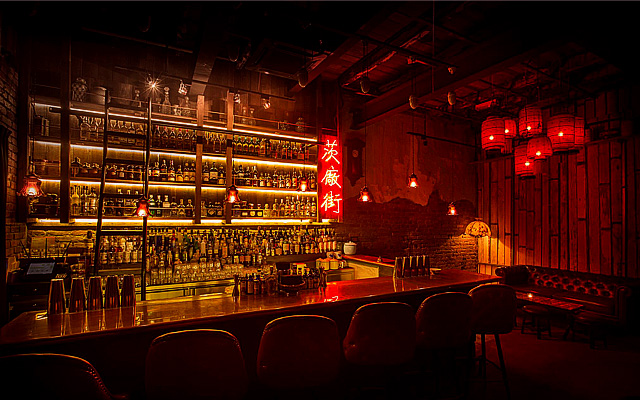 "Honey, remember that time we missed our flight?" Toast to the good (and bad) times of your relationship while sipping drinks themed around remarkable decades in cocktail history. This speakeasy boasts a drinks menu divided into five eras: Vintage, Classic, Tiki, Disco, and Contemporary. Drinks are infused with Southeast Asian ingredients and are inspired by moods like "Japan's summer heatwaves" to "early millennium nightlife." Adding to its appeal, the bar is set within a pre-war shophouse located in gritty, central Chinatown. Opt for a seat at its Opium Den section for date-night-worthy booths. For weekend visits, reservations are recommended.
PS150 is at G/F 150 Jalan Petaling, City Center, Kuala Lumpur, Malaysia. It is open from Sunday to Monday, from 6 p.m. to 1 a.m.; and from Tuesday to Saturday, from 6 p.m. to 2 a.m.
ADVERTISEMENT - CONTINUE READING BELOW
Heat things up by eating chili pan mee at the restaurant that invented this noodle dish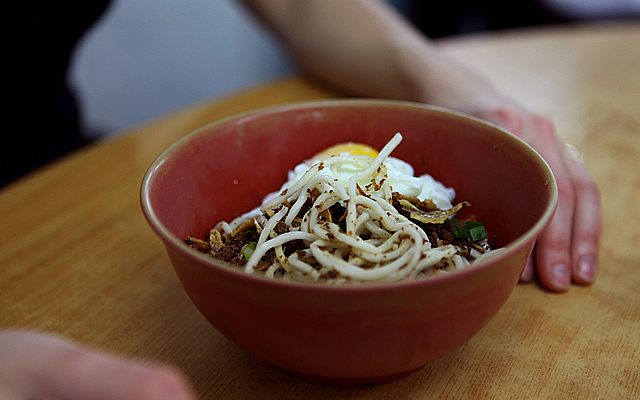 Spicy food, with its tendency to get your heart racing and sweat running, is believed to be an aphrodisiac. And what better way to stoke that heat by eating chili pan mee, a fiery noodle dish. Although traditional pan mee (Chinese noodles) is served in hot broth, Kin Kin is credited with inventing the popular update. This means spaghetti-thick, al dente noodles topped with fried meat and anchovies, scallions, and soft-boiled egg. Soup called sayur manis (sweet leaf) is served on the side. Do as the locals do and add Kin Kin's famous homemade chili paste on top. Then, sip the soup to wash down the spice. Head to Kin Kin's original branch in Chow Kit, a destination in itself as New York Times included it in its 52 Places to Go in 2020, describing it as an "underappreciated neighborhood."
ADVERTISEMENT - CONTINUE READING BELOW
Kin Kin is at 40 Jalan Dewan Sultan Sulaiman, Kampung Baru, Kuala Lumpur, Malaysia. It is open daily from 7 a.m. to 6.30 p.m.
Visit Sin Sze Si Ya Temple for prayers and fortune telling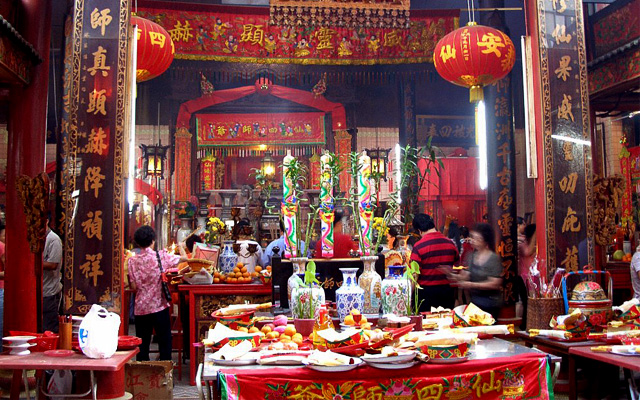 In the center of bustling Chinatown, you'll find a place to pause. Sin Sze Si Ya Temple is the city's oldest Taoist temple. Here, you can light some incense at the open-air pavilion or get to try the Taoist practice of circling the temple's main altar three times for good fortune, followed by rattling kao chim (fortune telling sticks) while thinking of you and your beloved's future. A temple caretaker can interpret your fortune for a small fee. But the enduring symbol of fortune to leave with is in the history of the temple in itself. It was founded by "Mr. Kuala Lumpur," the late Kapitan Yap Ah Loy. He was instrumental to the city's development after the Selangor Civil War and the placement of Kuala Lumpur as Malaysia's capital. 
ADVERTISEMENT - CONTINUE READING BELOW
Sin Sze Si Ya Temple is at 113A, Jalan Tun H S Lee, City Center, Kuala Lumpur, Malaysia. It is open daily from 7 a.m. to  5 p.m.
Shop for home items at the heritage-rich Central Market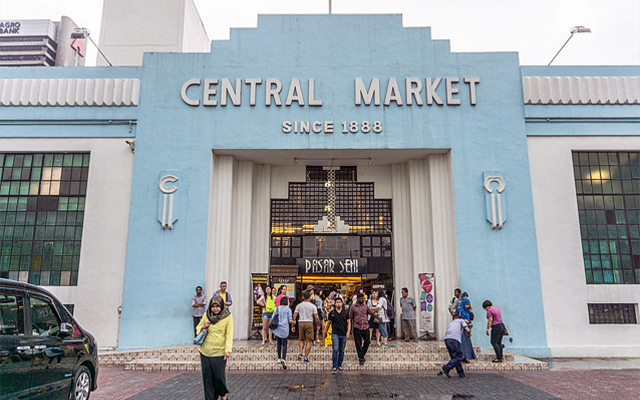 Couples therapy? Pass! Retail therapy? Yes, please! The Central Market houses more than 300 shops within an Art Deco building dating back to 1888. Before you get lost in its dizzying array of options, zero in on the home items. Essential oils and incense sticks can bring back a distinctly Malaysian memory to your space. Wood and rattan products provide texture to your room, while a collection of Malaysia's maps, Chinese antiques, and preserved, framed insects will add just the touch of obscure you need. Beyond retail, Central Market is also a cultural attraction. It is classified as a Heritage Site and has won several tourism awards.
ADVERTISEMENT - CONTINUE READING BELOW
Central Market is at Jalan Hang Kasturi, City Center, Kuala Lumpur, Malaysia. It is open daily 10 a.m. to 9.30 p.m.
Experience the climb of a lifetime at Batu Caves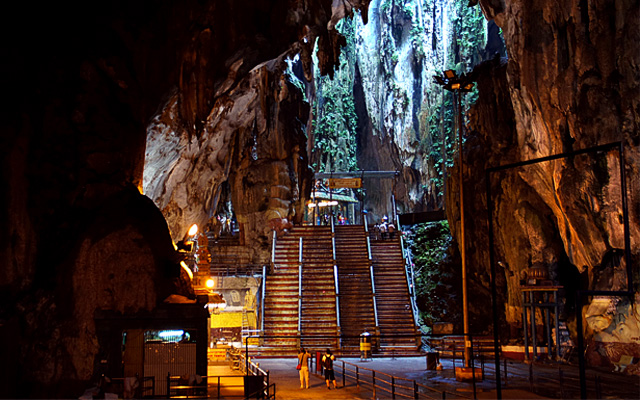 It's been said that to really know someone's true personality, you have to try to climb a mountain with them. Our suggested alternative: take your partner's hand and scale the 272 steps leading to a sacred 100 year-old temple. Batu Caves is a limestone hill consisting of three caves, with the highest Temple Cave being the highlight. This is one of Malaysia's most visited destinations and a major pilgrimage site for Hindus. You'll start your ascent greeted by the 140-foot gold statue of Hindu deity Lord Murugan. Hindu or not, the steps are colored like a rainbow as a symbol of welcome. At the end of your trip, you can look back at that time you scaled a rainbow to the sky. Batu Caves is 13 kilometers north of Kuala Lumpur and is accessible by train, bus, and taxi.
ADVERTISEMENT - CONTINUE READING BELOW
Spend some alone time in the exotic Islamic Arts Museum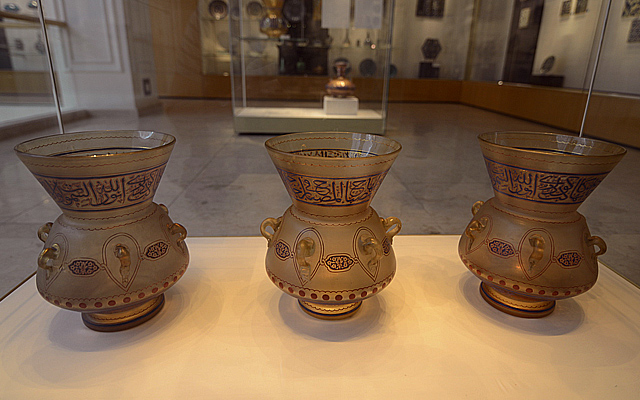 With Islam as the country's predominant religion, get some context into their culture via a visit to the Islamic Arts Museum. The 30,000-square-meter space houses 12 galleries, where you can browse work from textiles, jewelry, to architecture and more. With strong ties linking Islamic art and Southeast Asia, you just might be surprised by what you discover about the Philippines. Use this opportunity for recharging and reflection—because even if you're on honeymoon, an afternoon apart may do you both good.
Islamic Arts Museum is at Jalan Lembah, Tasik Perdana, Kuala Lumpur, Malaysia. It is open daily from 9:30 a.m. to 6 p.m. Admission fee is at 14 Malaysian ringgit (roughly P170).
Bring home traditional wedding cakes from Fung Wong Biscuit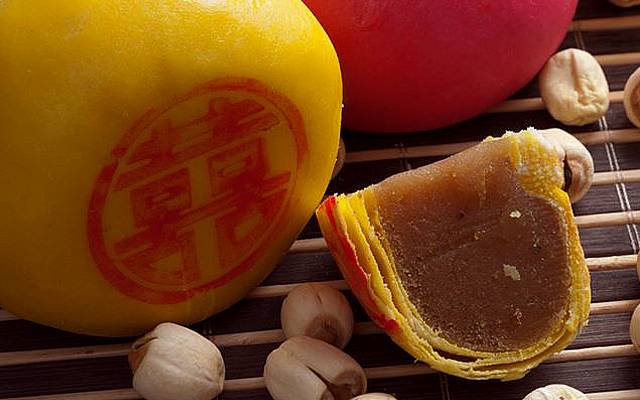 ADVERTISEMENT - CONTINUE READING BELOW
No need to struggle over pasalubong ideas: Head to Fung Wong for the novelty of Chinese wedding cakes. These pastries are more similar in size to a moon cake and are purchased in pairs; its flavors are red bean and lotus. Although several bakeries sell it, Fung Wong has been around for more than 100 years and up until recent generations, used to specialize in making just wedding cakes. The cakes are traditionally handed out by a couple to accompany wedding invitations. Before heading to the bakery, it's best to inquire whether there are cakes available for take out. Bulk orders are frequent and require weeks in advance of lead time. If all else fails, revert to the curiously named, wintermelon-filled pastry called "wife biscuit."
Fung Wong Biscuit is at No. 21, Jalan Hang Lekir, City Center, Kuala Lumpur, Malaysia.
Share this story with your friends!
---
Help us make Spot.ph better!
Take the short survey
Load More Stories