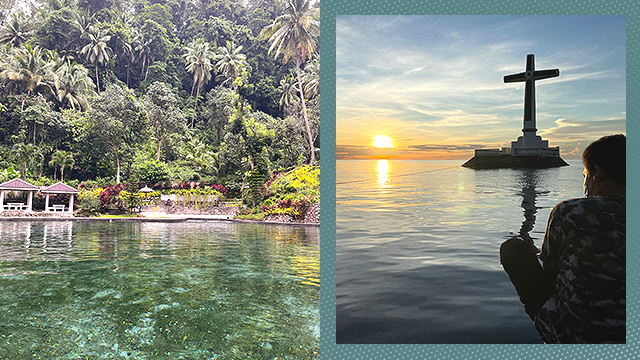 (SPOT.ph) Camiguin is the country's second-smallest province, but what it lacks in size it more than makes up for in rich history and a wealth of natural wonders. The island province has no shortage of activities to keep nature lovers and culture vultures occupied. It has some of the country's best beaches and dive spots, heart-stopping vistas, and rewarding hikes—so much to do on an island that you can do a full loop of in a little over an hour via its 64-kilometer coastal circumferential road. More than the sights, though, Camiguin's peaceful and laid-back vibe makes it appealing to all kinds of travelers, especially those wanting to go solo.
ADVERTISEMENT - CONTINUE READING BELOW
If you're itching to get away from the city and give yourself that much-needed me-time to recharge your spirits, Camiguin is the place to be. It's still untouched by large-scale tourism which means there's no nightlife, no five-star accommodations, no hordes of tourists—making it the ideal place to be by yourself and bask in nature's splendor for a couple of days.  
Also read:
An Island Born of Fire: How Camiguin's Volcanoes Shaped Its Culture
10 Exciting Things to Do in Camiguin 
Check out this list of Camiguin tourist spots and exciting things to do if you're traveling alone:
Dive into the pristine waters of Mantigue Island
A 20-minute boat ride from the town of Mahinog is Mantigue Island, a four-hectare protected marine sanctuary blessed with white sand, turquoise waters, and its own pocket-sized forest. It's even more dazzling underwater, with frequent sightings of turtles, vibrant coral walls and sponges, and a dizzying medley of tropical marine life including eels, pufferfish, rays, and even blacktip sharks—if you're lucky. 
Despite its tiny size, there's much to do on the island from snorkeling to diving, swimming to sunbathing on its fine ivory-white sand. Entrance/environmental fee is at P30 per person, while the boat ride for six people will set you back P600. 
Go for an early morning swim on White Island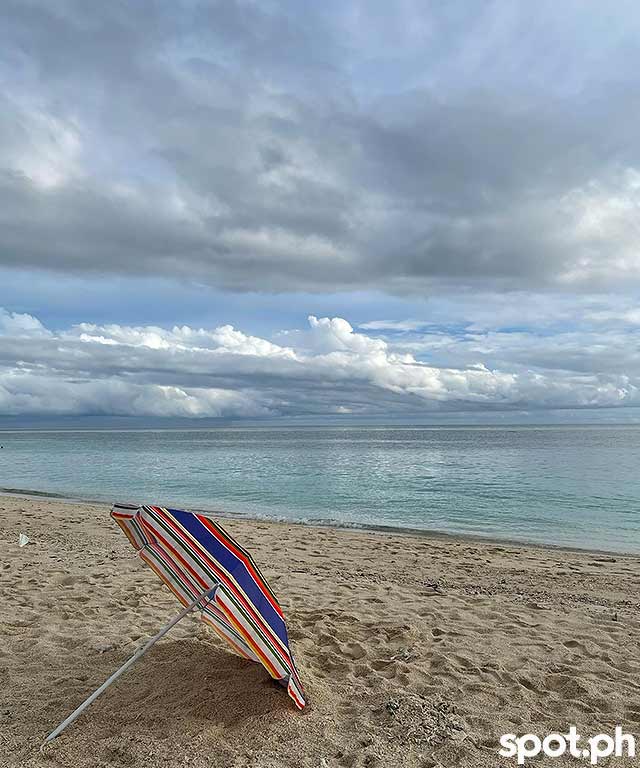 ADVERTISEMENT - CONTINUE READING BELOW
A little over a kilometer away from the northern shore of the capital Mambajao is White Island, a sandbar that rewards visitors with jaw-dropping views of Mount Hibok-Hibok and Mount Vulcan, two of Camiguin's most popular yet also most destructive volcanoes. Its immaculate white sand makes for a pleasant setting for picnicking and sunbathing while its clear waters lure you in for a relaxing dip. White Island is also a great place to catch the sunrise and sunset over Camiguin. 
You can rent a small boat from any of the beachfront resorts facing the island to get there for P420, enough for six people. Visitors are also charged P20 as an environmental fee. The island is as naked as it gets; there are no trees or structures to protect you from the heat of the sun so it's best to visit in the early morning or late afternoon. Don't forget to slather yourself with sunblock! 
ADVERTISEMENT - CONTINUE READING BELOW
Take a refreshing dip in Sto. Niño Cold Spring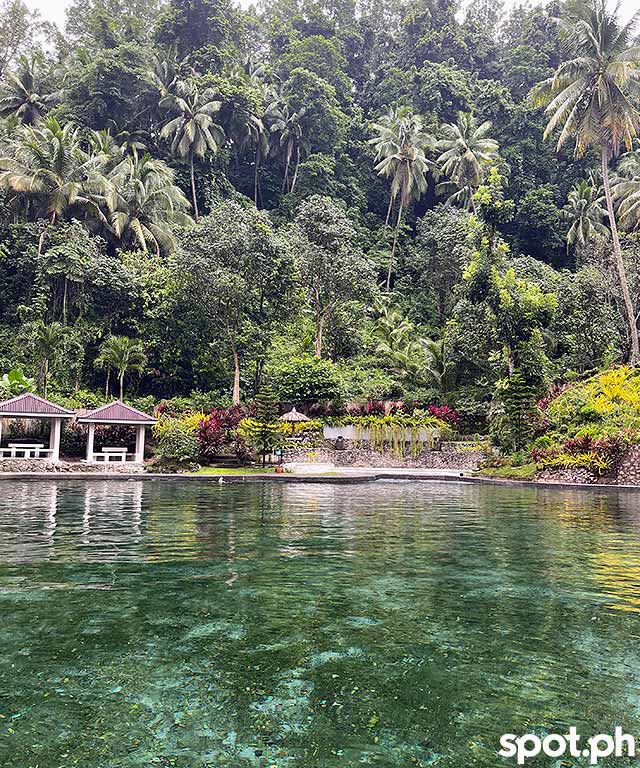 Being a volcanic island means having a fair share of springs, and Camiguin has a number of them. One of the most loved among locals and travelers is Sto. Niño Cold Spring, which is known for its cool, clear, and calming waters that flow directly from Mount Mambajao. The dipping pool is surrounded by a lush mountainside, which makes soaking even more rejuvenating. Schools of small fish can also be seen swimming in the spring's crystal-clear waters. 
ADVERTISEMENT - CONTINUE READING BELOW
Entrance fee is at P30 for adults and P15 for those aged below 10. Cottages can be rented for P75 each. 
Enjoy the health benefits of soda spring water at Bura Soda Water Pool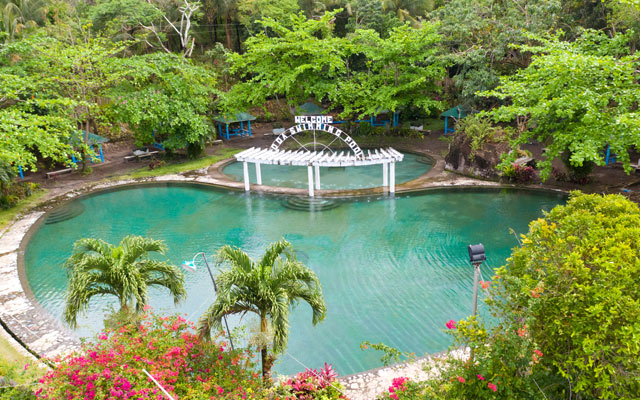 A few hours in Camiguin and you would probably notice the locals speaking proudly of the soda water that flows across the island. A great place to try this kind of water, either for soaking or for drinking, is at Bura Soda Water Pool in Catarman, said to be the only one of its kind in the country. The pool is inviting with the surrounding scenery a sight to behold. You can also try drinking the water from a fountain nearby. 
ADVERTISEMENT - CONTINUE READING BELOW
Camiguinons say that a soak in soda water is therapeutic while doctors believe that drinking it provides better hydration, improves digestion, and aids in weight management. Visitors must pay the environmental fee (P30), and groups can rent cottages and tables for P20. 
Go on a relaxing stroll at Katunggan Mangrove Park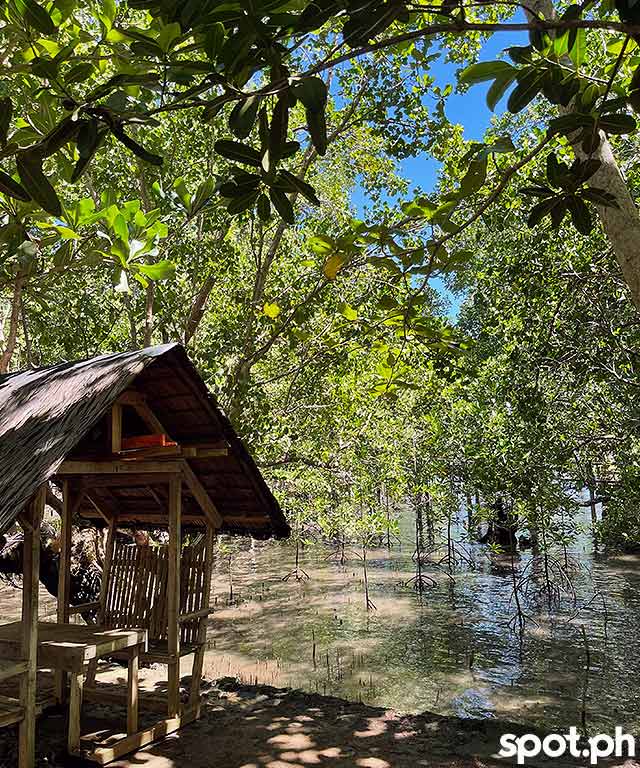 ADVERTISEMENT - CONTINUE READING BELOW
For an idyllic stroll any time of the day, head out to Katunggan Mangrove Park in the town of Benoni that's home to about 300 huge black mangroves (Avicennia germinans). A long and winding wooden boardwalk guides visitors across the park with the mangroves' branches forming a natural canopy against the sun. The clear and shallow waters are teeming with life, you wouldn't be hard-pressed to see small crabs, mudskippers, and fish flitting to and fro the roots. 
Visitors are charged an environmental fee of P20 for adults, P5 for those aged 10-17, and those aged 6 and below can enter the park for free. Groups can rent a picnic shed for P150 for four hours. 
Satisfy your inner history geek at Mambajao Town Proper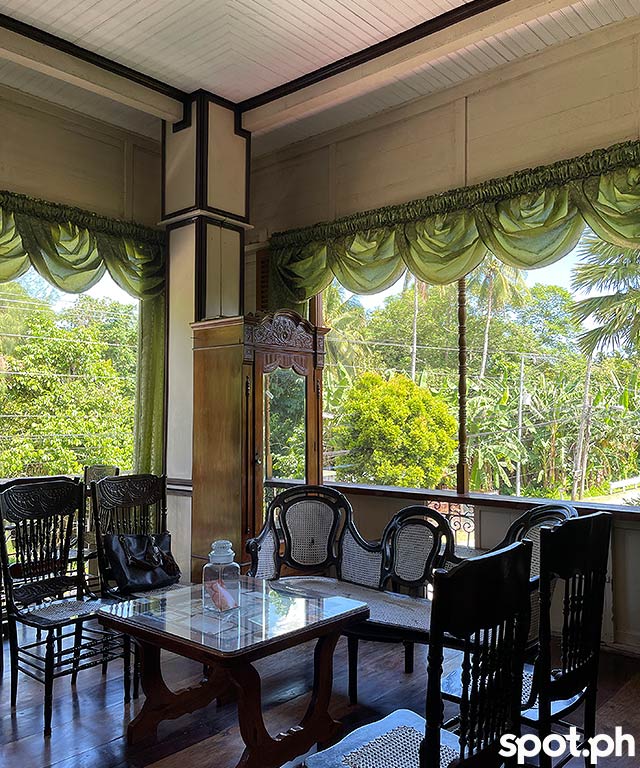 ADVERTISEMENT - CONTINUE READING BELOW
Don't be fooled by the down-to-earth atmosphere of Camiguin's capital Mambajao; a walk or ride around town reveals layers upon layers of history dating back to the Spanish colonial period. The municipality is home to well-preserved ancestral houses, 14 of which have been declared Important Cultural Properties by the National Museum of the Philippines. These heritage houses are owned by some of the island's old clans such as the Borromeo, Bacut, Neri, Corrales, Francisco, Juni, Chan, and Lim families. Some of these houses continue to be lived in by the families' descendants.  
Aside from the ancestral homes, Mambajao has other historical structures like Plaza Union, a 1914 fountain that commemorates the town's glorious past; the 200-year-old San Nicolas de Tolentino Parish; and the original parola or lighthouse at the old port. 
Take in the power of nature at the Sunken Cemetery and the Guiob Church Ruins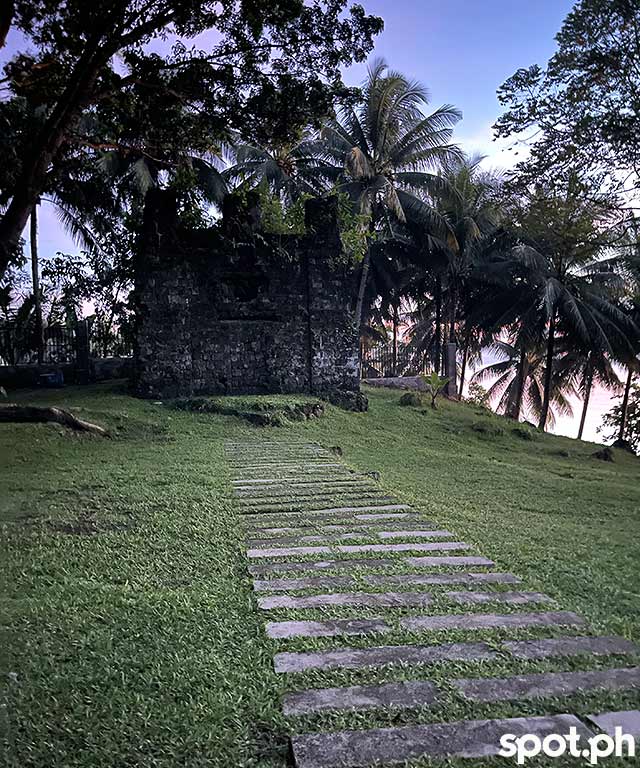 ADVERTISEMENT - CONTINUE READING BELOW
The identity of Camiguin is inevitably intertwined with the volcanoes that continue to influence the island's geography, history, and culture. And no other site on the island conveys the destructive power of these land formations better than the Sunken Cemetery and nearby Guiob Church Ruins, both declared National Cultural Treasures as declared by the National Museum. The eruption of Mount Vulcan in 1871 left a trail of destruction, pushing the old town of Catarman to the bottom of the sea. What was left behind is the moss-covered ruins of the church along with its bell tower. The cemetery is gone without a trace and only an enormous white cross serves to mark the spot where the sea claimed it.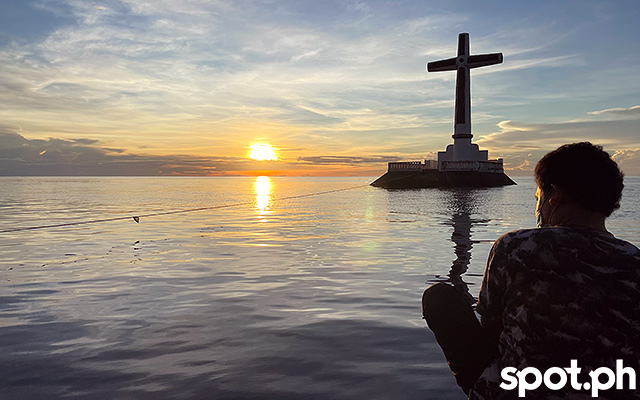 ADVERTISEMENT - CONTINUE READING BELOW
The Sunken Cemetery is a highly recommended snorkeling and dive spot where you can see what might be tombstones encrusted in corals. You can ask a boatman to ferry you to the marker which is only a few meters from the shore and is an excellent place to watch the sunset over the island.  
Chase some of the island's waterfalls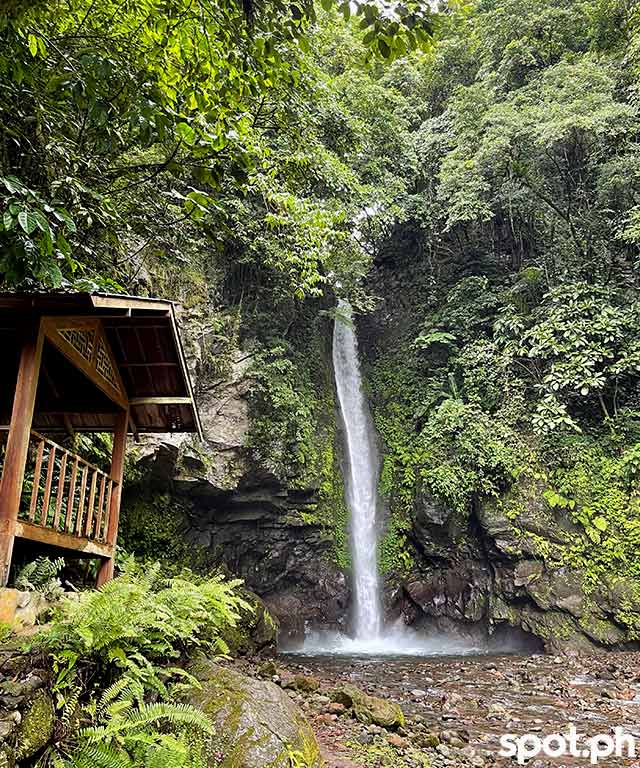 ADVERTISEMENT - CONTINUE READING BELOW
Camiguin seems to have an endless supply of waterfalls, with each having their own distinct beauty. Among the most famous ones are Katibawasan and Tuasan Falls. The former is the most impressive being the tallest on the island at 70 meters high. This waterfall is fed a steady stream of water by Mount Timpoong, the highest peak in Camiguin, and has a wide catch basin that's a great spot for swimming.

Tuasan Falls, on the other hand, is smaller at only about 20 meters high, but no less beautiful. Squeezed in at the end of a hidden valley, weary travelers can jump in its freshening man-made pools with wild abandon.  
Trek the mythic Mount  Hibok-Hibok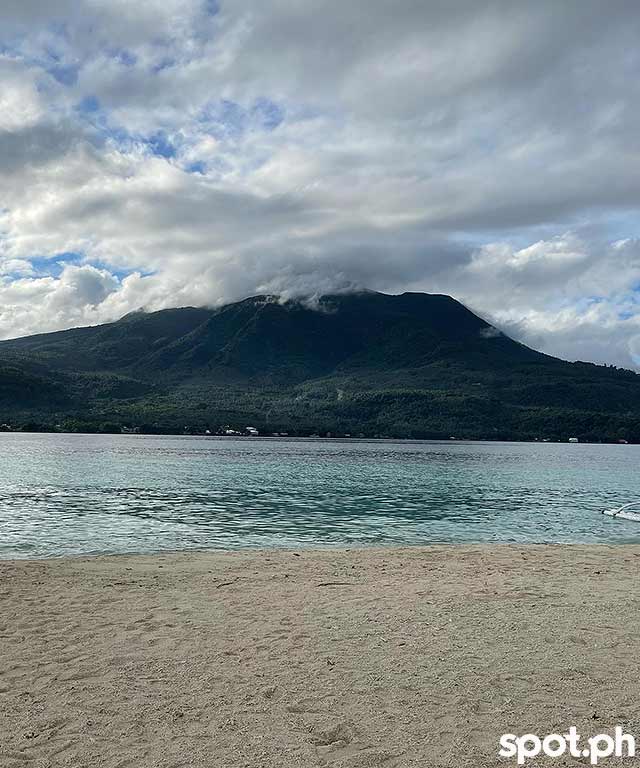 ADVERTISEMENT - CONTINUE READING BELOW
Camiguin is one of the country's best spots for mountain tourism with its mountains and volcanoes that offer challenging treks. The island is considered one of the most ecologically diverse in the country; Mount Timpoong-Hibok-Hibok Natural Monument is recognized as one of the eight ASEAN Heritage Parks in the Philippines. These are protected areas recognized for their uniqueness, diversity, and outstanding values.  
Mount Hibok-Hibok is the only remaining active volcano in Camiguin, with its last series of intermittent eruptions spanning almost five years from 1948 to 1953. Today, it's probably the most popular hiking area in the province where you can see breathtaking views of the island and glimpses of Bohol, Surigao, and Siquijor from afar.  
A P200 registration fee is collected by the Department of Environment and Natural Resources, which you can arrange by yourself or with the help of your guide at the local office in Mambajao. Guides have a set fee amounting to P1,200 for a day hike. 
ADVERTISEMENT - CONTINUE READING BELOW
Be whisked back in time at Guinsiliban's Moro Watchtower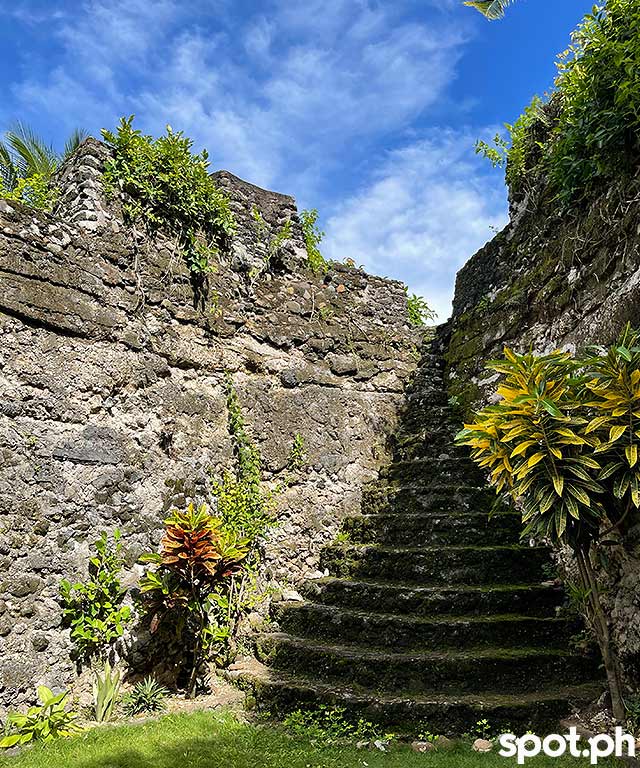 In the quiet town of Guinsiliban, behind a public school, are the ruins of an age-old watchtower that was used against possible Moro slave raids from the mainland south. It's a steep and slippery climb to the top where you will be rewarded with a panoramic view of the open sea. Like the Sunken Cemetery and the Guiob Church Ruins, Guinsiliban's Moro Watchtower has been declared a National Cultural Treasure.  
ADVERTISEMENT - CONTINUE READING BELOW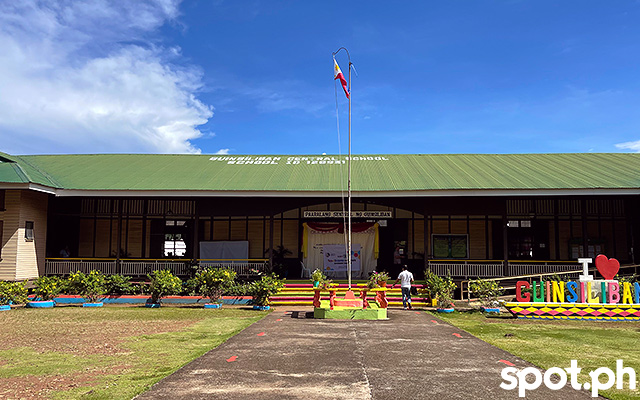 A bonus to this side trip is the school itself which is considered a perfect example of a Gabaldon building, which was common during the American colonial era. Their architecture is inspired by the bahay kubo and bahay-na-bato with distinctive high ceilings and wide windows. 
ADVERTISEMENT - CONTINUE READING BELOW
How to get there: Cebu Pacific flies direct from Manila to Camiguin every Monday and Friday, and from Cebu to Camiguin every Tuesday and Saturday.
Share this story with your friends!
---
Help us make Spot.ph better!
Take the short survey
More Videos You Can Watch
Load More Stories