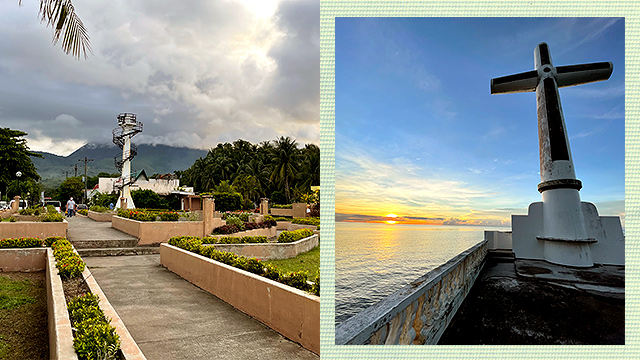 (SPOT.ph) Camiguin's reputation as a tropical paradise is well deserved. You only need to look out the plane's window moments before landing to know that heaven on earth does exist. Draped in green and embraced by different shades of blue, the island is renowned for its volcanoes, natural springs, and white-sand beaches.  
ADVERTISEMENT - CONTINUE READING BELOW
Also read:
10 Things to Do in Camiguin for the Solo Traveler
An Island Born of Fire: How Camiguin's Volcanoes Shaped Its Culture
10 Exciting Things to Do in Camiguin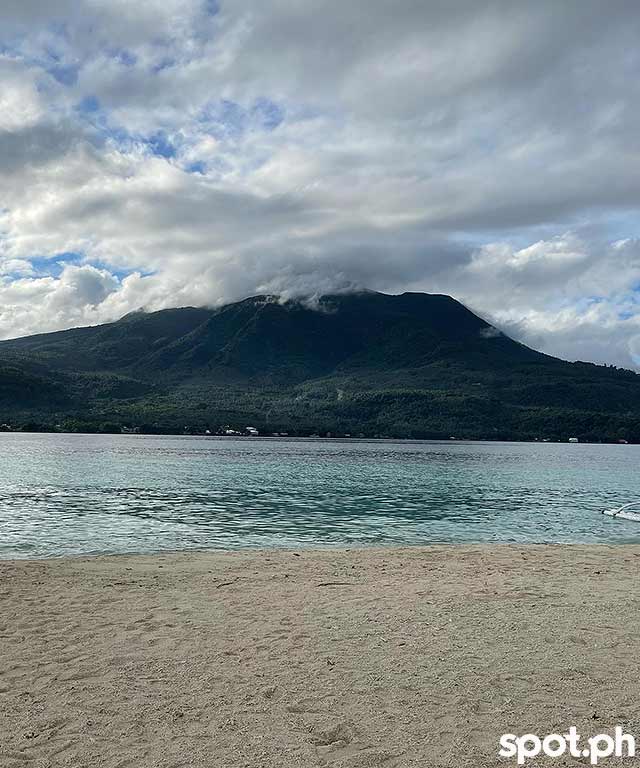 However, what surprises many travelers after a few days on the island is that Camiguin is also a treasure trove of heritage. These cultural gems add a unique charm to a province already blessed with so much beauty.  
Speaking to SPOT.ph, ArTourisMedia consultant Arturo P. Boncato, Jr. explained how Camiguinons are passionate purveyors of heritage and tradition. "In 2018, the National Museum of the Philippines declared three archaeological sites in Camiguin as National Cultural Treasures; and another 17 landmarks, structures, and houses as Important Cultural Properties," he said.  
Republic Act No. 10066, or the National Cultural Heritage Act of 2009, defines National Cultural Treasures (NCT) as cultural properties "possessing outstanding historical, cultural, artistic, and/or scientific value which is highly significant and important to the country and nation." Declared NCTs in Camiguin are the Old Spanish Church Ruins (also known as the Guiob Church Ruins), the Sunken Cemetery in Catarman, and the Spanish-era Moro Watchtower in Guinsiliban. 
The same law defines Important Cultural Properties (ICP) as "having exceptional cultural, artistic, and historical significance to the Philippines." Mambajao's Old Fountain, the Old Municipal Building, the façade of the Santo Rosario Church in Sagay town, and 14 heritage houses in the province have been declared ICPs. 
ADVERTISEMENT - CONTINUE READING BELOW
Check out these Camiguin tourist spots that have great stories to tell: 
Catarman's Sunken Cemetery and Guiob Church Ruins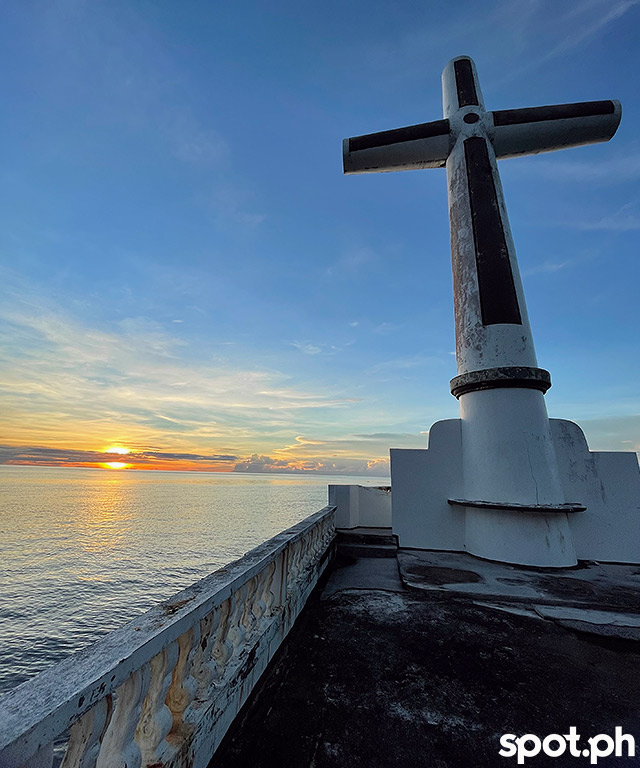 One of Camiguin's oldest towns, Catarman (known previously as Katagman or Katadman), saw the establishment of the first major Spanish settlement in the province. The town prospered, but in May 1871, Mount Vulcan Daan rocked the island with an explosion of catastrophic proportions—thousands of lives were lost, properties reduced to ashes, and the town's coastline forever changed. 
ADVERTISEMENT - CONTINUE READING BELOW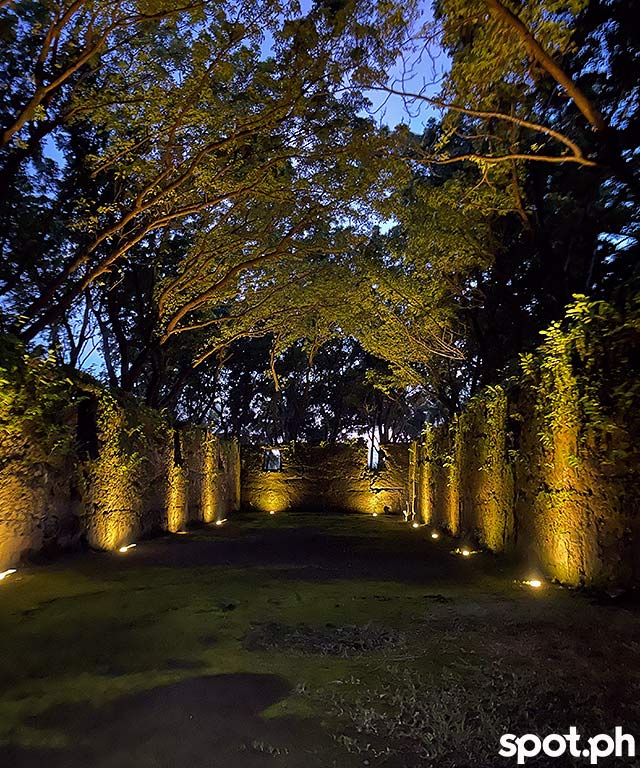 Now called Barangay Bonbon, what's left of Old Catarman are two stark reminders of the destructive power of nature: the Sunken Cemetery and the Guiob Church Ruins. The volcanic eruption caused the cemetery to be swept to the sea where it sunk to the depths. Whereas what remains of the old Spanish-era church complex are portions of its walls, the belfry, and monastery. 
ADVERTISEMENT - CONTINUE READING BELOW
Visitors can see what's left of the cemetery by diving or snorkeling around a huge white cross marking the spot. From the Sunken Cemetery, it's about a 10- to 15-minute walk to the church ruins. Both sites are ideal for chasing sunsets and stories of long, long ago. 
An Island of 14 Heritage Houses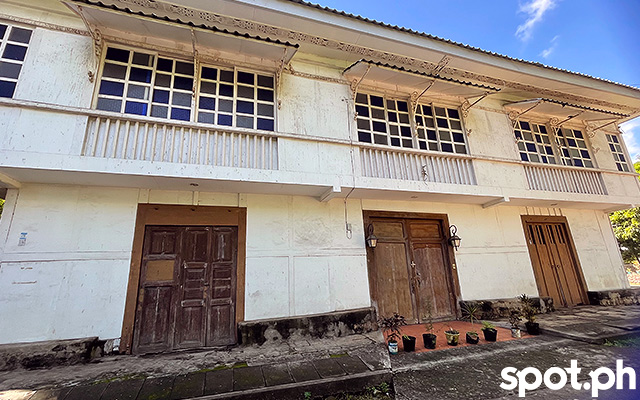 ADVERTISEMENT - CONTINUE READING BELOW
With a little over a dozen heritage houses, Camiguin is rightfully in the league of destinations such as Vigan and Silay in Negros Occidental. "The 14 ICP houses include those owned by the Borromeo, Bacut, Luspo, Neri, Nery, Nerio-Chan, Corrales, Corrales y Gamali, Francisco, Juni, and Lim families, as well as the Catalino Chan and Eleuterio Chan ancestral houses," Boncato mentioned. 
One of the best-preserved of these is the 113-year-old Chan ancestral home which, by some stroke of luck, was spared the destruction caused by Mount Hibok-Hibok's 1951 eruption. The house continues to be lived in by Nerio Chan, the great-grandson of the original owner Timoteo, as its current resident.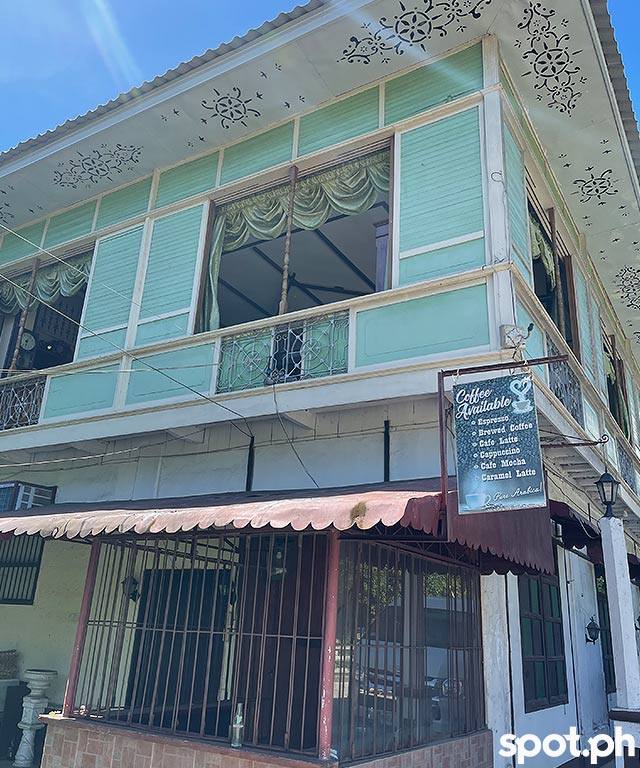 ADVERTISEMENT - CONTINUE READING BELOW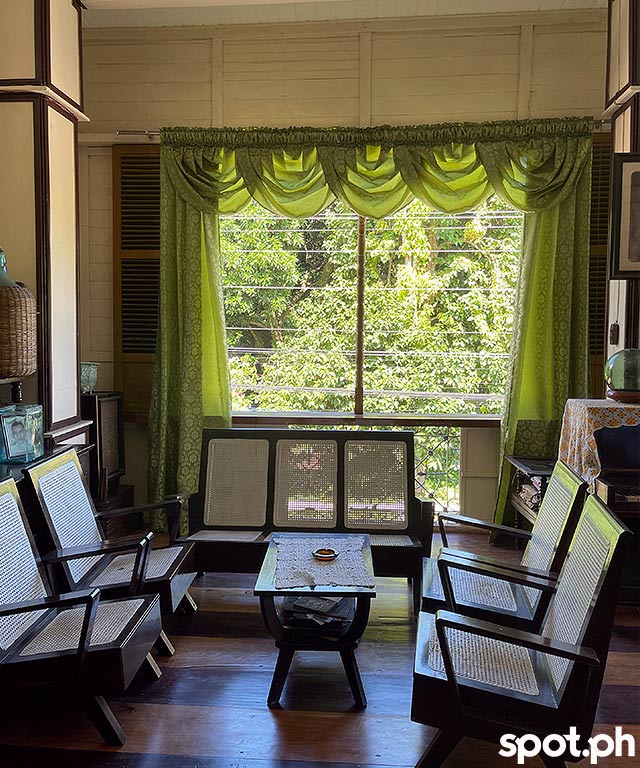 Stepping inside transports one to a time long forgotten. It's a wonderland of furniture, trinkets, and photos from centuries past. Also worth mentioning is how the property is situated atop a natural spring giving it an unlimited and strong supply of potable soda water. They don't turn off the faucets to keep the pipes from bursting! 
ADVERTISEMENT - CONTINUE READING BELOW
Visitors should coordinate with the Camiguin Tourism Office should they want to visit this extraordinary home. 
Guinsiliban Moro Watchtower and Gabaldon School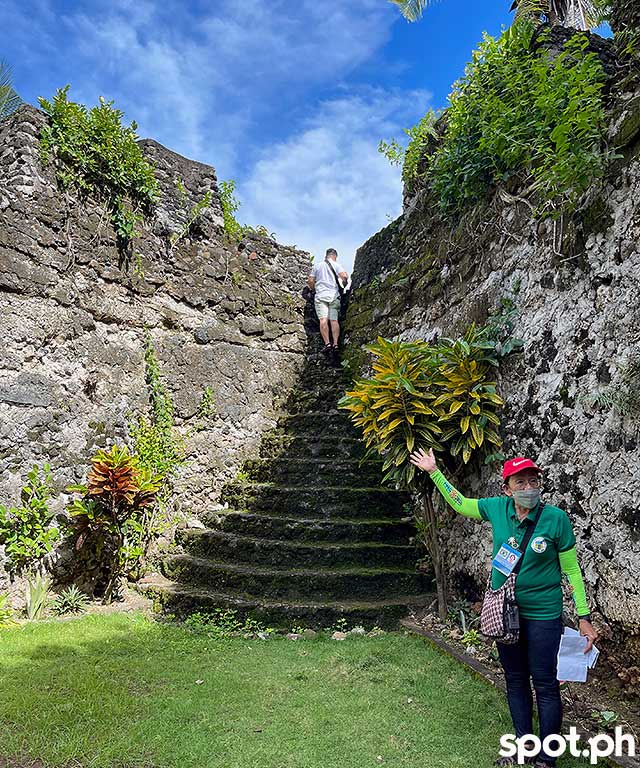 It was in tiny Guinsiliban (Guinsilipan in old Kinamuigin), according to Old Spanish documents, where Ferdinand Magellan and Miguel Lopez de Legaspi landed in Camiguin in 1521 and 1565, respectively. It's now the smallest of the province's five municipalities with a population of about 6,685 people, according to the 2020 census. 
ADVERTISEMENT - CONTINUE READING BELOW
Tucked behind a school with nary a sign in place is the town's Spanish-era Moro Watchtower, so named because it was where Camiguinons kept watch for invading Moro pirates. This enclave was also used to shelter locals during pirate raids.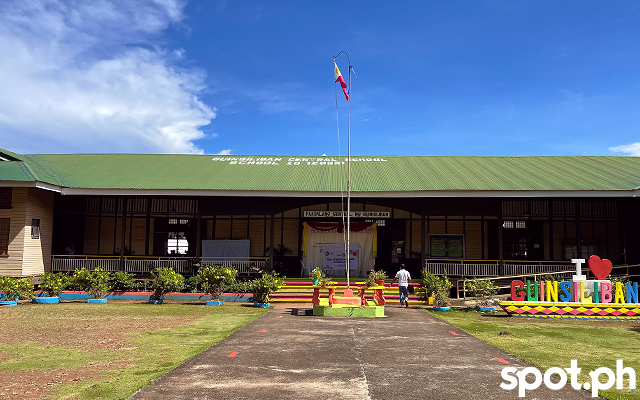 ADVERTISEMENT - CONTINUE READING BELOW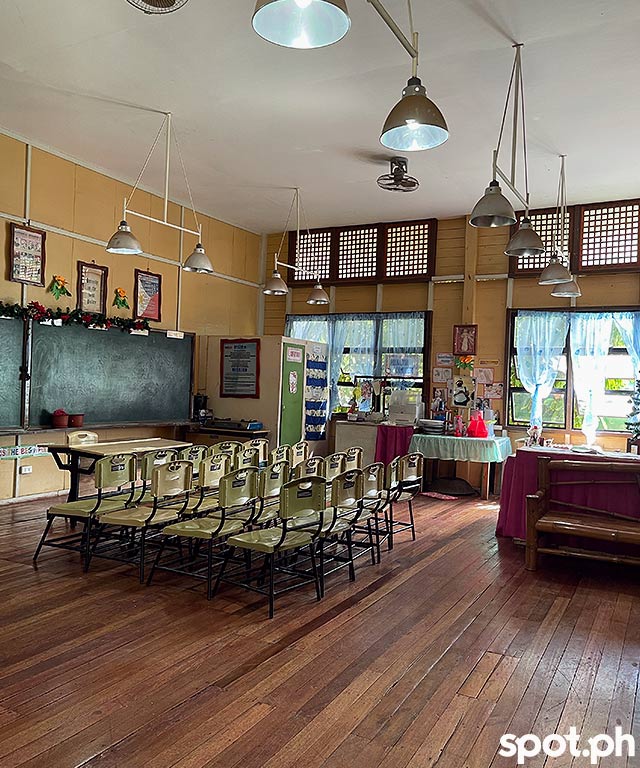 Interestingly, the school fronting the watchtower, Guinsiliban Central School, is a treasure in itself; it's the epitome of a Gabaldon building. These buildings were constructed from local hardwood and built between 1907 and 1946, and named after Isauro Gabaldon, an assemblyman who authored Republic Act 1801 that appropriated P1 million for the construction of school buildings in every municipality. 
ADVERTISEMENT - CONTINUE READING BELOW
As in all Gabaldons, Guinsiliban Central School reflects both Spanish and American heritage but took inspiration from the bahay kubo and bahay na bato. It's characterized by high ceilings with large windows for proper ventilation and lighting for students. 
Mambajao's Historic Town Center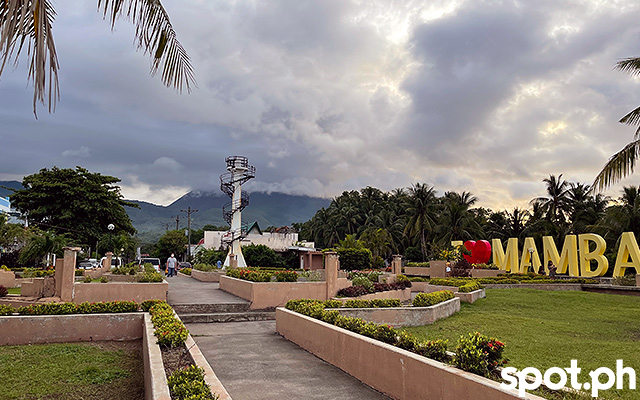 ADVERTISEMENT - CONTINUE READING BELOW
Quiet provincial capital Mambajao was once part of neighboring Catarman, but a special decree in 1855 separated the two. It was the busiest port in Northern Mindanao in its heyday in the 1900s. The first public school and water system were built there at the turn of the century. Camiguin was once part of Misamis Oriental, and it was only 1968 that it became a province with Mambajao as its capital. 
Mambajao's town center is an easy stroll with historic sites peppered here and there. Among the highlights are the Old Wharf Parola with its rickety lighthouse; a small footbridge constructed in 1913; and the 1914 fountain monument in Plaza Union that now serves as the town's main roundabout—all a short walk away from one another. There's also an old abaca factory not too far away and a smattering of heritage houses.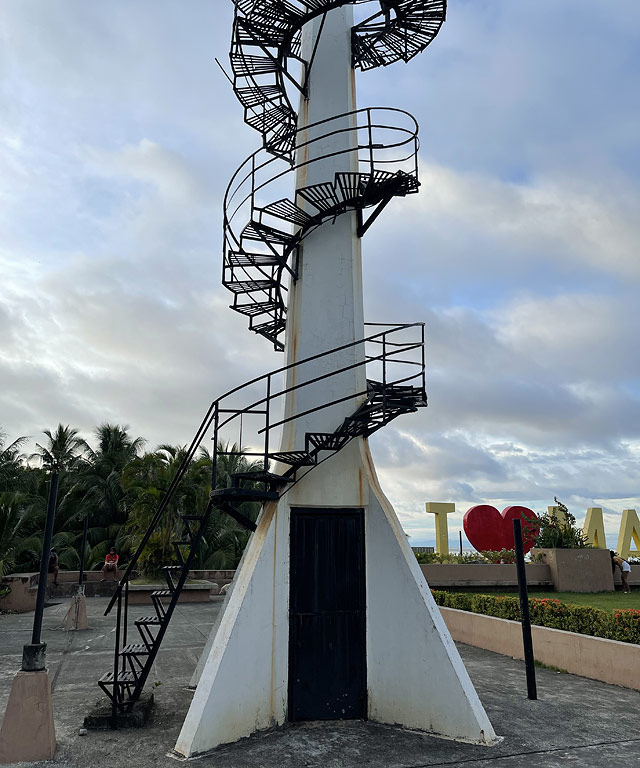 ADVERTISEMENT - CONTINUE READING BELOW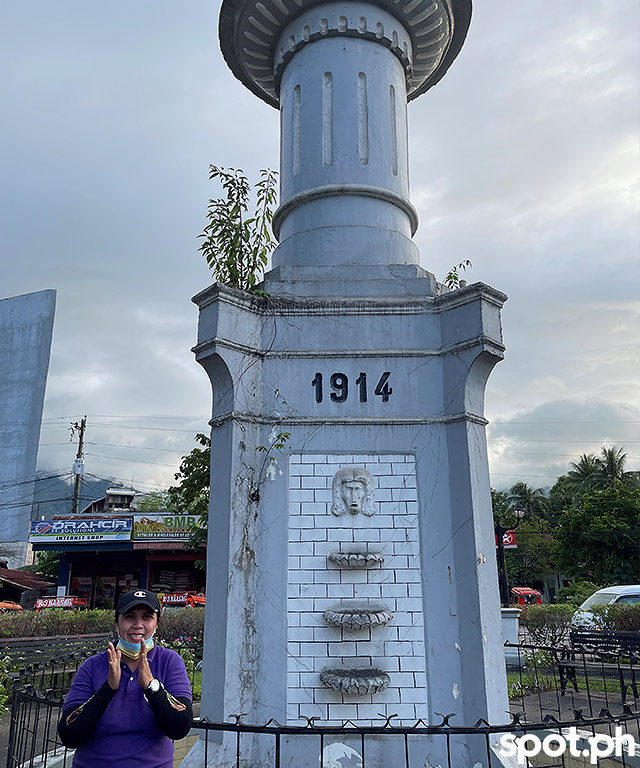 The Tourism Office has plans of plotting a Heritage Walking Tour around Plaza Union, which makes sense given the close proximity of cultural assets with one another. 
A People Built for Tourism 
Acknowledging its rich history and culture, the Provincial Government of Camiguin, under the leadership of Governor Maria Luisa D. Romualdo in 2018, embarked on an enhancement program that covered the recognized heritage and cultural sites on the island. "These efforts are continued under the baton of incumbent Governor Jesus Jurdin Romualdo," Boncato added. 
ADVERTISEMENT - CONTINUE READING BELOW
The travel show host recounted how this program started with the Old Church Ruins and its three remaining structures. "The whole site has been fenced and its entryway further defined to give guests a sense of arrival. Path walks, signages, and mood lighting have been creatively added (restrooms, too) to enhance the guest experience," he shared.
More than their cultural and natural treasures, Camiguinons are hospitable, gentle, pleasant, caring, and while fiercely proud of their heritage are embracing the cultures of the world. Boncato believes that the locals are born for tourism. 
"The number of foreigners assimilating with locals—like opening gainful restaurants offering international cuisine—is one clear testament to this. Camiguinons truly possess the DNA for tourism that was the leading industry pre-pandemic and (the province is) poised to regain its top spot post-pandemic."
How to get there: Cebu Pacific flies direct from Manila to Camiguin every Monday and Friday, and from Cebu to Camiguin every Tuesday and Saturday.
ADVERTISEMENT - CONTINUE READING BELOW
Share this story with your friends!
---
Help us make Spot.ph better!
Take the short survey
More Videos You Can Watch
Load More Stories