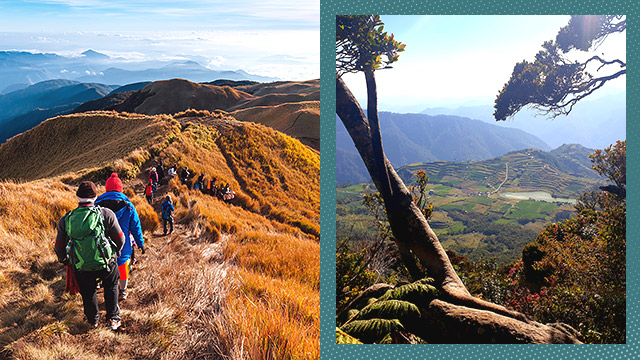 (SPOT.ph) No matter your destination or expectation, hiking is always an invigorating, liberating, and educational experience. You can stretch your legs, commune with nature, and get your dose of much-needed endorphins (a.k.a. the happy hormone). Before you say that hiking just isn't for you, let us put your fears to rest: Assuming your doctor says otherwise, you can hike at your own pace in one of the many trails in the country—which includes the many in Benguet, a favorite trekking destination because the view of the Cordilleras is always worth all that effort.
Also read:
10 Scenic Places in Baguio for the Best Sunrise and Sunset Views
10 Challenging Hiking Destinations Near Manila
10 Beginner-Friendly Hiking Destinations Near Manila
It is recommended that you do some form of exercise before your adventure, just to acclimate yourself to the challenging activity. Also, don't forget to check for updates about your chosen destination as vaccination papers and other pertinent documents may be required. Most hiking destinations also charge fees—and with good reason: It takes a lot of effort to keep our natural environment clean and maintain its condition. So, please, don't scrimp, even in paying guide fees and purchasing food from local stores. 
ADVERTISEMENT - CONTINUE READING BELOW
When you embark on your adventure, just remember the mountaineering mantra: "Take nothing but pictures, leave nothing but footprints, kill nothing but time."
Check out these hiking destinations in Benguet (Note that these Cordillera mountains are ranked in ascending order of difficulty from the POV of a non-pro, hiking enthusiast):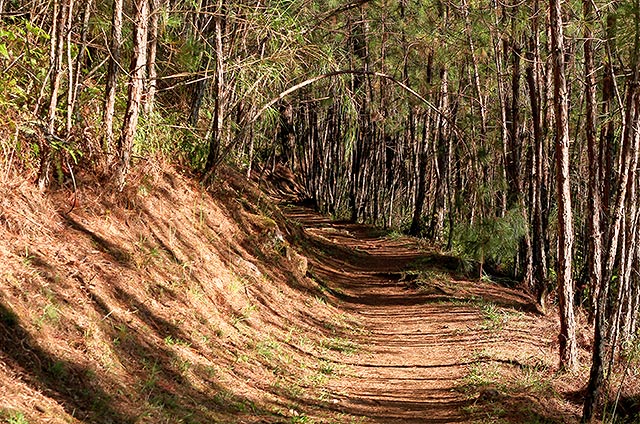 John Hay Yellow Trail
Baguio City, Benguet
Hiking duration: Two hours
Accessible starting at 8 a.m.
Now also referred to as the Forest Bathing Trail, this is a relatively easy walk over old pine tree roots. Watch your step so you don't trip or lose your footing. There are bridges along the way and a ridge from where you can see the layers of mountains of nearby Benguet province. 
How to get there: You can take a cab from anywhere in the city or jeepneys that ply the main highway on their way to Scout Barrio, Kias, PMA, and Loakan. The trail starts just behind Le Monet Hotel and takes you past the VOA Road to Scout Hill. 
CONTINUE READING BELOW
Recommended Videos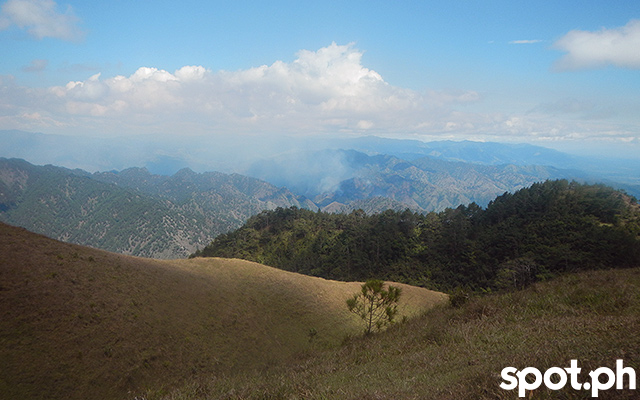 Mt. Yangbew 
La Trinidad, Benguet
Elevation: 1648 meters above sea level
Hiking duration: One hour
Accessible starting at 6 a.m. 
From the jump-off point, the first part of the trek is paved, then it takes you up a steep, rocky trail until you get to the grassy portion where you will pay a minimal environmental fee. At the top, you get sweeping 360-degree views of Baguio, La Trinidad Valley, and nearby mountains, including neighboring Mt. Kalugong. Many visitors try to make it up here for sunrise and just-before-they-close sunset views. There are sometimes horses available for photo ops or short rides. Some people go on to climb Mt. Kalugong from Mt. Yangbew. 
How to get there: From the La Trinidad jeepney terminals near Baguio Center Mall,take a ride to KM 4. Walk to nearby Pines Park, where you can ride the Brgy. Tawang jeep that will pass by the jump-off point.
ADVERTISEMENT - CONTINUE READING BELOW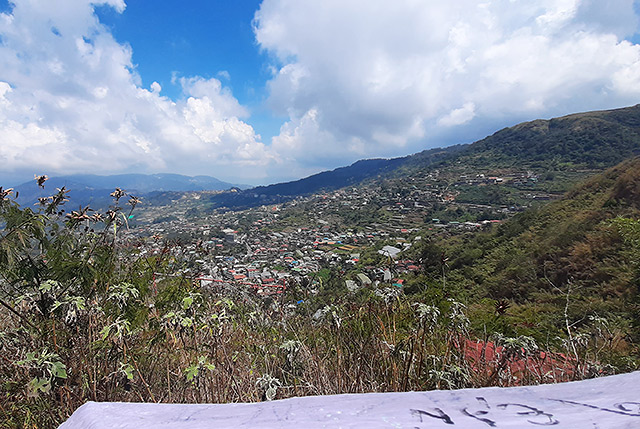 Mt. Kalugong 
Tawang, La Trinidad, Benguet
Elevation: 1472 meters above sea level
Hiking duration: 45 minutes
Accessible starting at 7 a.m.
Accentuated by limestones, this mountain has facilities for picnics and camping,  as well as a cabin for staying overnight. The views of the valley and nearby mountains can be enjoyed from different vantage points, including from cliffs with heart-thumping drops. There is even a Kape-An, where you and your group can sip coffee and take many selfies before going back down (or go on to hike Mt. Yangbew). 
How to get there: You can actually take a private vehicle all the way up, though the road gets very steep. Otherwise, take a jeep plying the Tomay/Camp Dangwa route, and ask the driver to drop you off at the foot of the trail to Mt. Kalugong.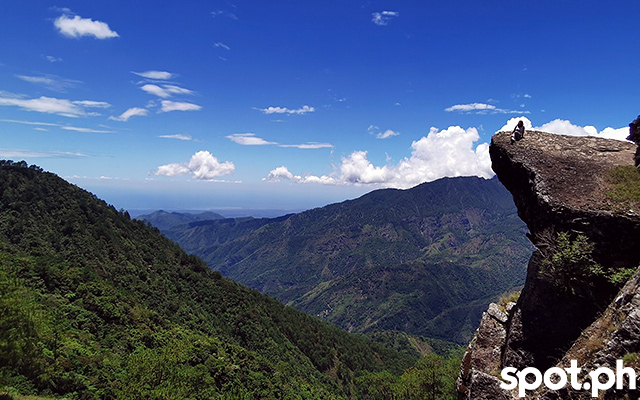 ADVERTISEMENT - CONTINUE READING BELOW
Mt. Ulap
Itogon, Benguet
Elevation: 1846 meters above sea level
Hiking duration Time: From eight to 10 hours
Accessible starting at 5:30 am
Pre-registration is required through Facebook or Google Form.
You've seen those amazing photos that look like people standing precariously on a protruding rock, hanging out so close to the sky, right? This is that place! Along the way to this picture-perfect spot, you will be treated to changing landscapes (from pine to mossy forests) and be rewarded with amazing views (from nearby Baguio, Philex Mines, and San Roque Dam, to as far as Lingayen Gulf on a very clear day). The trail features 9.4 kilometers of undulating terrain with up to 70-degree steep inclines on the way down. Some steps have been carved out and fortified with pieces of wood, while others are rocky. The soothing reward once you've completed the course is that you can take a dip in the river to cool off your strained legs. You can also opt to camp here for a night. 
How to get there: There are jeepneys from Baguio Center Mall that can take you to the jump-off point at Barangay Ampucao, but they're few and far between. Alternatively, you can charter a taxi (from P400 to P500) or a van service (the plus side is that the same driver can fetch you at Sta. Fe after you finish the trek).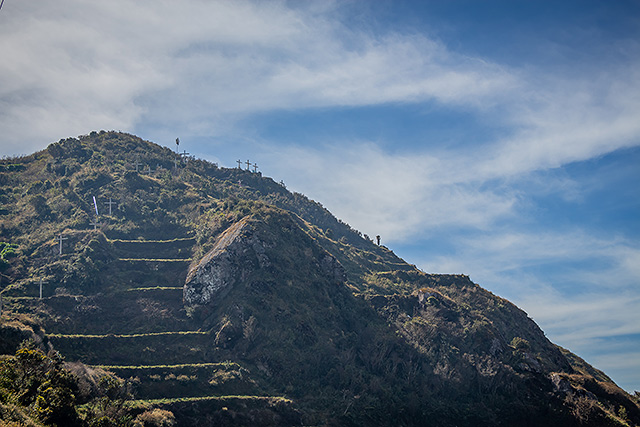 ADVERTISEMENT - CONTINUE READING BELOW
Mt. Timbak
Atok, Benguet
Elevation: 2717 meters above sea level
Hiking duration: Five hours
Pre-registration is required through 0930-160-4886 or 0951-851-6824.
The ascent is not too difficult as it is up a paved road. When you reach the summit, you will find three crucifixes, reminiscent of Biblical scenes at Calvary. At different times of the day, you can either enjoy views of Mt. Tabayoc, Mt. Pulag, and Mt. Ugo as well as the villages below; or a sea of clouds all around. The descent is more challenging and taxing on the knees, alternating between paved and rocky paths. 
How to get there: Take the bus from the Slaughterhouse on Lower Magsaysay or Dangwa Station near Baguio Center Mall headed to Sagada, Bontoc, or Abatan and alight at KM 55 in Atok. Then, proceed to Paoay Barangay Hall. It is advisable to charter a private vehicle or join a tour group. Some travel agencies package a "Luzon 3-2-1" experience, taking you to Luzon's top three highest peaks (Pulag, Tabayoc, Timbak) or a circuit with other nearby attractions like the Northern Blossom Flower Farm.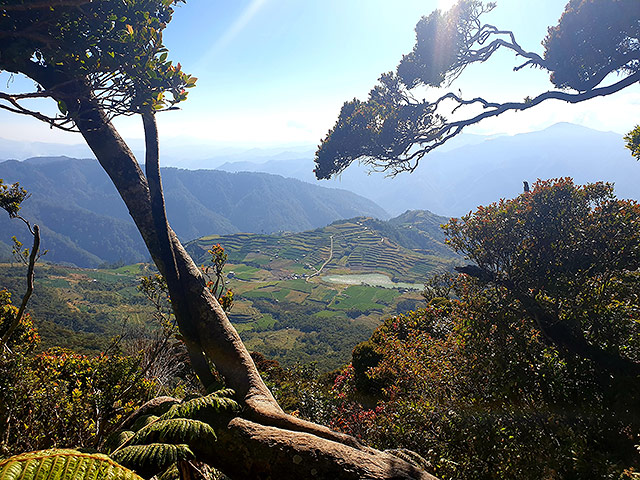 ADVERTISEMENT - CONTINUE READING BELOW
Mt. Tabayoc 
Kabayan, Benguet
Elevation: 2842 meters above sea level
Hiking duration: Four hours
Pre-registration is required through Facebook.
Exploring the second highest mountain in Luzon also includes enjoying the sight of Benguet's four beautiful lakes: Tabeo, Ambulalakao, Iculus, and Detapnaco. There is also lush vegetation and wildly growing forests, where you may swing from the vines a la Tarzan. The summit awaits with thick fog and forest. You can hang out at the rickety view deck and enjoy panoramic views above the canopy.
How to get there: From the Slaughterhouse on Lower Magsaysay or Dangwa Station near Baguio Center Mall, take the bus headed to Kabayan. Alight at Ballay.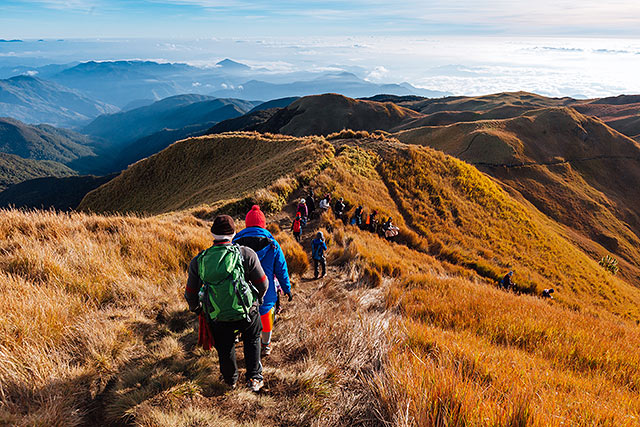 Mt. Pulag
Kabayan, Benguet (but extends to Nueva Vizcaya and Ifugao)
Elevation: 2926 meters above sea level
Hiking duration: 10 hours
Pre-registration is required through Facebook.
Being the highest in Luzon and the third highest in the Philippines does not necessarily mean this is the most difficult. There are several trails open to the public, including Akiki and Tawangan, but Ambangeg is considered the easiest. Still, it is advisable to reserve a minimum of two days for this trip—especially since you wouldn't want to miss the sunset at Camp 2 and sunrise at the summit. Along the way, you will experience not only a change in flora but also in temperature. Sometimes, at the summit, it drops to below zero. It is best to join the trek through an accredited tour group for everyone's safety and the protection of this Philippine wonder.
ADVERTISEMENT - CONTINUE READING BELOW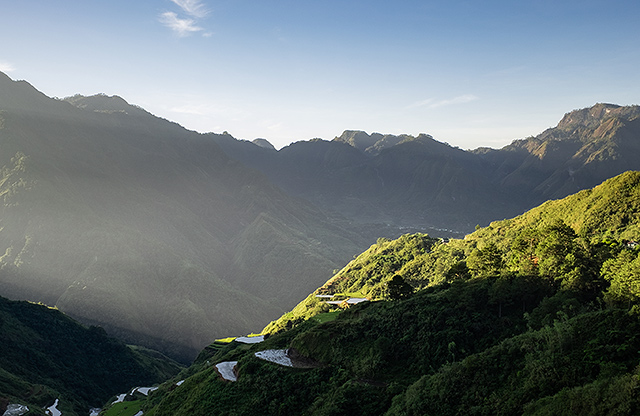 Bakun Trio 
Bakun, Benguet
Elevation: Mt. Tenglawan is 1922 meters above sea level, Mt. Kabunian at 1789 meters, and Mt. Lobo at 2106 meters
Hiking duration: One whole day for each mountain
Pre-registration is required through 0938-092-5115 or 0966-264-1458.
This traverse is not for the faint-hearted—yet, there is a very worthwhile reward in tackling the three mountains in succession. Each mountain may take up to 12 hours to explore, each unique in terms of wildlife (including wild berries along the way to keep hunger at bay and your energy up) and refreshing views. Not to mention passing by villages where you can observe how different life can be from your own. The unique sunrise and sunset views aren't something you'll soon forget either. In Mt. Lobo and Mt. Tenglawan, there are cemented pathways with handrails at precarious points. Allot five days in total to be able to manage your energy level and allow for recovery between climbs.
ADVERTISEMENT - CONTINUE READING BELOW
How to get there: From KM 5 in La Trinidad, take a bus to Bakun. Make your way to Bakun Tourist Information and Assistance Center in Sinipsip, Gambang.
We are now on Quento! Download the app and enjoy more articles and videos from SPOT.ph and other Summit Media websites.
Share this story with your friends!
---
Help us make Spot.ph better!
Take the short survey
Load More Stories