(SPOT.ph) It seems like everyone wants to sink their teeth into a hamburger these days, thanks in part to a now viral scene from the movie, The Menu.
Without getting into spoilers, this particular scene features Chef Julian Slowik (played by Ralph Fiennes) carefully making a cheeseburger with expert precision and care for Anya Taylor-Joy's character. The scene is pure food porn, with close up shots of the cheese slowly melting on the burger, resulting in many craving this quintessential fast food treat—despite the movie's dark story.
But what makes a burger so compelling anyway? We list down everything you need to know, including where to get the best burgers right here in the Metro.
All About Burgers
A classic hamburger is defined by its simplicity—a grilled juicy beef patty sandwiched in between two soft sesame seed buns. Toppings can vary, ranging from tomatoes, lettuce, and cheese, to various condiments such as mustard, ketchup and even barbecue sauce.
ADVERTISEMENT - CONTINUE READING BELOW
Thanks to its simplicity, hamburgers can be found everywhere. Almost every fast food chain has its own version of a hamburger and even most high-end restaurants have their own elevated takes.
There's also the age-old debate of whether a burger can be considered a sandwich. If we go by the classic definition of a sandwich, which is "two or more slices of bread having a filling in between" according to Webster's dictionary, then yes, we can easily consider a burger to be a sandwich. But considering that almost every restaurant separates its sandwich and burger offerings, then we could also consider burgers to be a completely different entity.
The Origins of the Burger
Many trace the origins of the burger to Hamburg, Germany. During the 19th Century, beef was minced, seasoned with garlic, onions, salt and pepper, and formed into patties called Hamburg steaks. 
These Hamburg steaks eventually made their way to the United States, thanks to German immigrants settling in cities like New York and Chicago. Many of them opened up restaurants and served Hamburg steaks, although they were considered to be pricey at the time.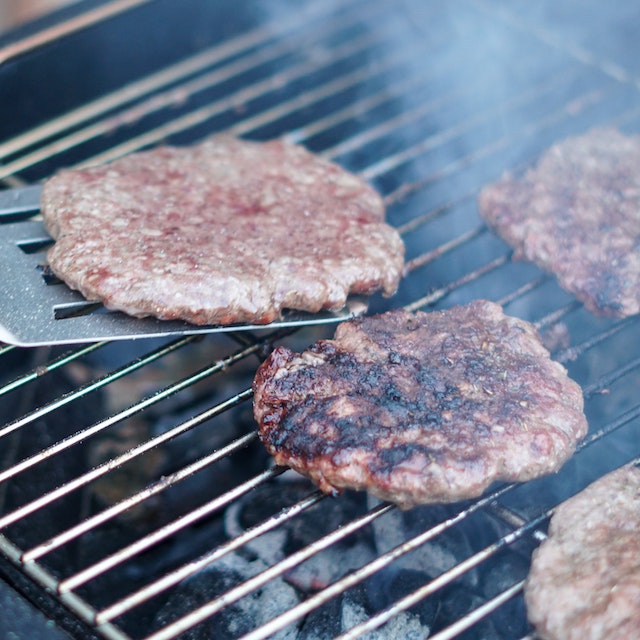 One chef, however, decided to innovate by sandwiching this Hamburg steak in between two slices of bread. Their name has been lost to history, but their invention eventually made its way all throughout the country.
Burgers made their way to Philippine shores due mainly to American colonization. The first-ever big hamburger chain to open up is Tropical Hut, which opened its doors way back in 1962.
ADVERTISEMENT - CONTINUE READING BELOW
Types of Burgers
The most basic hamburger is composed of a beef patty sandwiched in between two buns. The patty can be pan fried, resulting in a patty that's crispy on the outside but still juicy on the inside. Grilling patties can also be an option if you're hoping for a faster cooking, with most patties being fully cooked within three to four minutes per side. Add a piece of cheese on top and you've got yourself a classic cheeseburger.
Smash burgers are also another popular type of burger. These are made by smashing a patty flat on a hot grill or pan until you've got a crispy brown crust. The quick cooking time also doesn't dry out the patty much, resulting in an extremely juicy burger.
Steamed burgers are a less popular form of preparation. As the name itself implies, burger patties are slowly steamed instead of being flash cooked on a grill or a pan. These types of burgers lack the classic grilled taste but more than make up for it in terms of juiciness. They're also known to be healthier as this type of cooking process results in little to no grease.
ADVERTISEMENT - CONTINUE READING BELOW
Another type of burger that's been slowly gaining in popularity are plant-based burgers. Almost every fast food chain offers these vegetarian or vegan options now, with patties being made up of lentils, beans, soybeans, or seitan. Some chains even get rid of the plant-based patty altogether, choosing to replace it instead with portobello mushrooms.
Popular Burger Toppings
As mentioned earlier, what transforms a regular burger into a cheeseburger is by simply placing a piece of cheese on top of a patty. You can't go wrong with classic American cheese with its creamy and salty flavor perfectly complementing any type of patties. Other popular picks include mozzarella, cheddar, bleu cheese, and even brie for an ultra-creamy and ultra-gooey bite.
Vegetables are also another popular topping option for burgers. In terms of onions, you can either get them raw for a crunch or caramelized for a sweet flavor. Tomatoes and lettuce are also a classic and help give a little bit more texture to your burgers. Mushrooms can also be added to your burger for a bit more of an earthy, umami flavor. Pickles can be a hit or miss, depending on whether or not you're a fan of their brininess.
ADVERTISEMENT - CONTINUE READING BELOW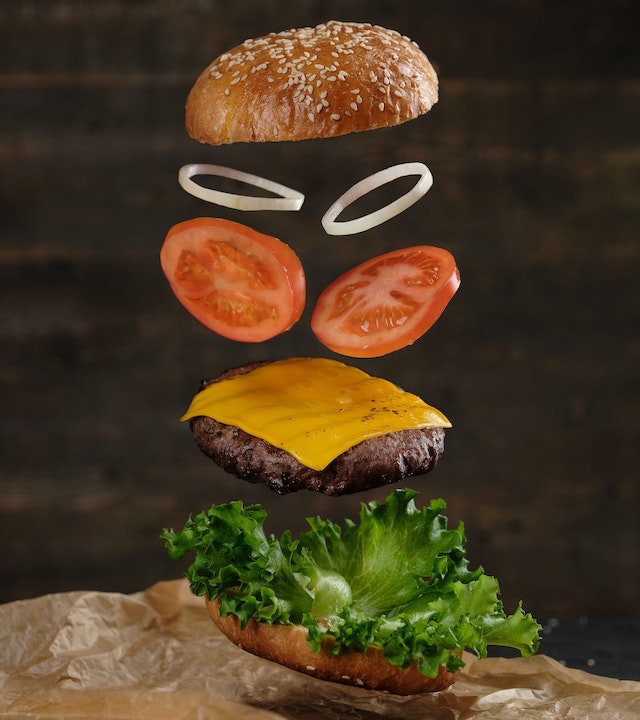 Eggs are also another popular topping, most of them being found on so-called breakfast burgers. Another breakfast staple, bacon, is also a favorite topping, helping provide a much-needed crunch.
In terms of condiments, ketchup, mayo, and mustard are the best known ones, with thousand island dressing and barbecue sauce coming in as close favorites. Most joints come up with secret sauces that complement their burgers perfectly.
ADVERTISEMENT - CONTINUE READING BELOW
Lastly what makes a burger a burger is their bun. The most common bun is the sesame one, but some chains also offer potato buns or brioche buns for a more pillowy texture. Some restaurants even forgo the bread completely, offering buns made out of rice, lettuce, and even glazed doughnuts.
Where to Get Burgers in Metro Manila
Sweet Ecstasy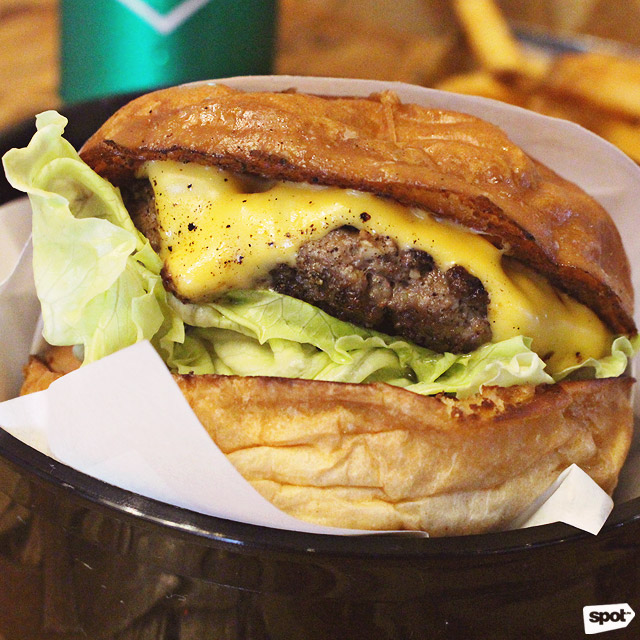 ADVERTISEMENT - CONTINUE READING BELOW
It should come as no surprise that Sweet Ecstasy (also called Sweet X) is on this list. After all, it's been a consistent member of our Top 10 Cheeseburgers in Metro Manila list and was even dubbed one of Asia's best burger places back in 2019. If the word cheeseburger came with a picture in the dictionary, Sweet Ecstasy's version would definitely be it. Imagine a juicy beef patty topped with melted cheese, your choice of onions, fresh lettuce and tomatoes, all sandwiched in between two pillowy soft buns.
See a list of Sweet Ecstacy branches.
Tropical Hut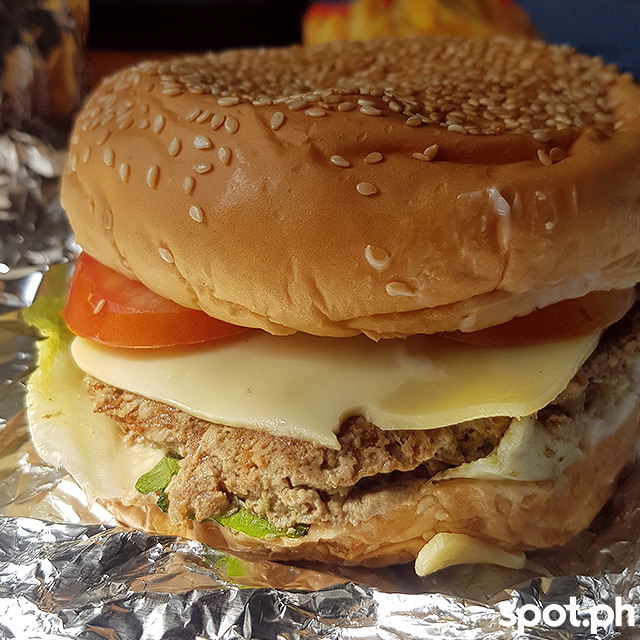 ADVERTISEMENT - CONTINUE READING BELOW
A favorite among our parents and grandparents, Tropical Hut recently experienced a resurgence thanks to a viral Twitter thread. One bite of their classic burgers and you'll realize why this fast food chain has stood the test of time. Their patties are pretty hefty and are made with 100% beef. It comes off as a little crumbly–a strong assurance that there are no extenders present here.
See a list of Tropical Hut branches.
8 Cuts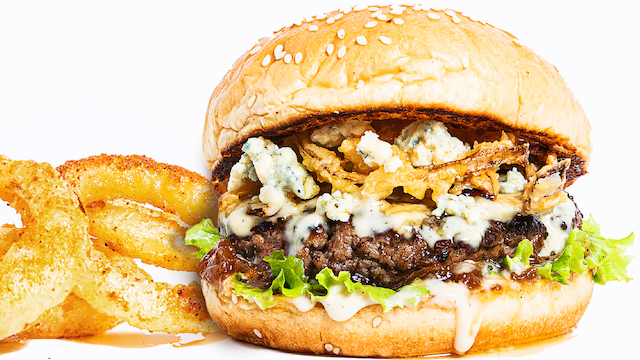 ADVERTISEMENT - CONTINUE READING BELOW
8 Cuts prides itself on its "all killer, no filler" patties so you know you're only getting the best beef. They have all kinds of combos whether that's their classic and basic Cheeseburger, the Piggy, which is a meat lover's dream topped with smoked bacon, a bacon-onion compote, garlic and aioli, and the incredibly hefty Hangover 2.0, which comes with sugar-glazed corned beef, a sunny-side up egg, shoestring potatoes, fried tomatoes, and fried basil.
See a list of 8 Cuts branches.
Hungry Homies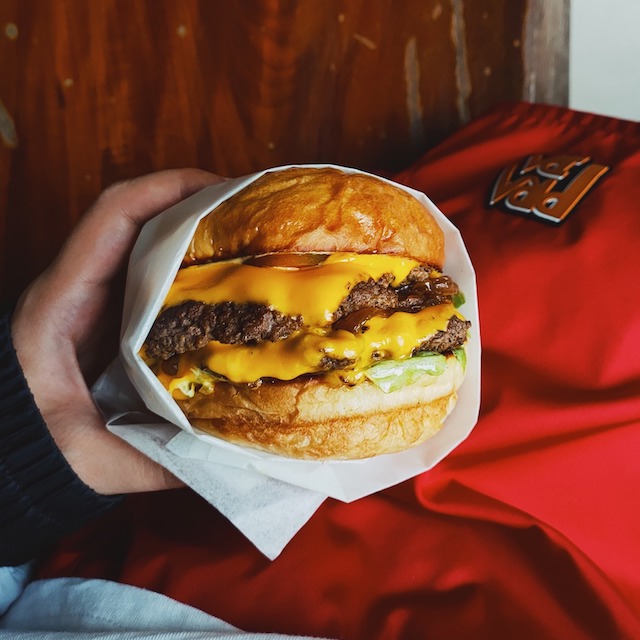 ADVERTISEMENT - CONTINUE READING BELOW
A social media fave before opening up its sit-down dining spot in Makati, Hungry Homies' menu is relatively simple. They only have three burgers on their menu, the California-style Hypebeef with caramelized onions, American cheese, tomatoes, and lettuce, the Purist, a no-frills version of a burger that comes with fried onions, pickle chips, and mayo-mustard dressing, and the Run BMC, a heftier burger with American cheese, mango wood smoked bacon, sautéed shiitake mushrooms, pickle chips, and chipotle bbq mayo.
Hungry Homies is at 2233 Chino Roces Avenue, Makati City and 19 Walnut Street, Marikina City.
Shake Shack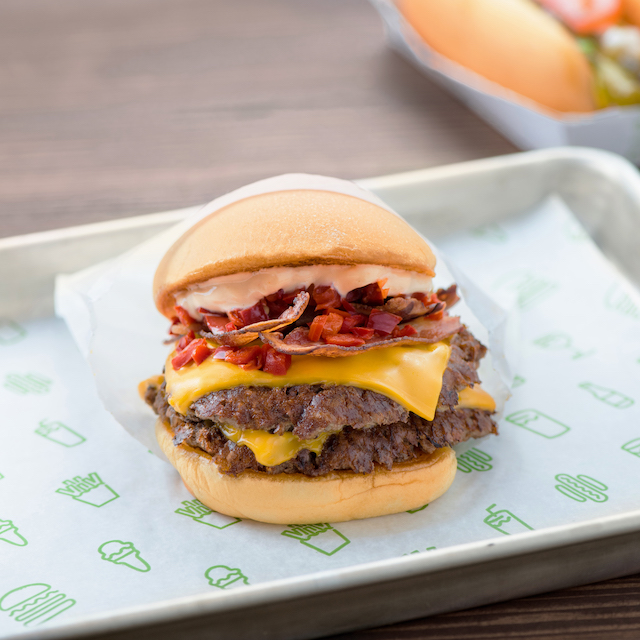 ADVERTISEMENT - CONTINUE READING BELOW
You can't talk about burgers in Manila without mentioning Shake Shack. Their burgers are the perfect example of less is more, with grilled patties topped with fresh lettuce and tomatoes, and a tangy secret sauce, sandwiched in between two soft potato buns.
See a list of Shake Shack branches.
POPS Beyond Better Burgers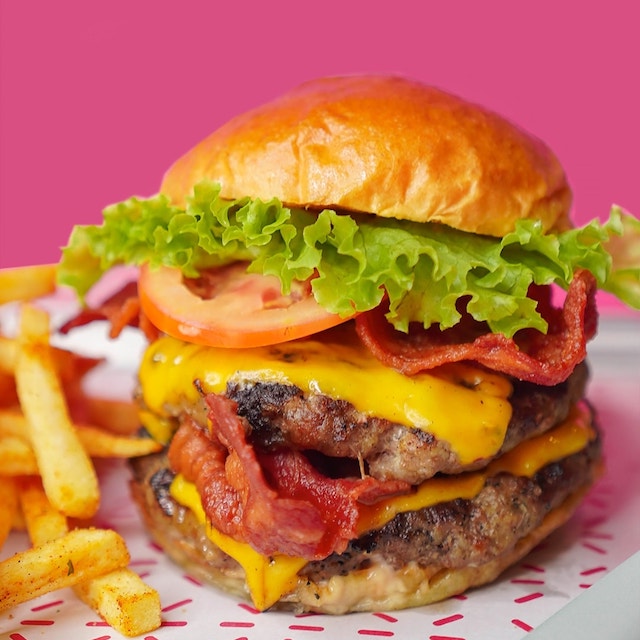 ADVERTISEMENT - CONTINUE READING BELOW
One of Quezon City's best burgers is situated right in a gas station. POPS Beyond Better Burgers makes a fantastic rendition of a cheeseburger with their Moo Melt, a 100% Angus beef burger topped with melted cheddar cheese. If you'd prefer something a bit heavier though, there's the Legendary Burger, or a double cheeseburger topped with bacon.
POPS Beyond Better Burgers is at the Petron Station, Katipunan, Quezon City.
Hackensack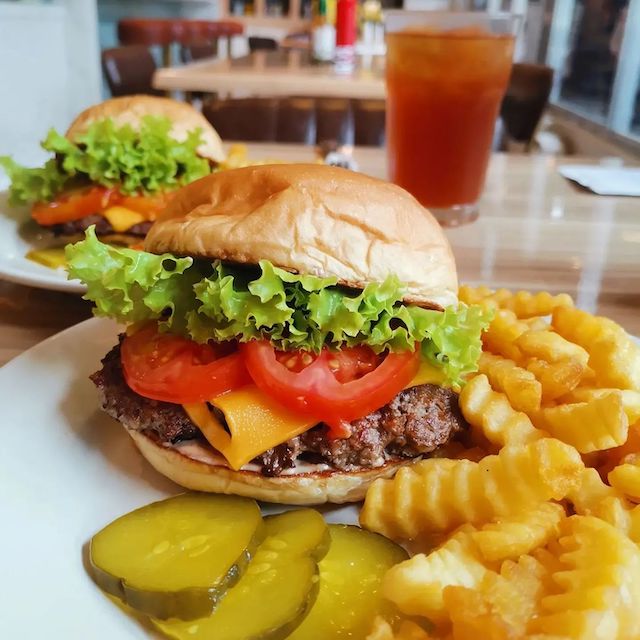 ADVERTISEMENT - CONTINUE READING BELOW
Hackensack plays tribute classic American diner burgers. Their 50s Cheeseburger is cooked New Jersey-style, which means it's slowly steamed and grilled on top of diced onions, giving the patties a lot of flavor. They also have smashed burgers on their menu in the form of their Deluxe Cheeseburger, which has a burger patty that's crispy on the outside but retains all of its juicy flavors. 
Hackensack is at 1216 E. Rodriguez Sr. Avenue, Quezon City.
Wildflour Burger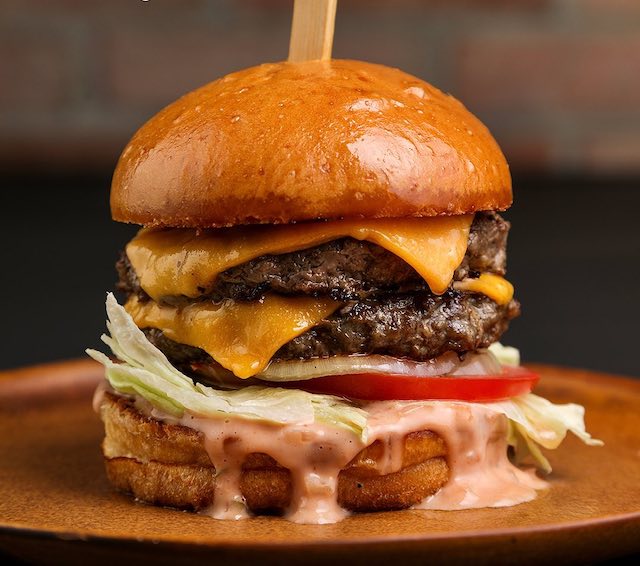 ADVERTISEMENT - CONTINUE READING BELOW
Wildflour prides itself on using quality ingredients and their burgers are no different. Made with Canadian beef patties, homemade burger buns, and fresh tomatoes and lettuce, these burgers come with all sorts of toppings ranging from classic American cheese to avocado, bleu cheese, and even pastrami.
For orders, visit Wildflour Burger's website.
The Snack Shack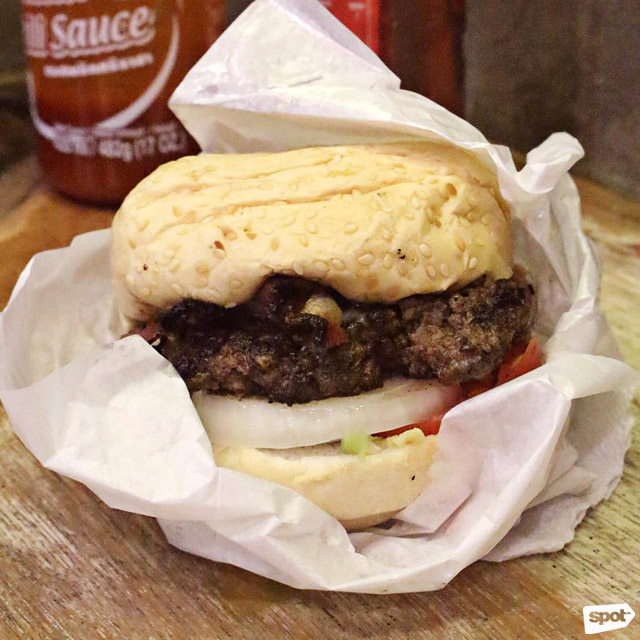 ADVERTISEMENT - CONTINUE READING BELOW
Formerly stationed at UP Diliman's Area 2 before opening more branches, this unassuming burger stand has become legendary among Iskos and Iskas, thanks to their affordable and drool-worthy burgers. Check out their Grilled Bacon Cheezeburger for the perfect combination of juicy beef, salty bacon, and melted cheese.
See a list of The Snack Shack branches.
Brothers Burgers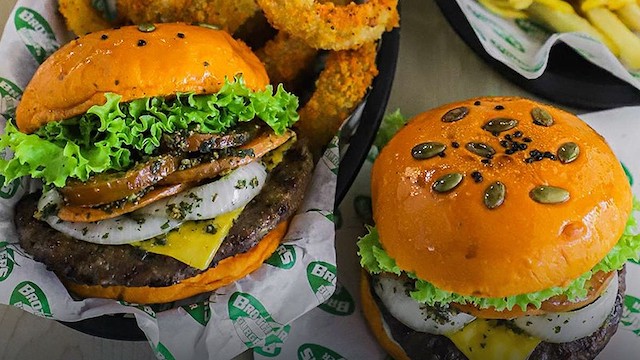 ADVERTISEMENT - CONTINUE READING BELOW
Brothers Burgers has been a go-to since the 90s, thanks to their patties' distinct fresh off the grill flavor and their soft and buttery buns. If you're feeling extremely hangry, you can't go wrong with their Boss Burger, which comes with three beef patties, cheese, bacon, lettuce and tomatoes.
See a list of Brothers Burger branches.
Pink's Hot Dogs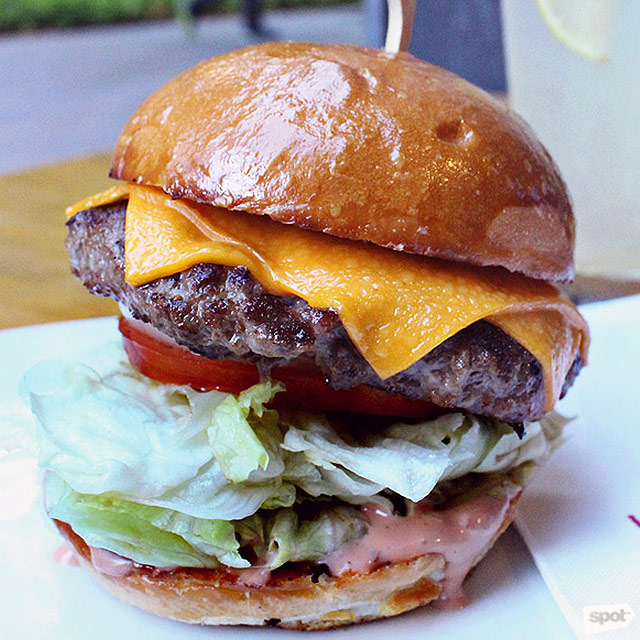 ADVERTISEMENT - CONTINUE READING BELOW
Pink's may be best known for their hot dogs but they make some mean burgers too. They only have four burgers on their menu, a classic Cheeseburger, a Chili Cheeseburger topped with their famous chili, a Barbecue Bacon Cheeseburger that comes with crispy onion strings, and a Breakfast Burger that comes with both bacon and an egg.
Pink's is at G/F Shangri-La the Fort, 30th Street, Bonifacio Global City.
MOS Burgers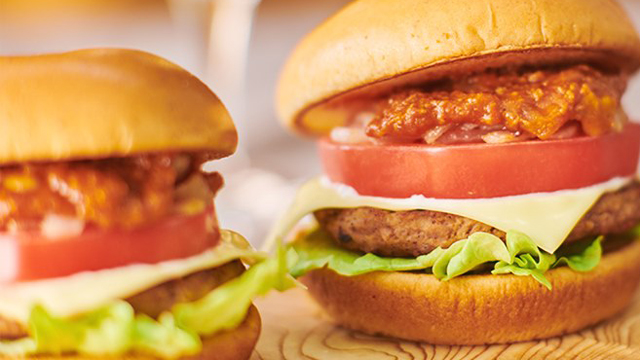 ADVERTISEMENT - CONTINUE READING BELOW
If there's one thing that Japanese know how to do, it's to innovate. And their burgers are no exemption. MOS Burgers is Japan's second biggest burger chain and they're best known for their rice burgers, which features a mix of rice, millet, and barley as buns. If you'd prefer a low-carb version, they also offer burgers sandwiched in between leaves of lettuce.
See a list of MOS Burgers branches.
Raging Bull Burgers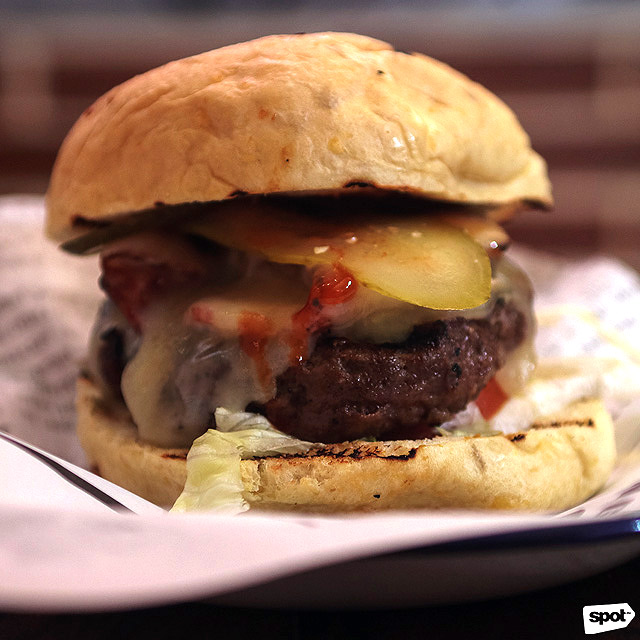 ADVERTISEMENT - CONTINUE READING BELOW
Raging Bull Burgers prides itself on its patties, which is made from choice cuts of wagyu, brisket, and rump. Crowd favorites include the Mighty Beast, which boasts a patty made up of a 70/30 lean-to-fat ratio, which many consider to be the ideal formula for a perfect burger. There's also the Raging Wagyu, which features a Prime Australian Wagyu patty topped with braised onions, chili chutney, lettuce, tomato, and dill pickles.
Raging Bull Burgers is at Shangri-La at the Fort, 30th Street, Bonifacio Global City and Assembly Ground at The Rise, 7248 Malugay Street, Makati City.
Also read:
Beef Hamburger Recipe
Homemade Hamburgers For Baon Are Better + Cheaper Than Eating Out
Hey, Spotters! Check us out on Viber to join our Community and subscribe to our Chatbot.
Share this story with your friends!
---
Help us make Spot.ph better!
Take the short survey
More Videos You Can Watch
Load More Stories