(SPOT.ph) In case you missed it, "America's Best Burger" has been popping up around the Metro since last October. We're talking about Bored and Hungry, the US-based burger joint known not only for its smashed patties that won Good Morning America's Best Burger Competition, but also for its easily recognizable Bored Ape Yacht Club NFT-designed aesthetic. But taking everything we know about the dish aside, we wanted to see for ourselves if this burger's American credentials mean it can also take over the Filipino palate. In short, we beg to ask the question: can Bored & Hungry become the Philippines' Best Burger too?
Also read:
SPOT.ph Roadtest: Is Burger King's Internet-Famous Rootbeer Float All It's Hyped Up to Be?
SPOT.ph Roadtest: Is the Bazooka Bubble Gum Soda Worth More Than Just the Nostalgia?
Here's what we think of Bored and Hungry's Burger:
Availability
Currently, you can only get Bored and Hungry's burgers at their stall in Rockwell's The Grid. Lucky for us, there's no more worrying about the pop-up ending. The Tasteless Group—the folks who brought the brand to our soil—just confirmed that Bored and Hungry will permanently be at The Grid's Stall Number 7. This is the brand's first branch in Asia. While this news is great and all, we're still wishing for more ways to get our Bored and Hungry burger fix. Sure, you can get it delivered through the Grid's delivery website, GrabFood, and Foodpanda, but in our opinion, nothing beats a burger fresh off the grill. 
ADVERTISEMENT - CONTINUE READING BELOW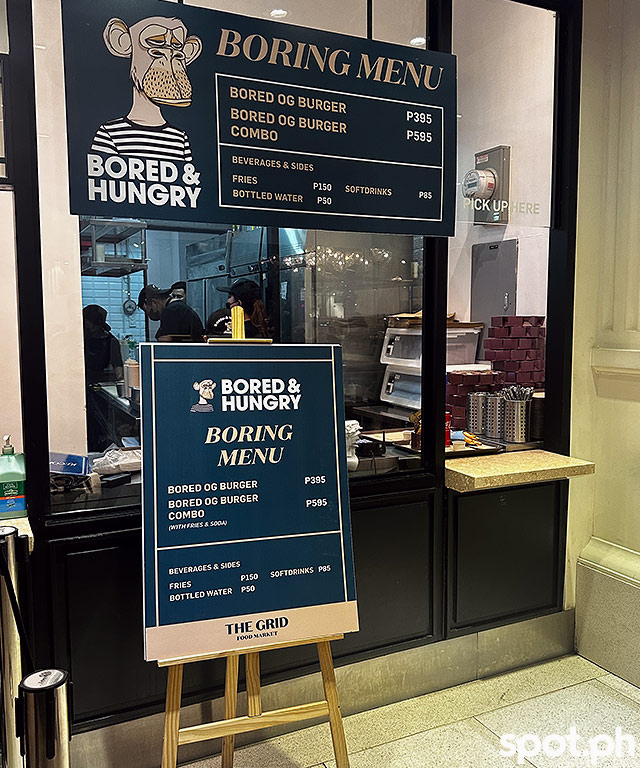 Taste
Bored & Hungry currently only has one burger variant on the menu. The Bored OG Burger features a smashed burger patty—i.e., a patty cooked by being smashed against the griddle, allowing a greater surface area of the patty to come in contact with the griddle and resulting in more of that flavorful browned taste—with sauteed onions, pickles, and American cheese. Once you get the burger, you'll immediately notice the patty's thin nature and crispy edges. It can be a bit overwhelming trying to take that first bite without getting all sauced up, but once you get over the idea of getting messy, you're in for a treat.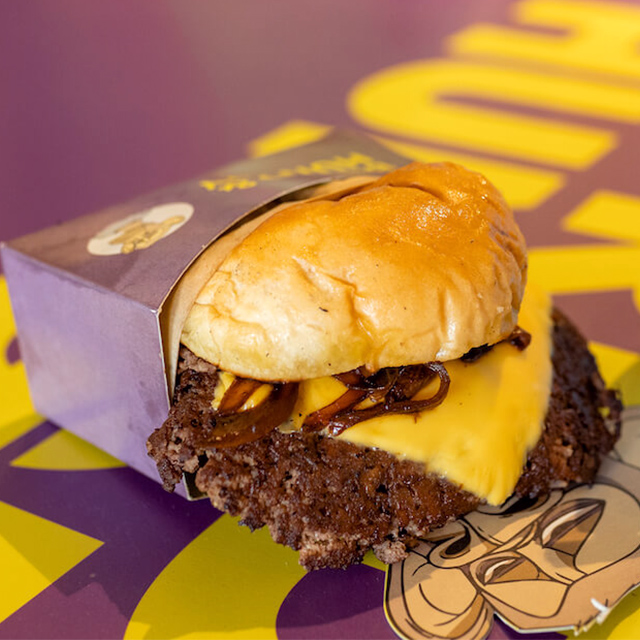 Upon taking a bite of the sandwich, you'll immediately get hit with beefy and almost barbecue-like flavors. This barbecue taste is a mix of sweet-smokey flavors courtesy of the caramelized onions and what we can only guess is a mayo-based sauce. This sweet flavor is then balanced off by a savory bite courtesy of the melted American cheese and the crispy sear on the patty, present especially along its paper-thin edges. TBH, the first few bites of the OG Bored Burger will get you hooked; you'll take one bite after the other, but as you eat more of it, especially as you get closer to finishing it, the overall saltiness of the burger will start to get to you. It's not necessarily off-putting, and don't get us wrong, it's darn tasty, but it leaves you wanting a palate cleanser. TBH, we think this burger could benefit from something fresh, like lettuce or tomatoes.
ADVERTISEMENT - CONTINUE READING BELOW
But arguably, the best part about the burger is its interesting play on textures. Being a smashed burger, one can expect crispy bits of meat rather than the usual thick and meaty bite. As a balance to that crunch, the buns used in the sandwich play a huge role in providing that fluffy contrast that makes every bite a sensory experience. Not to mention, it also acts as a sponge that takes in the oily yet flavorful juices of the meat and sauce, thereby bringing out the flavor more in every bite.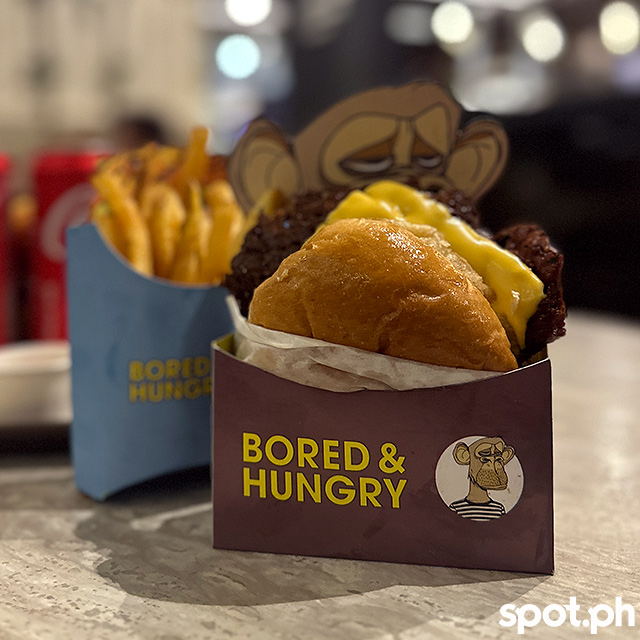 ADVERTISEMENT - CONTINUE READING BELOW
As a break from the burger, you can get a side order of fries with your OG Burger. The fries were alright. There was nothing particularly good or bad about them except that maybe the potatoes weren't as fluffy and carbo-loaded as expected. They were definitely on the crispier thick-cut side.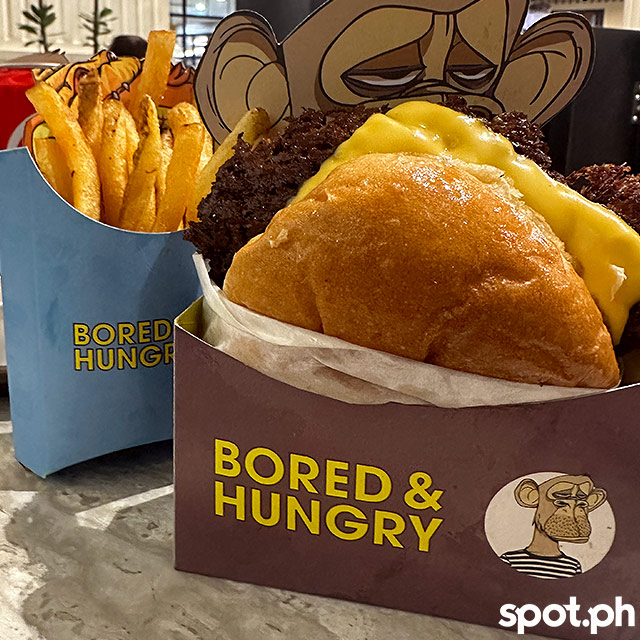 ADVERTISEMENT - CONTINUE READING BELOW
Take our word for it and take a swig of soda after every couple of bites. You'd definitely need a palate wash every so often, so you don't get overwhelmed with the flavor. Soda goes great with this meal as it is refreshing enough to cleanse your taste buds but also a tad sweet, which balances out the salty fries and burger. 
Price
The Bored OG Burger on its own is priced at P395, while a combo meal of the burger, fries, and a soda of your choice will set you back P595. It's a bit pricey for a burger, especially considering a lot of other burger joints can get you a burger at a fraction of the cost. But TBH, after tasting this burger and many other burgers in the Metro, we can turn a blind eye to the hefty price tag occasionally. We think the price shouldn't stop you from trying this out at least once, just don't have it every day at the risk of burning a hole through your pocket. 
ADVERTISEMENT - CONTINUE READING BELOW
Final Verdict
This burger has its merits. With their well-seasoned patty and flavor-rich sauce leading the charge—not to mention the textural contrast between the smash patty edges and its fluffy bun—there's no doubt they could easily climb the proverbial ladder and gain a loyal following of burger aficionados. As for the title of "best," though? That's subjective, but let's just say we've had better for the price.
Bored & Hungry has got a long way to go before they can confidently say they've conquered the Philippine Market. We still wish there were more ways to get a taste of their burger than by just heading to Makati. And there's still the matter of variety. Can we please have more than one burger variant?
Still, it's easy to get hooked and crave this meaty delight for a meal or a quick shopping break when in the area. Would we order this again? Yes, for sure, especially when we visit Rockwell. But if we're not in the area and we need a quick burger fix, will we make the trip just for it, maybe not, but that's not to say we don't like them. We just think there's much more to do before they become the best in the country. But hey, it could only get better from here, and by the looks of things, there's a lot to be excited about when this brand starts kicking it into full gear.
ADVERTISEMENT - CONTINUE READING BELOW
Also read:
SPOT.ph Roadtest: What's With All The Hype for Tealive Philippines?
SPOT.ph Roadtest: Are Lay's Truffle Potato Chips Worth a Try?
Hey, Spotters! Check us out on Viber to join our Community and subscribe to our Chatbot.
Share this story with your friends!
---
Help us make Spot.ph better!
Take the short survey
More Videos You Can Watch
Load More Stories