Top 10 Matcha Lattes in Manila (2016 Edition)
Our love for green tea keeps growing and growing.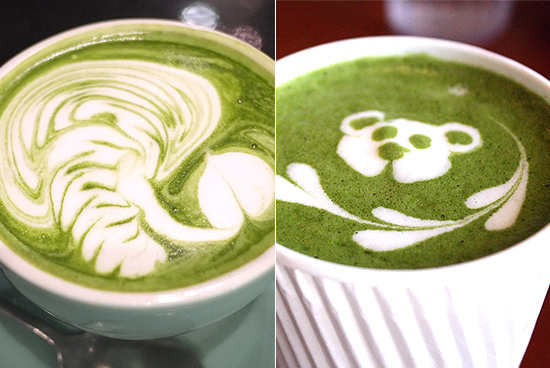 (SPOT.ph) We called it. In the one year since we released our first edition of the Top 10 Matcha Lattes, this green tea flavor has only become a bigger star. We're not all about heavy food and sinful dishes here. We love healthy drinks, too. (Okay, relatively healthy.) It's only fair that we welcome new competitors to the list.
So...when you have your mind on some matcha and some matcha on your mind, check out our update of the best places to satisfy your mean green craving. We're going to say it again: Which one is your matcha? 
All SPOT.ph Top 10 lists are researched, paid for, tested, and selected by the writers and editors. They are discreetly conducted without any notice made to the restaurants or their owners.
Also read: Top 10 Matcha Lattes (2015 Edition)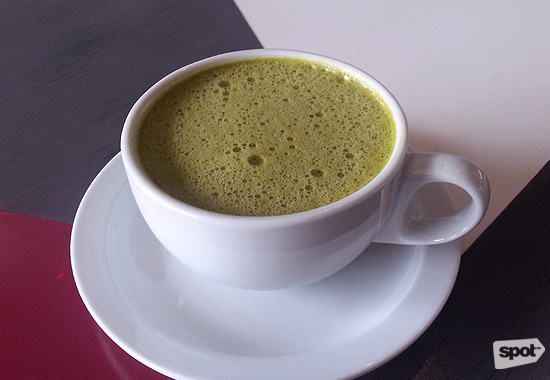 ADVERTISEMENT - CONTINUE READING BELOW
10. Baipora Creative Mood Food (P140 to P150) 
With offerings like Oreo Tempura and furikake fries, this newcomer serves some seriously quirky Japanese fusion cuisine. Their own delicious take on the matcha latte, however, is pretty straightforward—creamy, earthy, subtly sweet. It just proves how well they do classics, too. 
Baipora Creative Mood Food is at Ash Creek Center, Madison Street corner Ortigas Avenue, San Juan City.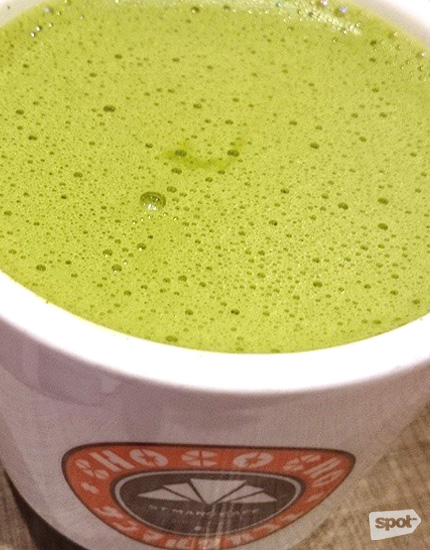 9. St. Marc Café (P130 to P170)
There's so much fanfare surrounding St. Marc Café's Choco Cro (and with good reason), but this Japanese dessert shop mixes a pretty mean matcha latte, too. Served piping-hot, this drink flaunts a striking lime-green hue, free from kawaii latte art, and with a strong umami flavor. When the punch from green tea subsides, a slightly bitter aftertaste lingers.
Click here for a list of St. Marc Café branches. Read more about St. Marc Café.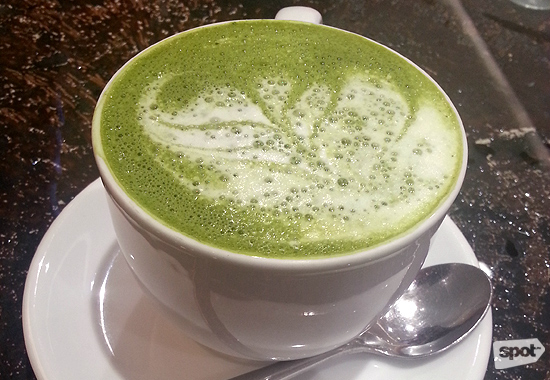 ADVERTISEMENT - CONTINUE READING BELOW
8. MochiCream Cafe (P135 to P155) 
You can smell this drink before you can see it. The latte has a thick consistency and a strong aroma, which invigorates the senses. It's like one big hug—nay, cuddle inside a cup. MochiCream's version is on the sweeter side of bittersweet, which would appeal even to those who aren't huge fans of this earthy flavor.
Click here for a list of MochiCream Cafe.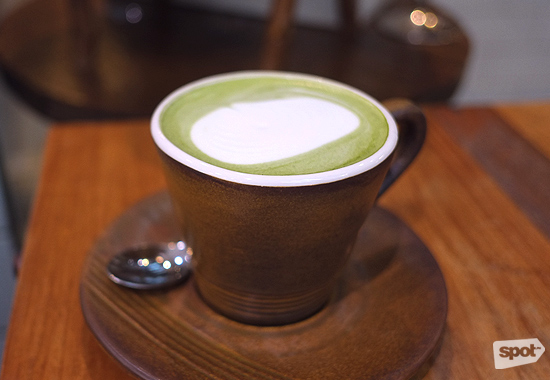 7. Wildflour (P160) 
Make sure to wash down Wildflour's savory bone marrow and grilled cheese with a good helping of antioxidants care of their matcha latte. They have a cold-brew green tea for a more invigorating flavor, but the latte version is thicker and creamier—the perfect cup to go with a rainy day. The touch of sweetness in the blend doesn't at all mask the natural flavor of the green tea.
Click here for a list of Wildflour branches. Read more about Wildflour.
ADVERTISEMENT - CONTINUE READING BELOW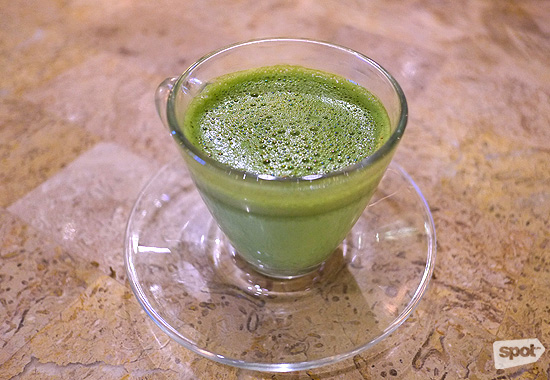 6. Le Petit Soufflé  (P120)
Don't expect any foams, creams, or latte art here. It's a no-frills matcha drink, which tastes more flavorful with every sip. Wait for the latte to cool down before you drink up to fully savor this beverage. You can also try sprinkling some matcha salt to give your drink more dimension. The consistency is thick but not too much, and it has just the right amount of milk to balance the sweet and earthy flavors.
Le Petit Soufflé is at Century City Mall, Kalayaan Avenue, Makati City. Read more about Le Petit Soufflé.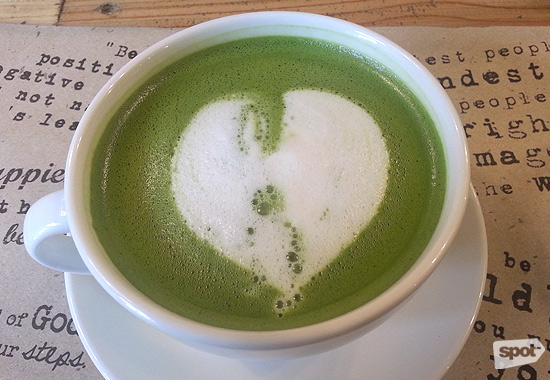 ADVERTISEMENT - CONTINUE READING BELOW
5. UCC Clockwork (P170)
Coffee may be UCC's signature, but their matcha blend is a great beverage when you want to enjoy something subtler. It's thick and comforting, but you can definitely taste earthy hints under that luscious, creamy texture. Bottoms up? Be careful about having a milk moustache, though!
UCC Clockwork has branches at Blue Bay Walk, Pasay City; and Estancia Mall, Capitol Commons, Pasig City.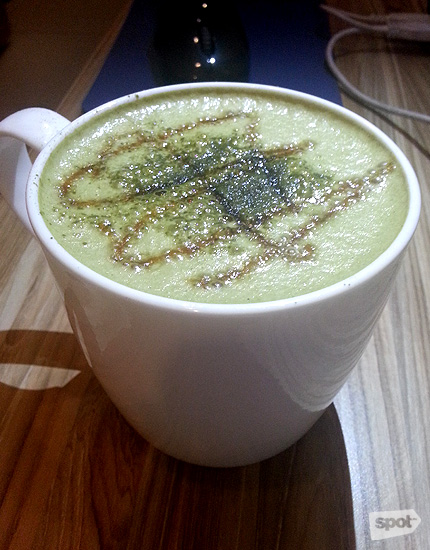 4. Kozui (P100 to P115)
This Quezon City haunt has been peddling matcha and green tea long before it became fashionable in Manila. Their freshly brewed roasted matcha and milk blend boasts a nuttier taste than other green tea drinks. The potent flavor isn't for everyone, but if you're already a fan of this flavor, then one sip will calm you down after a hard day's work.
Kozui is at Tomas Morato Avenue, Quezon City. Read more about Kozui.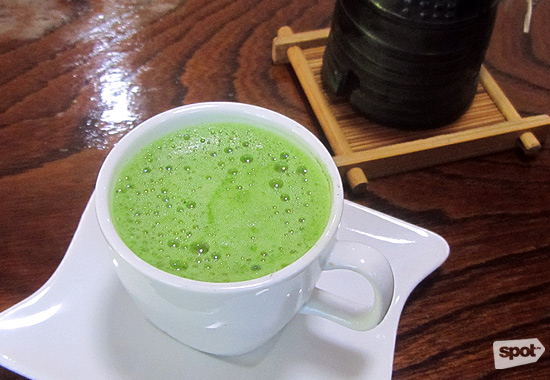 ADVERTISEMENT - CONTINUE READING BELOW
3. Zaan Japanese Tea House (P120-P150)
If you appreciate traditional Japanese interiors and Rurouni Kenshin, then you'll never want to leave this exquisite place. Their version of the matcha latte has a mild sweet taste—but not too much that it masks the natural umami flavor of the green tea powder. Zaan also holds traditional tea ceremonies complete with bowls, whisks, pouring, and re-pouring for that truly authentic experience.
Zaan Japanese Tea House is at Norfil Foundation Building, 16 Mother Ignacia Avenue corner Roces Avenue, South Triangle, Quezon City.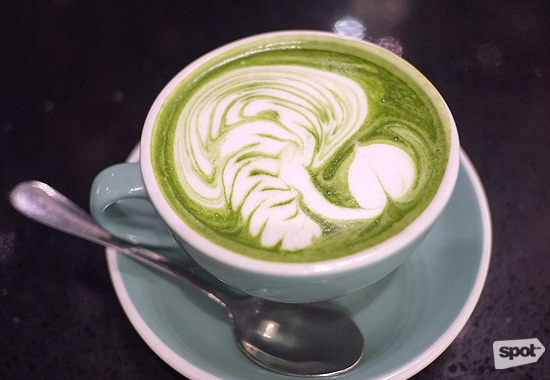 2. Dean & DeLuca (P180) 
Get it either hot or iced because both are outstanding. The green tea is nicely pronounced, but not too much that it would put you off. It's not too bitter, not too sweet, and it's good till the last drop. Dean & DeLuca's matcha latte is the kind you can enjoy every day (hey, it might even change your coffee habit). If you want a heavier treat, this one matches well with the restaurant's famous Hokkaido cheesecake.
ADVERTISEMENT - CONTINUE READING BELOW
Dean & DeLuca is at Rockwell Edades, Makati City. Read more about Dean & DeLuca.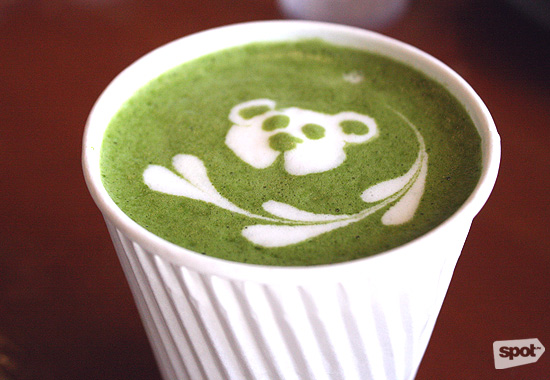 1. Kissako Uji Matcha Café (P130-P160)
The first thing you'll notice about this drink is its vibrant green hue, which confirms that you're drinking quality stuff. Kissako doesn't use matcha that's over two months old. The strong, heady aroma of this latte relaxes you instantly. It's thick but still impressively light; the flavor is sweet but there's a lovely bitter, earthy taste. As the two-time titleholder of best matcha in Manila, Kissako has proven their consistency, too!
For anything your matcha-loving heart craves, you can be sure to find it at Kissako. 
Kissako is at Pioneer Center, Pioneer Street, Mandaluyong City. Read more about Kissako.
Also read: Top 10 Matcha Lattes (2015 Edition)
Load More Stories