Top 10 Gelato Spots in Manila (2016 Edition)
Cool down with a sweet trip to a gelato spot.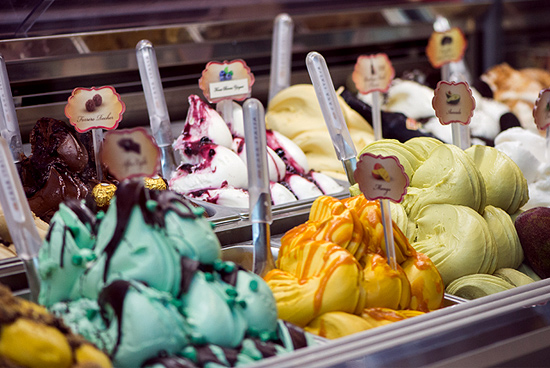 (SPOT.ph) You know that summer's here when the blistering heat and too-humid Manila weather makes you do all sorts of things to keep cool. While the season may be unbearable (sometimes to a fault), we're grateful for the silver lining: good old gelato.
The Italian dessert sets itself apart from traditional ice cream in terms of flavor, texture, and form. Gelato contains less fat since it's made up of less cream, more milk. Its serving temperature is warmer, too, which allows for a softer, denser, and more flavorful end product. (Read: You've been enjoying your gelato wrong this entire time)
Read on to find out where to get the best of the best of this cool treat across Manila. These gelaterias have time and again nailed the perfect gelato scoop: creamy, dense, and brimming with lip-smacking endnotes. The best part? You can enjoy them all year round!
ADVERTISEMENT - CONTINUE READING BELOW
All SPOT.ph Top 10 lists are researched, paid for, tested, and selected by the writers and editors. They are discreetly conducted without any notice made to the restaurants or their owners.
Also read:
Top 10 Gelato Spots in Manila (2011 Edition)
10 Places to Cool Off With Your Significant Other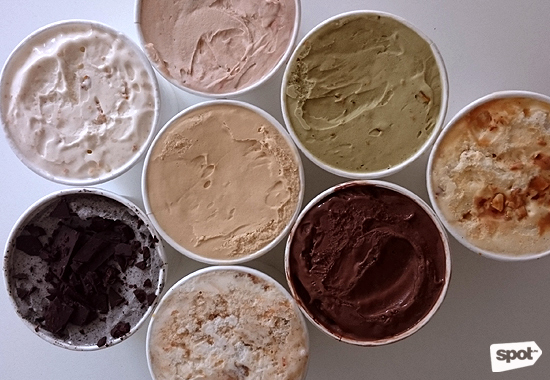 CONTINUE READING BELOW
Recommended Videos
10. Manila Creamery
Manila Creamery is the brainchild of Jason Go and Paolo Reyes who both bagged degrees from the Carpigiani Gelato University, Italy's leading artisan gelato school. The two have since set up shop at their home turf, churning out inventive gelato flavors that cover the familiar (vanilla and chocolate), local (turon and suman), and other surprising elements (ricotta cheese and orange marmalade). Everything at Manila Creamery is all-natural, homemade, and enough of a validation that distinctly Pinoy flavors and international delights make a perfect match.
Must-tries: Mangga't Suman Latik, Black Sesame, Madagascar Vanilla Almond (starts at P120/cup with one flavor, starts at P150/cup with two flavors)  
ADVERTISEMENT - CONTINUE READING BELOW
Manila Creamery is available for advanced orders and via bazaars. Contact Manila Creamery at manilacreamery@gmail.com or follow them on Instagram @MNLCreamery. Read more about Manila Creamery.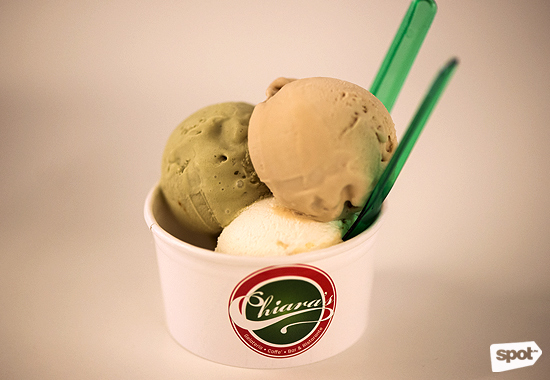 9. Chiara's Pastry  
This rookie might just be the next big thing among the dessert-hungry, their 20-plus gelato flavors, of course, taking front and center. At Chiara's, anything goes when it comes to your frozen salvation. You can have it the traditional way: on a cone or in a cup (they allow up to five flavors if you take this route). Or, you can take your sweet spree up a notch by enjoying your gelato on donuts, as a frappe, in sundaes, and as affogato.
Must-tries: Pistachio, Tiramisu, Stracciatella (P120/small cup or cone, P200/large cup or cialda)
Chiara's Gelateria is at L/F Century City Mall, Kalayaan Avenue, Makati City.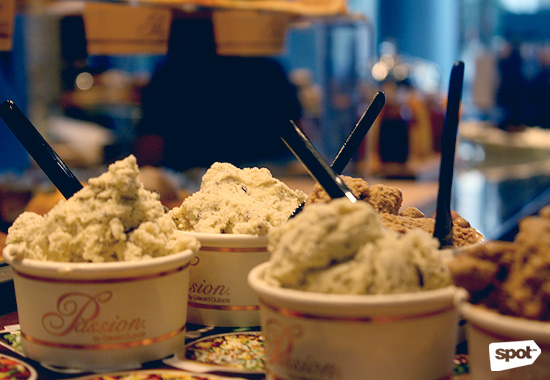 ADVERTISEMENT - CONTINUE READING BELOW
8. Passion by Gerard Dubois
The gelato from this newly opened boulangerie gives you a little surprise. Order panier or in a cup and you'll find a biscuit at the bottom, mopping up the melted ice cream and taking that last bite of deliciousness further. Their 18 flavors are made fresh every day, with only the best ingredients sourced from around the world—including mangoes and coconut from the Philippines. It's slightly on the thin side, but maybe because the flavors are bold enough. You can get these in a wafer "tulip," too. 
Must-tries: Coconut, Cassis, Green Tea (P98/panier, P110/tulip)
Passion by Gerard Dubois is at C2 NetPark, 5th Avenue, E-Square, Crescent Park West, Bonifacio Global City. Read more about Passion by Gerard Dubois.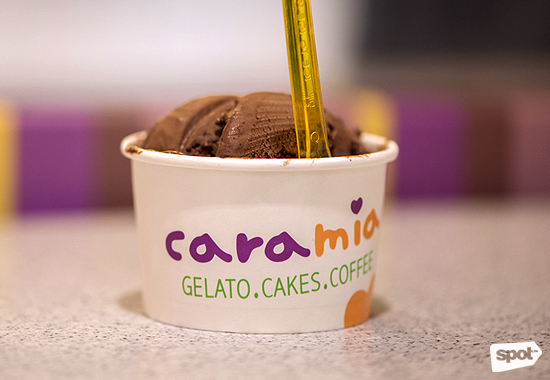 7. Cara Mia Gelateria
It may take a while for you to settle on a flavor when you survey Cara Mia's gelati display. They have 20 options, each one a surefire hit for every taste and fancy—from decadent to subtle. To tease your taste buds even more, most of these flavors are also made available in cake, shake, and sundae forms. Of their bestselling gelato cakes, don't miss out on the Pistaccio Cioccolato, an ingenious blend of rich chocolate-flavored chiffon layers packed with pistachio filling, and the Rouge, a fruity treat featuring blueberry, strawberry, and vanilla gelati.
ADVERTISEMENT - CONTINUE READING BELOW
Must-tries: Chocolate Therapy, Cookie Dough, Stracciatella, Toffee Almond Roca (P90/scoop, P395/half-kilo pack, P735/kilo pack)
Click here for a list of Cara Mia Gelateria branches.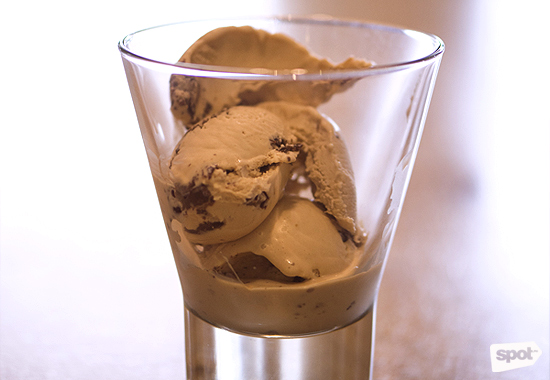 6. Afters Espresso & Desserts
Those familiar with this neighborhood café are likely to come in to soothe their caffeine cravings. Afters, however, proves through their gelato selection that they're much more than their claim to fame. Their gelato collection is modest, but each variant packs a mean punch—intensely velvety and thoroughly satisfying, the kind that will leave you wanting more after each bite. For the best of what they have to offer, we recommend that you get the Signature Affogato (P159), a jumble of your favorite gelato laced with a powerful shot of espresso.
Must-tries: Sea Salt Caramel, Mascarpone Cheese, Stracciatella, and Snickers (P95/regular, P125/premium)  
Afters Espresso & Desserts has branches at 20 Lansbergh Place, Tomas Morato Avenue corner Scout Castor Street, Quezon City; and Xavier Residences, Esteban Abada Street corner Rosa Alvero Street, Loyola Heights, Quezon City.
ADVERTISEMENT - CONTINUE READING BELOW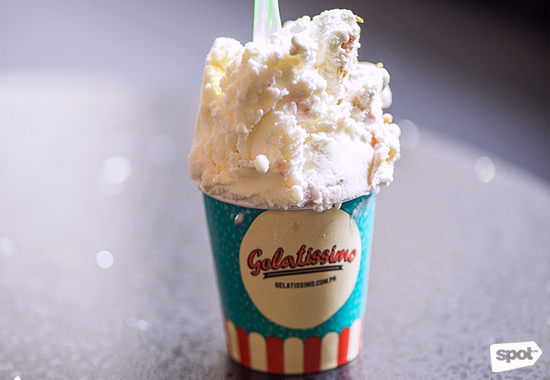 5. Gelatissimo
Securing a spot on our list is a longstanding favorite "next stop" for post-meal festivities. With its impressive suite of gelati, Gelatissimo appeases different palates in one go. Gelatissimo's gelato craftsmen take their cue from an authentic family recipe—their guide in churning out distinctive, unadulterated products made only from premium ingredients. Their gelati can be taken on its own, or with premium toppings, or with coffee. It also helps that they always give away a lot of freebies. 
Must-tries: Caramelized Fig, Honey, Toffee and Malt, Wild Berry, and Chocolate Hazelnut (P120/piccolo, P170/medio, P200/grande, starts at P600/takeaway pack)
Click here for a list of Gelatissimo branches.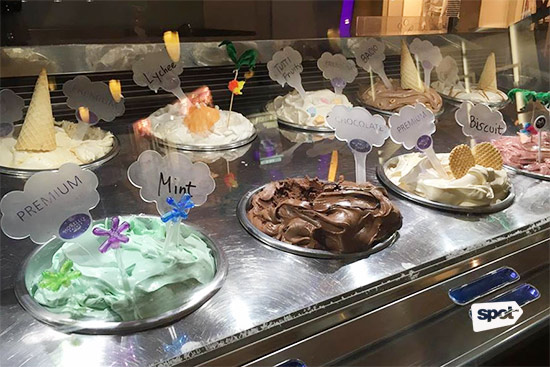 ADVERTISEMENT - CONTINUE READING BELOW
4. Morelli's Gelato
When Condé Nast dubs your gelato shop the best in London and you've been in business for over a hundred years, you must be doing something right. It's not surprising that Morelli's remains a go-to for those gelato cravings, with their mounds of silky frozen treats made from top-class ingredients sourced locally and abroad. You can opt to up your gelato experience by grabbing any one of their their specialty sundaes, starting with the Celestina, a nice pool of chocolate, strawberry, and vanilla gelati, finished off with some fresh fruit and dollops of whipped cream.
Must-tries: Pistachio, Tiramisu, Caramel Dulce de Leche (starts at P130/one scoop, at P190/two scoops, P240/three scoops)
Morelli's Gelato has branches at 2/F, Power Plant Mall, Rockwell Center, Makati City; and 3/F Shangri-La Plaza East Wing, Mandaluyong City.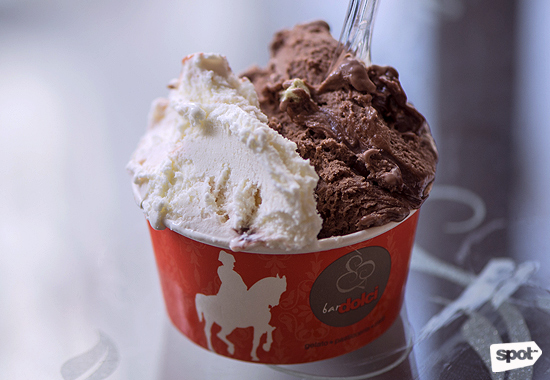 3. Bar Dolci  
We already know that Bar Dolci shines in the dessert game. In fact, both their macarons and gelati selections previously placed on our top 10 lists, and deservingly so. This year, the well-loved patisserie-cum-gelateria has again won our hearts for their ace gelato reserve, which they make using only fresh natural farm milk sourced from Batangas. One thing's for sure: it remains a challenge to pick a flavor, especially when their intriguing taste profiles come in sight. The good news is, Bar Dolci allows customers to mix two flavors in one cup, regardless of size.
ADVERTISEMENT - CONTINUE READING BELOW
Must-tries: Manhattan Cheesecake, Toffee Roca, Tequila Rose, Ferrero (P120/small, P160/medium, P200/large, P550/group, P160/shake)
Bar Dolci has branches at Forbes Town Center, Burgos Circle, Bonifacio Global City; and Le Grand Tower 1, Eastwood Palm Tree, Eastwood City, Libis, Quezon City.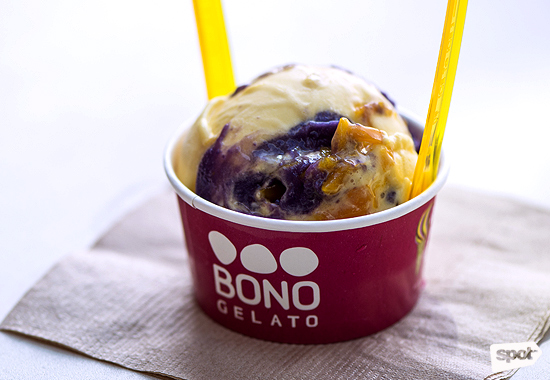 2. BONO Artisanal Gelato
Homegrown brand BONO Artisanal Gelato keeps their gelati low-profile. You won't find theirs displayed in heaps and in clear glass cases; instead, they're tucked away in special Pozzetto cabinets that help preserve each flavor's natural charm. BONO's gelati are produced in small batches, too, and within no more than 12 to 20 hours of one's enjoyment, so everything is fresh and all natural. Here, every spoonful of their gelato aligns with the brand's "keeping it real" thrust—straight and simple, but A+.  
Must-tries: Pistachio, Movie Night (potato chip), Mango Ube Symphony, and Milo Dinosaur (P85/small, P130/single, P200/double, P450/pint, P850/tub)
Click here for a list of BONO Artisanal Gelato branches. Read more about BONO.
ADVERTISEMENT - CONTINUE READING BELOW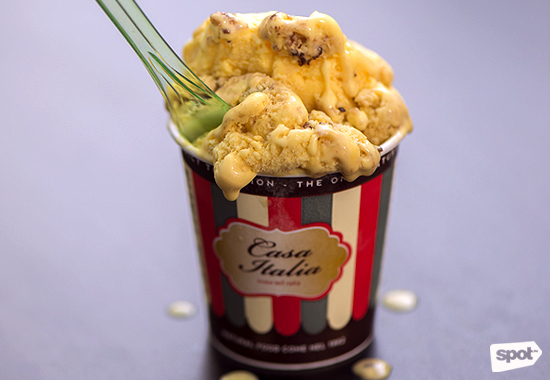 1. Casa Italia
While Casa Italia functions as a one-stop shop for food (they have snacks, coffee, and everything in between), to miss out on their massive array of gelati would be unforgivable. Even if you're not craving something cool, the mounds of gelato on display will tempt you—no one has ever left this place without a cup or two. Their 40 flavors are made in-house, from scratch, and using only the finest ingredients from places such as Bronte and Madagascar. To best enjoy your gelato, we recommend that you pair it with a cup of their specialty brews, a product of roasted beans sourced from Costa Rica, Honduras, and Brazil.
Must-tries: Mama's Cookies, Earl Grey, Truffle, Nutella (P130/one scoop, P195/two scoops, P260/three scoops)
Casa Italia is at Forbes Town Center, Burgos Circle, Bonifacio Global City. Read more about Casa Italia. 
For other Top 10 lists, check out SPOT.ph's Top 10 Everything Food Lists 3rd Edition. Co-presented with C2 Cool and Clean, it's priced at P195, available at major bookstores.
ADVERTISEMENT - CONTINUE READING BELOW
Photos by Hans Fausto and Sandie Gadia (Morelli's)
Share this story with your friends!
---
Help us make Spot.ph better!
Take the short survey
Load More Stories