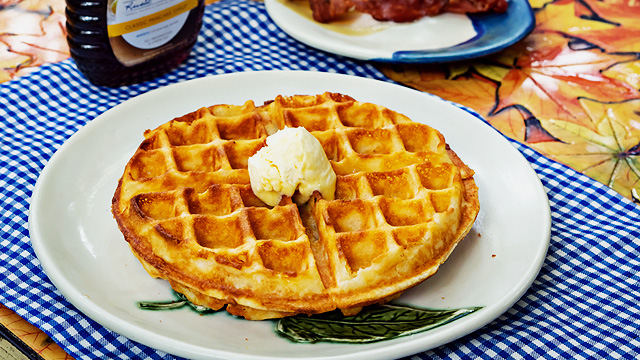 (SPOT.ph) Breakfast food is universally beloved as it can be eaten at any time of the day. In fact, brunch or "brinner" (breakfast for dinner) is so popular, it's become an actual thing. Sweet breakfast fare like pancakes and their French-Belgian cousin, the waffle, have also become staples during merienda and dessert. The waffle's signature checkerboard pattern, taken from gridded plates used to mold and cook batter in, make an irresistibly pretty breakfast food. With different iterations—from doughy and thick, to crispy and thin, this delicious treat can satisfy those crazy breakfast cravings. We've scoured the Metro for the best ones in terms of sweetness, crunchiness, and overall flavor.
ADVERTISEMENT - CONTINUE READING BELOW
All SPOT.ph Top 10 lists are researched, paid for, tested, and selected by the writers and editors. They are discreetly conducted without any notice made to the restaurants or their owners.
Also read:
Top 10 Waffles in Manila (2015 Edition)
Check out the best waffles in Manila:
10. Belgian Waffle from Starbucks (P105)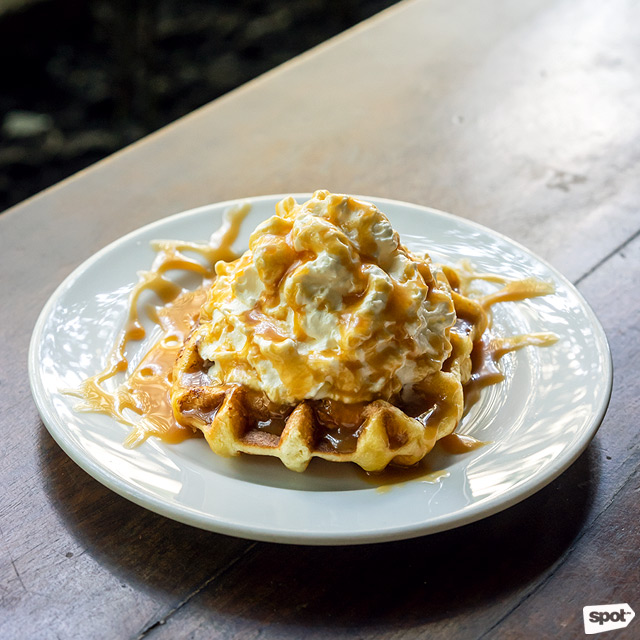 ADVERTISEMENT - CONTINUE READING BELOW
Recommended Videos
When Starbucks first opened in Manila, one of their very first cult favorites was the Belgian Waffle—served with whipped cream and your choice of syrup: Chocolate, caramel, or strawberry. It is rumored that these Belgian Waffles are actually the Liege Waffles supplied by Pegi Waffles—you'll know it for its distinctive crystalline, sugary crunch delivered in every bite. This is a simple treat that pairs well with coffee or tea. Our suggestion? Get the sauce on the side and enjoy your waffle without any frills.
See a list of Starbucks branches.
9. Classic Waffle from Denny's (P165)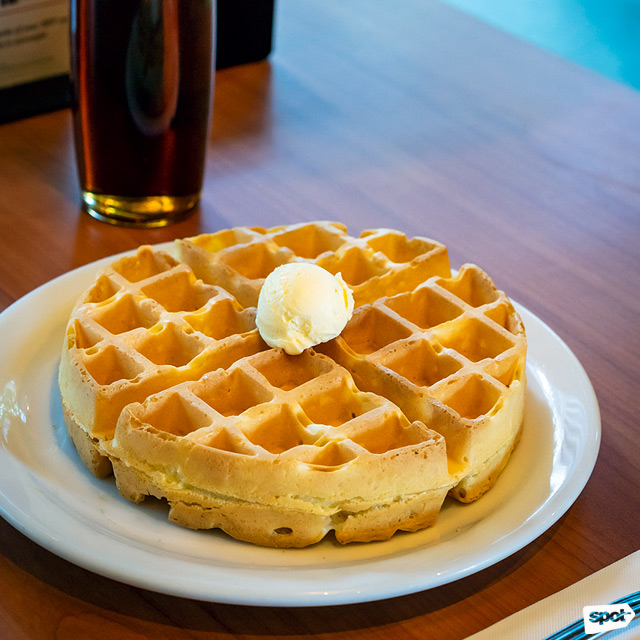 ADVERTISEMENT - CONTINUE READING BELOW
Denny's is one of those ubiquitous American dining places that offers overwhelmingly large portions of classic diner food. It goes without saying that their waffle does make the cut, as far as taste and price point are concerned. Their waffle is thick and substantial—a pretty good deal for under P200. Best shared and slathered with their whipped butter, pour the syrup on sparingly as the waffle delivers a characteristic sweetness all on its own.
See a list of Denny's branches.
8. Crispy Plain Waffle from Rustic Mornings (P200)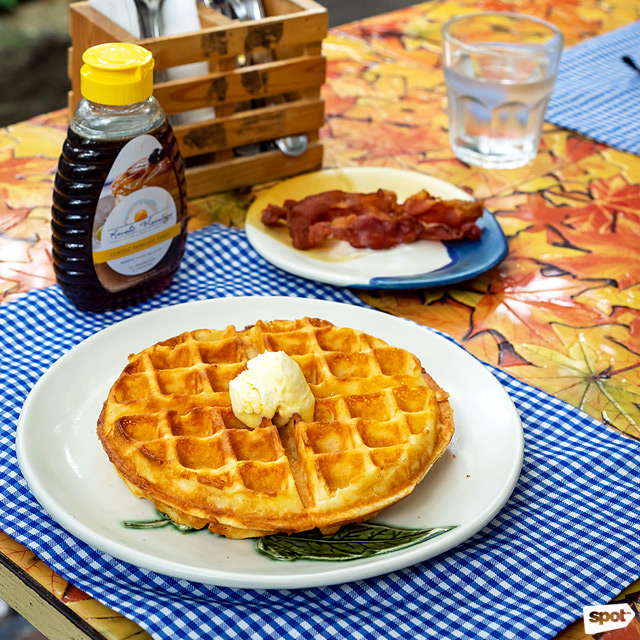 ADVERTISEMENT - CONTINUE READING BELOW
This not-so-secret Marikina spot, known for breakfast food of all kinds, doesn't disappoint with their plain waffle. First of all, Rustic Mornings doesn't scrimp on size—the thickness of their waffle is enough to convince anyone that it needs to be shared. Waffles this thick are usually doughy and bready, so it's surprising that every bite delivers a signature crunch, especially around the edges. Served with copious amounts of whipped butter and syrup, you know you're getting value for money. Even if you're watching what you eat, you won't want to miss the butter with this one—it's what makes the waffle extra special.
Rustic Mornings is at 11 Isabelo Mendoza Street, San Roque, Marikina City.
7. Golden Brown Waffle from Pancake House (P185)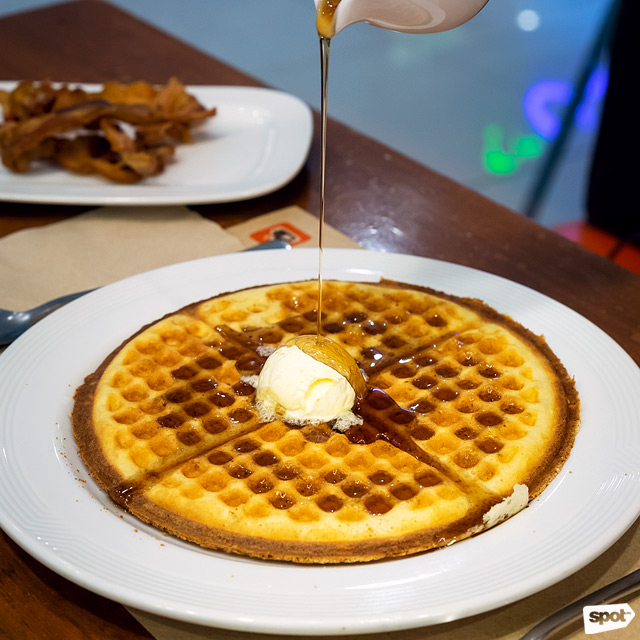 ADVERTISEMENT - CONTINUE READING BELOW
If you've stayed a Pancake House fan over the years (who hasn't?), you may have noticed the transformation of their signature Golden Brown Waffles. What started out as a pretty thick piece has now substantially thinned down. The taste of their batter, however, remains unaffected by the change and despite the inconsistency in thickness across branches and over time, there's no arguing that their batter is still one of the best in town. Pancake House's waffle is exactly the taste of one's childhood. The magic lies in the slightly salty whipped butter mixed with the sweet waffle syrup.
See a list of Pancake House branches.
6. Classic Waffle from Single Origin (P295)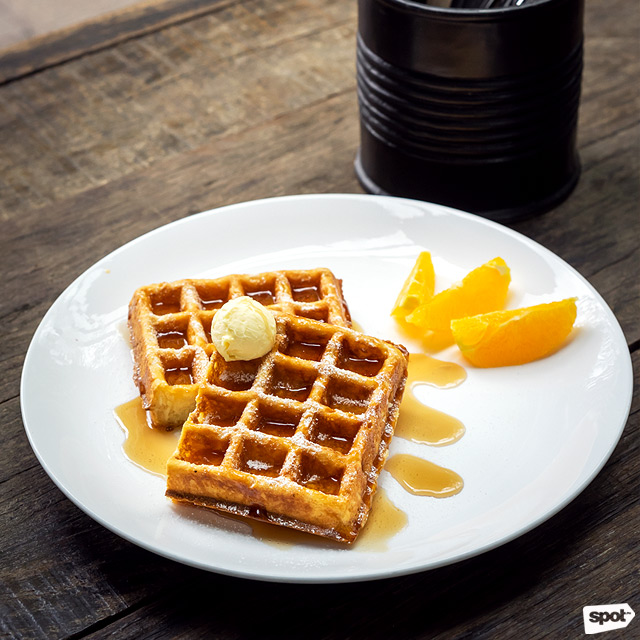 ADVERTISEMENT - CONTINUE READING BELOW
This bready take on the waffle has so many sweet and savory variations at Single Origin, the menu might render you motionless for a couple of minutes. We say, stick to the basic and enjoy this doughy delight on its own. Single Origin's waffle is slightly salty that it hits the perfect midpoint between a salty and sweet treat. The edges possess a slight crisp, and the fresh orange slices it comes with makes you feel like you're waking up to delicious breakfast in bed.
Single Origin has branches at Bonifacio High Street Central, Bonifacio Global City; Rockwell, Makati City; and Greenbelt 3, Ayala Center, Makati City.
5. Golden Waffle from Katherine's Café (P228)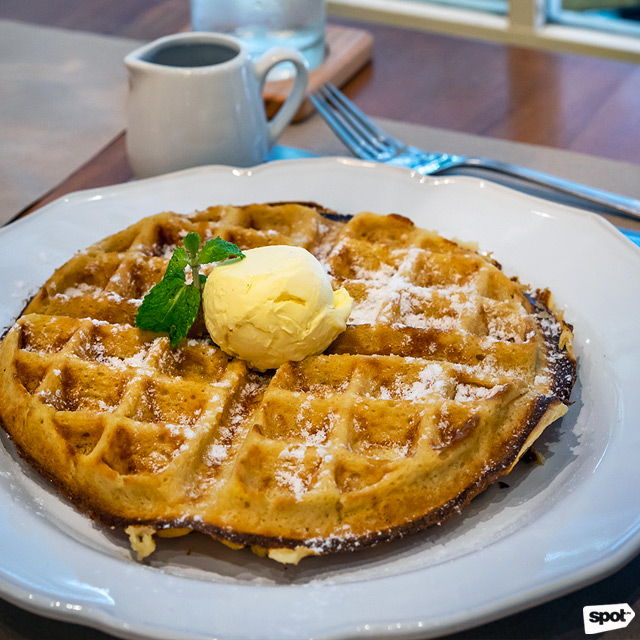 ADVERTISEMENT - CONTINUE READING BELOW
Cooked to golden-brown perfection, the waffle at Katherine's Café is served with a sprinkling of powdered sugar and a generous amount of butter. The restaurant is famous for their chicken and waffles (which are always meant to be shared), but the waffles served by itself is enough for one—if that's all you're going to eat. Beautifully cooked, with just the right chewiness and crunch, and delivered to your table with exceptional service, this one doesn't disappoint.
Katherine's Café is at G/F Ayala Malls Vertis North, Quezon City.
4. Classic Waffle from Pegi Waffles (P105)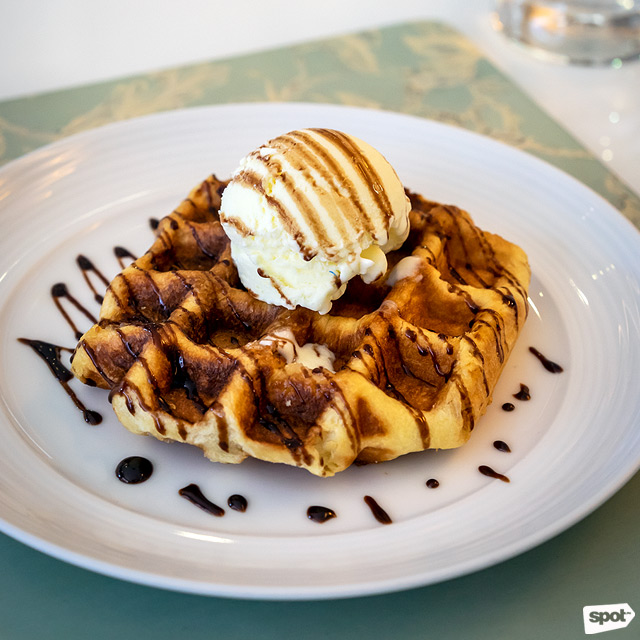 ADVERTISEMENT - CONTINUE READING BELOW
Purveyor of the Liege Waffle, Pegi does waffles right. Their comprehensive menu is practically a mini-tutorial on the different types of waffles and the subtle nuances of each type. Their classic offering is the same, sugary, latticed waffle we've come to know over the years (if you've had the Starbucks waffle, you'll know exactly what this is). Dining at Pegi's provides an added layer to the waffle experience, too. Served with fresh gelato and just enough chocolate syrup to provide an interesting dimension to this breakfast food-slash-dessert, their Classic Waffle is called a classic for good reason—great texture, consistent taste, and a commitment to serving really delicious waffles.
Pegi Waffles is at 333 P. Guevarra Street, Little Baguio, San Juan City.
3. Waffles from Yardstick Coffee (P230)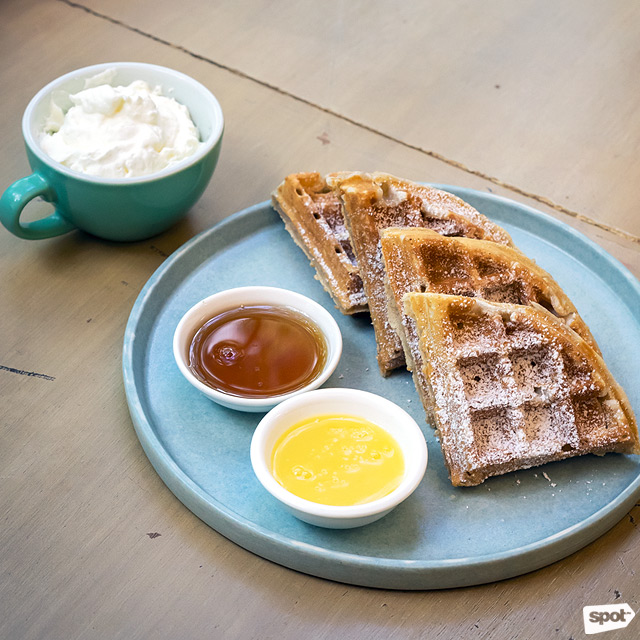 ADVERTISEMENT - CONTINUE READING BELOW
Yardstick is known for their delicious coffee, but those who frequent this Legazpi Village coffee shop know that their food is also where it's at. Their waffle selection is broad—you can order your freshly cooked waffle with butterscotch, salted caramel, or lemon curd (we prefer lemon curd for its unique and pleasantly zesty appeal). It will take some time for your waffle to cook, but trust us, it will be worth it. Fluffy, fragrant, slightly spicy (we sense a little bit of cinnamon), and sprinkled with powdered sugar, this waffle is large enough to share. If you're looking for something a little bit savory, they also offer a Chicken and Waffles combo for an extra P50.
Yardstick Coffee is at G/F Universal LMS Building, Esteban Street, Legazpi Village, Makati City.
2. Japanese Waffle from UCC Clockwork (P198)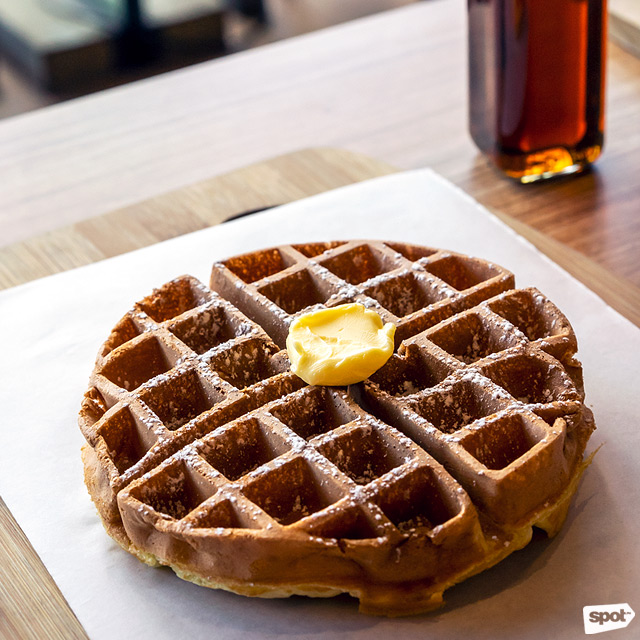 ADVERTISEMENT - CONTINUE READING BELOW
The Japanese have a very unique take on some of our favorite breakfast food—super thick and fluffy French toast cuts, light-as-air pancakes, and of course, extra crispy waffles. The Japanese Waffle takes a while to cook, but this is part of the experience—the smell of the batter cooking on the griddle wafts over to your table just a couple of minutes after you order. The huge serving is delivered to you on a chopping board. You might expect something as thick as UCC's waffle to be dry, but it is the exact opposite. Moist and flavorful, it also has crispy edges and deep ridges that are perfect for pooling syrup in. Try it without the fluff or extras—it'll be worth it.
See a list of UCC Clockwork branches.
1. Waffle with Whipped Butter from Bluesmith Coffee & Kitchen (P190)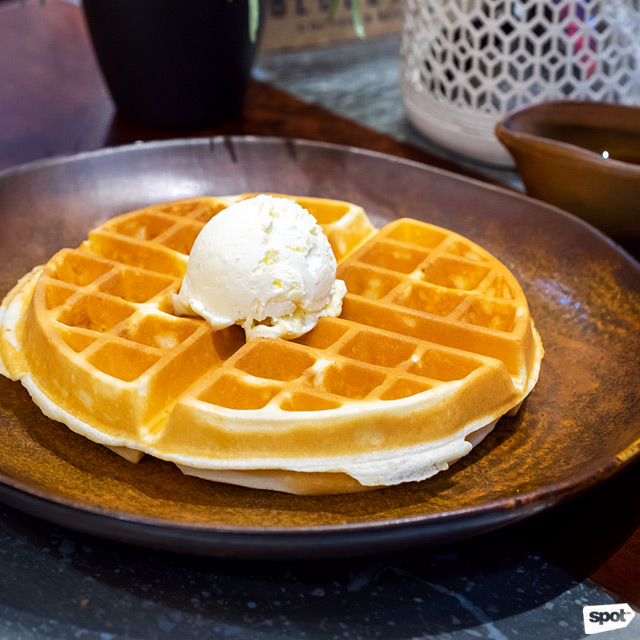 ADVERTISEMENT - CONTINUE READING BELOW
If you haven't yet tried this little-known coffee shop, their waffle makes a good case for your first visit. The deep grooves of Bluesmith's waffle are perfect vessels for all the butter as well as syrup—you won't want to scrimp on the calories under any circumstances when you try their waffle. Instead of being cooked to a complete crisp, the body of the waffle is mostly moist and slightly wet—think of a freshly baked pastry just out of the oven. The edges, however, are light and crispy, providing a perfect balance of texture. With just the right thickness and a slight eggy flavor to the batter, Bluesmith's take on the waffle will convince you to drop the Eggo and go freshly cooked all the way.
See a list of Bluesmith Coffee & Kitchen branches.
Photos by Toto Labrador
Share this story with your friends!
---
Help us make Spot.ph better!
Take the short survey
Load More Stories