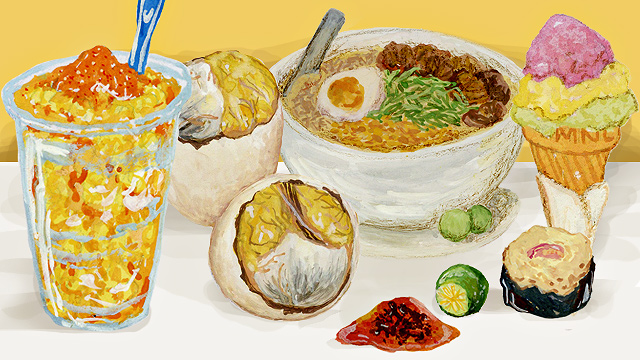 (SPOT.ph) It almost seems too obvious to state that street food is one of life's simple pleasures. It's practically woven into every Pinoy's DNA, so much so that it's impossible to picture a day without it. 
The original notion was that roadside eats were meant to stave off hunger while you're rushing from one thing to the next. Looking to get a quick-fix in the morning? Trust that there will always be a taho vendor somewhere near your office. Looking for a not-too-heavy afternoon snack before your commute? Choose from a potpourri of sweet and savory options like dirty ice cream, kwek-kwek, or betamax. And in those moments when you find yourself hungrily wandering the streets past midnight after a couple of drinks, balut or a belly-warming bowl of goto can potentially save you.
ADVERTISEMENT - CONTINUE READING BELOW
These days, street food has evolved into menu highlights at restaurants that perennially make it onto Asia's 50 Best lists, but most of the time, it's still the kind you can get at 2 a.m., standing on the side of the street with tricycles speeding past, that you end up looking for. And so this glossary focuses on the most popular street-side munchies in Metro Manila, from adidas to wetpaks. Ready to stick 'em up?
SPOT.ph's Unscientific Guide to the Most Popular Street Food Options in Metro Manila:
Adidas
Named after a popular shoe brand, it's skewered chicken feet glazed with a sweet and reddish barbecue sauce.
Ampao
A sticky-sweet Chinese pastry that resembles palm-sized pillows. Also known as lohwa, the snack is crispy on the outside and hollow and airy on the inside, with each piece enveloped in earthy toasted sesame seeds, crushed peanuts, and caramelized sugar. It can usually be found in homegrown Chinese bakeries in Quiapo and Binondo, like Eng Bee Tin.
Arnibal
One of the three key ingredients in the taho trinity (the two others being tapioca pearls and silken tofu), it's a thick, dark syrup made of caramelized brown sugar. It's also used in Pinoy beverages and desserts such as sago't gulaman and minatamis na saging or saba banana in warm arnibal.
Atay
Barbecued chicken liver that, when cooked just right, gives off a decadent velvety texture and a rich earthy flavor. Some palates might find this a tad metallic though. It is usually sold at roadside grills, near other barbecued bites like adidas and isaw.
Balun-balunan
Grilled and skewered chicken gizzard with a chewy consistency that's similar to chicken heart or corazon.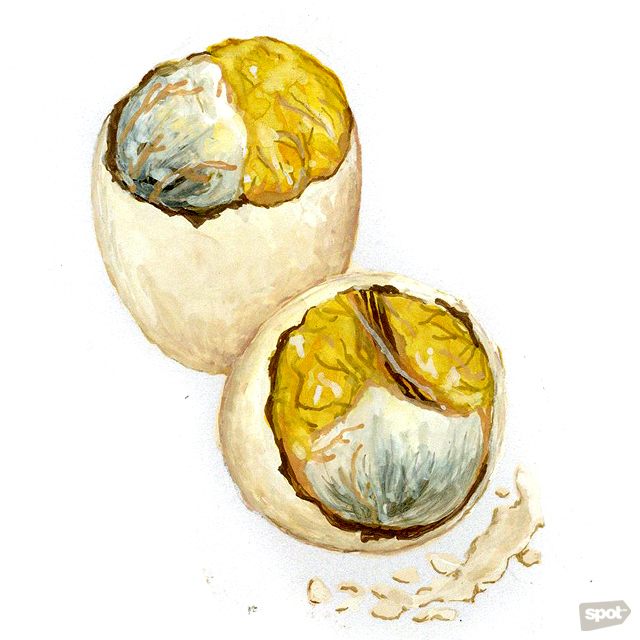 ADVERTISEMENT - CONTINUE READING BELOW
Balut
Considered a delicacy, and perhaps the most talked-about street food in the Philippines, it's a boiled duck egg with a 16- to 19-day-old semi-developed fetus inside its shell. The best balut are those that are 17 days old, when the chick embryo does not yet show any beak or feathers and is still wrapped in a white membrane (balut sa puti). Found all over the Metro and popularly bought in bulk in Pateros, the Metro's balut capital, it's eaten with rock salt and spicy vinegar. Tastes better than it sounds.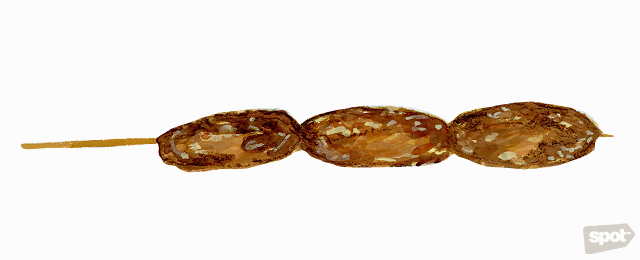 ADVERTISEMENT - CONTINUE READING BELOW
Banana Cue
Typically served on a bamboo stick and sold in carinderias and street-side food stalls, it's a sweet on-the-go snack made of deep-fried bananas coated in glistening caramelized brown sugar. "Cue" is derived from the word "barbecue." An alternative for this is kamote cue, which uses sweet potato instead.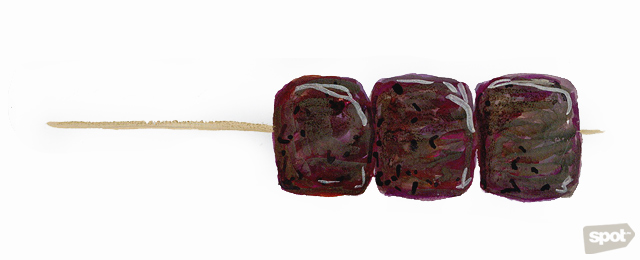 ADVERTISEMENT - CONTINUE READING BELOW
Betamax
Coagulated pig or chicken blood, which resembles the box-type video cassette tape Betamax ('80s and '90s kids would know). Considered one of the most unique street-food picks in the Philippines, this has a mellow flavor that calls for spicy vinegar on the side.
Bibingka
A circular, spongy rice cake that's typically eaten during the -Ber months and is practically synonymous to simbang gabi. Bibingka vendors usually put up their stalls near church plazas so customers can buy these savory cakes topped with salted duck egg and grated coconut before heading home.
Bicho-bicho
A fluffy, deep-fried pastry sprinkled with sugar. This Filipino-style doughnut is best eaten freshly baked, but it is also sometimes sold by street vendors, catering to drivers stuck in traffic looking for a quick snack.
Binatog
Served in plastic cups, it's made with boiled white corn kernels generously topped with margarine, salt or sugar, and freshly grated coconut. The street vendors who peddle it, called magbibinatog, are often mistaken for taho vendors because of their similarly sized tin cans. The snack's less popular term is bualaw, and some versions add coconut milk, condensada, or evaporated milk for a creamier consistency.
ADVERTISEMENT - CONTINUE READING BELOW
Binondo
A street-food melting pot right smack in the City of Manila. This cultural destination is also home to the oldest Chinatown in the world.
Calamares
Crunchy deep-fried squid bites coated in cornstarch batter. Best dipped in vinegar.
Carinderia
A small and open roadside eatery where home-cooked dishes are placed in serving platters and laid out on a counter. The usual menu includes affordable classic Filipino rice meals like adobo, fried fish, bulalo, pinakbet, menudo, and an assortment of grilled meats like liempo. They're easy to find near markets, construction sites, schools, or bus terminals, and they attract a lot of loyal customers or sukis. Also sometimes called "turo-turo."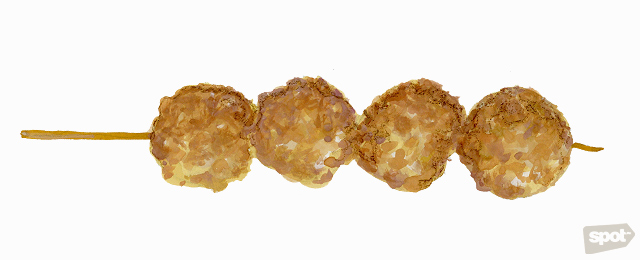 ADVERTISEMENT - CONTINUE READING BELOW
Carioca
Skewered deep-fried glutinous rice balls blanketed in a brown-sugar glaze. This crunchy, sticky street snack also has hints of sweet coconut flavor thanks to coconut milk.
Cheese Sticks
Unlike America's breadcrumb-coated mozzarella sticks, this Pinoy-style street treat uses cheddar cheese in spring-roll wrapper, deep-fried to a golden crisp—like a cheese-filled lumpia. It's served with a tangy-sweet pink-ish dip made with ketchup and mayonnaise.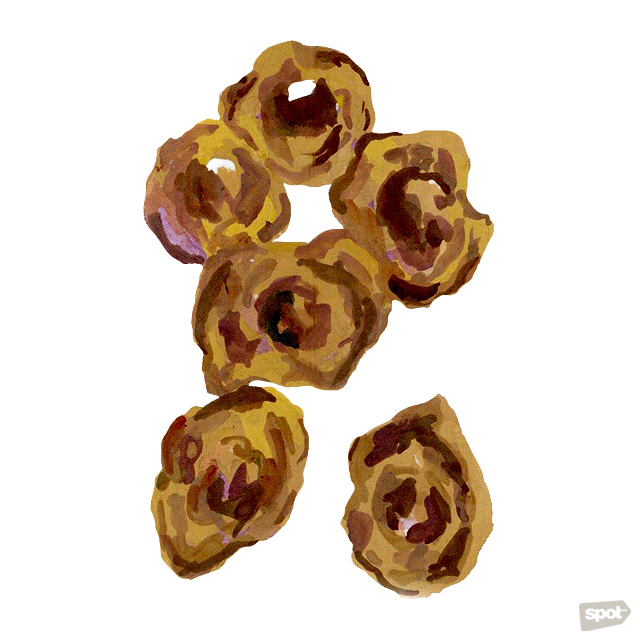 ADVERTISEMENT - CONTINUE READING BELOW
Chicharon
Gloriously crunchy deep-fried snack food typically made of pork skin. Other variations include chicharong bituka or chibits (from pork intestines), chicharong bulaklak (from pork mesentery or the fatty part surrounding pork intestines), and chicken skin.
Chicken Balls
Not what you're thinking. These are juicy skewered meatballs that are made of flour and chicken that's finely ground. Along with fish balls, squid balls, and kikiam, these fried bites are sold by roadside vendors pushing wooden carts with big woks for deep-frying.
Con Hielo
A Spanish phrase that translates to "with ice." See: mais con hielo and saba con hielo.
Corazon
Barbecued chicken heart on a stick. Corazon is the Spanish word for heart.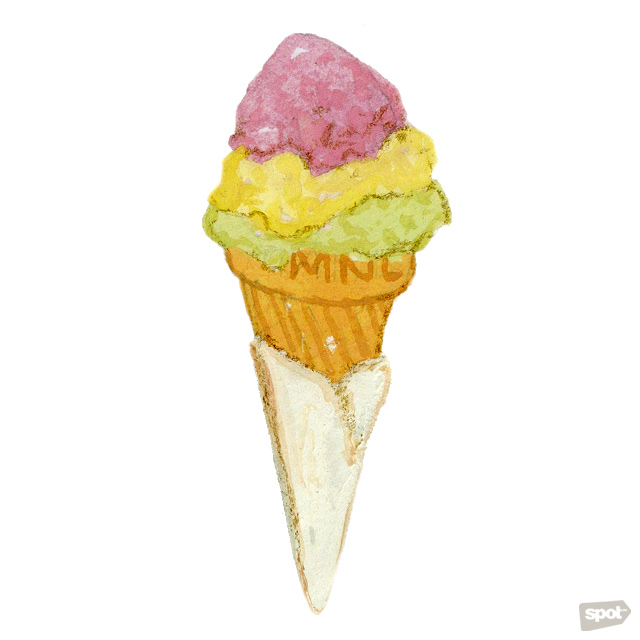 ADVERTISEMENT - CONTINUE READING BELOW
Dirty Ice Cream
First introduced during the American occupation, dirty ice cream isn't really, well, dirty—although uncomplimentary, the term is only used to differentiate this dessert from store-bought "clean" ice cream. Also called sorbetes, it usually uses coconut or powdered milk and a thickening agent like cassava flour. Popular flavors include cheese, ube, avocado, chocolate, mango, and langka.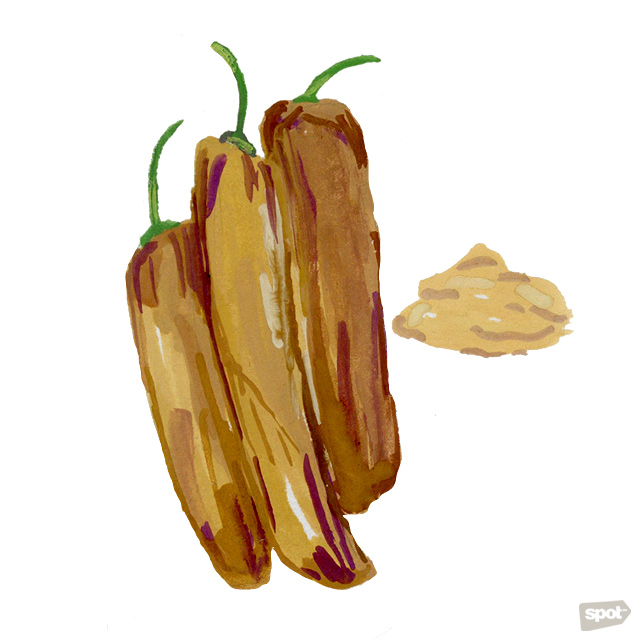 ADVERTISEMENT - CONTINUE READING BELOW
Dynamite
Crispy golden-fried finger chili (green chili) stuffed with local cheddar cheese and wrapped in spring-roll wrapper. Often dipped in a mysterious mayo concoction, this spicy bomb is not for the faint-of-heart.
Eskinita
A narrow alley where street-food stalls are commonly found, especially in dense Manila City.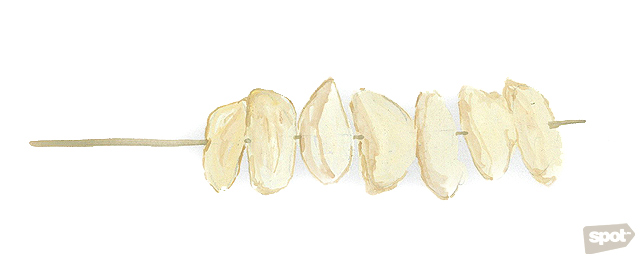 ADVERTISEMENT - CONTINUE READING BELOW
Fish Balls 
Ground fish, usually made from pollock or cuttlefish and lots of flour, that are flattened and skewered before deep-frying.
Goto
A variation of the classic lugaw, which uses ox tripe as its main meat component. The ox tripe's honeycomb appearance and chewy consistency make it a unique highlight of this porridge. Some places serve it with beef and pork intestines for a richer flavor.
Halo-halo
Perhaps the most popular iced dessert in the country, the origins of the halo-halo are unclear but some say it's derived from the Japanese kakigori, which also uses shaved ice and a variety of sweet toppings. This classic afternoon snack can be found practically anywhere in the Metro, from makeshift street stalls to restaurants. Made with shaved ice and evaporated milk, its usual components (called "sangkap") are leche flan, crunchy pinipig, saba, red kaong, jelly, garbanzos, red beans, and a scoop of ube ice cream.
ADVERTISEMENT - CONTINUE READING BELOW
Helmet
This refers to grilled and skewered chicken head that's coated with a secret sweet-and-tangy, bright-red marinade. Although it looks intimidating, some people have mastered the technique: nibble on the soft fatty parts, suck out the juices from the skull (brain included), discard bones. Not for the squeamish.
Ihaw-ihaw
Small-scale food vendors with hot charcoal grills. Ihaw is the Filipino verb for grill. Found along an eskinita or a major street, they offer a wide array of tusok-tusok like pork barbecue, betamax, isaw, whole corncobs, and even rice partners such as grilled squid and chicken. It's fairly easy to spot one in the neighborhood—just follow the delicious smoky aroma in the air.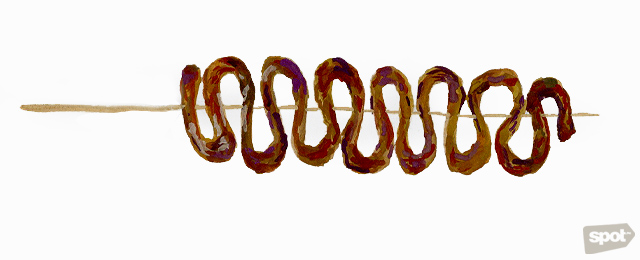 ADVERTISEMENT - CONTINUE READING BELOW
Isaw
Pork or chicken intestines that are typically barbecued or deep-fried and eaten as an affordable afternoon snack or pantawid-gutom. It's staple street food in the country and one that has been around since the great economic crisis in the '70s when scrap meat instantly became valuable due to the high prices of preferred cuts.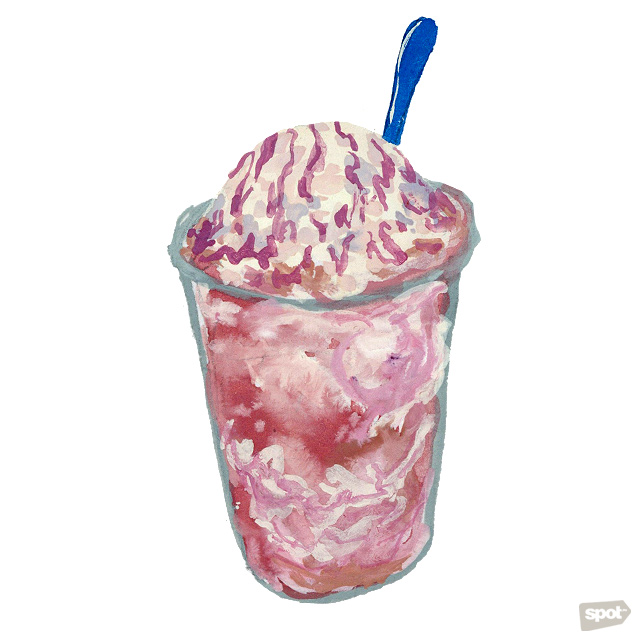 ADVERTISEMENT - CONTINUE READING BELOW
Iskrambol
Also known as "ice scramble," this sweet neon-hued treat made with shaved ice, evaporated and powdered milk, chocolate syrup, tiny marshmallows, and white sugar is a popular street food among kids—there's almost always a vendor near every school. No one knows exactly why this cool snack is pink but many recipes suggest that its unique hue is mainly because of red or pink food coloring.
IUD 
Another term for chicken isaw, the name is taken from an intrauterine device because of its semblance to the birth control instrument.
ADVERTISEMENT - CONTINUE READING BELOW
Japanese Pancake
Pancakes might be the last thing you'd think of if we're talking about street fare in Manila—but they exist, only in a different form. Round, palm-sized, and around two inches thick, its yellow batter is cooked over a skillet and is sold plain or stuffed with cheese or crumbled chocolate cookie. These fluffy pastries are fairly new to the street-food scene but it's been a reliable and budget-friendly snack for students around the University Belt.
Jollijeep
Stainless steel carinderias that dot the streets of Makati CBD. A go-to among many cubicle-dwellers in the area, Jollijeeps—a portmanteau of popular chain Jollibee and jeepney—have been selling home-cooked meals since the '80s. These Jollijeeps used to be mobile (think old-school food trucks) until the city government gave them permanent spaces throughout Makati in the early 2000s. A popular Jollijeep is Sisig sa Rada in Legazpi Village where you can find one of the best sisig in town.
ADVERTISEMENT - CONTINUE READING BELOW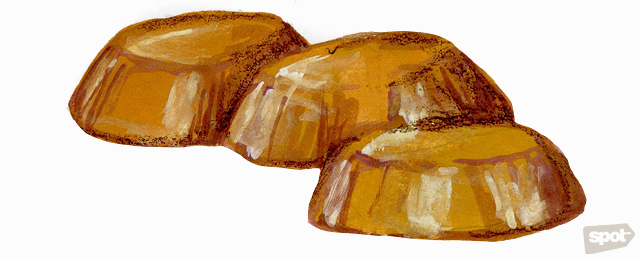 Kakanin
An umbrella term for rice cakes and puddings. It's often sold in clear plastic bags at palengkes, carinderias, and walking vendors. Some of the most famous kakanin available all-year-round are biko, palitaw, puto, sapin-sapin, and suman.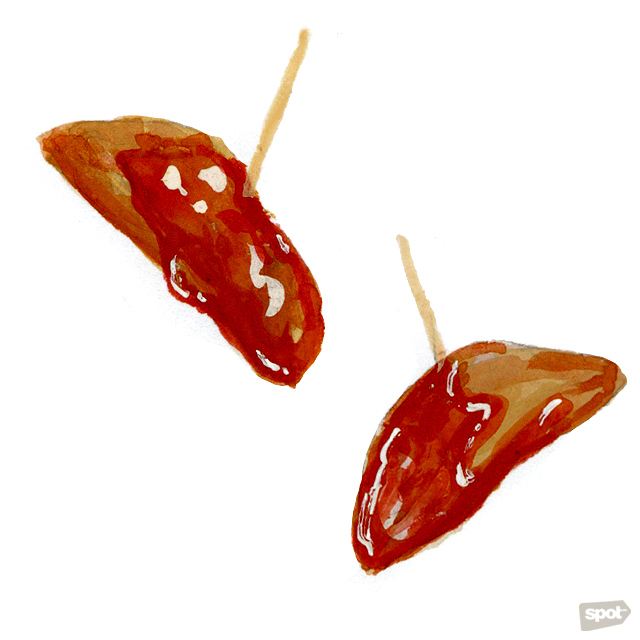 ADVERTISEMENT - CONTINUE READING BELOW
Kikiam
A classic Chinoy (Chinese-Pinoy) dish, it's a deep-fried spiced pork sausage wrapped in an earthy beancurd sheet and eaten with a savory brown gravy. It's commonly sold together with fish balls, squid balls, and chicken balls by walking tusok-tusok vendors.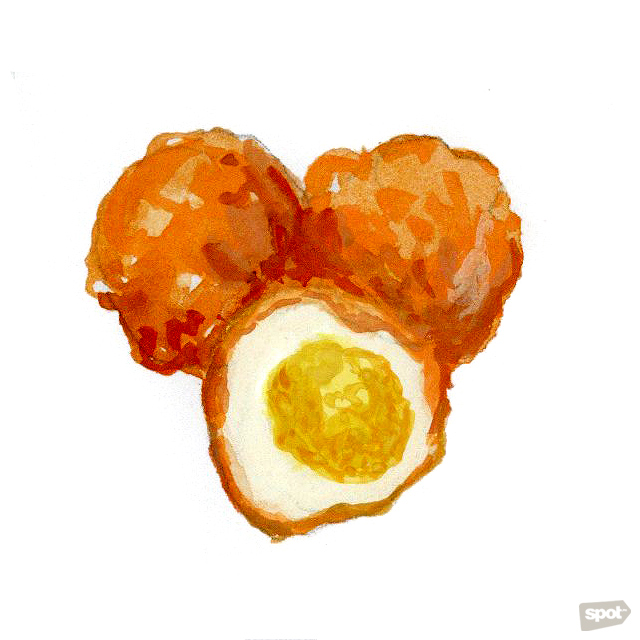 Kwek-kwek
A distinctive roadside snack made from deep-fried quail eggs coated in a bright-orange annatto-infused batter.
ADVERTISEMENT - CONTINUE READING BELOW
Lugaw
Rice cooked in water until it turns into a thick and soupy consistency. Mildly flavored with fish sauce and sometimes with ginger, it's the most basic form of rice porridge in Philippine cuisine and an umbrella term for most porridge-style dishes in the country. Besides goto, another offshoot of lugaw is arroz caldo, which has chicken pieces and saffron to create its signature yellow color.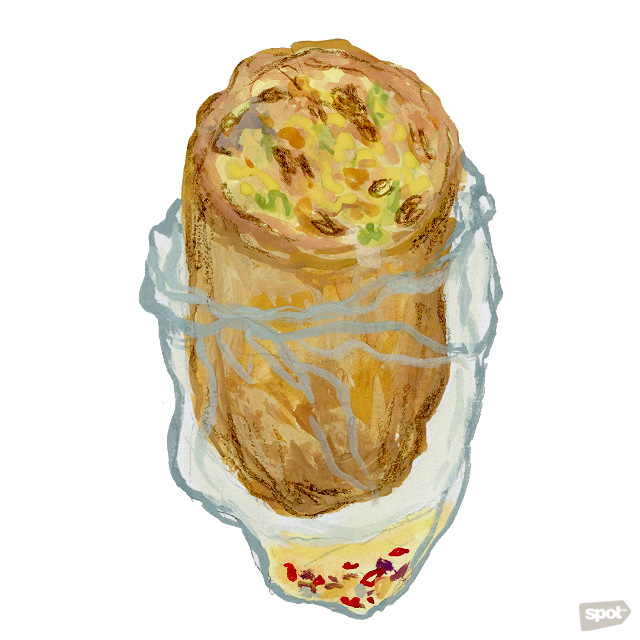 ADVERTISEMENT - CONTINUE READING BELOW
Lumpia
Its origins are said to have come from Chinese traders and immigrants from the Fujian province centuries ago. Derived from the Chinese spring roll, this Pinoy-style roll has four popular variations, including lumpiang sariwa and lumpiang ubod (stir-fried vegetables with shrimp, pork, or chicken rolled up in a crepe-like pancake and garnished with sweet brown-sugar gravy and crushed peanuts), lumpiang shanghai (deep-fried spring rolls with ground-pork mixture), and lumpiang toge (deep-fried spring rolls with bean sprouts, pork, shrimp, and veggies).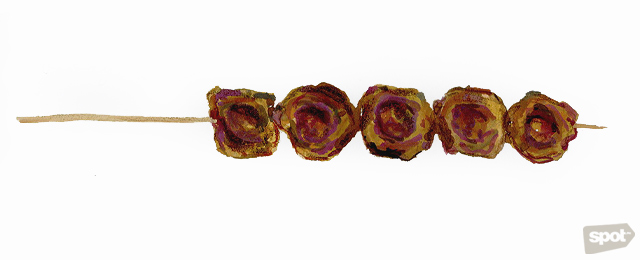 ADVERTISEMENT - CONTINUE READING BELOW
Mag wheels
Another name for pork isaw that was spontaneously coined by buyers and vendors thanks to its similarity to a car wheel.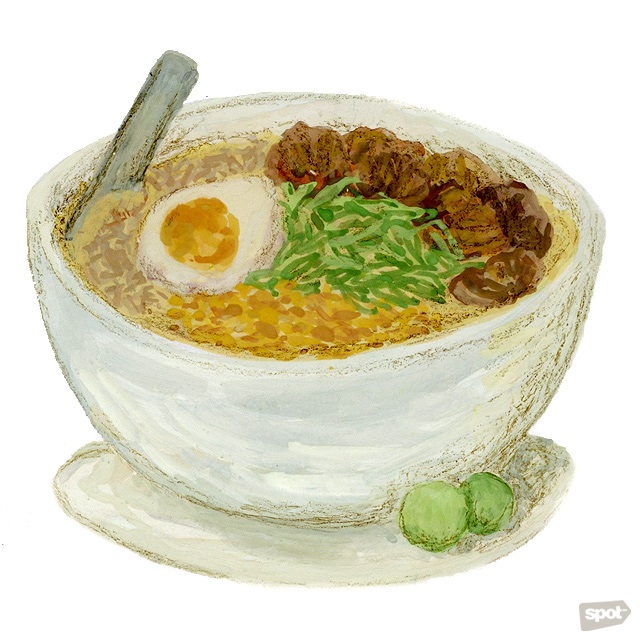 Mami
A staple in carinderias, it's a simple hot soup with yellow egg noodles swimming in a mildly seasoned broth, slivers of chicken or beef, and some sort of greens like pechay or cabbage. It's then garnished with hardboiled egg, garlic bits, and spring onions. Mobile street-food carts roaming around the Metro also offer this belly-warming dish, while some variations top it with saucy beef pares for a richer taste.
ADVERTISEMENT - CONTINUE READING BELOW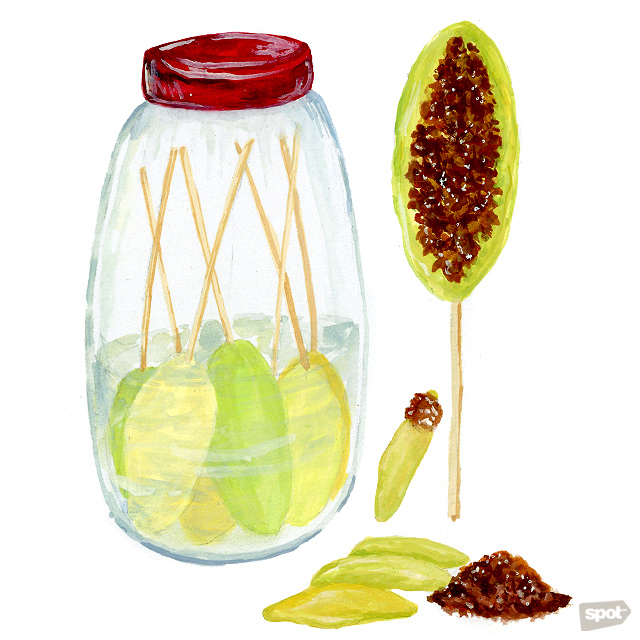 Mangga't Bagoong
Sour green mangoes on a stick paired with salty-sweet shrimp paste. Roving fruit vendors with huge glass jars filled with skewered mangoes usually park beside schools and churches and offer this as a handy afternoon snack. If you're not a fan of bagoong, you can also opt to have your mango with coarse salt and chili.
ADVERTISEMENT - CONTINUE READING BELOW
Maruya
Fried banana fritters sprinkled with white sugar. Although commonly sold along with kakanin and banana cue at eateries and roadside stalls, some people also like whipping this up in their own homes as a filling afternoon snack.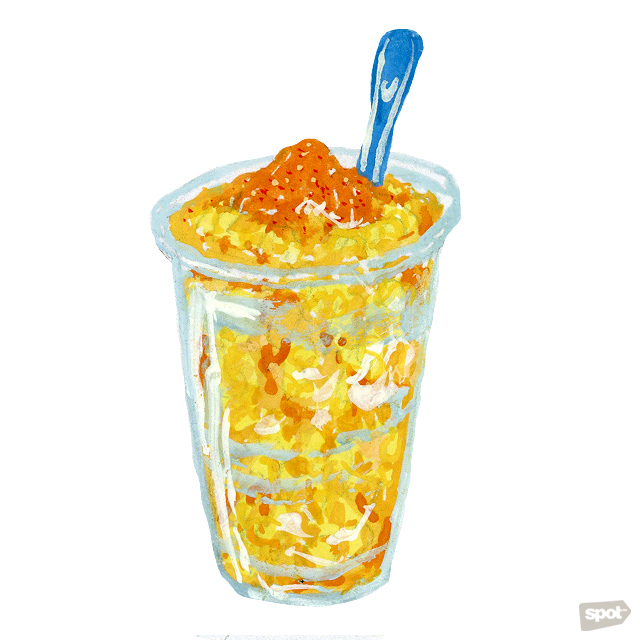 Nilagang Mais
Boiled corn cobs sold at street-side stalls. Katipunan Avenue in Quezon City is dotted with Japanese corn vendors where you can buy freshly steamed corn cobs to snack on later at home or while on the road. Sometimes, they come as kernels topped with cheese powder.
ADVERTISEMENT - CONTINUE READING BELOW
One-Day-Old
A deep-fried, sometimes grilled, one-day-old chick coated in an aggressively reddish marinade. These baby chickens are said to be rejected male chicks from the hatcheries since farmers often just rely on female chickens for egg production. Also known as super-chick.
PAL
An abbreviation of Philippine Airlines. Also an alternative term for barbecued chicken wings. Chicken wings, airplanes...you see the connection.
Panaderia
Small bakeries that offer a wide selection of local bread including pan de sal, Spanish bread, pan de coco, putok, and monay. Its name came from the Spanish word "pan," which means bread.
Pares
It's a savory beef stew that's paired with fried garlic rice and a bowl of clear beef soup. The Filipino word "pares" means pair in English, describing the act of pairing these three dishes to create one comforting meal. The soy sauce-based beef stew uses beef brisket as well as spices and aromatics like ginger, star anise, and garlic, and is slow-cooked for hours to create fork-tender beef chunks.
ADVERTISEMENT - CONTINUE READING BELOW
Penoy
A boiled unfertilized duck egg with an embryo that stopped forming by its 14th day. It's light yellow all over with a velvety consistency similar to a fully cooked chicken egg's yolk. No egg whites here.
Pusit
Grilled and skewered dried squid eaten with a spicy vinegar dip.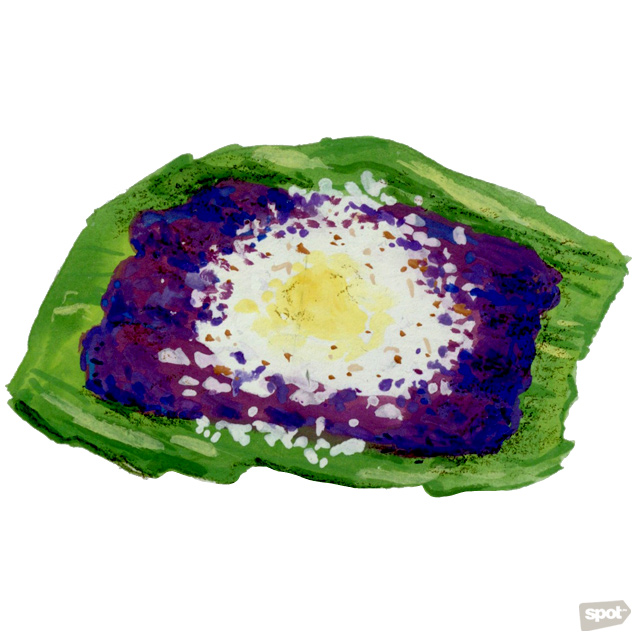 ADVERTISEMENT - CONTINUE READING BELOW
Puto Bumbong
Steamed finger-sized and -shaped rice cakes. Its extraordinary color is due to a brownish-purple rice mixture called pirurutong. Like bibingka, it's staple street fare during the Christmas season.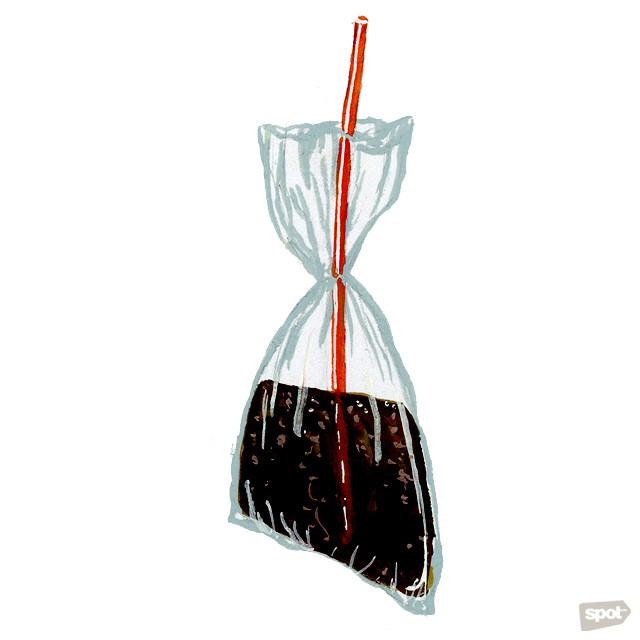 Sa Malamig
A godsend during hot and humid days and seen in almost every train station, school plaza, and market, it's a common term for cold juices sold in knee-high plastic jars. Some of the most popular flavors are buko pandan, melon juice, sago't gulaman, and buko juice, which vendors either sell fresh or mixed with creamy evaporated milk and white sugar. For something unique, people go to Binondo for freshly pressed tubo (sugarcane) juice.
ADVERTISEMENT - CONTINUE READING BELOW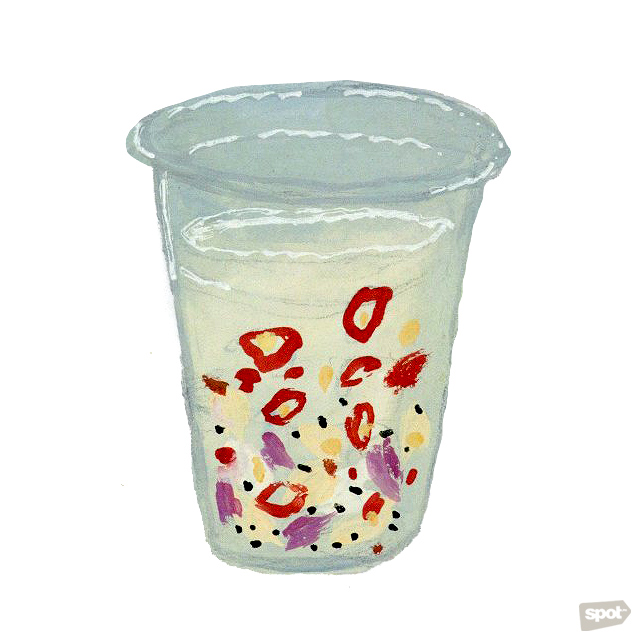 Sawsawan
Arguably a vital component of Philippine cuisine, especially street food. In Filipino, "sawsaw" means "to dip." It's a general term for dipping sauce, although these dips vary depending on the food. Some traditional street-food sawsawan are spicy vinegar with chopped onions, bagoong, toyomansi, and sweet and sour sauce.
ADVERTISEMENT - CONTINUE READING BELOW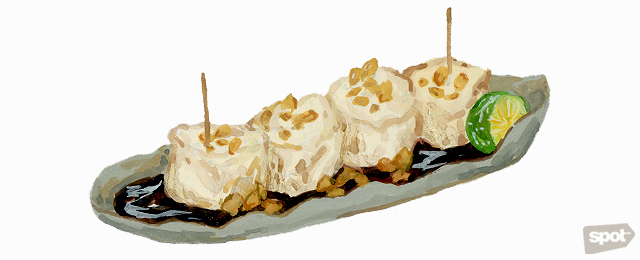 Siomai
Steamed pork dumplings eaten with soy sauce and calamansi. Some of its vendors usually rove around the city on a bike that's equipped with a big steel dumpling steamer. You'd most likely find siomai stalls in train stations.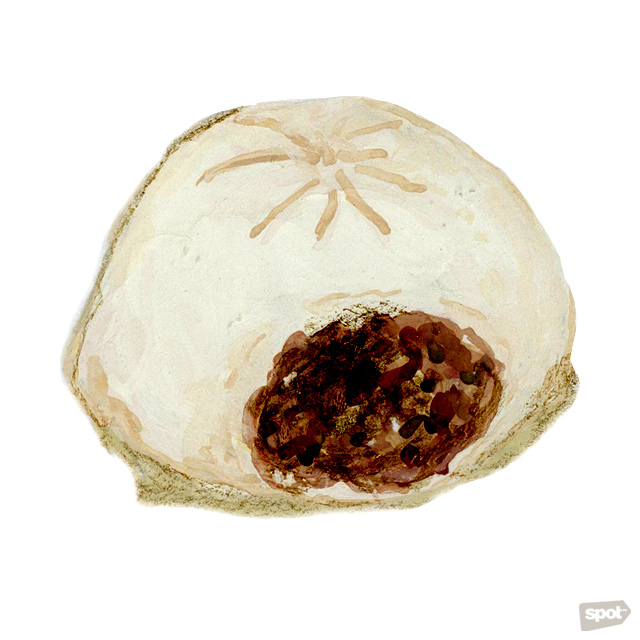 ADVERTISEMENT - CONTINUE READING BELOW
Siopao
Steamed fluffy buns with a savory pork filling that can be found at some siomai stalls around the city. Binondo's Shanghai Fried Siopao is especially popular for their pan-fried siopao.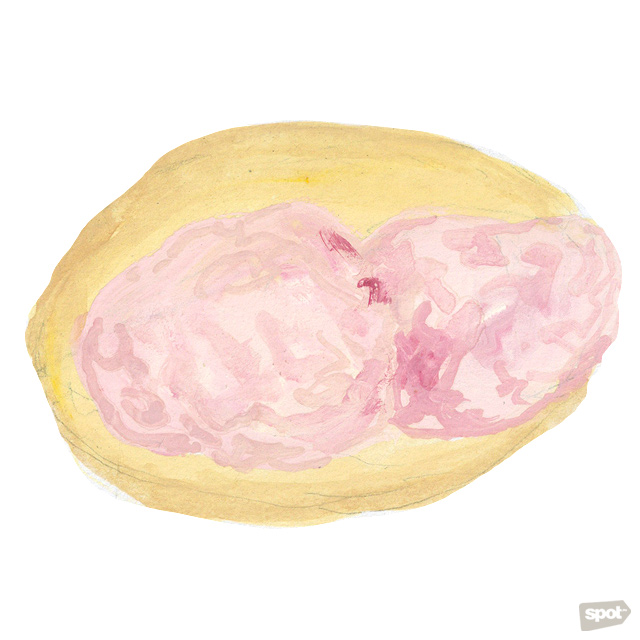 Sorbetes
The Filipino translation of dirty ice cream, the word comes from the Spanish word for sorbet.
ADVERTISEMENT - CONTINUE READING BELOW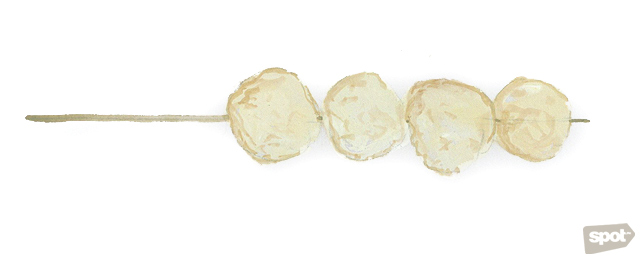 Squid balls
Prepared and cooked similarly to chicken balls and fish balls, these quick street bites are made with cuttlefish.
Super-chick
This term is often used interchangeably with one-day-old.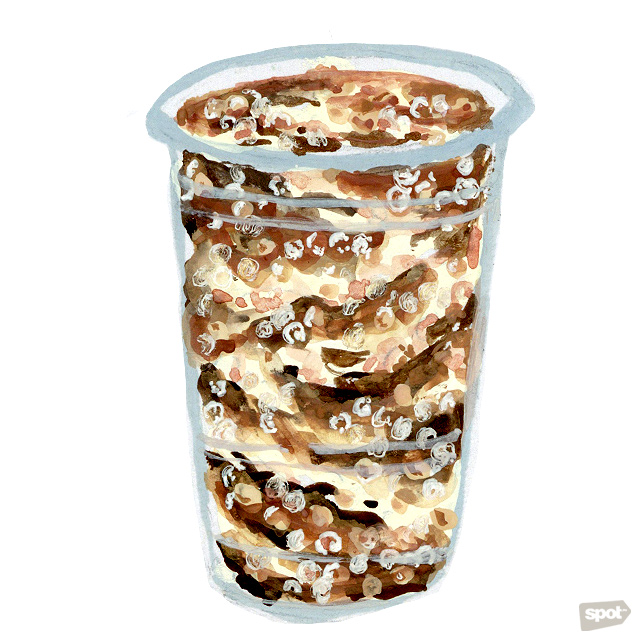 ADVERTISEMENT - CONTINUE READING BELOW
Taho
A sweet treat made of soybean curd, chewy tapioca pearls, and brown-sugar syrup (see: arnibal). It's also a favorite breakfast food among a lot of Filipinos and many would wait outside their homes or offices—mugs in hand—early in the morning for the taho vendor to come.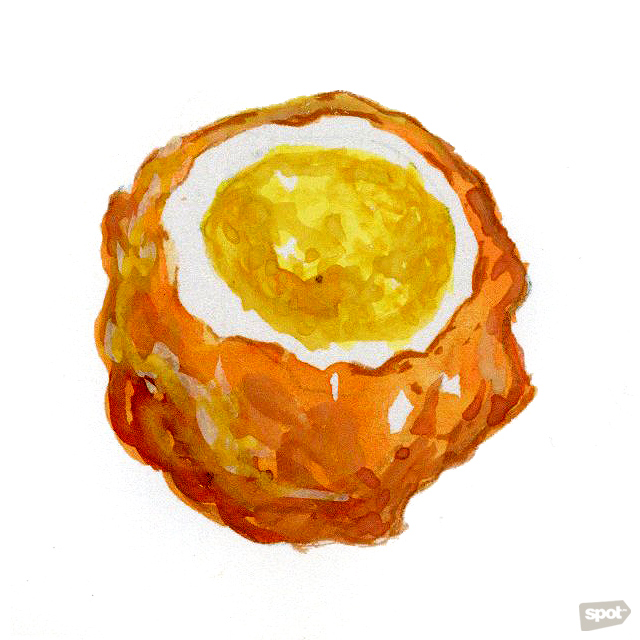 ADVERTISEMENT - CONTINUE READING BELOW
Tokneneng
Similar to kwek kwek but larger as this is made from deep-fried hardboiled chicken eggs coated in a bright-orange annatto-infused batter. The term reportedly comes from the 1978 Pinoy komiks series Batute. In the komik's world, tokneneng means egg.
Tokwa't Baboy
A typical partner to lugaw or goto, it's a side dish made of deep-fried crispy tofu and pork belly (some even use pork ears for a surprising chew), bathed in a sweet and tangy vinegar, soy sauce, fresh onions, and chili concoction.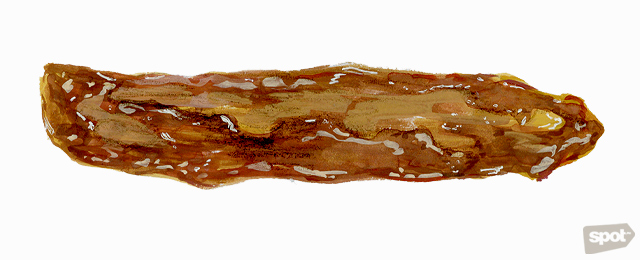 ADVERTISEMENT - CONTINUE READING BELOW
Turon
Deep-fried sliced bananas rolled in spring-roll wrapper and glazed with glistening brown sugar. Crunchy, sweet and filling, it's a favorite merienda among many. Other recipes use a mix of banana and jackfruit.
Turo-turo
Literally translates to "point point." It's a style of choosing your food by pointing your finger. It could also be used as a noun and may be another term for carinderia.
Tusok-tusok
The action of piercing your food with a sharp bamboo stick (e.g. fish balls). The term is likewise used as a collective name for an assortment of skewered meat at an ihaw-ihaw.
U-Belt
A Mecca for all types of street food. Short for "University Belt," it's a subdistrict in Manila City that is clustered with campuses and universities such as University of Santo Tomas, Far Eastern University, and the University of the East. Other parts of the Metro also have their own respective U-belts.
ADVERTISEMENT - CONTINUE READING BELOW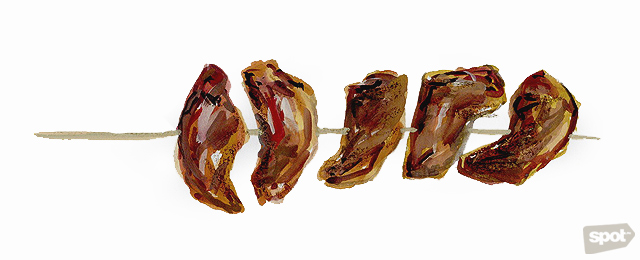 Walkman
Named after a well-known music-playing device from the '80s, it's also an alternative term for pig ears.
Wetpaks
Drawn from the word puwet, it's skewered chicken ass grilled over hot charcoal.
Illustration by Ramonette Dizon
Share this story with your friends!
---
Help us make Spot.ph better!
Take the short survey
More Videos You Can Watch
Load More Stories