The SPOT.ph Guide to Korean Barbecue and Yakiniku
What's the diff?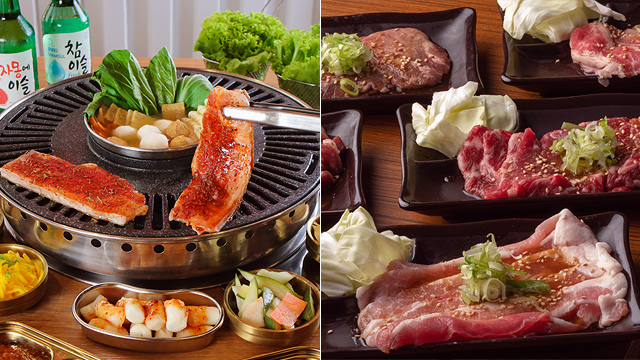 (SPOT.ph) Asia, as the world's largest continent, is obviously composed of countries wildly different from one another, but one of the things we all have in common is our penchant for grilling meat. From our own barbecue and isaw to the kebabs of the Middle East, cooking pork, beef, chicken, or seafood over charcoal or fire is something we all enjoy.  
Two of the most similar types of grilling meats in Asia are Japanese yakiniku and Korean barbecue. It's easy to mix up the two, as both are family-style meals that use a circular (usually charcoal) tabletop stove, where one can grill thin strips of beef and pork or chicken skewers. 
To say that Korean barbecue is extremely popular in Manila feels like an understatement, judging by the long lines at samgyupsal joints (of which, it seems, every neighborhood has). Though not quite as buzzy, a lot of folks also enjoy yakiniku—you only have to visit the myriad of yakiniku joints in Quezon City alone to see for yourself. While both types of barbecue appear very similar, they actually differ from each other. We break these down for you, and also give you a guide to where to get your next KBBQ or yakiniku fix.
ADVERTISEMENT - CONTINUE READING BELOW
Also read: 
The SPOT.ph Guide to Ramen, Soba, and Udon
Korean Barbecue
If we were to pinpoint when exactly the Korean-barbecue trend exploded, we would say 2017, together with the return of Korean drama fever (we see you, Weightlifting Fairy Kim Bok Joo!). But Samgyupsalamat, one of the largest KBBQ chains in the Metro, has been around since 2012—and we're not even counting the quieter Korean joints in Poblacion or Ortigas. Many have since followed, especially in 2017 onwards—Romantic Baboy, another chain, can be credited for making Korean barbecue with melted cheese popular. 
What makes Korean barbecue unique is the banchan or side dishes you get with your meal—it's standard to have four on the table but a lot of joints offer more. It's safe to say that a KBBQ joint should not only be judged by their selection of meat, but also for their banchan. Some of the side dishes you can expect at most restaurants include kimchi, kongnamul muchim (seasoned soy bean sprouts), algamja-jorim (braised baby potatoes), eomuk bokkeum (fish cakes), and gyeran-jjim (steamed egg). The banchan are usually pickled or braised to give them a strong sweetness or sourness that complements that fatty, savory flavor of the meat. 
Speaking of meat, the most common cuts you'll find at Korean barbecue restaurants are samgyupsal (pork belly), kalbi or galbi (beef short rib), bulgogi (sirloin beef strips), and dak galbi (chicken). KBBQ joints will offer these cuts both plain and marinated, served usually with a side of ssamjang (Korean spicy paste) and sesame oil with salt. 
CONTINUE READING BELOW
Recommended Videos
Another unique element of Korean barbecue are the greens that come with your meal platter. Most KBBQ places serve lettuce, perilla leaves, or cabbage, among others. These greens are for you to create your wrap—roll a piece of barbecued meat, add rice, ssamjang, and even kimchi, then have it in one bite.
These are the basics when it comes to Korean barbecue, but with all the KBBQ joints that have mushroomed all over the Metro in recent years, each one has found a way to stand out from the rest.
Sam Stew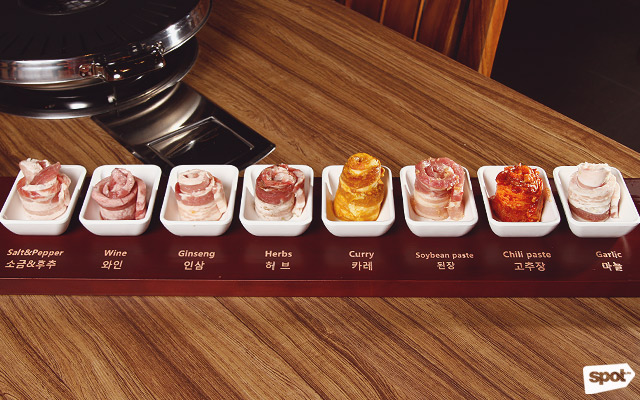 Sam Stew gets their name from the two stars at this joint: Samgyupsal and Korean stew. Of the former, Sam Stew uses premium local pork, which they marinate in eight different flavors. You can get all these flavors in one set for P1,870—this price includes unlimited banchan and rice. The restaurant also recommends a certain order for eating these, so you do not overwhelm your palate: Start with Salt & Pepper then Wine, Ginseng, Herbs, Curry, Soybean Paste, Chili Paste, and, lastly, Garlic. Of course, you can't miss out on their stews: The Budae Jigae (P1,040/family size, P680/regular size) or "army stew" gets its name from its variety of ingredients. It's an "everything but the kitchen sink" stew that has ham, sausage, Spam, baked beans, ramen noodles, cheese, and kimchi in a spicy and hearty broth.
ADVERTISEMENT - CONTINUE READING BELOW
Sam Stew is at 2/F Ayala Malls Vertis North, Bagong Pag-Asa, Quezon City.  
GEN Korean Barbecue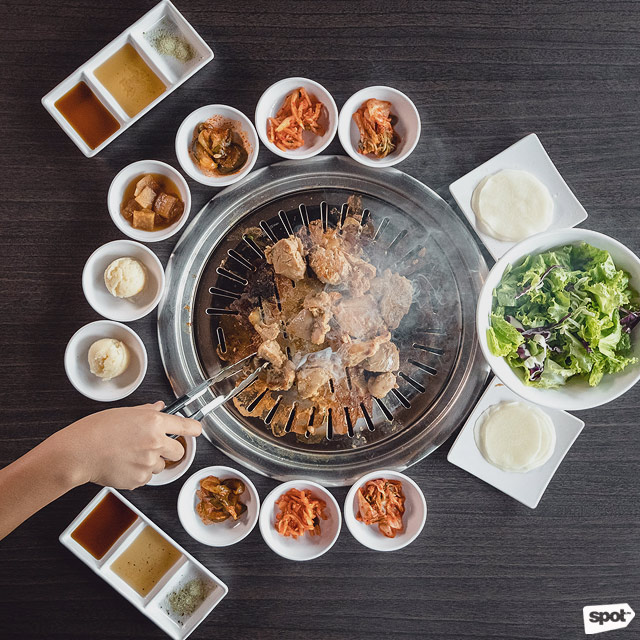 Everything at L.A.-born GEN Korean Barbecue spells "go big or go home" from their massive interiors lit up with neon lights and pop music blaring from speakers to their menu of over 30 different cuts of meat, plus soup and classic Korean dishes—all unlimited. It's a dizzying selection, but you can't go wrong with fresh Premium Chadol or thinly sliced beef brisket, which you can complement with their dipping sauces: sesame oil with salt, matcha salt, or bulgogi sauce. If you're up for something a little eccentric, have the Red Wine Samgyupsal or pork belly marinated in red wine, which has a strong fruitiness that somehow works. For P798/per person during lunchtime (10 a.m. to 3 p.m.) and P1,288/per person during dinner (3 p.m. to 12 a.m.), you get two hours to feast. 
ADVERTISEMENT - CONTINUE READING BELOW
GEN Korean Barbecue is at Building J, Unit 1-16, SM By the Bay, Seaside Boulevard, Mall of Asia Complex, Pasay City. 
Jin Joo Korean Grill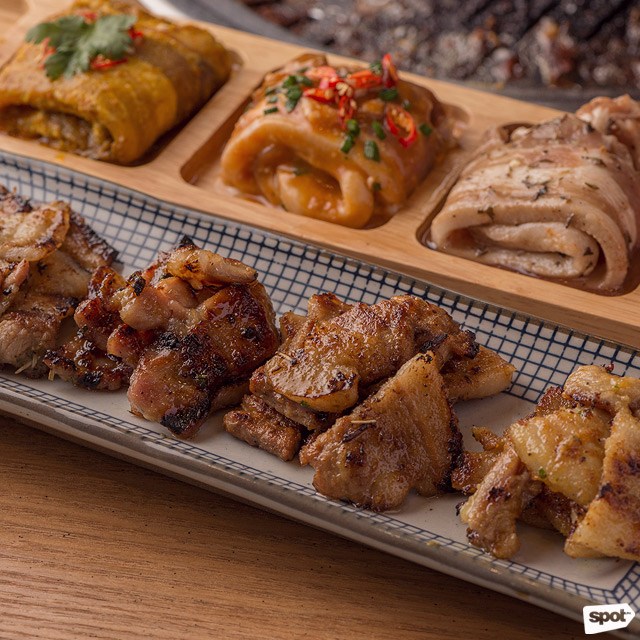 Jin Joo Korean Grill is best known for offering samgyupsal marinated in crazy flavors, which you can get in Jin Joo's 8 Flavours (P1,560). This set includes traditional marinades like Red Pepper and Honey Garlic as well as out-of-the-box ones like Wine and Curry. Aside from their samgyupsal, be sure to have their Cheese Dung Galbi (P950), or American baby-back ribs served with shredded mozzarella and cheddar, which you (or the the staff!) cooks on the grill until melted into a gooey, stretchy sauce. An order also comes with a side of rice, kimchi, corn, and steamed egg, which you can then mix with your leftover cheese to make fried rice.
See a list of Jin Joo Korean Grill's branches.
ADVERTISEMENT - CONTINUE READING BELOW
Sibyullee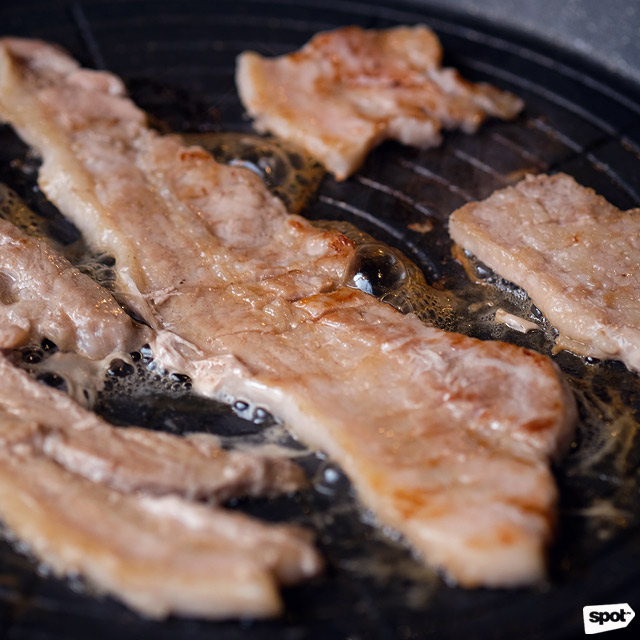 This Korean-barbecue joint from the same folks behind Sariwon and Soban K-Town Grill stands out thanks to their pastel color scheme and homey interiors—their branch at Ayala Malls The 30th looks more like an indoor garden and café than a KBBQ place. Feasting on their unlimited Korean-barbecue sets won't burn a hole in your wallet as rates go for P499 per head for weekday lunch, P549 for weekday dinner, and P549 all day for weekends and holidays. This includes 10 cuts of beef, pork, and chicken, plus unlimited banchan, Korean Fried Chicken, cheese dip, and gimbap.
See a list of Sibyullee branches. 
Mr. Korea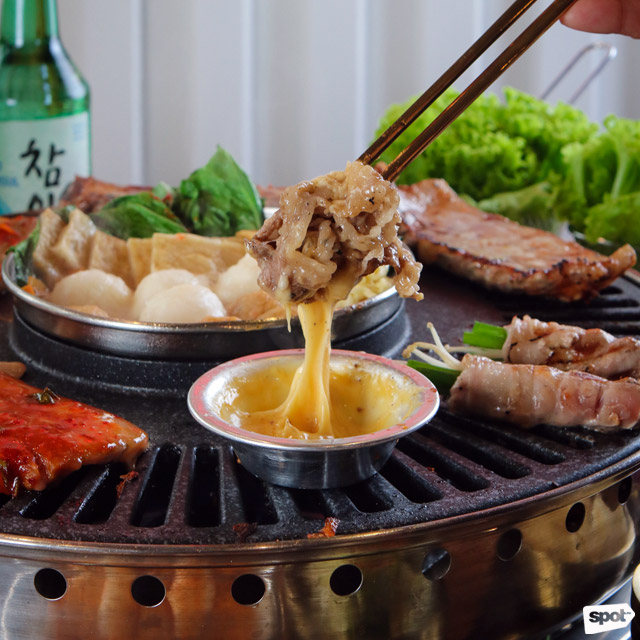 ADVERTISEMENT - CONTINUE READING BELOW
Even in the middle of a busy mall, Mr. Korea stands out, thanks to cute cartoon logos of a pig and a cow and an overall colorful and youthful vibe. At Mr. Korea, they combine Korean barbecue and hot pot—it's best to come hungry because everything is unlimited. There are 14 cuts of beef and pork to choose from, and while you can always have everything, choosing where to start can be a difficult task. We recommend going for the Enoki Roll, which you can get in both pork and beef. Thin slices of pork or beef are wrapped around enoki mushrooms for that extra bite and umami. If you love anything spicy, go for the samgyupsal (pork belly) and woosamgyup (beef belly) marinated in Korean chili pepper marinade, which provides heat and a subtle nuttiness. You're only allowed one-and-a-half hours to dine so it's best to come hungry and ready to chow. Rates go for P549 for lunch, which starts at 11 a.m. until 4 p.m., and P599 for dinner, from 4 p.m. onwards.
Mr. Korea is at G/F Glorietta 3, Ayala Center, Makati City.
Yakiniku
Yakiniku, from the Japanese words yaki (grilled) and niku (meat) is actually a catch-all term for all kinds of grilling in Japan. Yakiniku as we know it—tabletop-grilling of pork and beef on iron griddles. 
If you think yakiniku and Korean barbecue are way too similar, a common theory on the origin of the the yakiniku is that it was inspired by the latter after World War II, when Korean-inspired dishes became popular in Japan. But Japan has made yakiniku their own. For one, unlike in Korean barbecue, beef, pork or chicken is grilled fresh and without any marinade. Instead, these cuts are dipped in the accompanying yakiniku sauce after grilling. Don't expect the Japanese equivalent of banchan or a plate of greens at a yakiniku restaurant, too. Instead, you might be offered a side of vegetables to grill together with your meat—though a lot of yakiniku places offer a menu of Japanese staples like sushi, tempura, and yakisoba to go with your barbecue. A lot of yakiniku places also offer offal along with the usual proteins, like beef tongue or intestines. Whether you're a longtime Japanese-barbecue fan or are looking for a new kind of barbecue to try, here are yakiniku places you can check out.
ADVERTISEMENT - CONTINUE READING BELOW
Ichika Japanese Grill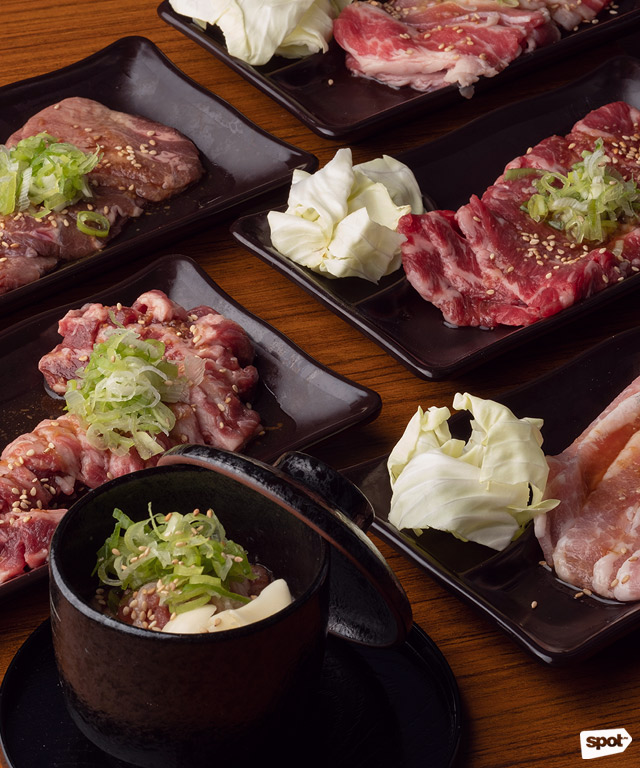 Ichika, from the same folks behind neighborhood Japanese restaurant Takashi, spices up their yakiniku by offering 10 different dips. You can choose from the basics like Yakiniku or Spicy Yakiniku sauce or go wild and creative with Ponzu, Spicy Miso, or Herb Salt and Sesame Oil. They're available in unlimited quantities at the counter so you can always refill a favorite dip or try something new for every round. They offer a wide variety of pork and beef, but even their most affordable cuts, the Beef Galbi (P198) or the Pork Galbi (P198) don't disappoint. An order is large enough to fill you up (though we recommend ordering one platter per person), but if you're extra hungry, Ichika also offers an all-you-can-eat menu that includes unlimited rice and side dishes.  
Ichika is at Pioneer Center, 8006 Pioneer Street, Pasig City.
ADVERTISEMENT - CONTINUE READING BELOW
Yakiniku San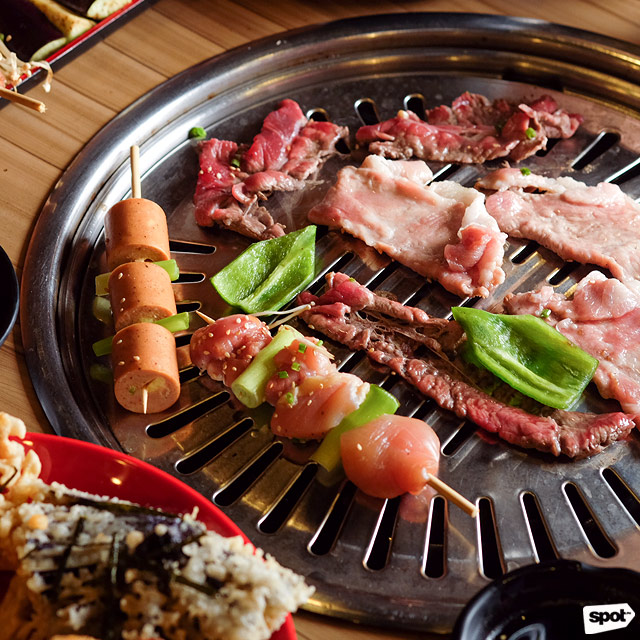 Your P500 will go a long way at Yakiniku San, where the entire menu—from barbecue to ice cream—is unlimited. Right now, Yakiniku San offers four cuts of protein: Pork Belly, Pork Shoulder, Beef Skirt, and Chicken, and they'll throw in sausages and vegetables for you to grill, too. Aside from plain, you can also get your protein marinated in their Yakiniku or Spicy Yakiniku sauces, which they also serve on the side for dipping. You can also feast on all-you-can-eat maki (we recommend the signature Yakiniku San Maki stuffed with yakiniku beef, kani, and cream cheese), tempura, yakiudon, yakisoba, and more.
Yakiniku San is at G/F Robinsons Galleria, Ortigas, Quezon City.
Tajimaya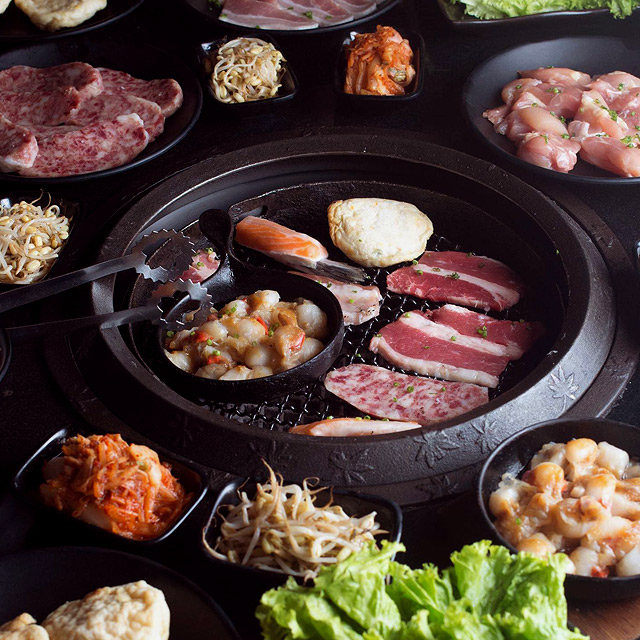 ADVERTISEMENT - CONTINUE READING BELOW
This chain from Chiba, Japan became popular for their Wagyu beef and Kurobuta pork, both of which they ship from Japan, and you can grill yourself on a tabletop stove. They also have unlimited packages, which don't include Wagyu but are still of top-notch quality. For P685 from Monday to Thursday and P740 on weekends and holidays, you can feast on all-you-can-eat pork, chicken, and beef. Don't get us started on the salmon, sausages, and fish cakes, among other things. You can also make your own yakiniku dip from their wide range of ingredients like garlic, bean sauce, and chili paste.
See a list of Tajimaya branches.
Sandaya Yakiniku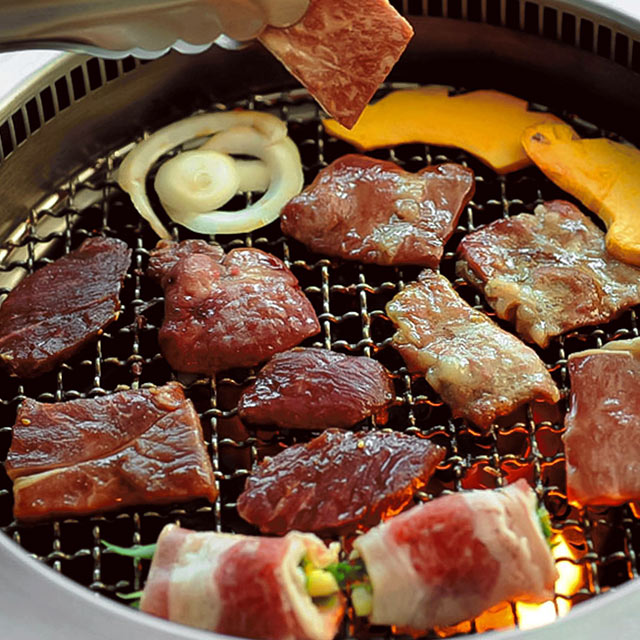 While Sandaya Yakiniku has splurge-worthy items like Japanese Wagyu sirloin (P1,250) and Australian Wagyu cube roll (P800), they also have Sandaya Yakiniku's special lunch set that's easier on your wallet. For P350, you can get beef and pork plus six vegetable side dishes, and you won't feel like you're missing out. Sandaya Yakiniku also regularly has unlimited deals, where you can all-you-can-eat servings of beef short plate, pork belly, boneless chicken leg, and rice for less than P500. 
ADVERTISEMENT - CONTINUE READING BELOW
Sandaya Yakiniku is at 3/F Fisher Mall, Quezon Avenue, Quezon City.
Yoshimeatsu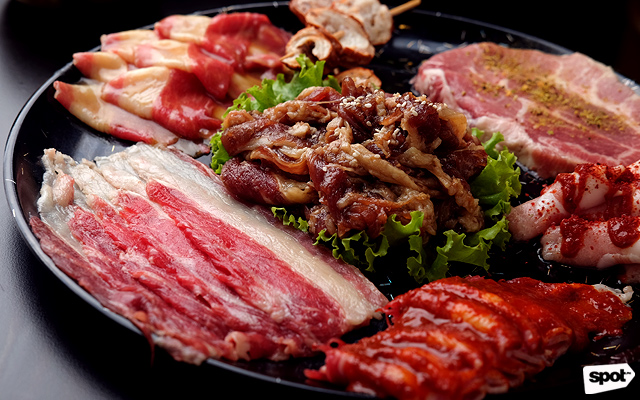 Can't choose between Korean barbecue or yakiniku? You can have both at Yoshimeatsu. The Classic Meat Platter (P1,870) combines marinated cuts for Korean barbecue and fresh beef and pork for yakiniku, which you can then pair with any of their 17 side dishes. If you feel like treating yourself and have no qualms about splurging, go for Royale Hida Wagyu Set (P6,920), their yakiniku platter that includes a Wagyu steak.  
See a list of Yoshimeatsu branches. 
Share this story with your friends!
---
Help us make Spot.ph better!
Take the short survey
Load More Stories