(SPOT.ph) Festive as it is, Christmas can also be one of the most stressful times of the year—maybe because of all the celebrations involved. Food plays a huge role in just about any party, yet the thought of preparing food for a sizeable number of people can seriously intimidate. Enter ready-made party platters, which offer convenience and reliability—you can get your food ready for pickup or even delivered with just a few taps on your phone (or a phone call). Not all parties are the same, though, and some celebrations call for different kinds of bites than others.
Also read:
10 Places to Order Home-Style Cooking for Your Next Party
Here are 10 food platter options to bring to your next party:
For your holiday video-game tournaments: Ooma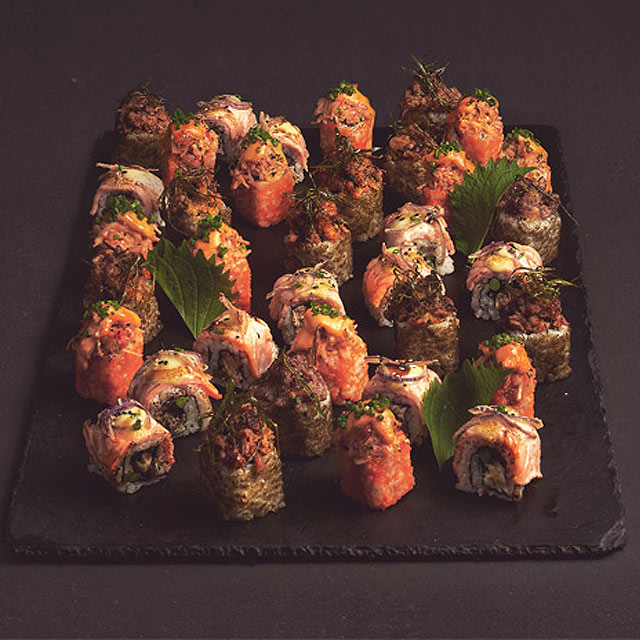 ADVERTISEMENT - CONTINUE READING BELOW
You've got all your gaming consoles or computers ready. When the view on-screen is filled with bright lights and buzzy sounds, you've gotta make sure your food matches up. Turn to Ooma's artfully plated flavor-bombs, which can be delivered straight to your home via Foodpanda. Their colorful sushi rolls are a tasty way to take a break in between back-to-back rounds of Mortal Kombat 11; choose from their Aburi Mixer (P650) or Maki Mixer (P650), or the Crowd Favorites Mixer (P660). If all that leveling up on Skyrim leaves you famished, go for their special platters that include three different kinds of maki and a protein—choose from Platter A with hanger steak (P1,485), Platter B with garlic steak (P1,485), or Platter C with ebi tempura (P1,375), all of which are good for two to three people.
See a list of Ooma branches.
For a Christmas bash with the kids: Pancake House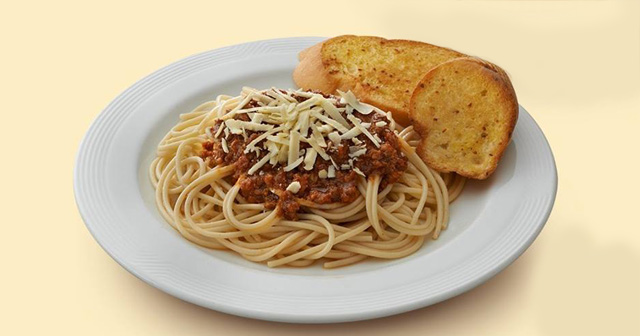 Kids can be the toughest critics. But there are a few munchies that you can almost always count on to be loved by the younger set. Take a cue from children's birthday-party fare—Christmas is Jesus' birthday after all—with Pancake House's To-Go Trays, featuring the comfort classics the all-day breakfast restaurant is known for. Imagine these Pancake House favorites: the signature Pan Chicken (P1,329.90/good for 10 to 15 people), Best Taco in Town (P314.60/box of four), Spaghetti with Meat Sauce (P1,098.90/good for 10 to 15 people), and more—all ready to serve in the comfort of your own home. With all the energy you managed to save from not cooking, you can now focus on helping tame all the toddler tantrums that are bound to happen anyway.
For more information, log on to Pancake House's delivery website.
For a holiday tita-fest: Bizu Patisserie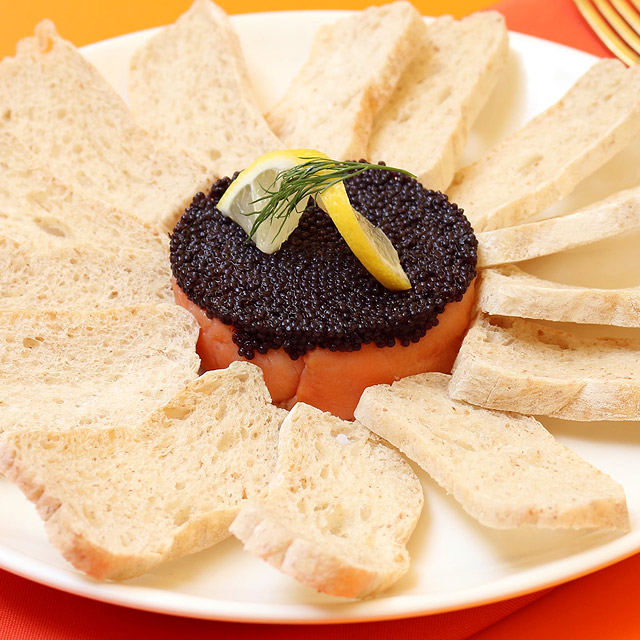 ADVERTISEMENT - CONTINUE READING BELOW
You've picked the best ceramic ornaments, filled the vases with your favorite African Violets, and lit your prized lemon verbena scented candles. (Pro tip: They're great for relieving indigestion and soothing anxiety!) Polish off the celebration with food sure to be approved by even the pickiest of titas, in the form of Bizu's French-inspired Christmas offerings. Their lineup includes light bites such as the Autumn Truffle Salad (P4,200, good for six to eight) and the Smoked Salmon Caviar (P2,150/5-inch, P3,950/9-inch), as well as heavier mains like their Ten Hour Roast Beef (P7,500/good for 10 to 12) and Whole Roast Turkey (P8,500/good for 10 to12). No tita celebration is complete without a sweet finale, and Bizu delivers in the form of their Strawberry Rose Cake (P2,150), as well as bite-sized portions of their signature cakes, including the Strawberry Chiboust (P485/10 pieces) and Opera Cake (P395/10 pieces).
For more information, visit Bizu Patisserie's website.
ADVERTISEMENT - CONTINUE READING BELOW
For your reunions with balikbayan friends and family: Max's Restaurant
So your uncle is coming home from the States, your best friend from Dubai—and all they can talk about is how much they miss their favorite Filipino eats. Look no further than Max's. More than their famous chicken, they've got Kare-Kare (P2,858.90/good for 20), Lumpiang Shanghai (P1,318.90/good for 20), three kinds of Pancit (Pancit Canton at P775.50, Pancit Bihon at P775.50, Pancit Luglug at P825, all good for 18 to 20), and more. For the best bang for your buck, you can also take advantage of their set meals (P1,758.90-P5,498.90, good for five to 10), which come with different viands, rice, and dessert. Don't forget the karaoke machine!
ADVERTISEMENT - CONTINUE READING BELOW
For more information, log on to Max's Restaurant's delivery website.
For your annual Christmas cheat meal with your workout buddies: Khao Khai Thai Chicken House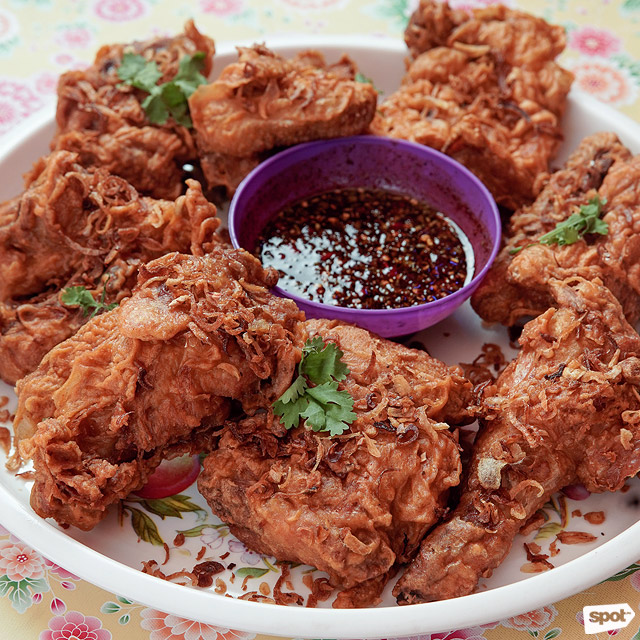 You've spent the whole year sweating it out, cranking out those last few reps, and feeling the after-day burn together. Though it's notoriously easy to overestimate your calorie burn, there's no harm in celebrating your fitness achievements once in a while with a huge, all-out spread of heavyweight eats—as you can get with the new party trays by Khao Khai Thai Chicken House. Get the best #gains from the Thai chicken joint's Chicken Tray (P1,777), which includes one whole fried chicken and whole grilled chicken; or the Spaghetti Tray (P1,315), which includes a family-sized serving of their Drunken Spaghetti and six pieces of fried chicken. And for proper post-workout glycogen synthesis, don't forget to refuel with carbs—in the form of Khao Khai's Rice Tray (P567), a family-sized serving of their Yaowaraj Fried Rice. If you end up pigging out, hey, that's just more fuel for your next workout!
ADVERTISEMENT - CONTINUE READING BELOW
Khao Khai Thai Chicken House is at 5772 Ebro Street, Poblacion, Makati City.
For swanky wine-and-cheese events with your boss in tow: Aperitif.ph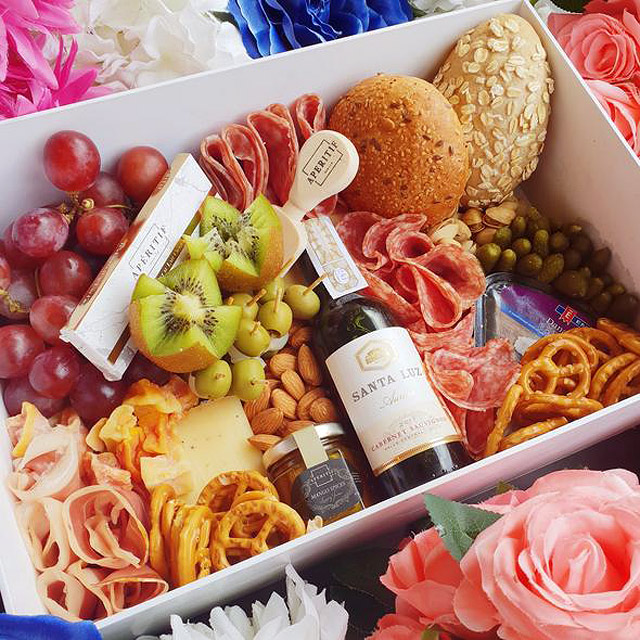 Whether you're looking to impress (gotta get that raise) or just fancy a more refined approach to your holiday party, you can turn to Aperitif.ph and their graze boxes, which come in both sweet and savory variations. For smaller celebrations, go for the Half Size Cheese and Charcuterie Graze Box (P1,950), which gives you two kinds of cheese, two kinds of Italian cold cuts, a small bottle of red wine, chocolate, and more. If you'd rather go all out, there's the Celebrations Box (P5,999), which comes with Provetto Rose Secco, three kinds of cheese, three kinds of Italian cold cuts, and more. They've got your main courses covered, too—try their Baked Salmon with Veggies (P3,500/10 to 15 persons, P5,000/20 to 30 persons), Roast Beef (P3,500/10 to 15 persons, P5,000/20 to 30 persons), or Callos A La Madrileña (P4,000/10 to 15 persons, P6,000/20 to 30 persons). What better way to slowly bring up that promotion you've been eyeing?
ADVERTISEMENT - CONTINUE READING BELOW
For more information, log on to Aperitif.ph's website.
For gatherings with the boomers in your life: Yuan's Paella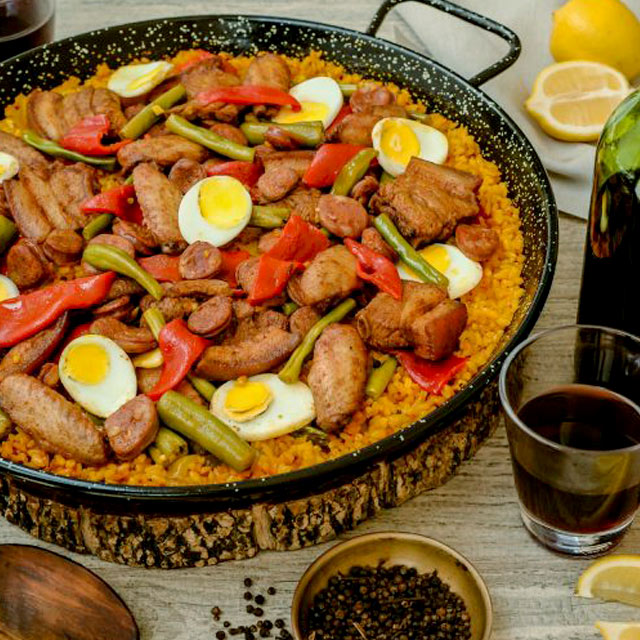 You don't always agree. But you've gotta live with them, and you don't want to risk serving them anything too far left field. There's no harm in going the more tried-and-tested route with classic party eats your beloved boomers will approve of. Yuan's Original Paella makes a standout version of its namesake dish (prices range from P3,500/good for six to 10 to P14,845/good for 70 pax) with an abundant amount of jumbo prawns, spicy chorizo, grilled chicken, paprika-seasoned pork, crisp greens, and a "secret sauce" that ties them all together with the moist-yet-fluffy ricetat the bottom. If paella isn't your thing, Yuan's also boasts a hearty Fabada (P1,750/two kilograms) and fall-off-the-bone-tender version of Iberian chicken (P1,395/1.6 kilograms with grocery chicken, P1,695/with free range chicken). We believe they'll be impressed, but if not, you can just chalk it up to an inter-generational misunderstanding.
ADVERTISEMENT - CONTINUE READING BELOW
For more information, check out Yuan's Paella's website.
For a plant-based Christmas pig-out: Green Bar
It's 2019, and the vegan movement is growing at a fast pace. Don't dismiss it just yet, because when done right, vegan and plant-based food can be every bit as tasty as their animal product-filled counterparts. Check out the party trays from Green Bar, whose lineup disproves the notion that all vegans eat are salads. Feast on their hearty Starters Platter (P1,499/with Quesadilla, Cheese sticks, and "Chickun" Wings), and bust your hunger with their Taco Platter (P1,100/with Popcorn "Chickun" Soft Tacos and Barbacoa Street Tacos). For the ravenous, Green Bar also offers Handheld Platters (P1,499 to P1,600), which feature their signature meatless wraps, burritos, and sandwiches. All items are good for five to six people, not counting the fact that we always find ourselves going back for seconds.
ADVERTISEMENT - CONTINUE READING BELOW
Green Bar is at 104, West of Ayala, Urban Avenue, Legazpi Village, Makati City.
For your Christmas anti-parties: Sushi Nori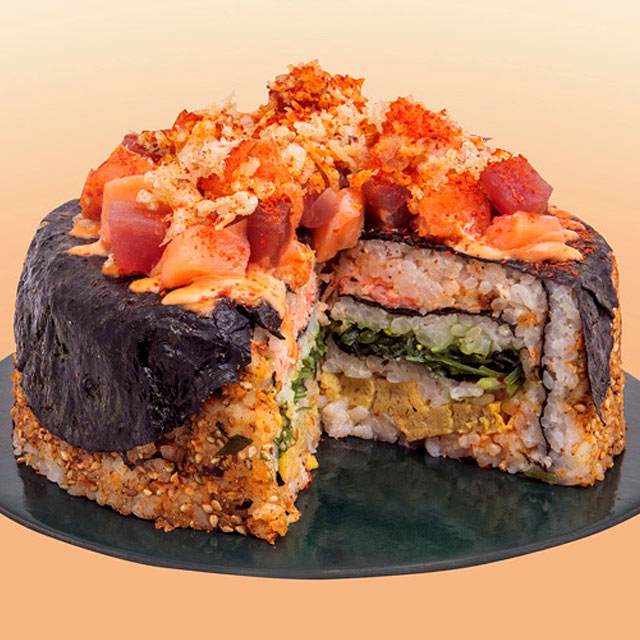 You're not a regular party host, you're a cool party host, and that means forgoing the usual for options that are a little more on the unexpected side. Bruschetta? Yawn—rice rules over bread in these parts anyway, so we say go for sushi instead of the usual crostini for your starters. Try Sushi Nori's party trays, which feature individual pieces of sushi and are priced from P1,299 to P2,699. Oh, and instead of the usual sweet cakes, why not try their savory sushi cakes? Take your pick from the Veggie (P999), Spicy (P1,299), Classic (P1,299), and Pink (P1,299), all brimming with various toppings on hearty sushi rice.
ADVERTISEMENT - CONTINUE READING BELOW
See a list of Sushi Nori branches.
For a merry match-making celebration: 8 Treasures Roasting
Yes, match-making parties are a thing, and they're a great way for the single (ahem, self-partnered) and like-minded to mingle, meet new people, and maybe find potential life partners? Nothing screams sexy better than a gleaming, brazen piece of roasted meat—especially when the skin is crisp and the meat within is ultra-succulent. That's exactly what you get from 8 Treasures, a semi-hidden nook at the Petron Dasmarinas Station known for their Hong Kong-style roasts. Their impressive lineup includes Roast Duck (P2,300/whole), Roast Goose (P4,800/whole), HK Soy Chicken (P1,300/whole), HK White Chicken (P1,300/whole), Char Siu Pork (P800/large), Lechon Macau (P960/large), and Suckling Pig (P5,400/whole).
ADVERTISEMENT - CONTINUE READING BELOW
8 Treasures Roasting is at Petron Gas Station, EDSA corner Arnaiz Avenue, Dasmariñas Village, Makati City.
Share this story with your friends!
---
Help us make Spot.ph better!
Take the short survey
More Videos You Can Watch
Load More Stories