(SPOT.ph) The -ber months are always a little more hectic than any other time of the year. Between longer work hours, worsening traffic conditions, and holiday shopping, you'll definitely need to take a breather. And what better way to wind down and relax than with some no-fail comfort food and a couple of drinks?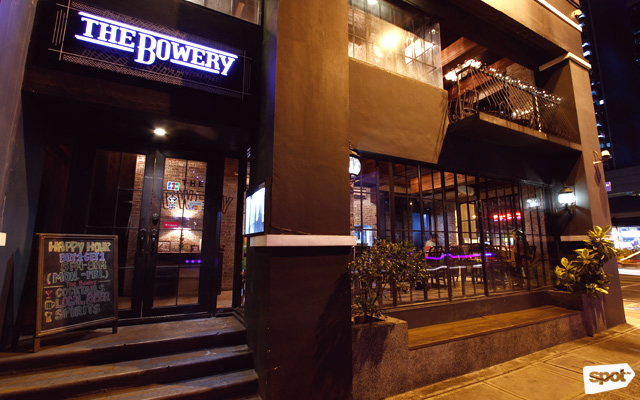 ADVERTISEMENT - CONTINUE READING BELOW
Luckily, The Bowery's got you covered, having just introduced the newest items on their menu for their fifth anniversary. This cozy restaurant-bar is located a stone's throw away from the busy Burgos Circle and is open until the wee hours on most nights, making it accessible to just about anyone who isn't ready for their night to end—or, perhaps, is just getting their night started.
We got to sit down with executive chef Cuit Kaufman to try a few of their special fifth anniversary menu items, so here are all the reasons you'd want to drop by The Bowery again.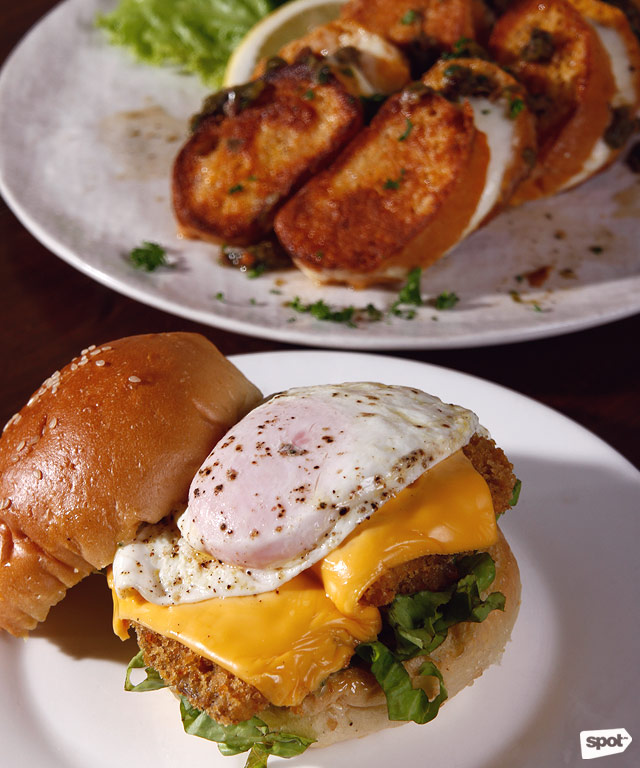 ADVERTISEMENT - CONTINUE READING BELOW
Recommended Videos
First up is a platter of their Silver Dollar Spiedini (P620), a heap of gooey mozzarella sandwiched between two bread slices dipped in egg, then fried in a special butter and an anchovy white-wine caper sauce. Have it as an appetizer or as a companion to one of their cocktails.
You might find their Breakfast Fish Fillet (P280) familiar (ahem, you can probably guess from where), but we assure you this isn't your typical fish-fillet sandwich. For one thing, all the ingredients are prepared from scratch—and yes, that includes the pillowy soft buns. If you don't prefer your fish fried, ask for it baked. Either way, you'll be hankering for this dish when you've had one drink too many.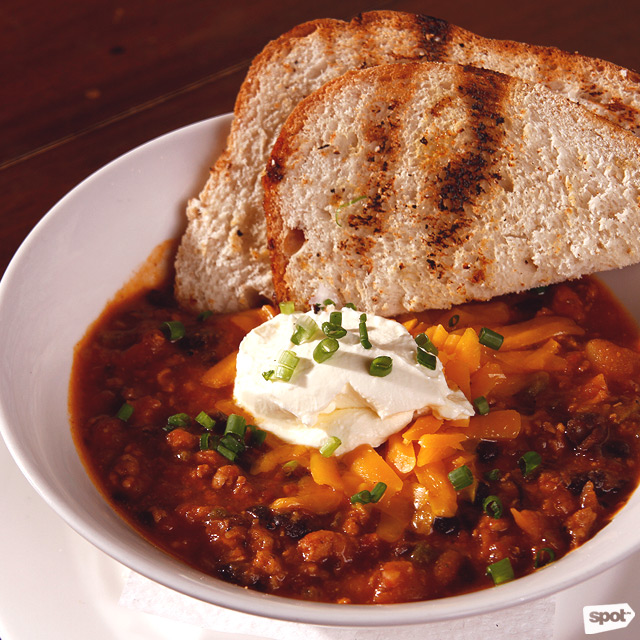 ADVERTISEMENT - CONTINUE READING BELOW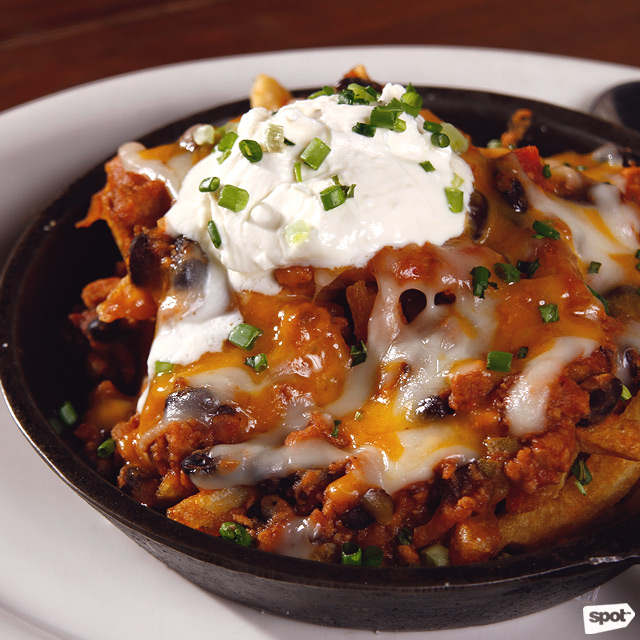 Now, as you might know, turkey isn't a typical meat we have in our dishes, but it seems as though that's about to change. Some great candidates are their Turkey Chili (P380), made with turkey chunks, black beans, and an assortment of spices simmering in a bowl of chili sauce; and the Turkey Chili Cheese Fries (P380), which features the same turkey chili recipe poured over a heap of fries.
ADVERTISEMENT - CONTINUE READING BELOW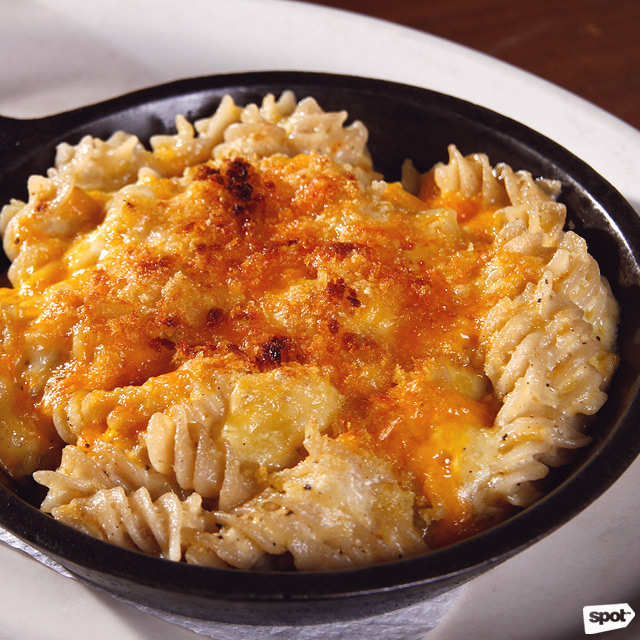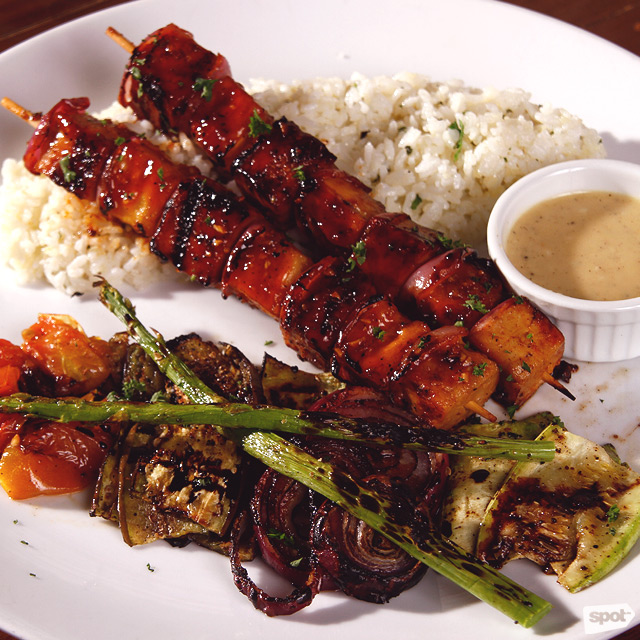 ADVERTISEMENT - CONTINUE READING BELOW
There are also vegetarian-friendly options on the menu, like the Gluten-Free Classic Mac & Cheese (P440); the BBQ Pineapple Tofu Kebab (P460), a medley of veggies and tofu roasted to perfection on a stick, then served with a side of balsamic grilled veggies, garlic rice, and a creamy garlic sauce that'll have you licking the plate clean; and the House Veggie Burger (P390), made with a brown rice mushroom patty on a plain toasted bun—you won't even believe this burger was good for you. Topping off their new food items is the King Waffles, or a thick waffle layer with a ring of bananas and a drizzle of peanut butter sauce over (yup, you guessed it) another thick waffle layer with bananas and peanut butter sauce, all served with a dose of whipped cream and two crispy bacon slices. Is it still fair to call this just dessert?
ADVERTISEMENT - CONTINUE READING BELOW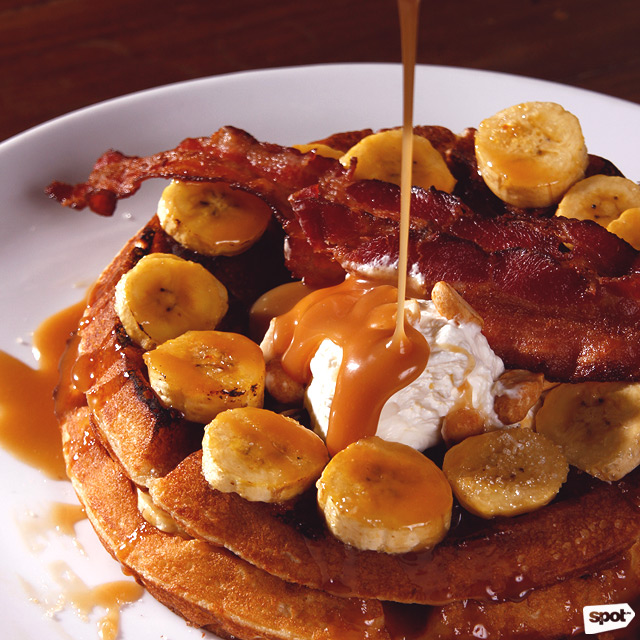 ADVERTISEMENT - CONTINUE READING BELOW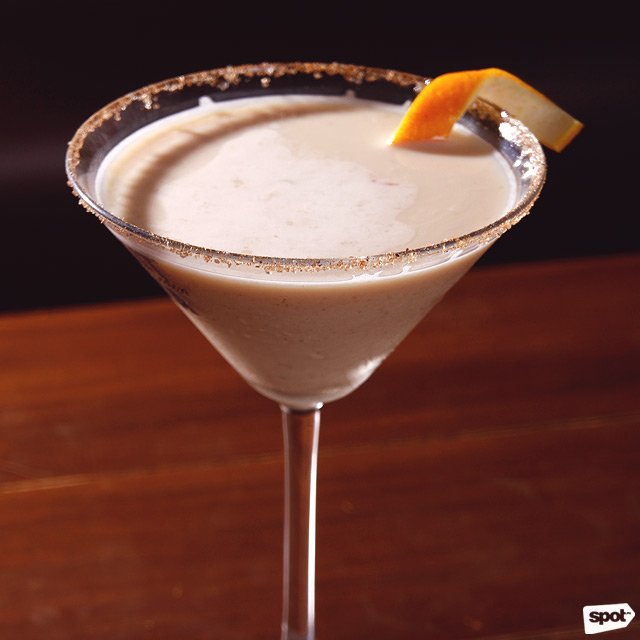 Their new drinks selection has just as much to offer as the food does, and trust us, even just one of them is enough to take the edge off of a particularly long week.
ADVERTISEMENT - CONTINUE READING BELOW
The first cocktail is a signature must-try, even (and dare we say, especially?) if you're not so big on drinks: The Bowery Hummer (P490), or their version of the original adult milkshake. This huge drink features two scoops of homemade vanilla ice cream, blended with Havana Club rum, amaretto, a few warm spices, vanilla syrup, topped with whipped cream, butterscotch, and crumbled amaretti. 
Now, if you're thinking of making some good decisions one night (or what seem like good decisions), maybe the Fortune Cookie Wisdom (P340) is just what you're looking for. This light drink is made with green tea-infused vodka, muddled fresh ginger, amaretto, and condensed milk, lined with a Chinese five-spice sugar rim.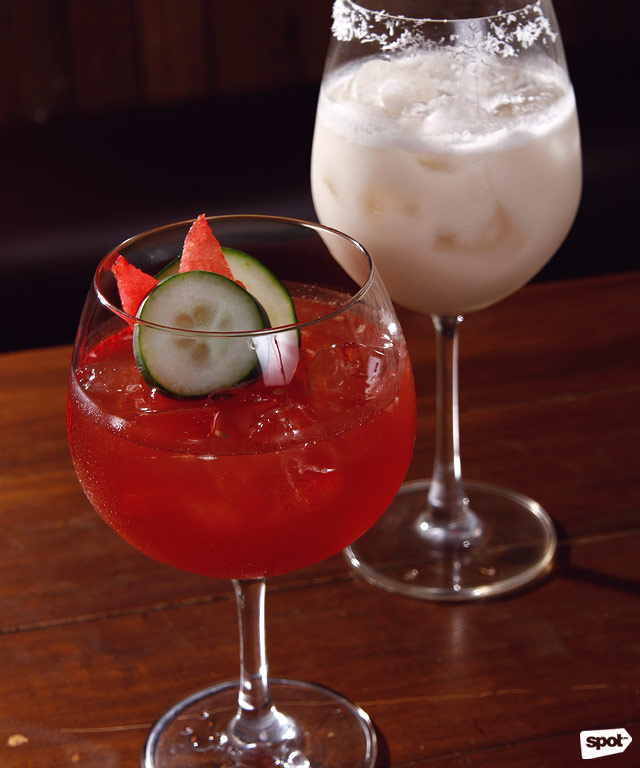 ADVERTISEMENT - CONTINUE READING BELOW
For some summery drinks for any season, the Hampton Waters (P360) is a good place to start—a blend of gin and homemade peppercorn syrup that's then muddled with watermelon, cucumber, and ginger, so you get a drink that's both refreshing and gets a peppery kick.
If you're a fan of all things fizzy, you won't want to miss their Coconut Champagne (P420). It's made with olmeca tequila, malibu and coconut cream to lend those coconutty flavors, then with homemade lemongrass syrup, and partially rimmed with salted grated coconut. Bartender's recommendation? Sip first, then stir to get those flavors going. Then there's the Long Island Arnold Palmer (P380), which tastes deceptively like a regular ol' iced tea—but don't be fooled, it's got enough vodka, rum, and gin to really pack a punch.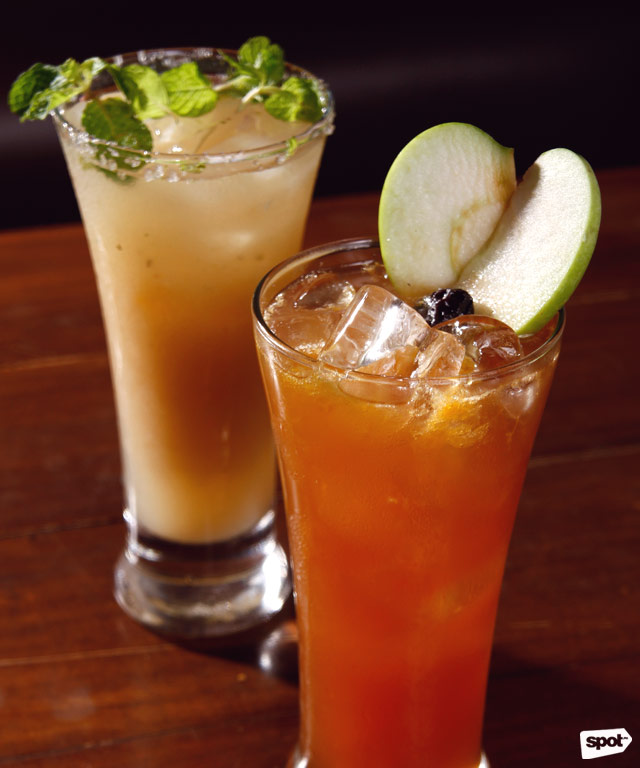 ADVERTISEMENT - CONTINUE READING BELOW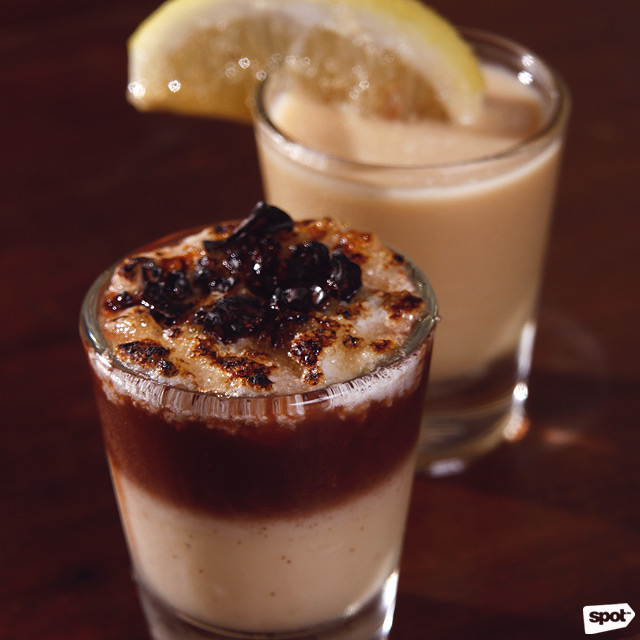 We come to The Bowery's newest shooters on their menu. They have the King's Speech (P150), black tea-infused vodka, light lavender syrup, and a bit of cream, served with a lemon wedge and sugar. And before you ask, yes, it's named after that Colin Firth historical drama about the stammering king, so do with that information what you will.
ADVERTISEMENT - CONTINUE READING BELOW
And rounding up their lineup of new drinks is their Spicy Bad Boy (P150), which tastes just as fun as it sounds. Chile-infused tequila and amaretto form the bottom layer, topped off with a crunchy cacao nib brûlée that helps usher in the spicy and bittersweet notes of this chocolatey concoction.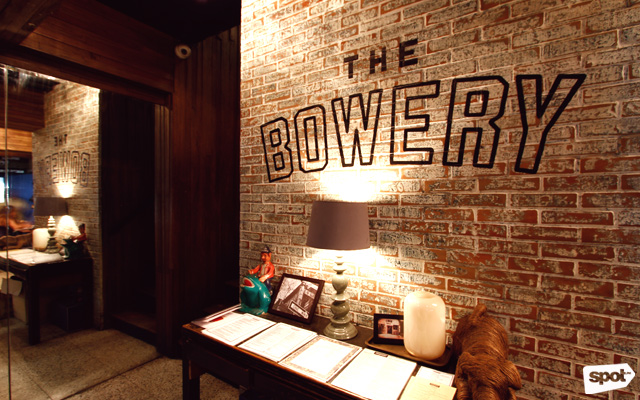 ADVERTISEMENT - CONTINUE READING BELOW
It's always fun when a joint can keep surprising us with new dishes and drinks to keep us coming back for more, and that's exactly what The Bowery did with their new fifth anniversary menu. You're covered from every kind of drink and comfort food you can imagine. Spend a night here with friends or on your own—either way, we won't judge.
Photos by Vincent Coscolluela
The Bowery is  at G/F Rizal Drive corner 29th Street, Rizal Drive, Bonifacio Global City.
Share this story with your friends!
---
Help us make Spot.ph better!
Take the short survey
Load More Stories