(SPOT.ph) Brownies are thought to be the in-between of chocolate cake and cookies, but they're also so much more than that—their (often) dense, fudgy, chocolatey body satisfies in ways other desserts just can't replicate. Minimalist as these bar cookies may sound, generally being made with butter, sugar, cocoa powder and/or melted chocolate, eggs, and flour, and not typically calling for any fancy techniques or equipment, they're about as basic of a baked good as you can get—but their very simplicity makes them a good metric of a great bakeshop. The question is, who does it best?
For this list, we put the spotlight on chocolate flavor and texture—the ideal brownie should have the deep, full-bodied taste of chocolate; a good balance of sweetness, a touch of saltiness, and bitterness. Though a touch of cakeyness is welcome, it should be dense and fudgy with the right amount of chew for balance. We went for the most "basic" or default variants, and while nuts and other toppings are welcome, we kept our focus on the brownie base.
ADVERTISEMENT - CONTINUE READING BELOW
All SPOT.ph Top 10 lists are researched, paid for, tested, and selected by the writers and editors. They are discreetly conducted without any notice made to the establishments or their owners.
Also read:
Top 10 Brownies (2014 Edition)
Here are the 10 best brownies in Metro Manila right now:
10. Double Fudge Brownies from Mrs. Fields (P80)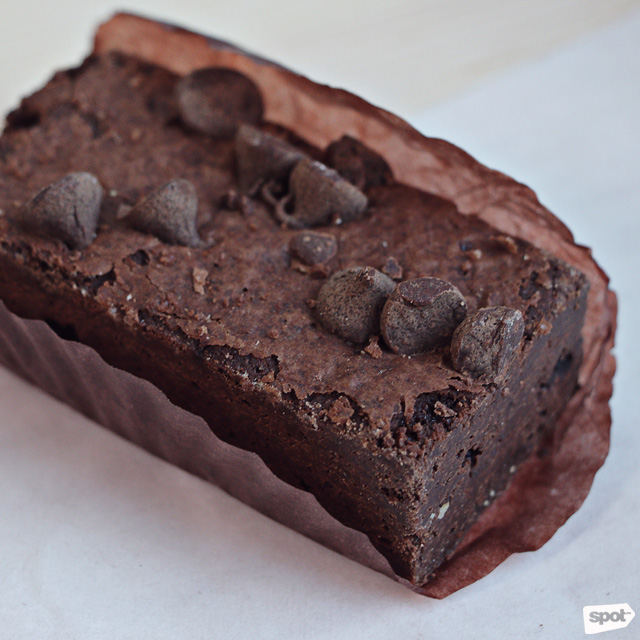 Though Mrs. Fields is primarily known for their cookies, their brownies are worth checking out, too. You can get it with assorted nuts, but the plainest of the lot are the Double Fudge variant. It's on the sweeter side of the spectrum, but you still get the chocolate—one with a straightforward, somewhat fruity flavor evocative of the chocolate chips used in their signature cookies. The texture is where it's especially at, as these brownies give you the best balance of fudgy and chewy. It's a brownie you can rely on to please both kids and adults alike.
See a list of Mrs. Fields branches.
9. Brownie Bars from Mary Grace Café (P63)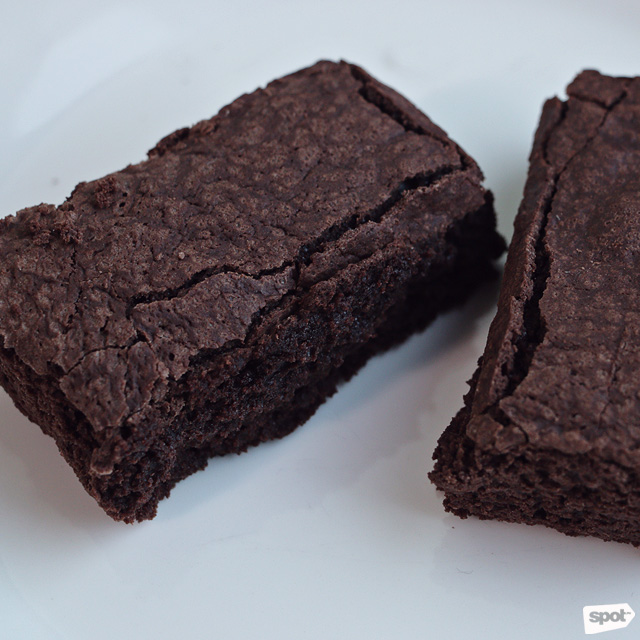 ADVERTISEMENT - CONTINUE READING BELOW
We've fallen in love with Mary Grace Café's cheese rolls, chocolate cake, and ensaymada—but their brownies are also every bit worth its time in the spotlight. This version might not come with any bells and whistles, but it's excellent in its very simplicity: a firm, crusty-on-the-top, moderately-fudgy-on-the-inside body that isn't too rich or decadent (you can have it as a snack and still have room for dinner later); and a just-right dose of chocolate that won't leave you in need of a glass of water after, though a cup of joe on the side is very much welcome. It's the little black dress of brownies—relatively basic and far from flashy, but always reliable and nonetheless satisfying.
See a list of Mary Grace Café branches.
8. Original Bucky's from Bucky's (P100)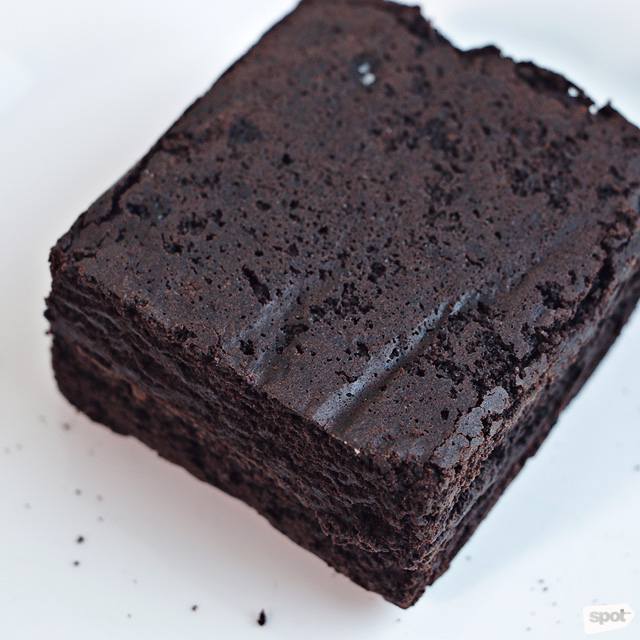 ADVERTISEMENT - CONTINUE READING BELOW
We know, we know: Bucky's explicitly states their flagship pastry is, in fact, not a brownie. But given its deep, husky cocoa-heavy profile (we'd guess it's made with Dutch-process cocoa, with a heavy dash of vanilla that gives it an Oreo-like character) and thick, dense yet chewy, somewhat sticky consistency that makes it a pleasure to sink your teeth into—it pretty much counts as a brownie in our book. There's a generous touch of salt that keeps it from being cloying, and what's especially great about these dark, glossy contenders is that it stays moist and chewy for days—even when left at room temperature.
See a list of Bucky's branches.
7. Double Chocolate Pecan Bar from Starbucks (P95)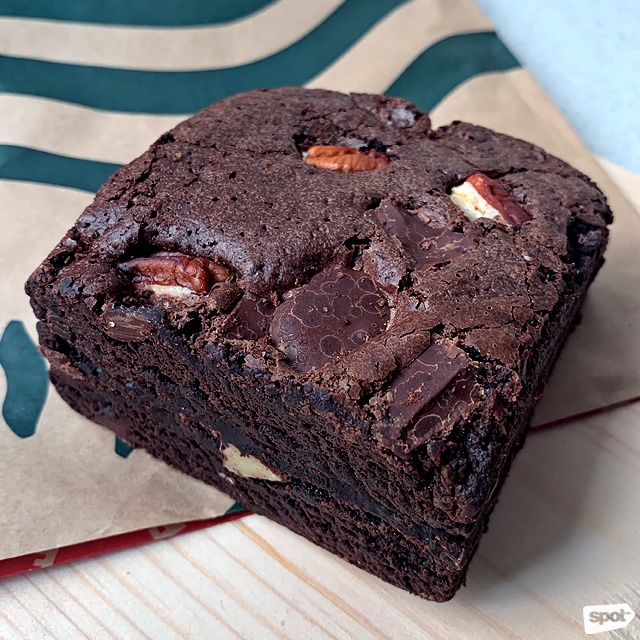 ADVERTISEMENT - CONTINUE READING BELOW
This coffee shop's brownies made it onto a previous Top 10 list, but the old version has since been replaced with the much bigger Double Chocolate Pecan bar—which doesn't even really say "brownie" anywhere in its name, but is unmistakably a brownie nonetheless. These are for those who like 'em thicc, coming no less than about an inch in height with an especially fudgy consistency. The brownie base is just dark enough but tastes flat, and for a "pecan bar" it could seriously use more nuts—but the generous amount of chocolate chips mixed in more than makes up for it. Get it heated, as the staff at the counter suggest, and watch as the chips melt into its own lava-like layer that's heavenly against the denser brownie base. That it's an especially convenient option given that there seems to be a Starbucks at just about every corner of the Metro now is, of course, a happy bonus.
ADVERTISEMENT - CONTINUE READING BELOW
See a list of Starbucks branches.
6. Chocolate Brownies from Bizu Patisserie (P450/box of 25)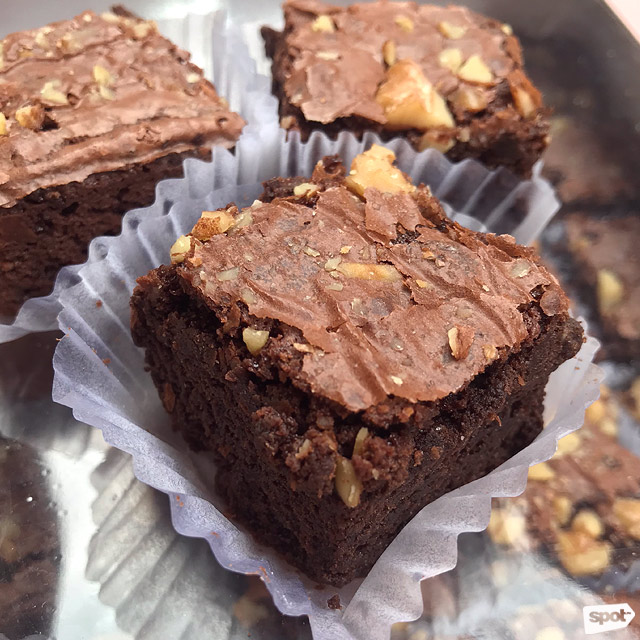 More than their famous macarons and other desserts, Bizu makes stellar brownies, too. Don't let their bite-sized makeup fool you; each roughly-1x1 inch square packs a good wallop of chocolate that can feel subtle at the onset, but builds up gradually to produce a robust chocolate flavor with a somewhat roasted note, balanced by a touch of salt. Though it starts out light and somewhat cakey underneath the paper-thin, crinkly top, it reveals a rich, fudgy, backbone as you chew, giving you the best of both ends of the texture spectrum.
ADVERTISEMENT - CONTINUE READING BELOW
See a list of Bizu Patisserie branches.
5. Brownies from Eric Kayser (P110)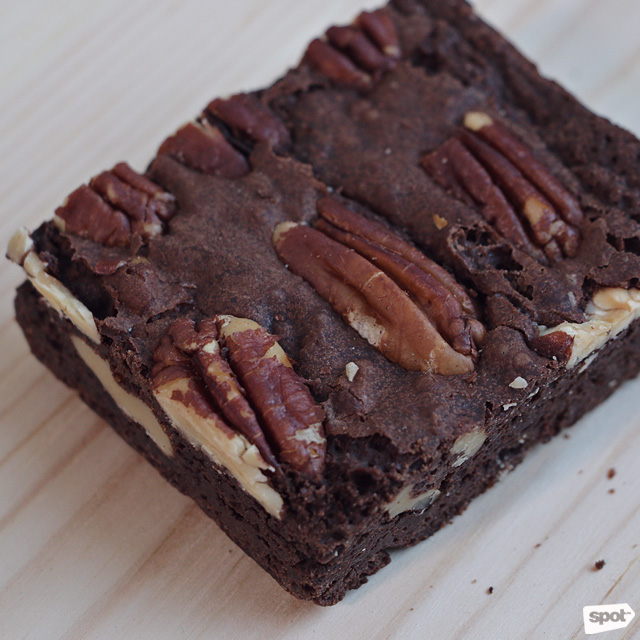 Eric Kayser's brownies feature the minimalist elegance the French are known for with whole pecans peeking out from the top. It's not exactly super dark-tasting, but nonetheless carries a full-bodied, somewhat rustic chocolate flavor, indicative of the use of good melted chocolate in the batter. It's crusty and on the sturdy side on the outside but fudgy within, with a generous amount of pecans (you get nuts in every bite!) that add crunch and a distinctive butteriness to contrast with its just-right level of sweetness.
ADVERTISEMENT - CONTINUE READING BELOW
See a list of Eric Kayser branches.
4. Fudge Brownies from Hiraya Bakery (P85)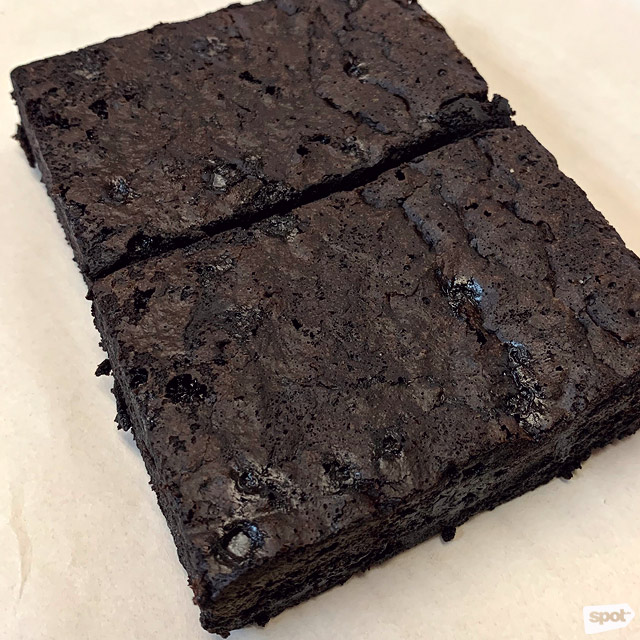 Hiraya Bakery's brownies are on the shorter side height-wise—but trust us, they're about as potent-tasting as you can get. Almost jet-black in color, these are cocoa-heavy numbers that hit you with their brawny, bittersweet character, balanced with a good amount of salt. Intoxicating in its darkness, it satisfies even the strongest of chocolate hankerings with just a small forkful. Likely due to having a high proportion of fat and very little flour and/or purposefully being underbaked, it has an ultra-moist consistency at room temperature that it can be hard to pick up without staining your fingers; it also comes especially dense with a smooth, uniform crumb and little to no airiness that it's borderline fudge (and not just fudge-like)—we'd appreciate a little more chew. But it's great enjoyed when chilled, as it firms up to an almost truffle-like consistency that's best savored little by little. Keep your eyes peeled on their social media pages as Hiraya also offers different variations on their brownies, swirling in jams made from seasonal local fruit like sampinit, or other ingredients like tahini and sumac.
ADVERTISEMENT - CONTINUE READING BELOW
Hiraya Bakery is at 3/F 195 Maginhawa Street, Sikatuna Village, Quezon City.
3. Life-Changing Brownie from Workshop (P95)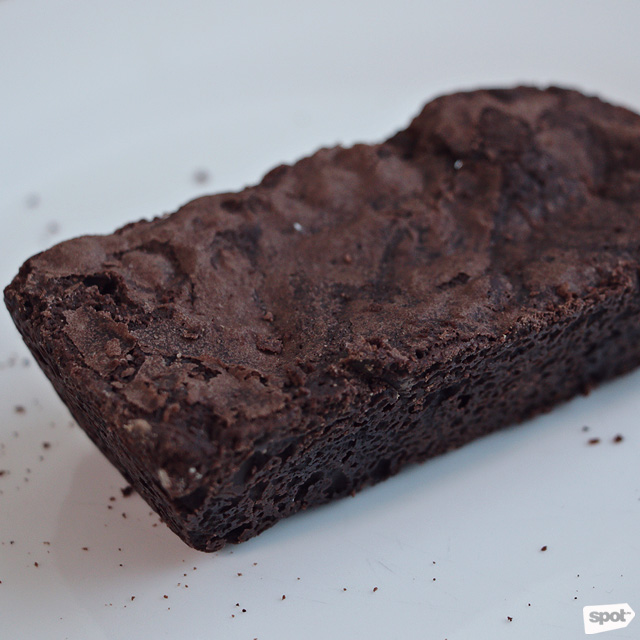 With 17-layer cakes and other ornate entremets at this dessert shop, it can be easy to ignore their brownies—but add a piece (or two) to your order and you won't be disappointed. Workshop calls these brownies "Life-Changing," and we're almost inclined to agree. They come as sleek bars that appear to have been baked in individual small pans; the increased surface area gives you more crusty edges to enjoy. Beyond its plain-looking exterior is an interior that's soft and somewhat molten, almost traversing to lava cake category especially when it's heated. Flavor-wise, you get robust chocolate that isn't necessarily the darkest of the bunch, but is especially complex-tasting and even a bit smoky toward the end.
ADVERTISEMENT - CONTINUE READING BELOW
Workshop is at The Grid, Level R2, Power Plant Mall, Rockwell, Makati City
2. Original Sin Gourmet Brownies from Xocolat (P105)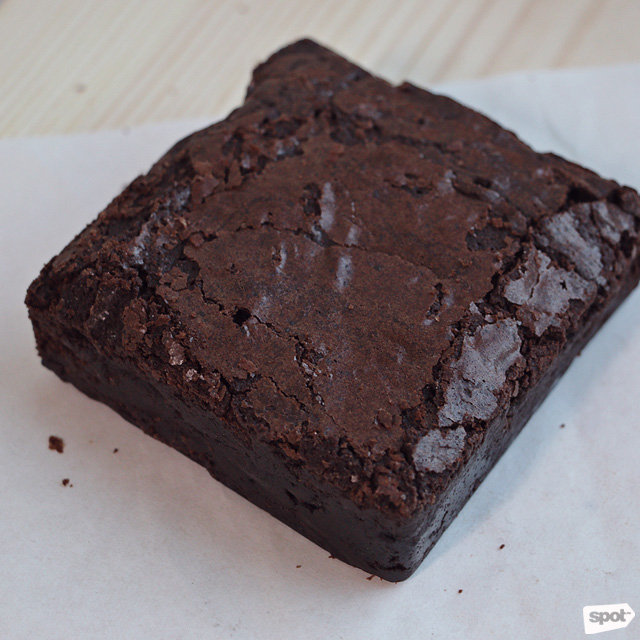 Following a short hiatus, Xocolat reopened earlier this year in a new location (still along Katipunan Avenue, but much easier to find!)—and thank goodness, because that means their best-selling treats are back: hot chocolate, churros, and of course, brownies. These tick all the right boxes: they're mid-thick (about an inch in height), have a shiny top and crusty edges, are dense and fudgy inside with the right amount of chew, and have the dark, full-bodied and cocoa-heavy flavor—bolstered with what seems to be a good amount of coffee for a deeper, roastier profile.
ADVERTISEMENT - CONTINUE READING BELOW
Xocolat is at 155 B. Gonzales Street, Loyola Heights, Quezon City.
1. Brownies from Wildflour (P95)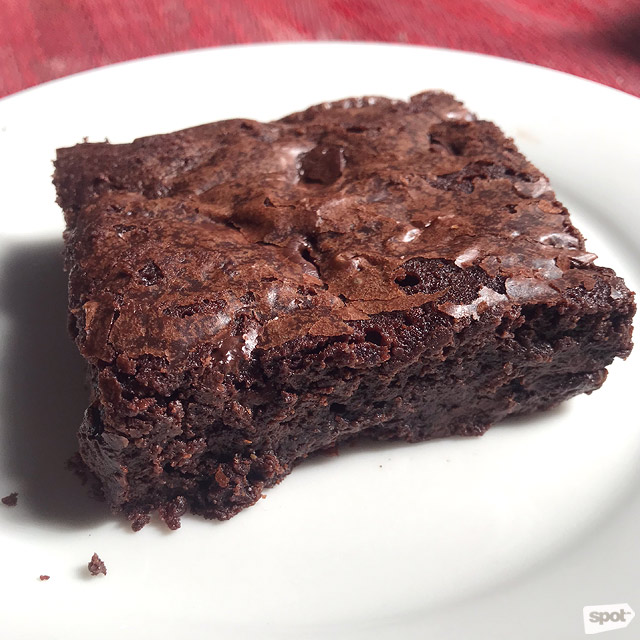 Wildflour's take on brownies is enticing from its appearance alone, drawing you in with its shiny, paper-thin crust that makes way to a silky, fudgy (but not overly dense) interior. It's on the right side of bold and dark in flavor with a great balance of full-bodied chocolate, a hint of coffee (which comes at just the right amount to enhance, but not overpower, the former), and a whisper of vanilla that rounds out all the other flavors. As you chew, you get a good creaminess from what seems to be melty chocolate chips scattered throughout, evened out by the occasional pop of salt. These brownies are especially versatile: taken at room temperature, heated, or right out of the fridge, by itself or dressed up with a side of whipped cream, Wildflour's brownies do the job, and do the job well.
ADVERTISEMENT - CONTINUE READING BELOW
See a list of Wildflour branches.
Share this story with your friends!
---
Help us make Spot.ph better!
Take the short survey
More Videos You Can Watch
Load More Stories