(SPOT.ph) It's been more than a year since The Grid opened its doors in Power Plant Mall, shaking up the Rockwell dining scene with its good number of food stalls, each with its own specialties as concocted by some of Manila's biggest chefs. To this day, the food hall remains a popular hangout among mall-goers—you can expect it to be full of people, especially during lunch and dinner time—but they're only getting started. In the past few months, a few new stalls have popped up, while some of the existing stalls have introduced new dishes. Here, we put the spotlight on our 10 favorites. 
Also read:
Sneak Peek: The Grid Food Hall Puts the Focus Back on Food
Start the Day Right With These Cheesy Crepes at The Grid
Here are 10 new dishes to try at The Grid:
Samyan's Tom Yum Kung Namkun (P355)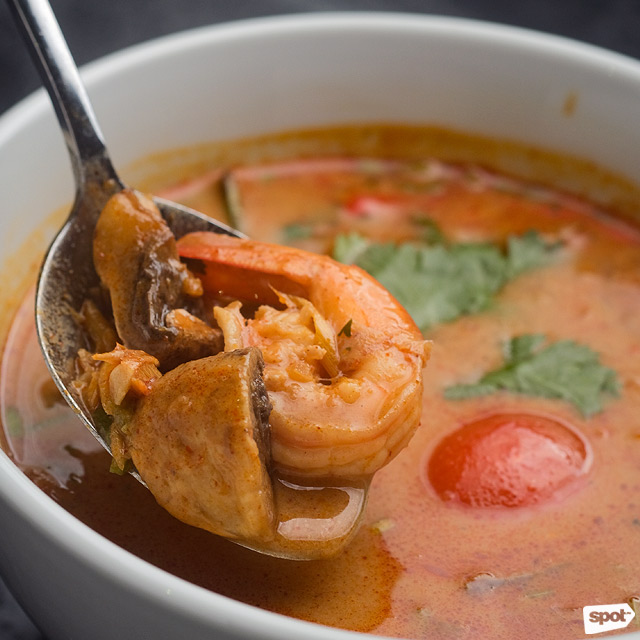 ADVERTISEMENT - CONTINUE READING BELOW
You might think you've had tom yum, but unknown to many is the fact that the classic soup goes by another variation: namkun, or "creamy." This version gets additional richness from evaporated milk and an added kick from Thai chili paste. The result is a velvety-smooth soup with a brawny acidity—plus tons of umami from dried shrimp, shrimp paste, chili, and other aromatics—balanced out by the milk's natural sweetness.
Pigeon Hole's Fried Pigeon (P850)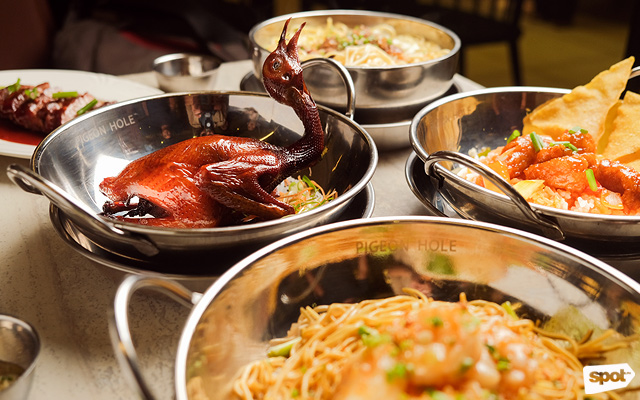 As their name would imply, this dish is one of Pigeon Hole's specialties, among many other Hong Kong-style eats. Don't let its small size fool you; it's got crispy skin, succulent meat (thanks to the right amount of marination time), and a savory fattiness that's even deadlier paired with the calamansi and salt-pepper mix served alongside. It's best eaten with your hands and can feed two people—though we'd devour a whole bird if no one were looking.
La Chinesca's Enchilada Verde (P250)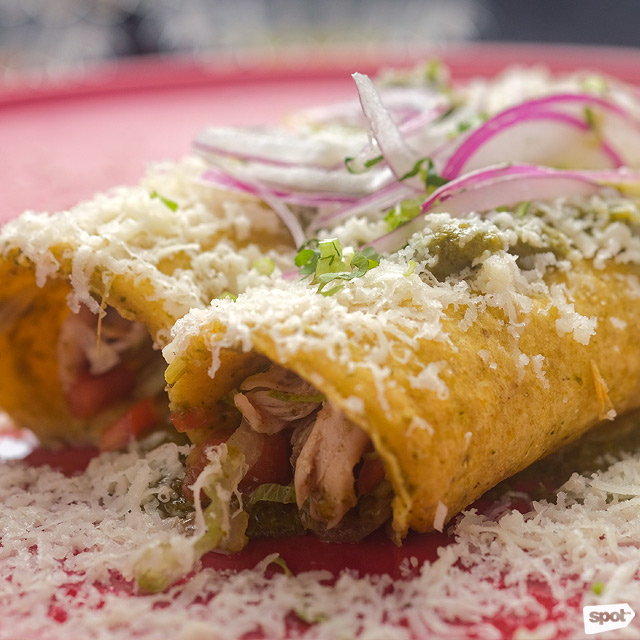 ADVERTISEMENT - CONTINUE READING BELOW
Once an off-menu limited special that's since made its way to the regular menu, the Enchilada Verde is a flavor bomb consisting of La Chinesca's house-made tortillas stuffed with chicken, salsa verde, salsa fresca, lettuce, and cheese. It's plenty savory, tangy, peppery, and creamy on its own—though you can opt to spike it with their special Chipotle Hot Sauce for an even more powerful kick.
Granivore's Chipotle Pork Grain Medley (P299)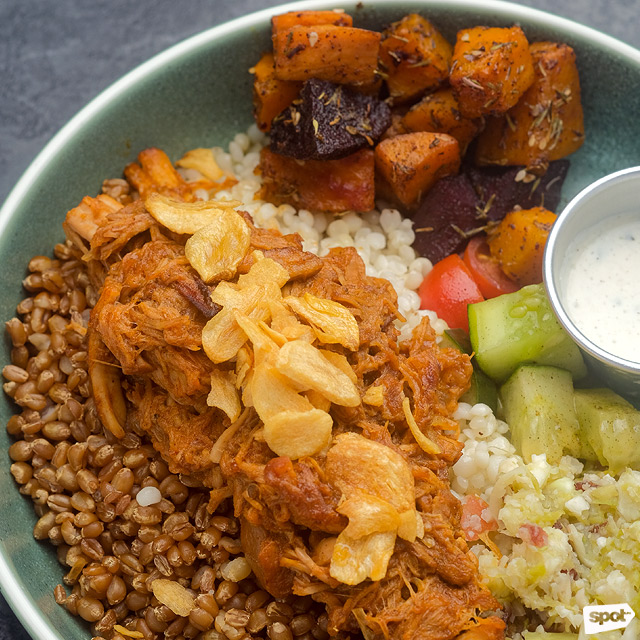 ADVERTISEMENT - CONTINUE READING BELOW
If you think grain bowls are bland and boring, this might just be The One that'll change your mind. The star of this plate is the mound of tender, chipotle-spiked pulled pork that's part-sweet, part-savory, and full of warm spices. Adding heartiness to the bowl is a nutty mix of wheat berries, adlai, and a side of roasted veggies, while minted yoghurt makes for a creamy respite against all the other stronger flavors.
Your Local's Salted Egg Chicken Buns (P490)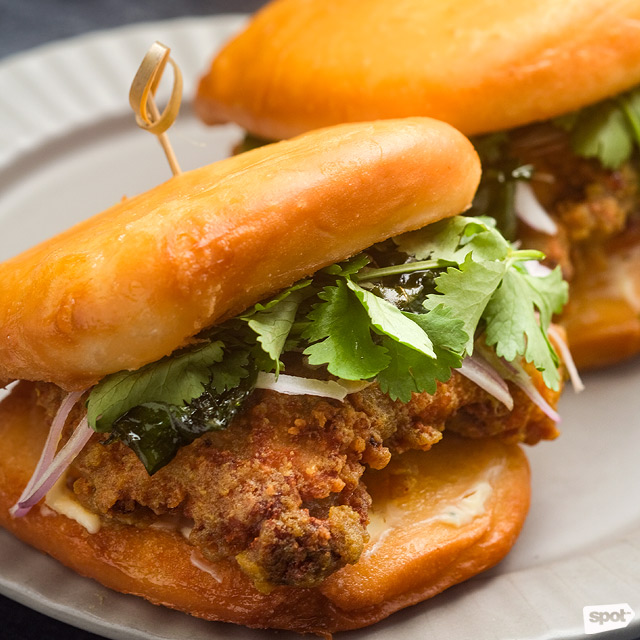 ADVERTISEMENT - CONTINUE READING BELOW
The Legazpi Village establishment has made its way to The Grid with a short-but-sweet selection of their bestselling dishes—plus a few newcomers, like the Salted Egg Chicken Buns. It's a powerhouse of a plate, with crispy fried chicken, a salted-egg sauce, and herbs in between fried mantou buns. Rich as the components sound, everything comes together for a surprisingly balanced bite, with the zestiness of the herbs helping balance out the rich salted egg.
Pigeon Hole's Shrimp Lo Mein (P450)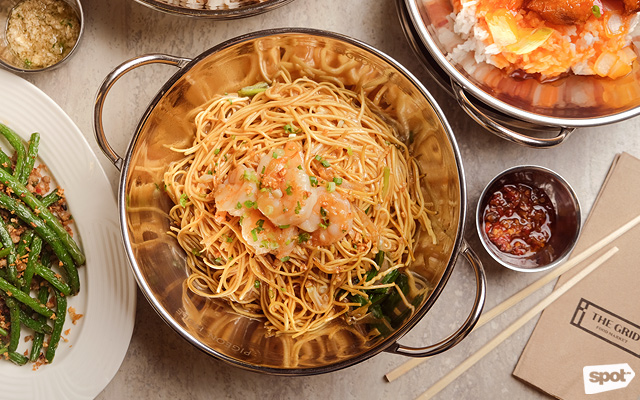 ADVERTISEMENT - CONTINUE READING BELOW
This sleeper hit on Pigeon Hole's menu is the establishment's take on Cantonese stir-fry noodles, with al dente egg noodles, vegetables, shrimps, and a savory lo mein sauce doing the tango as they're stir-fried over a hot seasoned wok. Add a few drops of their homemade chili sauce and you'll be on a total noodle high.
Samyan's Phad Krapao Gai (P250)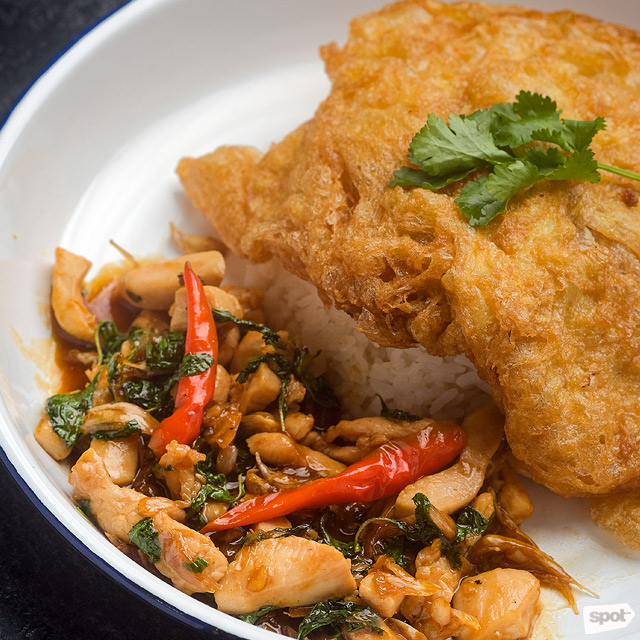 ADVERTISEMENT - CONTINUE READING BELOW
Phad Krapao Gai is said to be the Thai counterpart of Filipino adobo—not in the sense of its literal ingredients, but in its popularity and ubiquity in their respective origin countries. Krapao refers to Thai holy basil, with which your protein of choice—chicken, in this case—is stir-fried. Choose from mild (with two chilis), medium (with five chilis), and spicy (with a whopping 10 chilis)—the last among which is how it's prepared in Thailand. Accompanying the plate is steamed rice and a deep-fried Thai omelette, which adds a welcome crispiness to the dish.
Granivore's Vegan Habit (P299)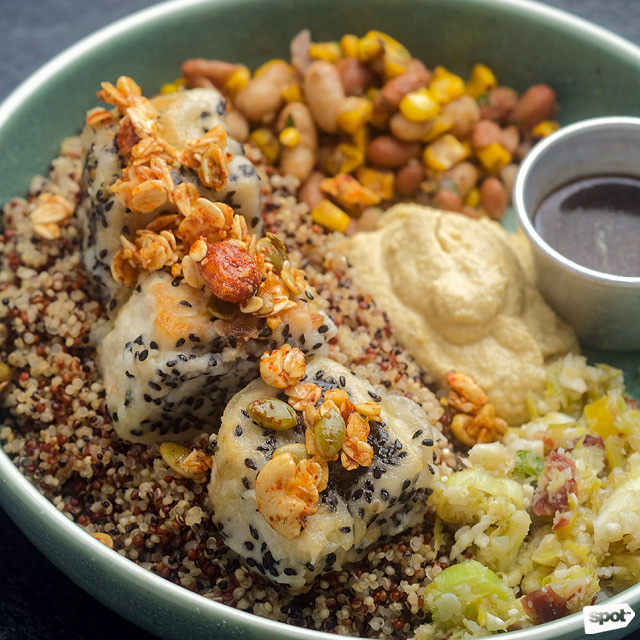 ADVERTISEMENT - CONTINUE READING BELOW
Whether you're fully avoiding animal products or simply love yourself some good tofu, Granivore's Vegan Habit is the bowl for you. You get a bevvy of flavors and textures here: soft, lightly breaded tofu forms the protein part of the equation, which comes topped with granola for crispiness and is fully supported by the nutty quinoa mix underneath. There's a dollop of vegan cheese for creaminess, asparagus and cauliflower tabbouleh for crunch, and an orange-balsamic dressing for a sweet-tart punch of flavor. But the real kicker here is the chipotle beans and corn, which comes so deeply savory and full of umami that it more than makes up for the lack of meat. Try to get a little of all the components in each spoonful to really experience the party of flavors.
Your Local's Salmon Otak Otak (P500)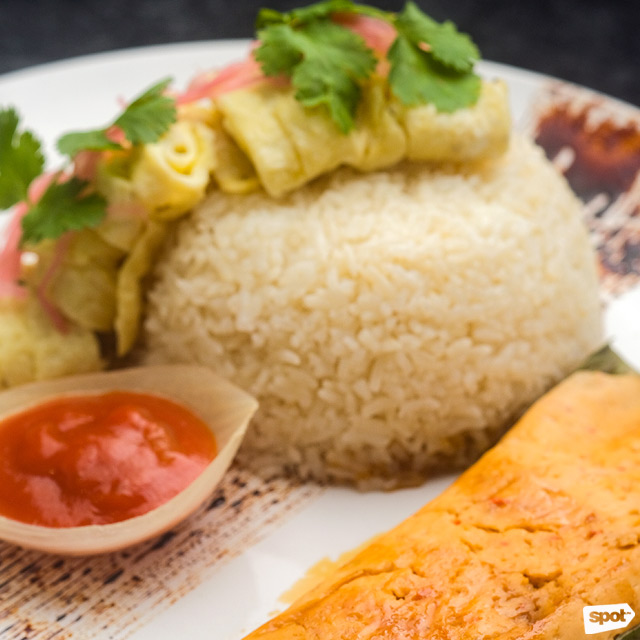 ADVERTISEMENT - CONTINUE READING BELOW
The Salmon Otak Otak was first introduced as part of Your Local's new breakfast menu, but can be had all day at The Grid—thankfully. This dish highlights a soft salmon cake cooked on banana leaves, which is flavorful and smoky on its own—but even better with the sambal served on the side (and creatively, at that—it's squeezed onto an onion cup). Ginger rice and shredded eggs complete the trio; their added richness make for an especially filling dish.
Risa Chocolates' Gelato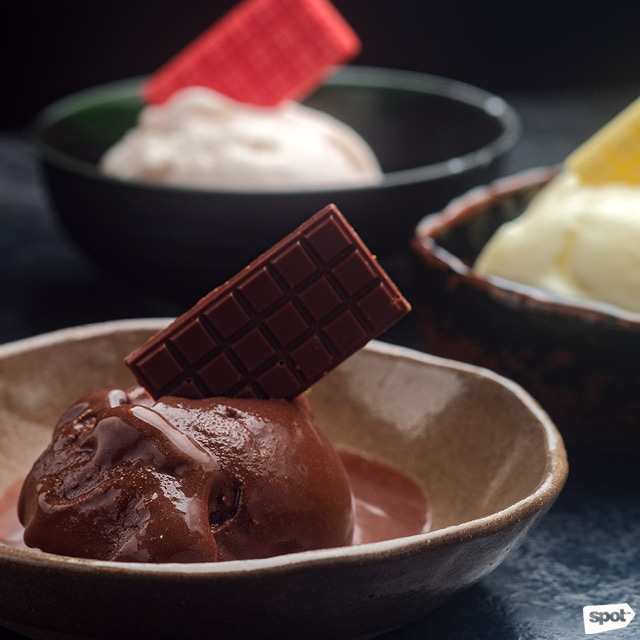 ADVERTISEMENT - CONTINUE READING BELOW
Local chocolate brand Risa's partnered up with Zarah Gelato to bring us these special scoops, which come in three flavors. The White Choco Strawberry (P160/scoop) is Risa's creamy take on the strawberries-and-cream combo, while the Salted Butter and Chocolate (P160/scoop) is a sweet-and-savory number that highlights the richness of butter. But the real star of the show is the Single Origin Dark Chocolate (P170/scoop), a dairy-free and vegan variant using Risa's 100% pure South Cotabato Chocolate for a scoop that's thick, rich, and decidedly bittersweet.
Photos by Majoy Siason
Share this story with your friends!
---
Help us make Spot.ph better!
Take the short survey
More Videos You Can Watch
Load More Stories