We Tried Ramen Nagi's New Ramen Kits and Here's What We Think
We find out if it's comparable to what you get when you dine in.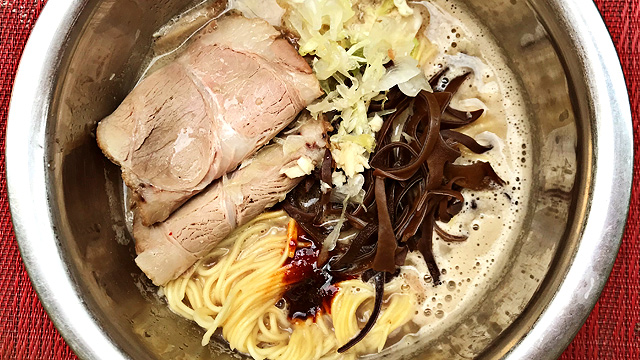 (SPOT.ph) Ah, ramen. Filipinos love it—and will go great lengths (and line up, when necessary) to get their fix. Being the kind of food that requires precision, however, it's usually only ever eaten for dine-in at restaurants. With the enhanced community quarantine in place, we've suppressed our ramen cravings and resigned to wait for the time that it's safe to head out—that is, until ramen places started offering ramen kits. These kits—which you can have delivered at your doorstep—come with the soup, noodles, and other components, and simply entail heating and assembling to form a complete ramen bowl that you can enjoy piping-hot—just like in the restaurant. Or at least in theory, anyway. We recently received the new Ramen to Go packs care of Ramen Nagi and wanted to know: How does the finished product compare to what you get at the restaurant?
ADVERTISEMENT - CONTINUE READING BELOW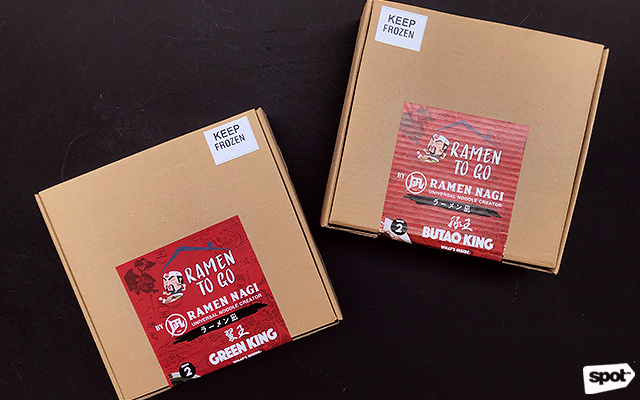 CONTINUE READING BELOW
Recommended Videos
We got our hands on two kits: one Butao King (P790/good for two), a.k.a. Ramen Nagi's original tonkotsu ramen, and one Green King (P900/good for two), which blends their tonkotsu broth with fresh basil, olive oil, and grated parmesan cheese. The two kits have similar components—individual plastic-wrapped packs with the broth, the noodles, the chashu, and other toppings—and similar instructions, which are basically as follows.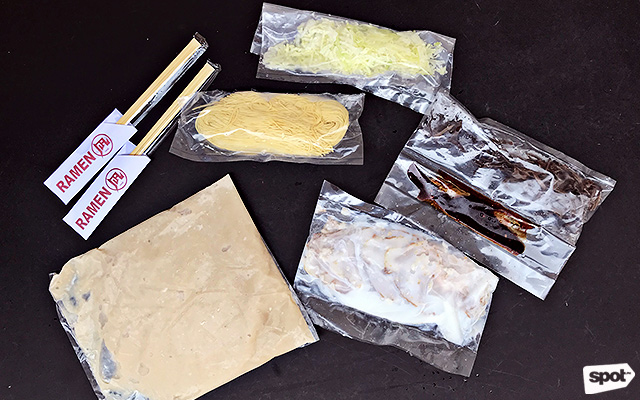 ADVERTISEMENT - CONTINUE READING BELOW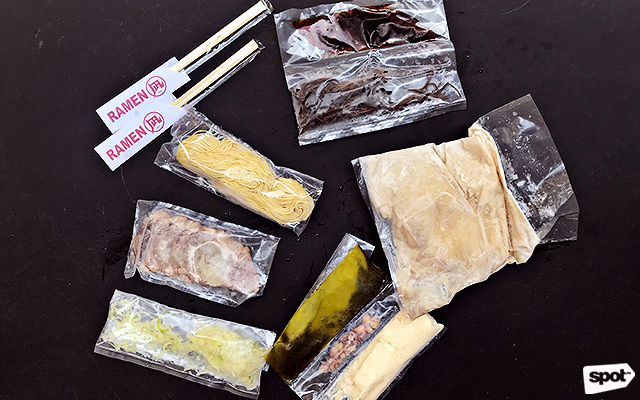 You begin by reheating the broth over a microwave or stove for five minutes, or until it boils. Next, you cook the ramen noodles by boiling water, then stirring in the noodles for 20 seconds; you then drain it and set it aside. Lastly, you are to heat the toppings by "[putting] the pork chashu, fire sauce, and vegetables with plastic and [blanching them] in hot water for 30 seconds"—which we took to mean blanching the said components in hot water while in their plastic wrappers, and opening the wrappers only when they've been heated through. You can also opt to soft-boil your own eggs at this point and add them, but we skipped this step for now. From there, you assemble your ramen (each kit makes two bowls) and slurp away.
ADVERTISEMENT - CONTINUE READING BELOW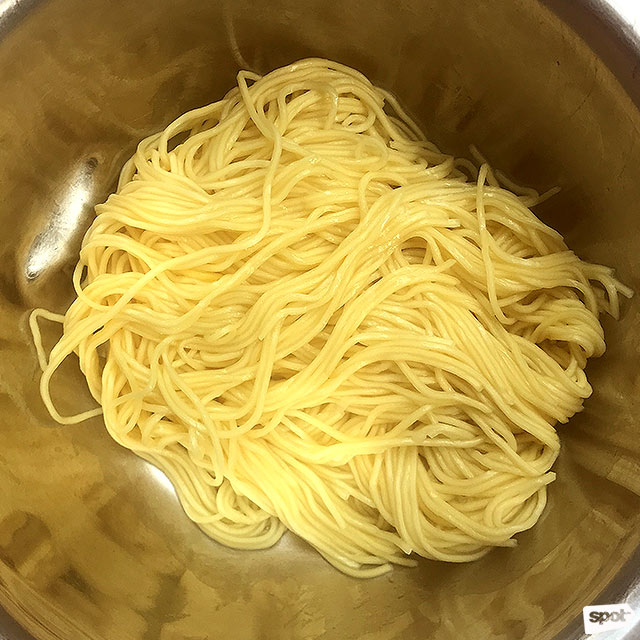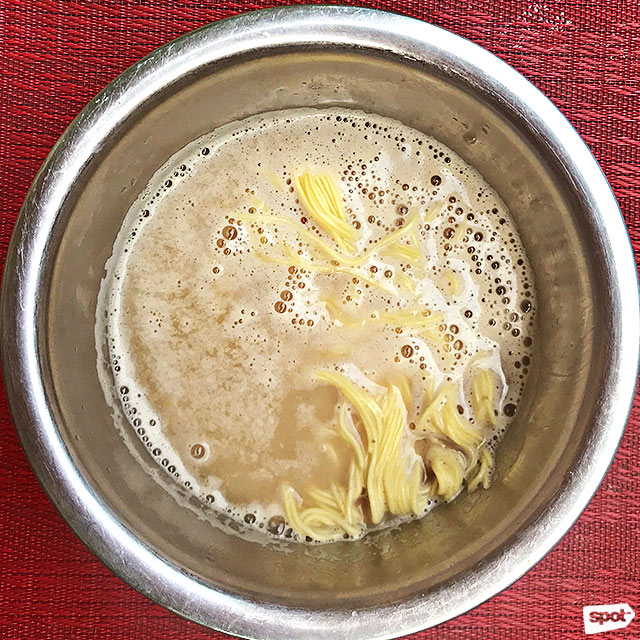 It's easy enough, even for non-cooks—if you can boil water, you can prepare this ramen kit. It entails only two pots: one for the broth and another one for boiling water for the noodles, which you can reuse for heating the toppings. Preparing the kits filled the air with the most intoxicating meaty aroma, and assembling the bowls was a breeze. Per ramen kit, the whole process takes about 10 minutes.
ADVERTISEMENT - CONTINUE READING BELOW
The resulting bowls fulfilled expectations. The broths were just as you'd get at Ramen Nagi: rich and milky, but not overly thick, and seasoned just about perfectly. It was just a touch less oily than what you get in-store, but it's still fatty and creamy, the way it should be. The noodles were on the right side of firm, and the chashu was silky and tender—thanks perhaps to how it was blanched in its plastic and thus very gently exposed to heat.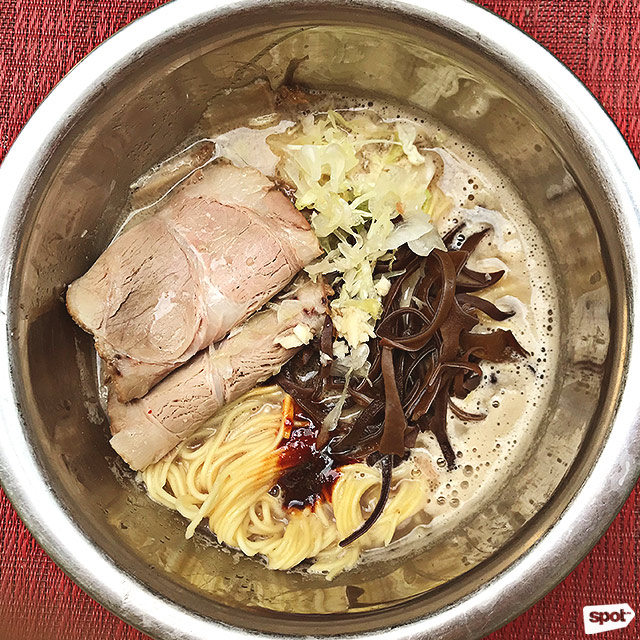 The Butao King had the right pork-centric, meaty flavor we've come to love (for which reason the restaurant version came in second in our 2016 Top 10 Ramen Places in Manila list), while the Green King had an herby, cheesy profile that accentuated the pork. If anything, we just wish the Green King came with more bacon bits, and an option to add on their Kakuni (braised pork belly)—as you can in the restaurant—would take the experience to new heights. Still, we hardly have any complaints, and we found ourselves slurping up every last drop from our bowls.
ADVERTISEMENT - CONTINUE READING BELOW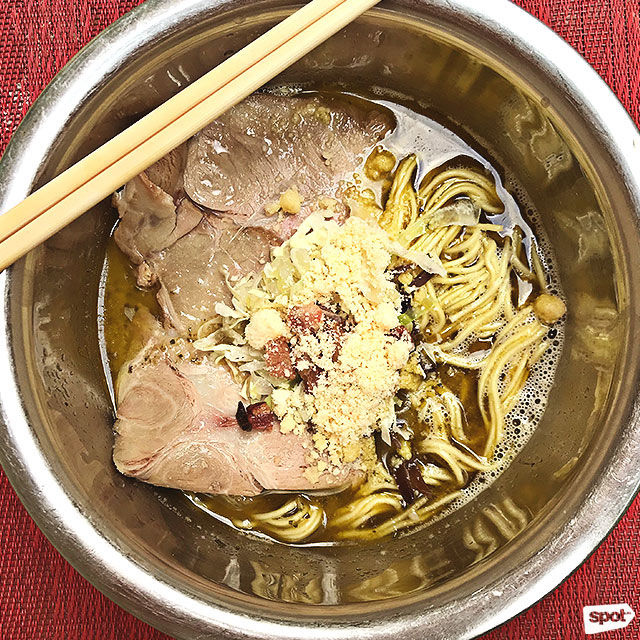 Now on one hand, the fact that you're preparing it yourself means that the resulting quality will depend on how you cook it—particularly for the noodles, which can easily overcook if you reheat it for too long (try not to go beyond the 20 seconds they suggest!). But on the other hand, it also means you get to personalize exactly as you want. Prefer a thicker or thinner broth? Boil it down for longer to reduce the broth, or add a bit of water to dilute it. Want to adjust the heat? Add more or less of the included fire sauce. Feel like experimenting? Look through your pantry and add other ingredients to your bowl: kimchi, black bean sauce, bagoong, curry paste—you're only really limited by your imagination.
ADVERTISEMENT - CONTINUE READING BELOW
Overall, Ramen Nagi's Ramen to Go kits are a great way to bring the restaurant experience to your home. They're easy to prepare and give you hearty, satisfying bowls of ramen you can enjoy even in your pajamas.
For orders, visit their delivery website and select your area. Add your desired items to your cart, then proceed to check out. You have the option to pay via Paypal, credit or debit card, or cash on delivery. For more information, check out Ramen Nagi's Facebook page.
Your guide to thriving in
this
strange new world.
Share this story with your friends!
---
Help us make Spot.ph better!
Take the short survey
Load More Stories