Top 10 Lemon Bars in Manila
For lovers of all things zesty and sour!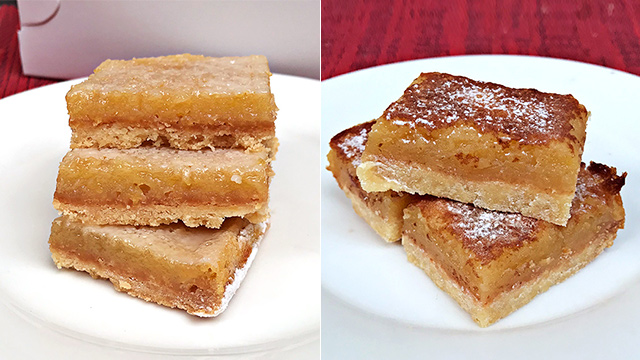 (SPOT.ph) When you think of dessert, what come to mind are likely those of the rich, indulgent, gut-busting sort—think of a moist and bittersweet chocolate cake, or an ooey-gooey cookie. But for some of us, the highest amount of pleasure to be had is in desserts of the more zesty and sour sort; the kind that'll perk up your senses and brighten up dreary days with its vibrant, sunny flavor. If that sounds like you, you're very likely a fan of lemon bars, sometimes also called lemon squares. Often consisting of a crust (usually of the shortbread sort) layered with a lemon filling, they're a relatively niche treat compared to, say, brownies. There are a handful of lemon bar options in Manila—some from established bakeshops and restaurants, others from independent players and home bakers—but not all are created equal.
ADVERTISEMENT - CONTINUE READING BELOW
In finding the best lemon bars, we put emphasis on lemon flavor—simply put, we like our bars tart. But there's more to good lemon flavor than just sourness; after all, the fruit has distinct, zesty flavor that sets it apart from vinegar. Beyond the filling, the crust is also just as important in our book, as it gives the bar structure and evens out the sourness of the lemon. We also considered the texture of each part, as well as the balance between components and how they come together.
Also read:
Top 10 Blueberry Cheesecakes in Manila
Top 10 Champorado in Manila (2020 Edition)
Top 10 Vietnamese Coffee in Manila (2020 Edition)
CONTINUE READING BELOW
Recommended Videos
All SPOT.ph Top 10 lists are researched, paid for, tested, and selected by the writers and editors. They are discreetly conducted without any notice made to the establishments or their owners.
Looking for dessert? Here are the 10 best lemon bars in Manila right now:
10. Lemon Bars by imakelemonbars
ADVERTISEMENT - CONTINUE READING BELOW
imakelemonbars' Lemon Bars (P350/five bars, P700/10 bars, P1,000/15 bars) are on the mid-level of sourness—it starts mellow, but the tanginess comes out gradually and finishes vibrantly. We're huge fans of the lemon filling but we found the crust to be a tad damp and underbaked. The crust has a mild, buttery note that allows the filling to shine, but given its thickness, we feel that it could use more oomph in flavor. Still, if you're looking for lemon bars that are on the just-right side of tangy, this is a wonderful option.
Check out imakelemonbars' Facebook page.
9. Lemon Bars by Chocolat Deep Dark Chocolate Cakes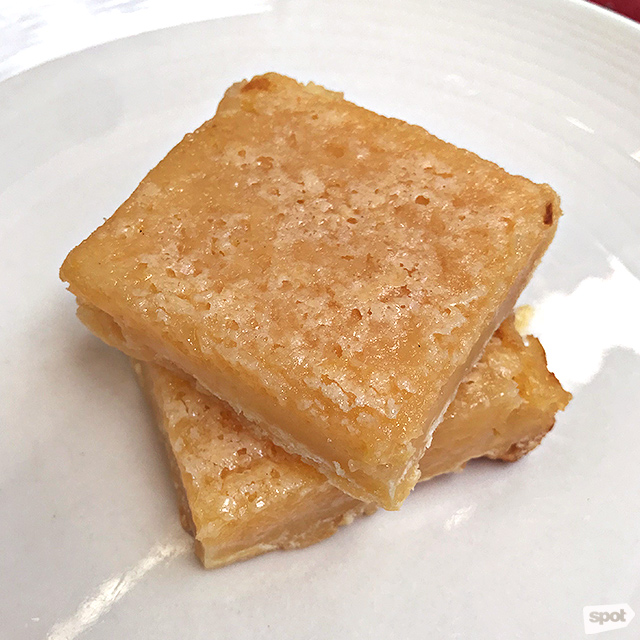 Chocolat may be better known for their chocolate cakes, but they also make mean Lemon Bars (P45/piece, P215/eight pieces, P380/16 pieces) that shouldn't be overlooked. Their version's got a lush filling that starts out on the sweet side, but ends on a bright lemony note. It also has a buttery crust that's rather damp but still crisp on the bottom, and the ratio of filling to crust is just right, too.
ADVERTISEMENT - CONTINUE READING BELOW
See a list of Chocolat Deep Dark Chocolat Cakes branches.
8. Lemon Bars by M Bakery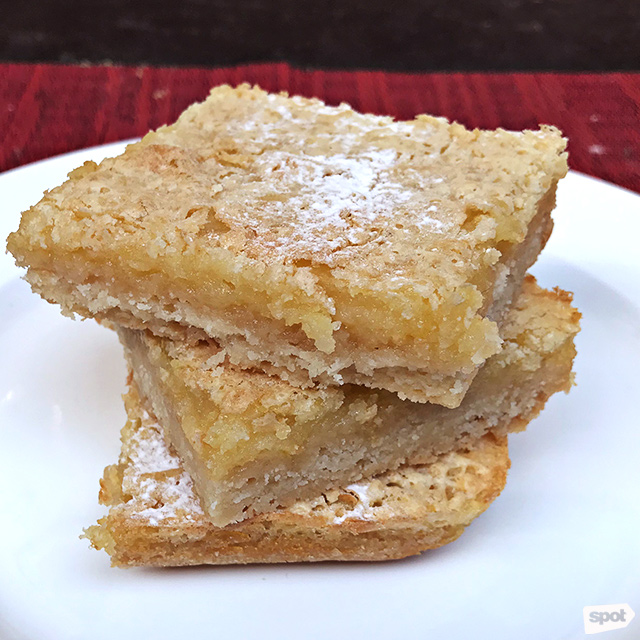 If you're looking for a lemon bar that's lemony but not in-your-face acidic, go for M Bakery's Lemon Bars (P175/piece), which are just mildly tangy. It's the kind where you do get a just-right sourness, but it just takes some time (i.e., a few chews) for it to come out. These bars stand out for their distinctive buttery note which brings out the fragrance of the lemon oh-so-beautifully. Each piece has a lemon filling that's crusty on top but still somewhat molten and chewy inside, and a crust that's crisp yet light.
M Bakery is at G/F One Bonifacio High Street, 5th Avenue, Bonifacio Global City.
7. Lemon Brownies by T. Treats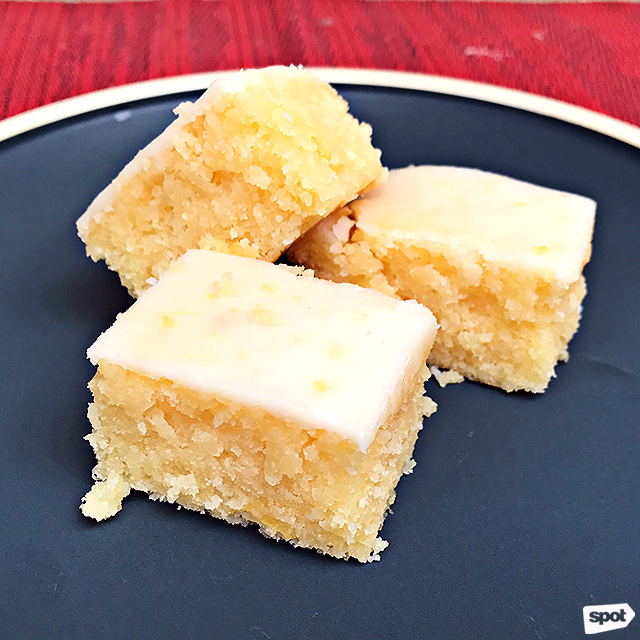 ADVERTISEMENT - CONTINUE READING BELOW
T. Treats' Lemon Brownies (P330/box of 16) aren't like the classic lemon bar that has a cookie crust and a lemon filling; rather, they're dense-yet-soft confections (right in between a brownie and a pound cake in texture) that are moist and full of bright lemon flavor. Seemingly soaked with lemon juice, each piece also has a layer of lemon icing that gives it the right amount of sweetness.
For more information, visit t. treats' Instagram page.
6. Lemon Bars by Bake it Easy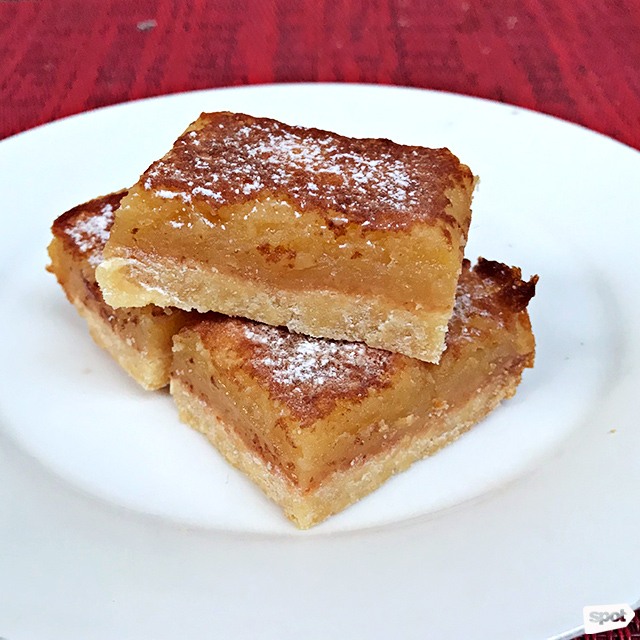 For lovers of textural contrast, there's Bake it Easy's Lemon Bars (P300/box of 14), which give you a wonderful combination of a creamy, just-set filling and crisp, biscuit-like crust with a mildly salty note. The filling has an eggy note to it, but also a bold tartness that we lemon fans can't help but swoon over. While the crispness of the crust can throw off those looking for a lighter bar, we say that very element gives it a distinctive and memorable character.
ADVERTISEMENT - CONTINUE READING BELOW
For more information, visit Bake it Easy's Facebook page.
5. Lemon Bars by Whimsical Kitchen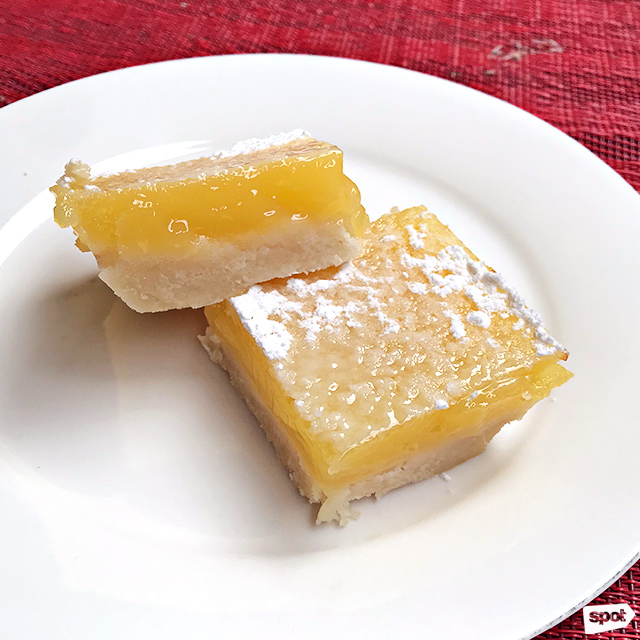 Served in an eco-friendly box as a whole bar for you to cut into individual servings yourself, Whimsical Kitchen's Lemon Bars (P220/smol, P420/party) can be as big or as small as you'd like them to be. These are the tangiest in the list—it's so sour that it leaves behind a strong and lingering aftertaste. Some might find it overwhelming, but this lemon-loving (and possibly masochistic) author enjoyed it. In any case, it comes with powdered sugar for sprinkling over, which helps temper the sourness. The bars are matched with a dense and damp crust, which also has an oddly savory, if not meaty note present—although it's arguably covered up by the sourness of the filling. 
For more information, visit Whimsical Kitchen's Facebook page.
4. Lemon Bars by Brunch with A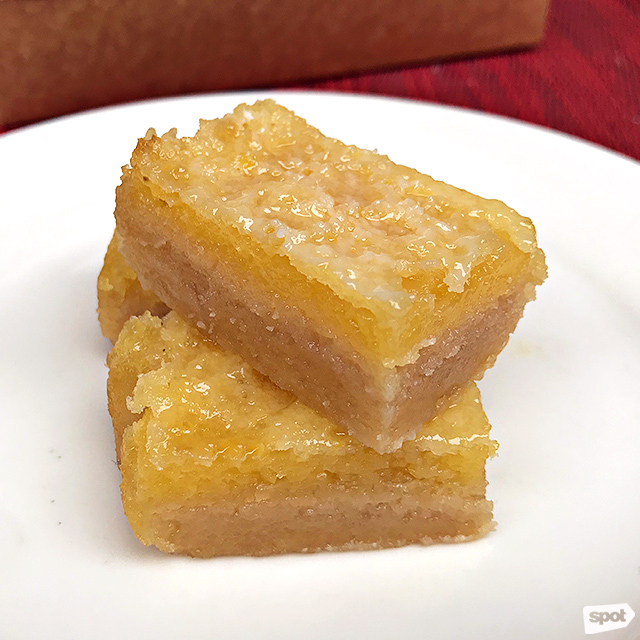 ADVERTISEMENT - CONTINUE READING BELOW
While Brunch with A's Lemon Bars (P180/12 pieces) are individually small—they're about one-by-two inches in size—these are some of the the tangiest of the lot. The filling, though slightly overbaked, is nonetheless rich and wonderfully sour—so much so that it leaves a mild aftertaste, though one that's not as strong as Whimsical Kitchen's. The crust is a tad on the doughy side, but is surprisingly good and chewy when the bars are frozen.
For more information, visit Brunch with A's Facebook page.
3. Lemon Bars by Lala Lemon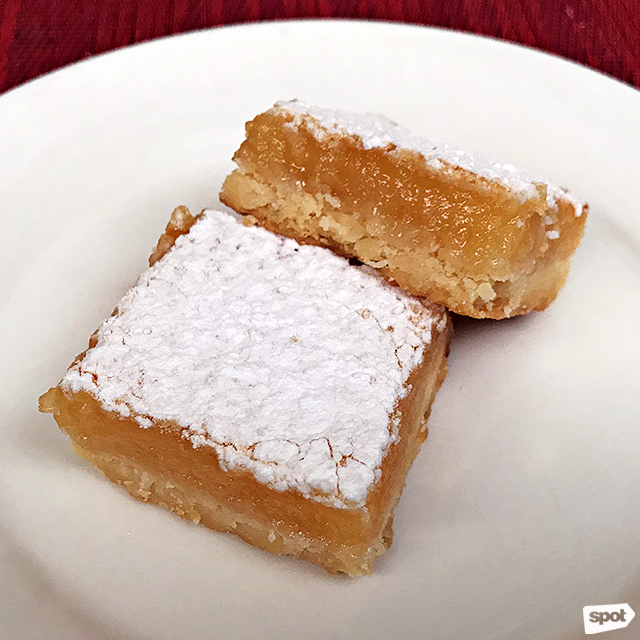 Lala Lemon's Lemon Bars (P140/box of six, P260/box of 12, P340/box of 16) have a crackly top and a filling that's on the mid-level of sour. The filling has a lush and juicy, lemon curd-esque character and concludes on a just-bright-enough (but not overpowering) note. These versions stand out for having what we deem the best crust—one that's light yet crisp and perfectly crumbly, as good shortbread should be. Texture-wise, we hail this version the winner.
ADVERTISEMENT - CONTINUE READING BELOW
Check out Lala Lemon's Facebook page.
2. Lemon Squares by And Craves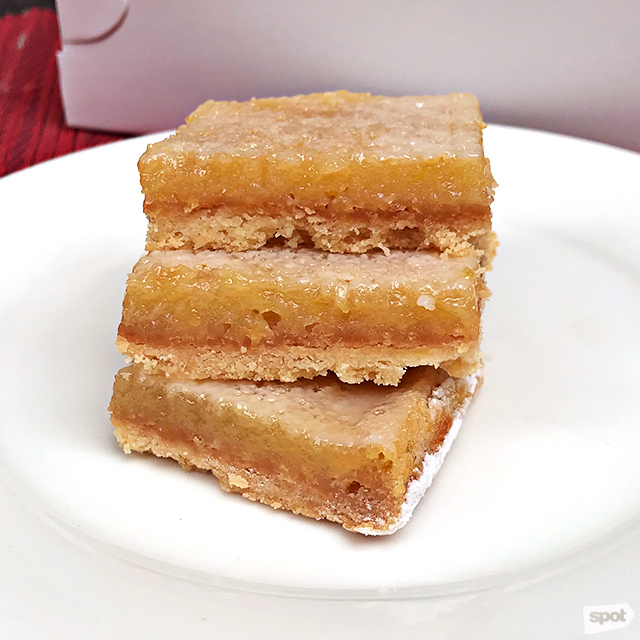 While And Craves' Lemon Squares (P500/16 squares) are on the thin side, they make up for it with their strong and truly vibrant tanginess. You can feel bits of lemon zest in the curd-like filling, which make for a genuine lemon note that isn't just sour, but also fragrant and distinctly citrusy. While sour, there's surprisingly little to no aftertaste, making for a clean finish that keeps you going back for more bites. The crust, though thin and damp, has a wonderfully buttery flavor and even a hint of salt for balance. A little goes a long way with these bars.
Check out And Craves' Facebook page.
1. Lemon Bars by BKD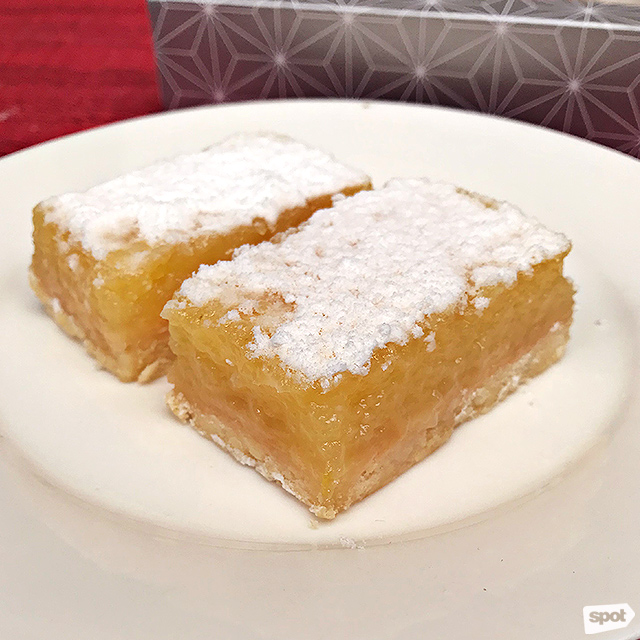 ADVERTISEMENT - CONTINUE READING BELOW
You are in for a treat with BKD Lemon Bars (P250/box of eight), which have a relatively thick, just-set enough, not-too-sweet filling which we deem to be the best in this list. Its lemon flavor is as vibrant and tangy as it is aromatic and zesty, the latter perhaps being due to the bits of lemon zest present. The crust is buttery with a mild salty note, and while it's slightly damp toward the center (its one downside, in our view), it still has a wonderfully crisp bottom that goes beautifully with the lush filling. The filling and crust come together in such a way that the spotlight is still on the lemon, but the crust isn't a mere afterthought. With its excellent filling, buttery crust, and A+ balance of parts, these bars are our number one.
Check out BKD's Facebook page.
Hey, Spotters! Check us out on Viber to join our Community and subscribe to our Chatbot.
Your guide to thriving in
this
strange new world.
Share this story with your friends!
---
Help us make Spot.ph better!
Take the short survey
Load More Stories