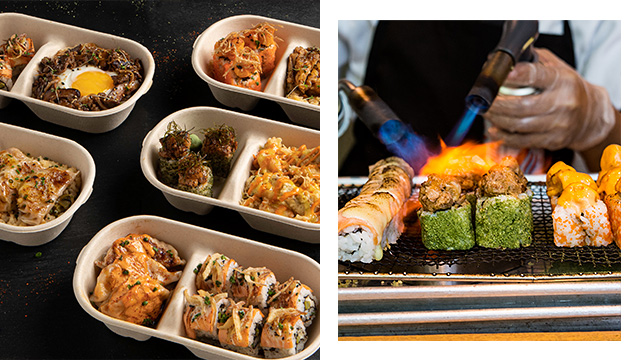 (SPOT.ph) There's something about Japanese fare that hits the spot every dang time—perhaps it's the way they highlight great-quality ingredients, or the prominence of the so-called "fifth taste" known as umami that makes it so relatable for Filipinos. Though much of Japanese fare classically tends to be on the less-is-more, minimalist end of the culinary spectrum, the cuisine also lends itself beautifully to being given more modern interpretations—and that's what Ooma has done with a skillful hand, as the restaurant made their debut in 2015.
ADVERTISEMENT - CONTINUE READING BELOW
Helmed by The Moment Group of Restaurants—a.k.a. the folks behind Manam, 8 Cuts, and more—Ooma takes the ingredients and flavors the Land of the Rising Sun is known for, but turns the intensity up several notches with real vivifying results. They go for bold and blazing flavor combos that are nevertheless brilliant, incorporating varying tastes, textures, and colors that still deliver the comfort the cuisine is know for, but that let you see classic dishes in a more vivid light. The moniker, after all, takes after umai—the Japanese word that can be likened to "tasty" or "delicious" with a distinct casual flair to it, and they rightly capture the sense of the word with their diverse menu of flavor-filled gems. Spanning everything from small izakaya-style plates, to sushi in varying formats (including rolls and even the clever Taco Maki!), to heavier rice bowls, meaty mains, and more, there's something for everyone at Ooma; and if you're torn on where to begin, these bestselling dishes should point you in the right direction.
Note: This list is not ranked.
From flavor-forward savory plates to star sushi rolls and more, these are the bestselling dishes at Ooma:
Hanger Steak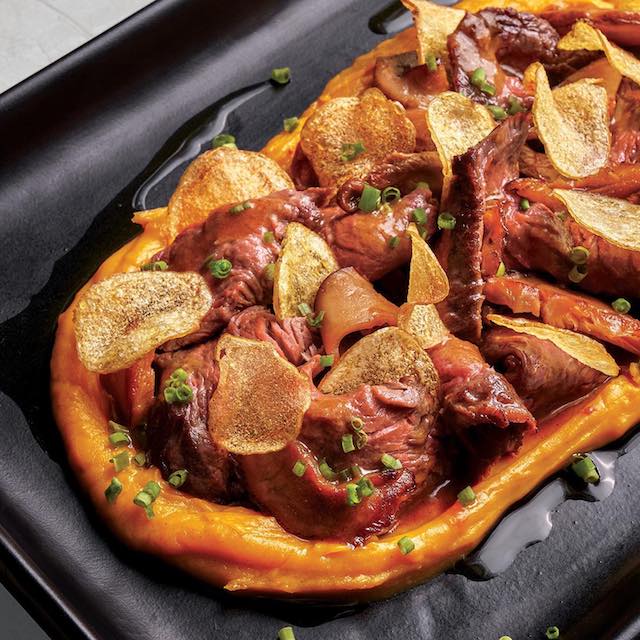 With its modern yet comfort-inducing flavor profile and stunning presentation (it's almost worthy of being served at a high-end establishment!), the Hanger Steak (P565/good for two to three) is a no-brainer order when at Ooma. The restaurant cooks hanging tender sous-vide so it retains a succulent bite, and serves it over a sweet potato mash with crisped-up baby potatoes before dressing the plate with white truffle oil, an herb oil, and ponzu butter.
ADVERTISEMENT - CONTINUE READING BELOW
Ebi Tempura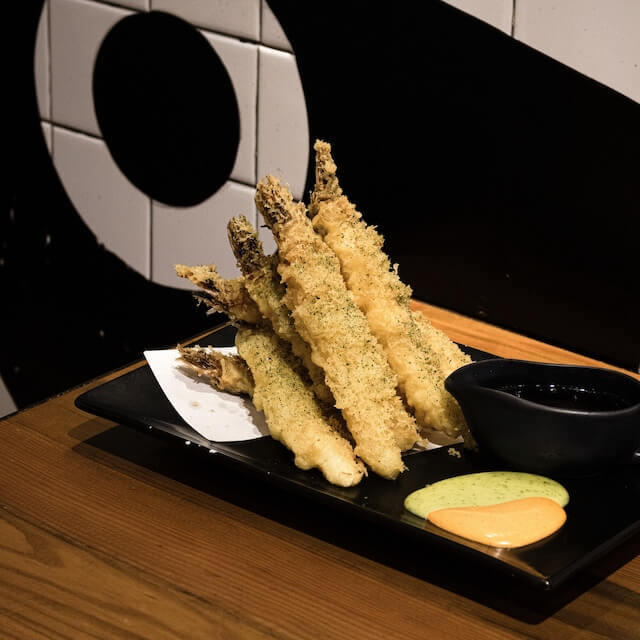 Tempura is a top-ranking Japanese classic for many Filipinos, and Ooma makes an excellent Ebi Tempura (P440/good for two to three) with a slightly puffy breading that makes a resounding crunch, and succulent shrimp within. Because this is Ooma, even this classic dish gets a flavor boost—by way of its accompanying trio of sauces: the classic tempura sauce, a sprightly herb oil, and an umami-rich aligue mayo. This dish also ranked second on our 2018 Top 10 Ebi Tempura in Manila list.
ADVERTISEMENT - CONTINUE READING BELOW
Salmon Skin Aburi Maki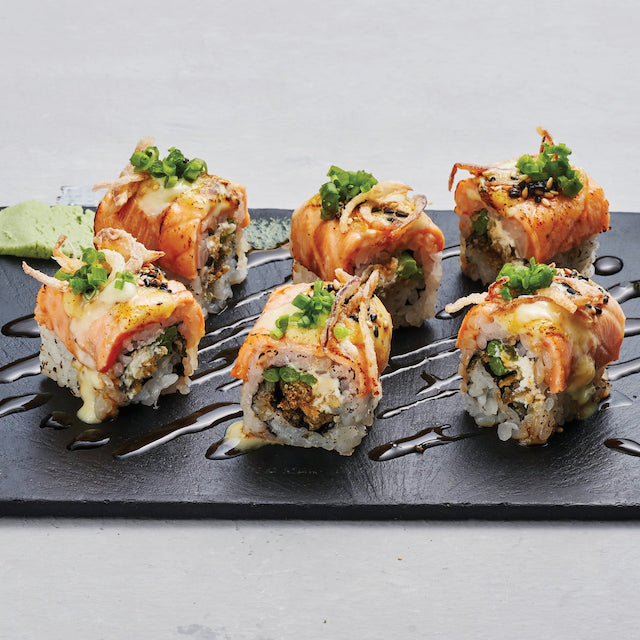 Think of Ooma and the sushi rolls are likely one of the first things that come to mind. They roll them up with great balance between the rice and other parts, and their bold flavor combos are always a treat. In the Salmon Skin Aburi Maki (P325/six pieces), smoky, creamy, and umami worlds collide as a roll of asparagus, cream cheese, and wasabi aioli are topped with torched salmon and crispy salmon skin—and a drizzle of teriyaki sauce adds savory-sweet depth.
ADVERTISEMENT - CONTINUE READING BELOW
Truffled Steak Aburi Maki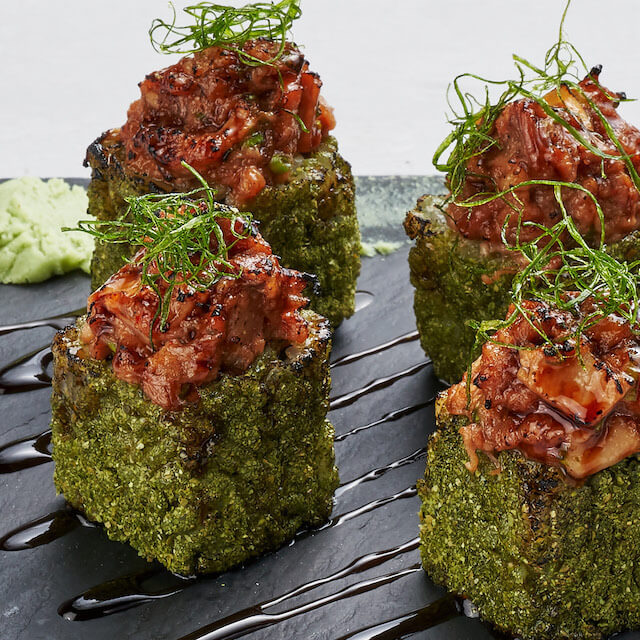 Prefer a deeply savory bite? The Truffled Steak Aburi Maki (P325/six pieces) is your best bet. Here, the fan-fave combo of steak (in the form of Ooma's smoky torched steak) and truffle (by way of aromatic truffle oil) is given Japanese flair, with grilled and marinated leeks plus a savory-sweet yakiniku sauce joining in the party.
ADVERTISEMENT - CONTINUE READING BELOW
Aburi Mixer 
Decisions, decisions—we love having the freedom to make choices, but it also takes mental energy to do so and sometimes you just wanna have it all. Well, sometimes you can have it all—like when you go for Ooma's Aburi Mixer (P660). Included in this platter are three pieces each of their winning aburi maki: the smoky-rich Salmon Skin Aburi Maki, the delightfully punchy Kimchi Prawn and Enoki Aburi Maki, the meaty Truffled Steak Aburi Maki, and the no-fail Ebi and Kani Aburi Maki.
ADVERTISEMENT - CONTINUE READING BELOW
Gyudon and Oyakodon Bowls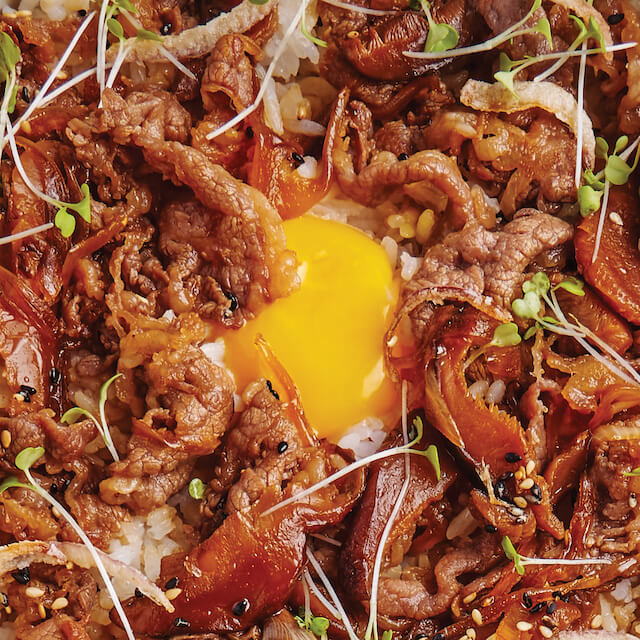 Donburi (rice bowls) are a staple in the Land of the Rising Sun—they're a complete and balanced meal in themselves after all, and there's something totally satisfying about downing your rice and viand right from the bowl. Ooma, of course, ups the umami element and takes classic donburi out for a feisty ride. Their take on the beef bowl known as Gyudon (P345/good for one to two) employs beef short plate, onions, and shiitake mushrooms—but also gets added crispiness and earthiness from fried shallots and a fried egg, plus their house tare to tie everything together.
ADVERTISEMENT - CONTINUE READING BELOW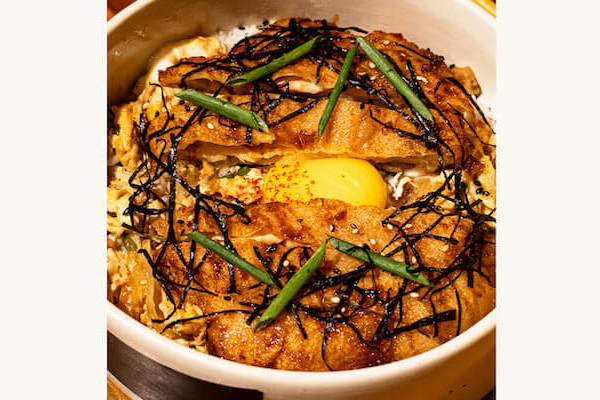 They also interpret the classic chicken-egg bowl known as Oyakodon (P345/good for one to two) in a more vivifying light, bringing together soy-ginger marinated chicken and a fried egg with pickled shiitake mushrooms, scallions, and their house tare.
Spicy Tuna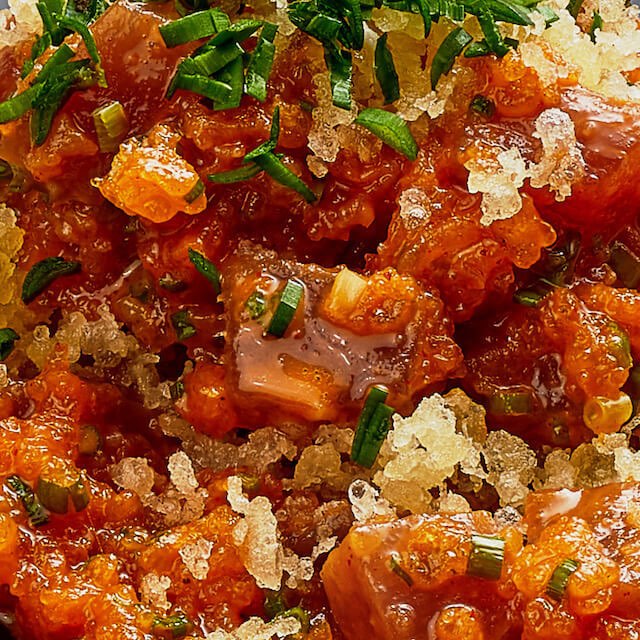 ADVERTISEMENT - CONTINUE READING BELOW
Like it fiery? The salad-esque dish of spicy tuna sashimi always makes a great addition to any meal spread when at a Japanese establishment, and Ooma's version—dubbed the Spicy Tuna (P370/good for one to two)—is one to try. Here, fresh-cut tuna sashimi is tossed in a gochujang-laced mayo that delivers a satisfying dose of heat; textural variety comes via tempura crumbs, while a refreshing zestiness comes by way of chives.
Uni Udon
ADVERTISEMENT - CONTINUE READING BELOW
Uni a.k.a. sea urchin has a naturally creamy consistency matched with the subtle sweetness and a whisper of the brininess of the sea—making it great on its own as sashimi, but also a fascinating ingredient to work with. In their Uni Udon (P550), Ooma infuses it into a cream sauce that coats thick, chewy udon noodles, and embellishes the mix with shrimps, onions, shiitake mushrooms, nori crumbs, and more fresh uni for added pizzazz.
Ebi and Soft Shell Crab Tempura Aburi Bake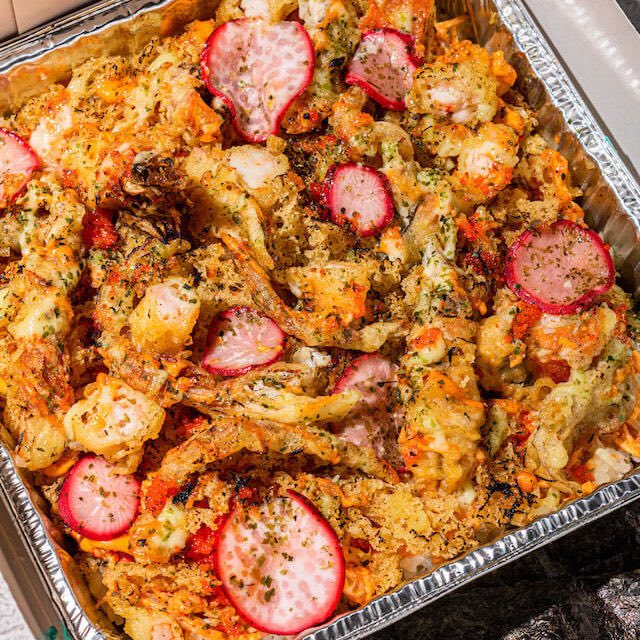 ADVERTISEMENT - CONTINUE READING BELOW
We all know how sushi bake became the food trend that everybody and their mother was ordering (or making) in 2020—and with Ooma's star hand at sushi rolls, it was only right that they hop on the sushi bake train as well. The result is their line of Aburi Bakes, of which is the Ebi and Soft Shell Crab Tempura Aburi Bake (P898). With two kinds of tempura (ebi and soft-shell crabs!) for crispness, kani for added savory-sweet umami, ebiko for pops of juiciness, pickled radish for tang, tempura crumbs, aonori for earthiness, and a trio of sauces (wasabi aioli, aligue mayo, and tempura sauce) on soy- and dashi-imbued sushi rice, this is a real taste- and texture-party in a tray that's best enjoyed by scooping spoonfuls into the provided nori sheets and popping it in the mouth.
Bento Boxes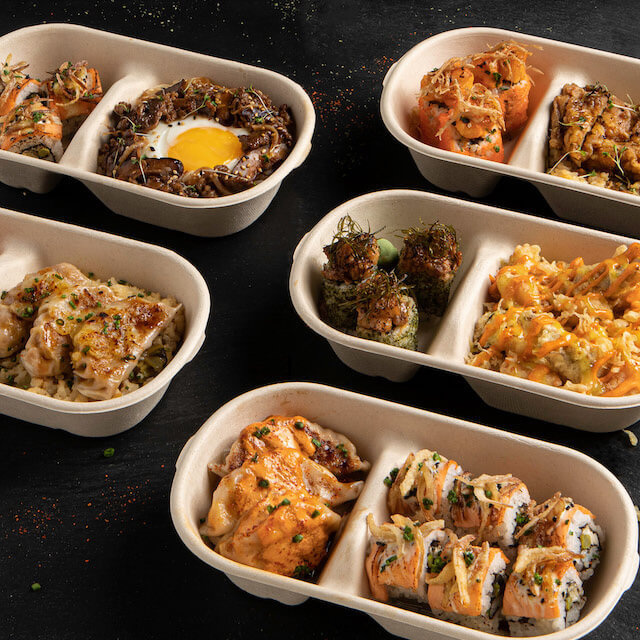 ADVERTISEMENT - CONTINUE READING BELOW
Most of Ooma's menu items are made for sharing—which is great if you're dining with company, but sometimes you just want to nosh on their signatures even when you're at home and feasting solo. Enter their line of Bento Boxes, which are solo meals combining their fan-fave dishes and are available exclusively for delivery. Get your dose of Ooma-style surf and turf with the Hanger & Ebi Super Bento (P595), featuring their Hanger Steak, three pieces of Ebi Tempura, a Kani Salad, and House Chahan; or sate the desire for dumplings with the Gyoza Bento (P385) with your choice of potsticker (O-Gyoza or Kimchi Gyoza) and Aburi Maki (Salmon Skin, Kimchi Prawn and Enoki, Ebi and Kani, or Truffled Steak) on their House Chahan.
Photos courtesy of Ooma or sourced from the Moment Food website.
Hey, Spotters! Check us out on Viber to join our Community and subscribe to our Chatbot.
ADVERTISEMENT - CONTINUE READING BELOW
Share this story with your friends!
---
Help us make Spot.ph better!
Take the short survey
More Videos You Can Watch
Load More Stories