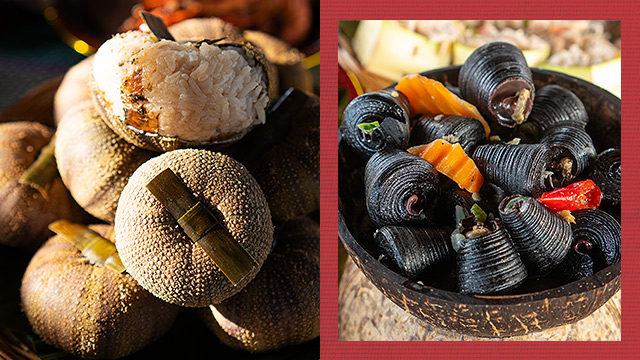 (SPOT.ph) A place is defined by its food as much as its sights and people. If one wishes to know a destination better, a taste of its cuisine reveals so much about its history, geography, values, and even its myths and legends. Even the late chef and writer Anthony Bourdain believes so. He famously said, "I think food, culture, people, and landscape are all absolutely inseparable."
This inseparability among cuisine, people, culture, and geography is in full display in the Zamboanga Peninsula or ZamPen, a region known best for being a convergence point of different traditions. It's an intersection where Christian, Moro, Hispanic, Chinese, and indigenous cultures not only meet but interact and influence one another. 
ZamPen's food scene is a perfect example of this confluence, which is as vibrant as its iconic vinta sail. Not many regions in the Philippines boast a gastronomic culture so diverse and distinct, that food itself is more than enough reason for one to book a flight to any of its four provinces. 
ADVERTISEMENT - CONTINUE READING BELOW
Its eclectic regional menu carries a smorgasbord of Southeast Asian, Spanish, Chinese, and of course, local influences that tease and satisfy the palate. Any Filipino food lover would do well to visit the region at least once in a lifetime. 
More than the various cultures that define its cultural heritage, ZamPen's abundant nature—from its verdant forests to its rich waters—ensures the freshness of many ingredients. With its location by the Sulu Sea, ZamPen sees a regular supply of freshly-caught fish and seafood, making it a truly delightful place for those who love to fill themselves with the bounty of the sea. Its fertile farmlands bestow a steady stream of fresh produce while its proximity to the Malay peninsula sees spices from nearby countries sold even in the humblest of local markets.
Also read:
10 Exciting Things to Do in Zamboanga City
10 Exciting Things to Do in Isabela de Basilan in Mindanao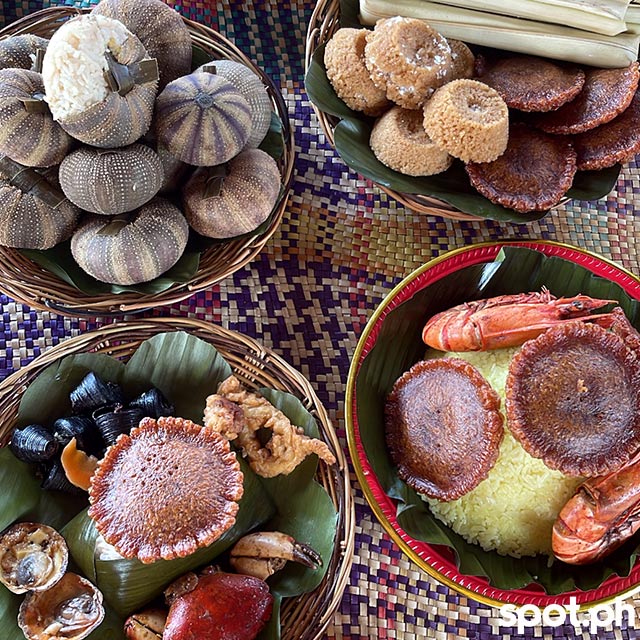 CONTINUE READING BELOW
Recommended Videos
Chavacano Cuisine: An Exciting Assortment of Dishes 
A gastronomic tour of Region IX then deserves an itinerary all on its own. Among those that shouldn't be missed are Sama and Tausug dishes which carry the hallmarks of Malay and Indonesian cuisine—bold, coconut-based, and spice-heavy—as well as that of indigenous cultural communities.

Influenced by nearby Southeast Asian countries and the different indigenous cultural communities (ICCs) in the Sulu Archipelago, culinary delights from these traditions are marked by the use of siyunug lahing or burnt coconut and Malay and Indonesian spices.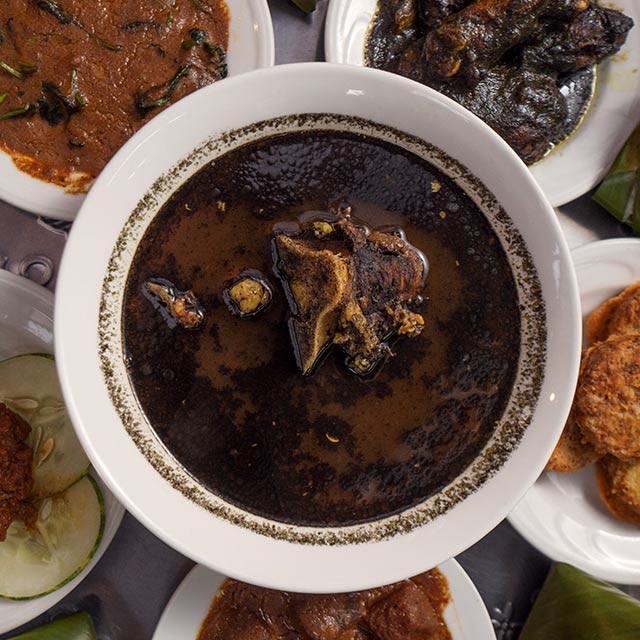 Emblematic of these cooking traditions is tiyulah itum, a Muslim soup once reserved only for royalty. At first glance, the dish seems rather unremarkable and a bit like dinuguan with its dark broth. But a spoonful of this beef (sometimes goat) stew is arguably the best introduction to the flavors of the region, with its broth a medley of roasted coconut and a variety of spices like sambal, ginger, lemongrass, and turmeric.
ADVERTISEMENT - CONTINUE READING BELOW
Another representative dish is chicken pyanggang which comes in the same ebony-colored hue as that of tiyulah itum. The chicken meat is stewed in a flavorful sauce and then grilled over hot coals for added smokiness.
Both dishes make use of palapa itum, an aromatic spice paste that is made distinct by charred coconut meat, giving them their signature black color and deep nutty taste. To make burnt coconut, a mature fruit is cut in half and placed directly on top of hot charcoal. Once burnt and jet black, the flesh is grated.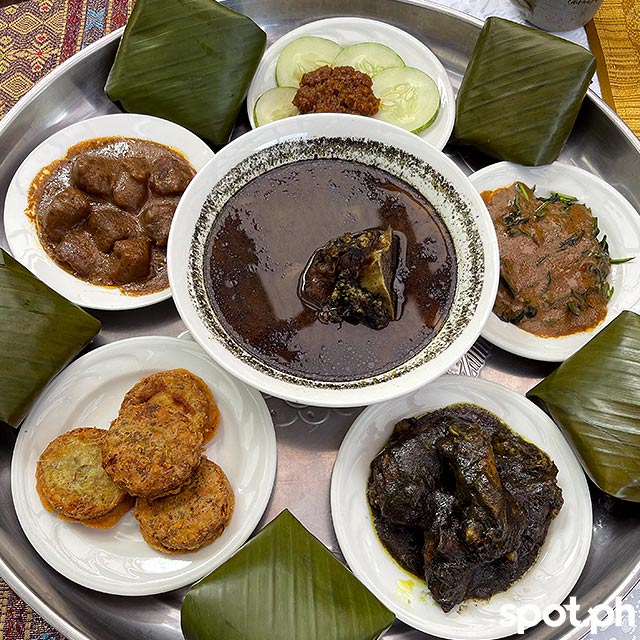 You can try the dulang platter in local restaurants which puts together different Tausug dishes with rice, veggies, and sambal in a lauriat-like spread—that way, everyone on the table can get a little of every viand.
Also read: Dulang Is the Mindanaoan Banquet Platter You Need to Try; Here's Where You Can Get It in QC
ADVERTISEMENT - CONTINUE READING BELOW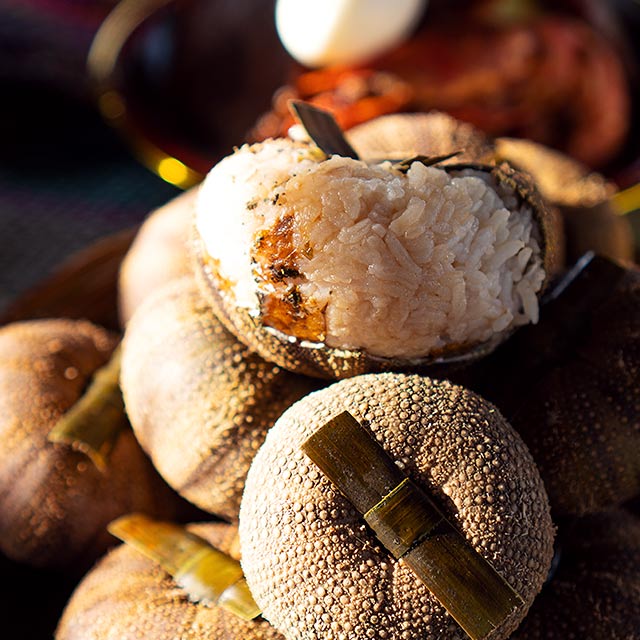 Perhaps one of the most eye-catching and distinct of ZamPen's dishes is oko-oko which is made of sea urchin or tehe-tehe and rice. Preparation requires not only skill but also patience as one needs to go through several tedious steps before it reaches its unique form and is cooked. 
The spines of the tehe-tehe are first removed using a rock. The sea urchin meat is set aside and the shell cleaned. The flesh is sauteed with rice and seasoned with spices then stuffed in the shell. The opening is covered with a coconut or pandan leaf before boiling.                                              
Utak-utak is another must-try. Yellowfin or mackerel tuna is boiled, the meat pulled into shreds and flavored with coconut, onions, garlic, black pepper, and turmeric. These are mixed in a coating made of flour, egg, and water. Using one's hand or a banana leaf, the batter is formed into round-shaped patties and deep-fried until a crisp golden brown.
ADVERTISEMENT - CONTINUE READING BELOW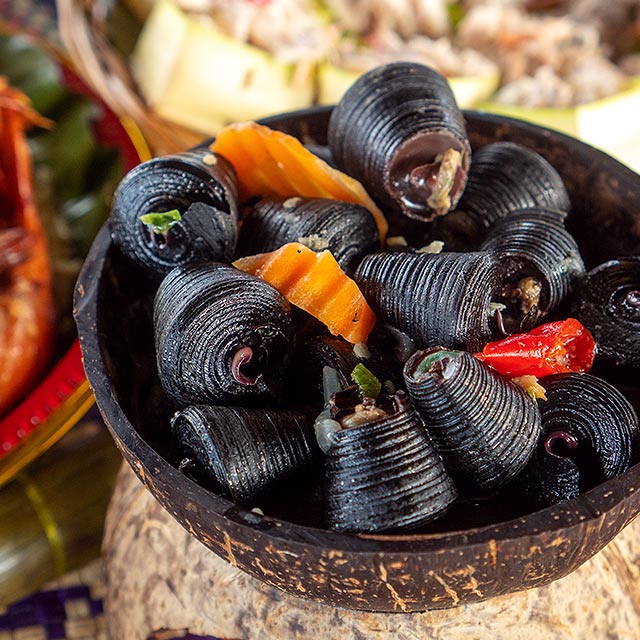 Then there's the oddly named chupa kulo. Snails are simmered in a thick broth made with squash and coconut milk. Eating the meat requires sucking it out of the shell, thus the name, which means "to suck the bottom" in Chavacano.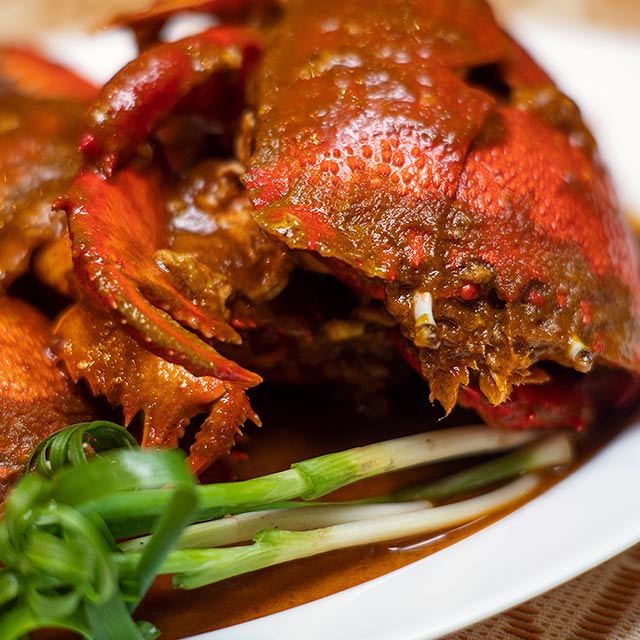 ADVERTISEMENT - CONTINUE READING BELOW
Zamboanga City's Alavar restaurant should not be missed. Famous for its fresh seafood, it's rightfully a staple on any itinerary to Asia's Latin City. Locals and visitors alike flock to this restaurant for a taste of curacha, a cross between sea crab and spiny lobster plentiful in the Sulu Sea, drenched in the resto's signature sauce.
Another must-eat when in the city is satti. Though similar to Malaysian and Indonesian satay with its skewered-meat backbone (grilled chicken or beef, in this case), what makes it different is that the skewers come with a thick and sweet red-orange sauce. It's usually eaten for breakfast and with puso or rice cooked in coconut leaves.  
The Subanen, ZamPen's largest ICC, takes much pride in their lapuyan cuisine which is known for its generous use of salt. Ginataan miki is probably their most popular dish, which uses a creamy fish-and-coconut-based broth made more aromatic through lemongrass, onions, and garlic. Chunks of fish add texture and saltiness to this soup.
An Endless Array of Zamboanga Peninsula's Snacks
ZamPen's snacks are just as delightful and varied as its dishes. The Tausug's traditional merienda, collectively called bangbang, is a feast for the tastebuds. They have banana fritters called jualan saing and those made with sweet potatoes called jualan panggih. Both come with a rich coconut dip that's almost caramel-like in consistency. 
There's also palikambing or bite-sized banana balls, biyaki or traditional corn cakes, panggih-panggih which is akin to a doughnut, and wadjit or glutinous rice cooked in coconut milk and encased in a banana leaf.
ADVERTISEMENT - CONTINUE READING BELOW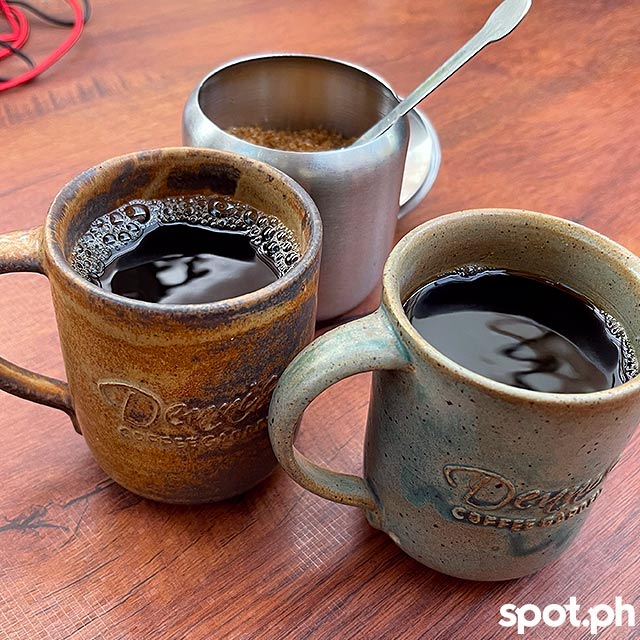 These treats are best eaten with a hot cup of kahawa sug or Sulu coffee that's distinguished by its dark, rich flavor that's not overwhelmingly bitter. 
More than its sweet snacks, the Tausug are also known for their savory merienda. Similar to the familiar lumpiang togue is pastil which is also best dipped in a sweet and spicy vinegar sauce. Instead of a lumpia wrapper, each piece is coated in an empanada-like crust. 
A recommended place to try all these is at Dennis Coffee Garden in Zamboanga City, a well-loved coffee shop known for serving authentic Tausug cuisine and premium kahawa sug.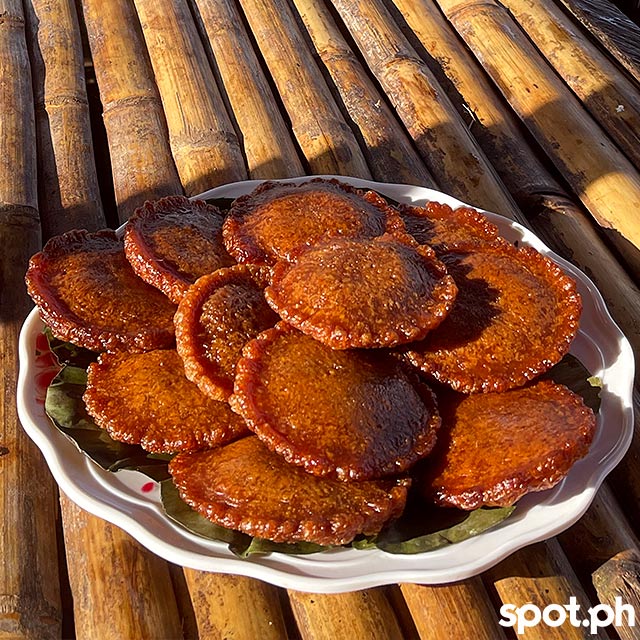 ADVERTISEMENT - CONTINUE READING BELOW
The island province of Basilan has panyalam (also panyam) or rice pancakes. Made of coconut, muscovado sugar, and rice powder, it's usually served as an offering to deities. The Sama Banguingui prepare and cook panyalam in complete silence as they believe that noise could ruin its flavor. The first batch must not be eaten and has to be offered to the spirits.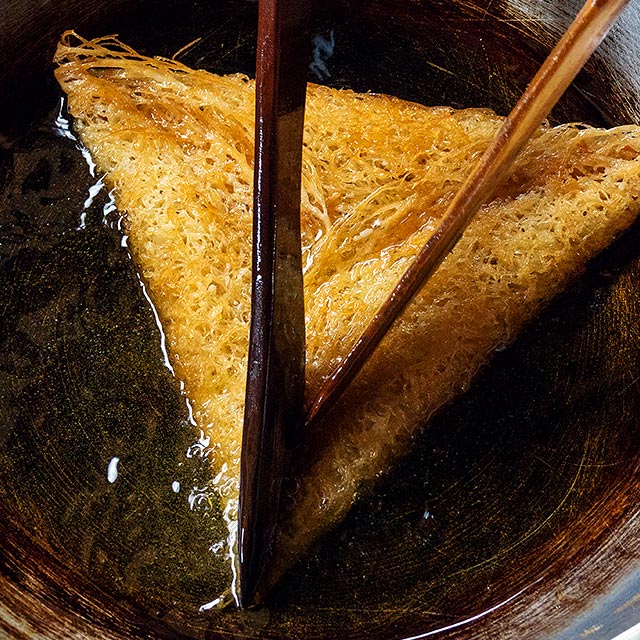 If the Ilonggos have biscocho and Laguna folks have buko pie, Zamboangueños have lokot-lokot. This delicacy is made by pounding glutinous rice until it's reduced to a fine powder. This is then mixed with water to create a batter.  
The mixture is poured into a halved coconut shell with holes called uluyan directly into boiling oil. This results in golden brown mats of fried rice noodles. While still hot, each mat is rolled or folded into a wedge using gagawi or two wooden spoons. 
ADVERTISEMENT - CONTINUE READING BELOW
Lokot-lokot is one of the region's most popular pasalubong and is served during special occasions such as Eid al Fitr. It's sold everywhere and is known as jaa in Sulu, tinagtag in Maguindanao, and amik in Davao del Sur.  
The Subanen, who have a love affair with saltiness, have the thimo, their native kakanin. Similar to Suman, it is made with sticky rice, coconut milk, brown sugar, and yes, a dash of rock salt.  Thimo is wrapped in a leaf called dun geyk which is said to give this snack an anti-inflammatory property. Aside from being medicinal, this rice cake is served during planting and harvesting seasons, weddings, and feasts.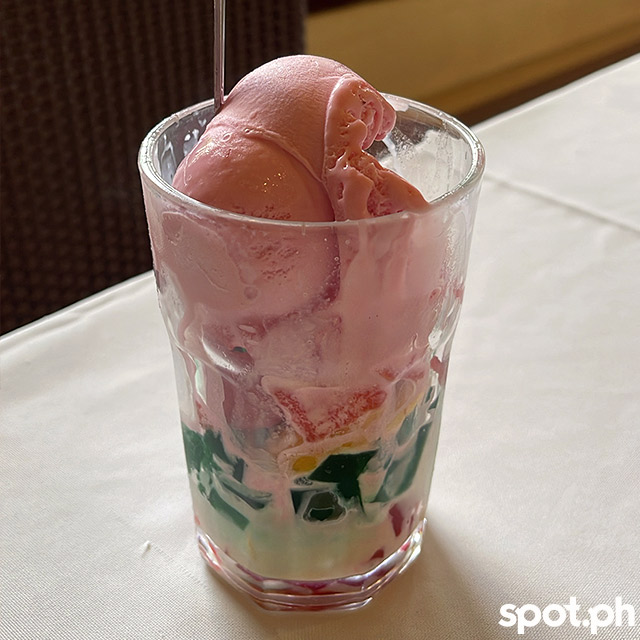 No visit to Zamboanga City is complete without a tall glass of knickerbocker, the city's more refreshing version of Halo-Halo. Sliced fresh fruits and gelatin are drenched in condensed milk and topped with strawberry ice cream. Pinoy Patio (also known as Palmeras) serves one of the best Knickerbockers in the region.
ADVERTISEMENT - CONTINUE READING BELOW
While the Zamboanga Peninsula is well-known for its pink-sand beaches, mangroves, and other natural wonders, its cuisine also deserves any traveler's attention.
For more information on Region IX, visit Department of Tourism's 7641 Islands of the Philippines' website.
We are now on Quento! Download the app and enjoy more articles and videos from SPOT.ph and other Summit Media websites.
Share this story with your friends!
---
Help us make Spot.ph better!
Take the short survey
Load More Stories