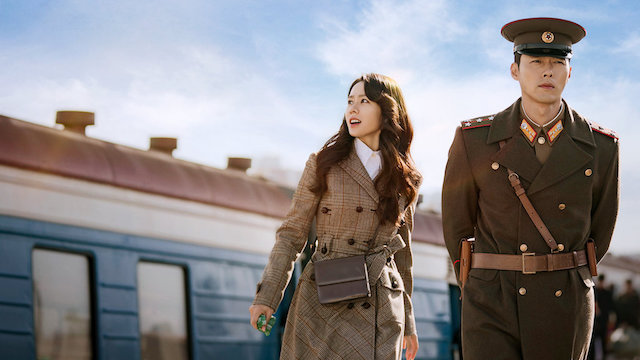 (SPOT.ph) Some actors are so good to the point that it becomes difficult to draw the line between actor and character. Son Ye Jin and Hyun Bin play South Korean heiress Yoon Se Ri and North Korean Captain Ri Jeong Hyuk, respectively, in Crash Landing On You, and their on- and off-screen chemistry had K-Drama fans (and even casual watchers) swooning. While the two have settled the score and denied all the dating rumors that came their way, their interactions prove to be heartwarming and kilig-inducing, and we don't blame you at all for shipping the pair. We respect their friendship, but hey, a little harmless shipping won't hurt and this is all in good fun. If you can't get enough of these two, we rounded up 10 instances where the two actors got really close. Be warned, though—spoilers lie ahead!

Also Read:
The Stars of Crash Landing on You Talk Roles, Destiny + More
10 Things to Watch If You Like Seo Ji Hye From Crash Landing on You
ADVERTISEMENT - CONTINUE READING BELOW
Here are 10 behind-the-scenes moments between Crash Landing On You's Son Ye Jin and Hyun Bin that will have you swooning:
Hyun Bin catching Son Ye Jin after the paragliding crash.
Hyun Bin takes "catch you when you fall" literally when he and Son Ye Jin film the unforgettable paragliding and crash landing scene. Captain Ri caught Se Ri in a tangle in the drama, and Hyun Bin was such a gentleman to Se Ri during filming. We don't know if we want to be Hyun Bin helping out the pretty Son Ye Jin, or if we want to be Son Ye Jin being helped by the attractive Hyun Bin. One thing's for sure: It has our hearts pumping!
Hyun Bin sliding a ring on Son Ye Jin's finger.
In the drama, Captain Ri slides a couple ring on Se Ri's finger, and she promises to remember him. While romantic and moving, the scene before cameras rolled could not be farther from that. Hyun Bin actually didn't know if he was supposed to slide it on Son Ye Jin's left or right ring finger. It got the two debating which hand and as usual, the two end up laughing. It's cute as is, but you'll catch their fingers intertwine and it may just make your heart melt.
Hyun Bin laughing at Son Ye Jin for accidentally eating fake snow.
Captain Ri and Se Ri eventually reunite in Seoul, and it's an odd mix of relief, heartbreak, and happiness. While the scene is meant to be serious, Hyun Bin and Ye Jin actually couldn't stop laughing because Ye Jin accidentally kept eating fake snow! They didn't show that part in the series, but we won't say no to cute and funny moments between the two.
Son Ye Jin playing with Hyun Bin's hair.
Their moving hospital scene may have had you clutching your heart, but the two were pretty chill before the cameras rolled. In this scene (starts at 3:45), the two share a laugh while rehearsing the scene. Before the take, Son Ye Jin played with Hyun Bin's hair! We know it's cute, but please don't forget to breathe.
Son Ye Jin and Hyun Bin practicing their first onscreen kiss.
Captain Ri and Se Ri's first kiss was one borne out of panic and desperation. This behind-the-scenes take (starts at 8:17) shows how the two actors practiced their first onscreen kiss and it will have you shipping the actors beyond their roles in Crash Landing On You. It might have been a life-or-death situation and a kiss didn't seem like the solution to their predicament, but this is a K-Drama, so we'll let it slide.
These behind-the-scenes photos taken in Switzerland.
ADVERTISEMENT - CONTINUE READING BELOW
Son Ye Jin uploaded a photo of her and Hyun Bin in Switzerland and while we know the two were there to film for Crash Landing On You, a part of us is daydreaming that they're on their own vacation and Son Ye Jin was nice enough to share a photo from the romantic trip.
Son Ye Jin and Hyun Bin fighting about a chicken wing.
Couples may get into big fights, but they also argue over the smallest things, sometimes just for the fun of it. In this scene (starts at 2:45) where Captain Ri and Se Ri are having chimaek (or chicken and beer), Son Ye Jin and Hyun Bin patiently wait for the food props to arrive on their table. Once the fried chicken is placed before them, Hyun Bin pokes the wing and asks if he should angle it differently. The two bicker over whether the wing should be up or down, and the two trail off into laughs.
The two actors crying as their characters say goodbye.
When it was time for the Ri-Ri couple to part ways at the demarcation line, goodbyes were said and lots of tears fell. Yes, we know the two actors are just acting out their parts as needed, but we're convinced they're also crying over Captain Ri and Se Ri's separation. Looking at how the shot was filmed is making us think Ye Jin and Hyun Bin actually had to say goodbye to one another, but hey, they're just that effective!
Son Ye Jin jumping into Hyun Bin's arms.
After everything Se Ri and Captain Ri have been through, it's only right that they get a break, preferably in each other's arms. This cute behind-the-scenes footage of Ye Jin and Hyun Bin filming their characters' reunion scene in Switzerland will make you squeal in kilig not once, not twice, but six times! The scene (starts at 1:14) was pretty hard to film, and Ye Jin needed to jump into Hyun Bin's arms six times just to get the shot right. It might have been tedious for everyone on set, but we're not complaining at all!
This Instagram photo taken in Switzerland.
We'll get ahead of you: These photos shot in Switzerland could look like the actors' prenup photos. They've denied dating rumors at least three times, but we're free to dream that they would end up together in real life!
ADVERTISEMENT - CONTINUE READING BELOW
Your guide to thriving in
this
strange new world.
Share this story with your friends!
---
Help us make Spot.ph better!
Take the short survey
More Videos You Can Watch
Load More Stories