(SPOT.ph) It's been a hot minute since we got a new DC Extended Universe movie. The last film we got from the franchise was 2022's Black Adam, and while there isn't any clarity yet on how that will pan out, what is clear at the moment is that the DC universe is in a state of flux. From recasting Henry Cavill as Superman to the unknown status of Gal Gadot's Wonder Woman, let's just say that there are a lot of things fans are not pleased with, and we're not sure if the puppet masters of the DC universe are listening. But in true superhero movie fashion, there might just be a last-minute hail mary that could save this sinking ship, and that comes in the form of Shazam! Fury of the Gods.
Also read:
DC Is Taking the Fantastical Route With Epics Black Adam and Shazam!
Shazam! Is the DCEU at Its Most Fun and Most Magical
ADVERTISEMENT - CONTINUE READING BELOW
Here's why Shazam! Fury of the Gods must be on your must-watch list:
For the uninitiated, Shazam! follows Billy Baston and his ragtag team of foster siblings as they navigate teenage life while juggling their responsibilities as god-like supers. Unlike the first flick, which sought to tell the origins of our kids-turned-heroes, the sequel takes a deeper look into the lore surrounding the universe, and the consequences of taking on the mantle sans proper initiation from the wizard. In case you're unfamiliar with the first movie and you've been dragged to the cinema by an overeager fan, you'll be glad to know the first few minutes will bring you up to speed in the best way possible. 
Surprisingly, despite the long break between the two movies, most of the cast returned for the sequel; albeit visibly older and well into their late teens, all of the kids came back—showing that yup, DC does value continuity.
There's no doubt the chemistry among the cast members is at a different level. Not only do you get a strong sibling vibe among the main child stars, but there's also a very organic and believable transition every time the kids transform into their adult superhero selves. It feels cohesive, like how Zachary Levi, a.k.a. adult Shazam, brings a very realistic and childlike persona to his portrayal, without discounting Asher Angel's take on the role but more like feeding off his energy. The same can be said about Adam Brody, Ross Butler, Meagan Good, and D.J. Cotrona and their respective child versions. But all that talk about great casting has been around since the first movie, and it's just great to see it back and stronger than ever.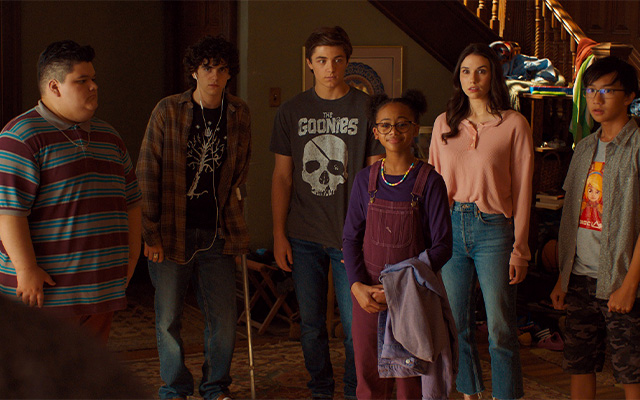 ADVERTISEMENT - CONTINUE READING BELOW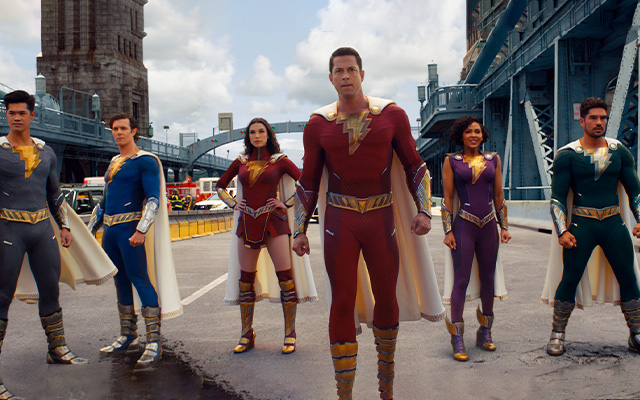 But if we're talking casting, Shazam! Fury of the Gods (SFOTG) has got big names added to their lineup. We're, of course, talking about the addition of Helen Mirren and Lucy Liu playing the gods Hespera and Kalypso, a.k.a. the Daughters of Atlas. They are scorned and morally ambiguous goddesses serving as this installment's big baddies. Without giving too much away, we just wanna say there's a reason these two are considered Hollywood powerhouses, and that is very apparent in how they portray the complex relationship between mortal and god. Suspend all judgments on these characters 'til the very end.
ADVERTISEMENT - CONTINUE READING BELOW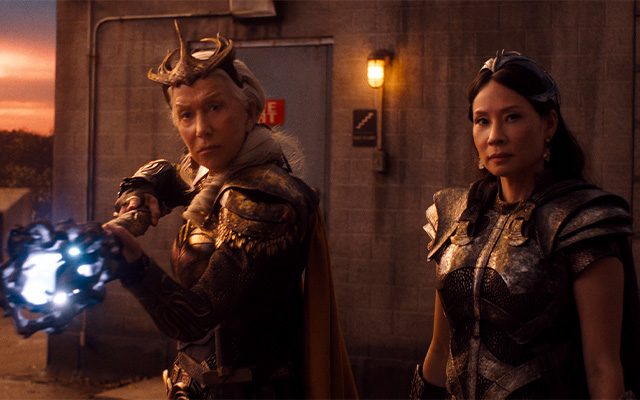 Spoiler Alert: there's actually a third daughter, Anthea, played by relative newcomer Rachel Zegler who has proven she can stand beside industry greats Liu and Mirren without being eclipsed. While her performance isn't necessarily the strongest in the movie, she's got the role down pat—albeit her having the cheesiest lines in the entire film. Don't get us wrong: SFOTG's script is top-tier. It's funny, witty, dynamic, and very natural, but something about Zegler's lines don't fit too well with the character. Just a tad too lovey-dovey and romantic considering the context.
ADVERTISEMENT - CONTINUE READING BELOW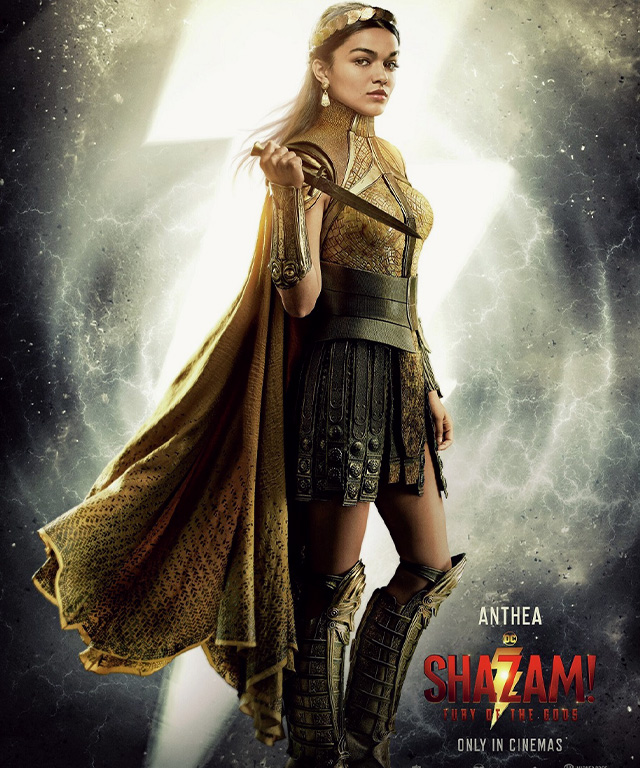 If you ask us, Shazam!  is to the DCEU what Deadpool is to the Marvel Universe, granted it's a bit more PG and family-friendly. It's a self-aware movie that's not afraid to poke fun at itself, the fandom, and even DC itself. It doesn't take itself too seriously and takes care not to be too alienating. It tastefully brings in real-world references to the cinematic universe, which at the end of the day, makes the viewers feel like they're a part of that super world.
ADVERTISEMENT - CONTINUE READING BELOW
Powers or no powers, Shazam! is about the things we will do for the ones we love; in other words, how that love shapes our choices and decisions. At its core, SFOTG extends the first movie's underlying theme of family and belonging to concepts of found family and abandonment issues. It is these relatable tidbits that'll have you hooked on this franchise even if you aren't a DC fan. They're that universal. This movie will have you shedding a tear or two in some scenes—whether that's from laughter or a sentimental feeling, is for you to discover. 
Sequels are hard to do. Superhero movies are hard to get right. But superhero movie sequels are even harder. Let's get that straight. It's often hard to capture the same magic as the original, and the stakes are super high. Rarely does a second movie become more of a favorite than the original, but that just might be the case for Shazam!. SFOTG takes the heartwarming, family-at-its-core relatability of the first movie and puts it on steroids by adding a powerhouse cast, witty dialogue, and a richer overall storyline. It's by far not the perfect nor the best superhero flick out there, but it's a step in the right direction for the DCEU. Shazam! Fury of the Gods is a great reminder to fans that the DC Extended Universe is here to stay and that there are many more superhero storylines out there waiting to be told—so let's try not to keep rebooting everything all the darn time.
ADVERTISEMENT - CONTINUE READING BELOW
Rating: 4 out of 5 spots
Shazam! Fury of the Gods is in theaters starting March 15.
Photos courtesy of Warner Bros. Pictures
Also read:  PSA: Here's Where You Can Stream Triangle of Sadness + More Oscar Best Film Nominees
Hey, Spotters! Check us out on Viber to join our Community and subscribe to our Chatbot.
Share this story with your friends!
---
Help us make Spot.ph better!
Take the short survey
More Videos You Can Watch
Load More Stories