10 Genuinely Terrifying Filipino Horror Films
Homegrown horror films to keep you up at night.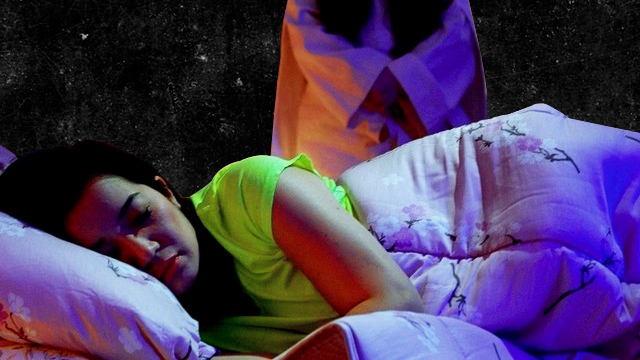 (SPOT.ph) Filipino horror films sometimes get a bad rep for their clichéd scare tactics and unimaginative storylines, but there are some truly horrifying gems if you know where to look. In fact, some of the most frightening things are what's familiar and close to home. Whether it's giving life to folklore and mythology or tapping into our most deep-seated fears, these are 10 Filipino horror flicks that are worth a watch.
ADVERTISEMENT - CONTINUE READING BELOW
Feng Shui (2004)
Director: Chito S. Roño
After all these years, Feng Shui still remains a very special Filipino horror film. Not only does it have one of the most original concepts in local film history, it's also still genuinely terrifying to this day. Starring Philippine Scream Queen Kris Aquino, Feng Shui centers around a cursed Bagua mirror that kills anyone who looks in it, and their death would be based on their Chinese zodiac sign. Throw in Lotus Feet's creepy, click-clacking feet, and you've got a film that continues to be a benchmark for original, well-made local films in its genre.
Vesuvius (2012)
Director: Erik Matti
These days, Erik Matti is better known for his stylish social commentary and crime thrillers like On the Job and Honor Thy Father, but he has also dabbled in some stylish horror (including the Aswang Chronicles franchise). In this short film, Matti showcases his now-trademark visual style and pairs it with an incredible use of sound and atmosphere to give audiences the creeps. A shy, aimless man is inspired to change his life when he has a vision of the Virgin Mary. This short film may only be minutes long, but it's full of disturbing images that will have you cringing.
ADVERTISEMENT - CONTINUE READING BELOW
Sigaw (2004)
Director: Yam Laranas
From hair-raising children crawling to their victims to spine-chilling, bloody ghosts in unlikely places, Sigaw has all the makings of a truly terrifying horror film. Starring Richard Gutierrez, Angel Locsin, Jomari Yllana, and Iza Calzado, this young cast puts their best scared (and scary) faces forward in this haunted apartment thriller. Yes, it features a mix of elements from several horror films that came before it, but the film brilliantly uses these elements to fear-inducing perfection.
Yanggaw (2008)
Director: Richard Somes
Yanggaw is not your typical horror film, but that's exactly why it's worth a watch. The scares are slowly yet surely drawn out, and seen through one character's transformation into an aswang. Because the aswang is so deeply entrenched in Philippine mythology (and to an extent, our childhood), it becomes even more frightening. Yanggaw takes us through the transformation in a grotesque and disturbing way, but not without heart-wrenching emotion as the victim's family tries to deal with a horror they cannot stop.
ADVERTISEMENT - CONTINUE READING BELOW
Dementia (2014)
Director: Perci Intalan
Nora Aunor has done it all, and she lends her talents to Perci Intalan's artfully filmed but terrifying feature. When a woman (Aunor) suffering from dementia returns to her ancestral home in a remote part of the Philippines, spooky things start happening. Doors open by themselves, ghostly apparitions seem to stalk the residents, and things go bump in the night. Be warned: its haunting visuals are not for the faint of heart.
Patayin Mo Sa Sindak Si Barbara (1974)
Director: Celso Ad. Castillo
While the 1995 remake is a solid film in its own right, the Celso Ad. Castillo classic is still the most terrifying incarnation of this tale about jealousy, family, and psychological horror. You just know things aren't going to go well when a jealous younger sister kills herself and possesses her daughter's doll to haunt her older sister. You'll be watching through your fingers as the psychological tension builds, so much so that we won't be surprised if you start having nightmares after the credits roll.
ADVERTISEMENT - CONTINUE READING BELOW
Shake, Rattle & Roll II (1998)
Director: Lore Reyes & Peque Gallaga
The Shake, Rattle & Roll anthology has produced tons of great scares throughout its 15-film run. Peque Gallaga & Lore Reyes' "Nanay" from SRR 3, Richard Somes' "Lihim ng San Joaquin" from SRR 2k5, and Jerrold Tarog's "Punerarya" from SRR 12 are just some of the standouts. Still, there's nothing quite like the original. The second installment doesn't only raise the terror bar; it also uses Filipino mythology in a way that taps into fears and everyday culture. "Multo," "Kulam," and "Aswang" all take from local myths and monsters, weaving them into everyday stories such as a honeymoon or a town fiesta, adding to the fear instilled in the audience.
Sukob (2006)
Director: Chito S. Roño
Filipinos have plenty of superstitions that have become the basis of many horror films (see: 2012's Pagpag and 2004's Pa-Siyam). 2006's Sukob brings several wedding superstitions into the horror fold. The first is that one should not get married in the same year an immediate relative dies, and the second is that siblings should not get married within the same year. A couple bravely defies both, and one by one, they and their wedding guests suffer gruesome, blood-curdling deaths.
ADVERTISEMENT - CONTINUE READING BELOW
The Road (2012)
Director: Yam Laranas
Told in four different parts and all set in different years, The Road doesn't quite follow the typical horror formula. Instead, it's a dark and disturbing tale of a decades-old missing persons case and the stories that may or may not explain what happened. All the stories take place along the same road in the province. The film pretty much has it all: ghosts, a deeply disturbed teenager (Alden Richards), abusive mothers (an eerily convincing Carmina Villaroel), brutal murders, mysterious secrets, and plenty of psychological thrills.
Itim (1976)
Director: Mike de Leon
As much as we respect and pray to religious imagery, it's hard to escape the spine-chilling feeling of being watched by statues. Mike de Leon's film Itim has many creepy scenes, but one where a character is led into a room full of Jesus statues is immediately memorable. Dealing with themes like cultural beliefs, social norms, and religious fervor, Itim is subtly (but effectively) terrifying, groundbreaking, and worth a watch even to this day. Bonus: de Leon's 1981 film, Kisapmata, is an equally grim and macabre film on murderous jealousy.
ADVERTISEMENT - CONTINUE READING BELOW
Recommended Videos
Load More Stories