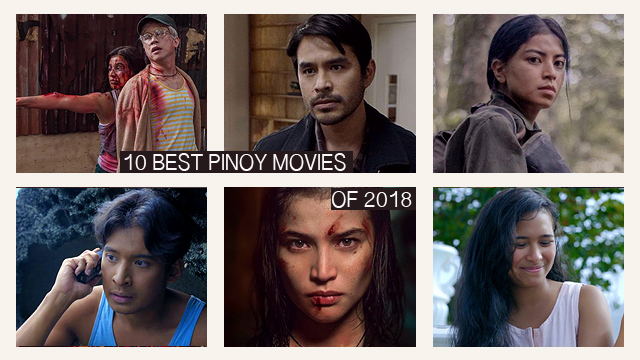 (SPOT.ph) Thanks to an ever-increasing number of film festivals and a burgeoning audience for interesting and out-of-left field viewing choices, Pinoy films found new ways to entertain and intrigue. We round up the ones that made it a great year for Pinoy cinema.
Ang Panahon ng Halimaw
ADVERTISEMENT - CONTINUE READING BELOW
Directed by: Lav Diaz
A Lav Diaz film is always an event. The profilic filmmaker and arthouse auteur topped himself this year with Ang Panahon ng Halimaw, a rock opera shot in Diaz's trademark crisp black and white cinematography, starring Piolo Pascual, Shaina Magdayao, Pinky Amador, and Bituin Escalante. What sets this four-hour opus apart from Diaz's previous films is the force and directness of its message. A perfectly calibrated critique against strongman leadership and the impunity that envelops the lives of the marginalized and the powerless, the film is bracing poetry about violence and grace.
BuyBust
Directed by:  Erik Matti
Erik Matti's BuyBust stands out for sheer style and its uncompromising immersion into a micro-world gone to hell. A simplistic plot and paper-thin characterizations might be knocks against the film, but what overpowers them is an insane commitment to a mood of dread and tension. It also doesn't hurt that Anne Curtis brings a rough-and-tumble physicality to her protagonist. Beyond mindless entertainment, however, BuyBust aims for something more ambitious. This is a film that presents a nightmare scenario that borrows heavily from the real-world tragedies of the so-called war on drugs.
Call Her Ganda
Directed by: PJ Raval
Call Her Ganda could simply be about a tragedy. The murder of Jennifer Laude in 2014 at the hands of an American marine propelled the issues of transphobia and the post-colonial relations between the Philippines and the United States into the national consciousness. Its best feature, however, is its open-hearted depiction of Jennifer's vibrancy in life. PJ Raval's documentary also sets its sights on the question of justice and how it is claimed by three women brought together by the case. We bear witness to their grit and their moral certainty in the face of adversary and the complex intertwining systems that enable injustice. Eye-opening, enraging, and touching in equal measure, this documentary ensures that Ganda will never be forgotten.
Citizen Jake
Directed by: Mike De Leon
For Citizen Jake and its central and titular character, the weight of history looms large. Mike De Leon's much-awaited return to Philippine cinema is a fascinating look into the character of a man whose crusade for truth and justice is compromised by his personal history. Framed as an investigative yarn, the film presents Jake (Atom Araullo) as a journalist and teacher who gets caught up in investigating the murder of a student. De Leon's film has a lot to say, but it derives its power from its willingness to interrogate middle class apathy and how this contributes to the continued reign of corruption and greed.
ADVERTISEMENT - CONTINUE READING BELOW
Gusto Kita with All My Hypothalamus
Directed by: Dwein Baltazar
Ignore the awkwardness of the title; focus instead on how the mesmerizing Gusto Kita with All My Hypothalamus plays with our conceptions of desire. Here you have four men of differing temperaments and contexts united by their desire for the same woman. Seeing how each man expresses and represses his feelings, and how the film frames these masculine archetypes into a Quiapo-specific milieu is enjoyable to watch. Yet the central tension of the film is in how it depicts its central female figure Aileen, played by Iana Bernardez. No more than an idealized icon upon which four men project their desires, Aileen's limited characterization reveals the problems of the male gaze. The question of agency complicates the film, which makes its final stretch rewarding in all the right ways.
Liway
Directed by: Kip Oebanda
In Kip Oebanda's Liway, Glaiza de Castro captures the humanity and womanhood of a complex figure, based on Oebanda's mother. A nuanced but very entertaining performance emerges, with Oebanda's highly personal story giving life to the film's '80s setting. Liway is a story of motherhood and how it prevails over the most difficult circumstances. It is also an ode to memory and storytelling, revealing the power they hold at a time when the lessons of history are questioned and brushed aside. Urgent and personal, Liway is an affectingly realized gift of a son to his mother and country.
ADVERTISEMENT - CONTINUE READING BELOW
Mamu and a Mother Too
Directed by: Rod Singh
The character dramedy on coming of age, womanhood, and motherhood is a Filipino cinema staple, and rightly so. But Mamu and a Mother Too is important and refreshing in the space it grants to trans experiences of family. That it does so in a straightforward and slightly melodramatic key reinforces its argument for the universality of familial love, no matter how unconventional society might deem its members to be. Crucial to the film's success is the deeply felt portrayal of Iyah Mina, rightfully winning the 2018 Cinema One Originals' Best Actress honor. That it is funny and touching at many points highlights how trans and queer cinema in the Philippines has a lot to offer, including a family film.
Never Tear Us Apart
Directed by: Whammy Alcazaren
Whammy Alacazaren's Never Tear Us Apart is an act of provocation. From its original title, Fisting, to its commitment to its Instagram Stories aesthetic, the film clearly wants to challenge and confound. Pushing the envelope is fun and all, but peel all of that away and you have a distinctly Pinoy story of family and its gradual breakdown. Kinks and secrets unfurl uncomfortably, revealing the deep loneliness of each family member. The cold, unfeeling posture of the film rubs against the highly intimate nature of many of the film's scenes. And yet, a subversive humanity seeps through. Strangely, and for all its attempts to provoke, Never Tear Us Apart emerges as one of the best family movies in recent years.
ADVERTISEMENT - CONTINUE READING BELOW
Paglisan
Directed by: Carl Joseph Papa
Eula Valdez and Ian Veneracion have two of the most expressive faces among actors working today. So it is almost a betrayal to not see them physically realize the story of Paglisan as Cris and Dolores, a couple dealing with the man's early onset of Alzheimer's and the woman's crippling depression. Instead, we see them as roughly sketched animation, whose forms sometimes transcend their defined shapes. Yet it also feels appropriate, given the film's themes of memory and identity as individuals and as one-half of a marriage. Furthering its earnest emotional aims is the music, with a collection of songs that ring with honesty and insight. By the end, Paglisan becomes a love story that soars because and not in spite of the limitations of its form.
Signal Rock
Directed by: Chito Roño
The first thought that hits you upon seeing the first few minutes of Signal Rock is how beautiful the film is. Set in the 1990s in Biri, a remote island village in Samar, Signal Rock draws its name from the rock formation which allows its residents to call and receive calls from relatives who live and work away from the island. Village life, while not wanting in gorgeous vistas and scenic views, is difficult. So much so that many of the families have all but accepted that at least one family member—almost always a woman—has to leave the island to seek better opportunities. Central to the film is Christian Bables' performance as Intoy. Bables imbues his promdi with wit and sincere emotion which carries us along as the film widens its scope to paint a full-scale picture of the Filipino diaspora. While many films have depicted the OFW experience, Chito Roño's contribution reveals the life and struggles of those left behind.
ADVERTISEMENT - CONTINUE READING BELOW
Share this story with your friends!
---
Help us make Spot.ph better!
Take the short survey
More Videos You Can Watch
Load More Stories