10 Things to Watch on Netflix If You Love Food
These will all make your mouth water!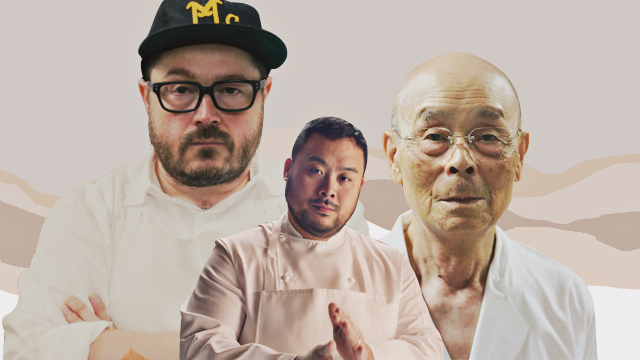 (SPOT.ph) Who doesn't love watching food get made? From the preparation to the cooking to the actual eating, there's something so mesmerizing about food. Watching it on a screen though, when technology is not yet advanced enough for us to reach in and grab a bite, can be excruciating. Still, that doesn't stop us from binge-watching food flicks and shows—cravings be damned. For those willing to go through the sweet (and savory) torture of watching food fiction and non-fiction, Netflix has a couple of food-related movies, documentaries, and shows worth watching.
Also read:
10 Things to Watch on Netflix If You're a K-Drama Fan
10 Things to Watch on Netflix If You're Into Mystery
10 Things to Watch on Netflix If You're Into Music
Here are 10 of the most mouthwatering movies, shows, and travel documentaries on Netflix:
Chef's Table (2015 to 2019)
Six seasons in (plus a France spin-off), Chef's Table continues to wow audiences with its cinematic look behind the world's most delectable plates. Each episode focuses on one chef's story, starting with Massimo Bottura and his restaurant, Osteria Francescana in Italy. Season four is all about pastries, and particularly notable is the pure joy in Christina Tosi's episode featuring her Milk Bar in New York. Created by the director of acclaimed documentary movie Jiro Dreams of Sushi, David Gelb, this show will make you want to reach into the screen for a bite (or 10).
ADVERTISEMENT - CONTINUE READING BELOW
Street Food (2019)
From the creators of Chef's Table comes another food documentary series that will bring on the cravings. Instead of fancy, cutting-edge restaurants, the new series focuses on the humble yet universally loved street food. The debut season showcases the street food of Asia, from one chef's unique tom yum soup and Michelin-starred crab omelets in Bangkok, Thailand to the fish head soup and goat stew of family-owned street stalls in Chiayi, Taiwan. The finale is our very own Cebu, where lechon, tuslob-buwa (Cebuano fondue), and nilarang bakasi (sour stew with reef eels) take center stage. (It's worth noting that this is the episode that director Erik Matti called borderline poverty porn, with which director Joey Javier Reyes agreed.)
Jiro Dreams of Sushi (2011)
The 2011 documentary film that inspired the aesthetic of Chef's Table captures the art and magic behind Jiro Ono's world-renowned sushi. Chef's Table creator David Gelb films the shokunin (sushi craftsman) in his 10-seater, three Michelin-starred restaurant, Sukiyabashi Jiro, located in a Tokyo subway station. The movie explores Jiro's relationship with his family, particularly his two sons: Yoshikazu, who works with him at Sukiyabashi Jiro, and Takashi, who handles a branch in another Tokyo spot.
Ugly Delicious (2018 to present)
A tasty contrast to the polished aesthetic of Chef's Table, Ugly Delicious is a more humorous, irreverent look at "culinary rebels" around the world. Each of the eight episodes focuses on one dish or style of cooking, as interpreted by different chefs and cultures. David Chang, founder of the famous Momofuku restaurant group in New York, hosts the series and invites famous personalities to dine with him, such as The Walking Dead's Steven Yeun and comedians Ali Wong and Aziz Ansari.
CONTINUE READING BELOW
Recommended Videos
Salt Fat Acid Heat (2018)
A food and travel documentary unlike any other, Salt Fat Acid Heat gets its unique flavor from host Samin Nosrat, whose pure, unapologetic love for food is only matched by her tireless pursuit of flavor and knowledge. She travels from Italy to Japan to Mexico to her home in California to delve into the four elements that make up great cooking: Salt, fat, acid, and heat. What makes the food look even more delicious is Samin's almost childlike joy in savoring every bite. The four-part series will leave you wanting more—good thing her 2017 book of the same name is available in local bookstores.
Cooked (2016)
While Samin Nosrat focuses on the four elements that make up great cooking in Salt Fat Acid Heat, food writer Michael Pollan turns to a different kind of foursome. In Cooked, he explores how fire, water, air, and earth create food. The Air episode talks about bread making and the nature of gluten, while the Earth episode shows how fermentation turns unassuming raw ingredients into delicacies. Pollan says that humans have powerful memories associated with cooking and it is our job to unlock and preserve them for future generations.
Somebody Feed Phil (2018)
In this food and travel series, host Phil Rosenthal follows his taste buds around the world, from Bangkok to Tel Aviv to New York City. There are already two seasons, charmingly called The First Course and The Second Course. The jovial host who likes cracking tito jokes is also the creator of the famous sitcom Everybody Loves Raymond and the host of 2015 food series I'll Have What Phil's Having.
ADVERTISEMENT - CONTINUE READING BELOW
The Mind of a Chef (2012 to 2017)
The late Anthony Bourdain narrated and produced four out of five seasons of this series that explores the cooking philosophies of different chefs. Unlike most shows now that feature one chef per episode, the series spends several episodes with a chef or a pair of chefs. You'll see a young David Chang, now the host of Ugly Delicious, as the sole focus of season one. Netflix picked up the show after it aired on PBS and the show has won several Daytime Emmys including Outstanding Culinary Program.
Flavorful Origins (2019)
Flavorful Origins focuses on Chaoshan cuisine, which originates from the Guangdong province in China. Learn about the different ways olives are preserved, the ingredients of a typical Chaoshan brine, and the history behind the traditional tofu cake. With episodes that are less than 15 minutes each, you'll breeze through this series.
Martha Bakes (2011 to present)
Love baking? Consider this series your very own home tutorial with culinary icon Martha Stewart. She shares pro-level techniques and recipes in two out of eight seasons available on Netflix. Learn how to make traditional Danish pastries, whip up interesting creations using coffee and green tea, and bake celebratory cakes that will steal the scene at any party. Designed for home bakers, the show also features guests like acclaimed pastry chef and chocolatier Jacques Torres, who teaches you how to make all sorts of magic using chocolate. Just starting out? There are also beginner-friendly episodes like One Bowl Desserts, where baking is easy as pie. Sweetening the deal? Since you're just using one bowl, cleaning up will be a piece of cake!
ADVERTISEMENT - CONTINUE READING BELOW
Your guide to thriving in
this
strange new world.
Share this story with your friends!
---
Help us make Spot.ph better!
Take the short survey
Load More Stories