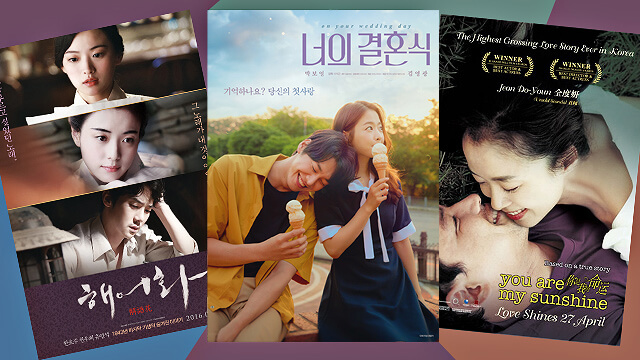 (SPOT.ph) One of the many things Korea has blessed the world with is the abundance of well-crafted, perfectly paced drama films. And we're not just talking about those that strictly fall under the genre—a story can start innocently and happily enough, or can be considered a different genre altogether. But an hour or so later, things take a turn and leave you a sobbing mess. 
Also read:
10 Underrated Feel-Good K-Dramas to Stream When Your Brain Cells Need a Break
Webtoon Supremacy: K-Dramas on Netflix That Started Out as Digital Comics
10 Wholesome K-Dramas to Stream, According to Running Time
Here are 10 sad Korean movies that will give you the feels:
Taegukgi: The Brotherhood of War (2004)
Directed by Kang Je-gyu, this film depicts the brutalities of the Korean War that divided not only a nation but families as well. The movie combines history with the fictional narrative of two brothers (Jang Dong-gun and Won Bin) forcibly drafted into the army at the outbreak of war in 1950, but end up fighting for opposing sides. With heartbreaking scenes depicting the war, expect waterworks until the end credits roll.
ADVERTISEMENT - CONTINUE READING BELOW
You Are My Sunshine (2005)
Seok-joong, a simple farmer (Hwang Jung-min) longs for a wife and ultimately finds it in Eun-ha, a local delivery girl-slash-sex worker (Jeon Do-yeon). It's the kind of relationship frowned upon by others, but that's not the only conflict here. There's also Eun-ha's violent ex-husband, who attempts to destroy her relationship with Seok-joong, aside from a pretty horrible plot twist. This Park Jin-pyo film on star-crossed lovers is straight-up melodrama—don't say we didn't warn you.
Very Ordinary Couple (2015)
True to its title, this movie by Roh Deok is about an average couple (Lee Min-ki and Kim Min-hee), specifically one that broke up yet gave love a second chance. The movie goes from hopeful to somber as it takes viewers through the couple's journey from separation to reconciliation, eventually facing the harsh truths that come in every relationship.
Salut D'Amour (2015)
ADVERTISEMENT - CONTINUE READING BELOW
Recommended Videos
Korean veteran actors Park Geun-hyung and Youn Yuh-jung star in Salut D'Amour, also helmed by Kang Je-gyu. They play the role of two elders who end up falling in love with each another. The movie starts off heartwarming, thanks to the cute antics by their neighbors and loved ones who are fully supportive of their relationship. But it's not just a sweet story about falling in love during one's twilight years—let's just say there's a twist towards the end that's sure to tug at your heartstrings.
Love, Lies (2016)
Set in 1943 during the Japanese Imperial occupation of Korea, Park Heung-sik's Love, Lies is a story of friendship, love, betrayal, and ambition. Two best friends (Han Hyo-joo and Chun Woo-hee) are among the last remaining gisaeng, or women trained to entertain rich and powerful men in old Korean society. Despite a love for the then-emerging pop music, they commit to singing classical Korean songs. But when a pop-music producer (Yoo Yeon-seok) comes into their lives, everything goes downhill. 
ADVERTISEMENT - CONTINUE READING BELOW
Hope (2013)
Not one for the faint of heart, Lee Joon-ik's Hope is based on the infamous Na-young case, in which an eight-year-old girl was raped and beaten by a drunk man in a public toilet in 2008. This film is difficult to watch from start to end, with your emotions bound to shift from sadness to outrage throughout.
On Your Wedding Day (2018)
This movie starts with Seung-hee (Kim Young-kwang) receiving a wedding invitation from his first love, Woo-yeon (Park Bo-young), whom he met back in high school. Directed by Lee Seok-gun, the film then goes to show how Seung-hee and Woo-yeon's lives have been intertwined in the 10 years they've known each other.
Be With You (2018)
Helmed by Lee Jang-hoon, Be With You is a remake of a Japanese film that's based on a novel by Takuji Ichikawa. In this movie, Soo-ah (Son Ye-jin) returns from the afterlife to Woo-jin, her husband (So Ji-sub), and their young son (Kim Ji-hwan)—the fulfillment of a promise she made before passing away a year earlier. The catch: she doesn't remember anything.
ADVERTISEMENT - CONTINUE READING BELOW
Youngju (2018)
Youngju is both the title of this indie film by Cha Sung-duk and the name of its main character, played by Kim Hyang-gi. In the movie, she and her younger brother (Tang Jung-sang) become orphans after their parents die in a car crash. Later on, she seeks the man responsible for their parents' death (Yoo Jae-myung), and gets a job at the store he owns with his wife (Kim Ho-jung). But things become complicated when Youngju finds out they're actually not as bad as she thought they'd be.
Birthday (2019)
The sinking of MV Sewol in April 2014 caused shock and outrage across Korea, with many criticizing the actions of officials from the captain of the ship to former President Park Geun-hye. Director Lee Jong-un's Birthday explores this disaster, which claimed the lives of hundreds of students from Danwon High School in Ansan City. The movie shows how the loss of one family's son (Yoon Chan-young) tears them apart (with the mother, father, and surviving daughter played by Jeon Do-yeon, Sol Kyung-gu, and Kim Bo-min, respectively). 
ADVERTISEMENT - CONTINUE READING BELOW
Share this story with your friends!
---
Help us make Spot.ph better!
Take the short survey
Load More Stories