(SPOT.ph) When you're tasked to direct the first Filipino Netflix original film, the pressure weighs heavy on your shoulders. Director Mikhail Red is no stranger to critically acclaimed movies—he has Oscar entry Birdshot, horror thriller Eerie, and political film Neomanila, but Netflix's Dead Kids, which starts streaming December 1, is an entirely different creature altogether. Just how different is one of the things we talked about with Red and the cast on November 10, at the special screening in Gateway Mall in Cubao. 
Dead Kids is inspired by a true event about college students kidnapping a fellow student. Red took the amateur kidnapping plot and put it in a high-school setting because "it's the most vulnerable, mas coming-of-age story." It's also his take on the barkada genre, which is a popular Pinoy staple, fused with a crime thriller. There's nothing in the local scene you could compare it to, but Red argues that while the film borrows heavily from Hollywood cinematic tropes, he still wanted it to be distinctly Filipino.
ADVERTISEMENT - CONTINUE READING BELOW
Red is known for directing films that deal with a few characters in the spotlight, and Dead Kids features an ensemble cast of young actors, both known and up and coming. He hasn't dealt with this many people in one film before, and had to switch things up to accommodate the plot and characters: "It's so many characters in one frame. Usually very minimal dialogue lang, dito, mas maraming banter, dapat may chemistry. That's why we had an intense and long casting process." Everyone on the team had to audition for their role, and Red says each person was handpicked to get the proper look, tone, and feel of each character, all the while maintaining a good dynamic between cast members.
Of that cast, we had to ask: "What's it like to work on a Netflix original?" Sue Ramirez, who plays ace student Janina, says they didn't really know it was going to be a Netflix original when they signed up for the film. When the news broke, she says "Na-pressure kami, but more than that, mas excited kami." Markus Paterson, Kelvin Miranda, and Vance Larena, who play Chuck Santos, Sta. Maria, and Blanco, respectively, didn't really think much of it until they finally had to promote the film, when the prospect of their work getting seen by millions of viewers dawned on them.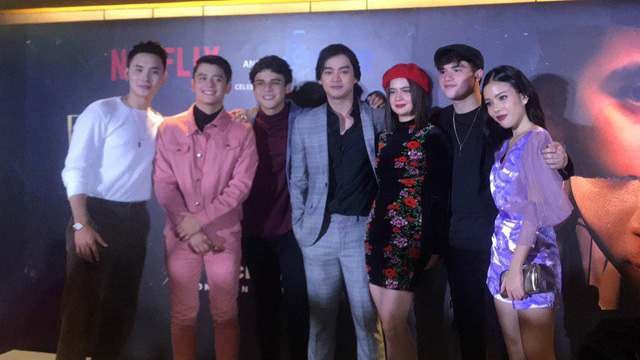 ADVERTISEMENT - CONTINUE READING BELOW
Before the cast even got nervous about Netflix, they were already wondering how to work with Red and how to pull off a film that wasn't afraid to discuss more serious matters in the teenage context. Khalil Ramos, who plays funny Paulo, has played roles in blockbusters like rom-com LSS, and held his ground in Erik Matti's dark film Honor Thy Father, but Dead Kids is a mix of both for him. He's working with a bunch of kids his age, but the message, social commentary, and consequences of their portrayals and actions reflect the dangers of the real world.
Gabby Padilla, who plays the conniving Yssa, has worked with Red before on Eerie and upon seeing the Dead Kids script, was surprised at the tone of the film: "There are a lot of profanities, and it's different from [Red's] usual tone." It's a risky move to go for something darker with a young cast, but these creative liberties were necessary to drive the point home.
ADVERTISEMENT - CONTINUE READING BELOW
All of Red's films tackle moral ambiguity, and in a film filled with kids from every social class, the actors, too, must realize how important it is to ask themselves the question: "What would I do if I were in their situation?" Larena makes it a point to say that the cast does not endorse crime or illegal acts, but acknolwedges that it's important to discuss these moral gray areas and realities, especially for the youth.
Despite the responsibility that rests on the cast's shoulders, Red doesn't want it to be too preachy or self-righteous. What he does want the film to do is to tackle issues about privilege, insecurities, fears, and desires.
"It's about surviving in the Philippine society. Grabe kasi 'yong disparity [between the rich and the poor], and it depends on your environment or upbringing. I think they're all represented," Red explains.
While teenagers are expected to do well in school, be good kids, and have a healthy social life, there are facets of society that make things a little more complicated: Your parents' reputation affecting how people deal with you, not fitting in because you're not rich like the other kids in school, or being told early on that what you hold dear doesn't really matter in the long run. In an ideal world, all those things shouldn't dictate what kind of person you are or become, but this is the real world we're talking about, and it's never just black or white.
ADVERTISEMENT - CONTINUE READING BELOW
Dead Kids starts streaming on December 1 on Netflix.
Your guide to thriving in
this
strange new world.
Share this story with your friends!
---
Help us make Spot.ph better!
Take the short survey
More Videos You Can Watch
Load More Stories