10 Wes Anderson Films You Need to Watch At Least Once
There's still time to see them all before The French Dispatch comes out!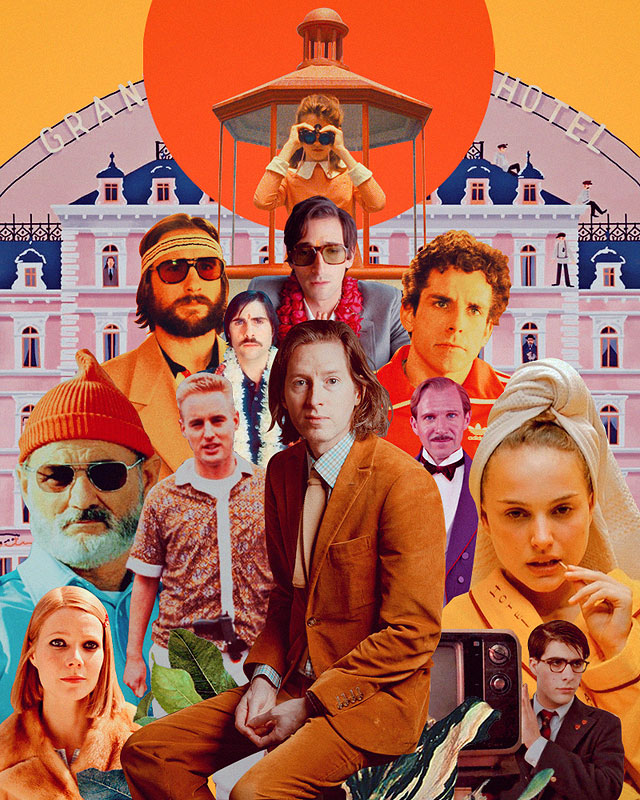 (SPOT.ph) Artists are known to leave signatures on their works of art to let viewers know who made the piece. Others may choose to not sign their work, and will let their styles and composition speak for themselves. In filmmaking, you won't see a tiny scribble throughout a movie to tell you who worked on a film, and you'll have to rely on credits to tell you who made it. Some filmmakers have a style that's so familiar and unmistakable that you'll be able to tell in an instant. This could be in how the music swells in certain scenes, how lines are written, how the scene is composed, or even which locations are used.
One such director is Wes Anderson, who is known for his symmetrical composition, pastel and muted tones, and a revolving roster of frequent collaborators. You might be familiar with his work, as it often floats around the Internet for its beautiful and eccentric aesthetic. His latest project The French Dispatch is coming out in 2020, and whether you're a huge Anderson fan or you're wanting to see more visually stunning films, we round up titles he's worked on that you need to see at least once before this new film comes out.
ADVERTISEMENT - CONTINUE READING BELOW
Here are 10 must-see films from Wes Anderson:
Bottle Rocket (1996)
This 1996 crime-comedy film is based on Anderson's 1994 short film of the same name, and it marks the director's first full-length feature. He co-wrote the screenplay with Owen Wilson, who would go on to become a frequent collaborator in the years to come. The film takes place in Arizona and follows Dignan (played by Owen) as he rescues his friend Anthony Adams (Luke Wilson) from a voluntary psychiatric unit. The kooky Dignan has a series of heists planned once Anthony's out, and the two learn more about crime as they go on the search for Dignan's former boss Mr. Henry (James Caan). The film may not have made much in the box office, but it put all eyes on Anderson—director Martin Scorsese even called it one of his favorite films from the '90s.
CONTINUE READING BELOW
Recommended Videos
Rushmore (1998)
Actor Jason Schwartzman makes his film debut in Rushmore, a coming-of-age film about the bond between teenage Max Fischer and rich businessman Herman Blume, played by Bill Murray. The two meet at Rushmore High, where Herman's sons are enrolled, along with Max, a student with far too many extracurricular activities. The two strike an unlikely friendship, but it all comes tumbling down when they both fall for Rosemary Cross (Olivia Williams), the new teacher at Rushmore who recently lost her husband. After appearing in Rushmore, Murray has been in every Anderson film to date. Fun fact: Luke Wilson appears in the film as Peter Flynn, and Anderson's co-writer Owen Wilson makes an uncredited appearance as Rosemary's dead husband.
ADVERTISEMENT - CONTINUE READING BELOW
The Royal Tenenbaums (2001)
Co-written with Owen yet again, The Royal Tenenbaums stars a dysfunctional family slowly finding their rhythm and their way back to one another. Patriarch Royal Tenenbaum (Gene Hackman) leaves his three successful children—math genius Chas (Ben Stiller), adopted daughter and playwright Margot (Gwyneth Paltrow), and artist and tennis prodigy Richie (Luke Wilson)—and says he is separating from his wife Etheline (Anjelica Huston). Twenty-two years later, he attempts to return to his family and realizes they are in disarray. Determined to win them back, he takes steps he believes will make up for his years-long absence. The film is based on a non-existent novel, and narrated by Alec Baldwin. Owen and Murray also star in the film as Eli Cash and Raleigh St. Clair, respectively.
The Life Aquatic with Steve Zissou (2004)
Murray is in the lead role for another Anderson film with this 2004 picture co-written with Noah Baumbach. Murray plays the eponymous Steve Zissou, an oceanographer seeking revenge on "jaguar shark" that ate his chief Esteban (Seymour Cassel). Aside from his intent to kill it, he also plans to document the animal's behavior and characteristics during his voyage. He's got a cast of equally eccentric characters onboard, played by Cate Blanchett, Willem Dafoe, Michael Gambon, Jeff Goldblum, Huston, Owen, Seu Jorge, and Bud Cort. Think the name Steve Zissou sounds familiar? It's because he's loosely based on French diver Jacques Cousteauit. The Life Aquatic with Steve Zissou is also dedicated to the pioneer diver.
ADVERTISEMENT - CONTINUE READING BELOW
The Squid and the Whale (2005)
Anderson puts on his producer hat for this 2005 film directed and written by frequent collaborator Baumbach. Once-promising writer Bernard Berkman (Jeff Daniels) sees growing tensions with his wife Joan (Laura Linney), and promptly tells his two kids 16-year-old Walt (Jesse Eisenberg) and 12-year-old Frank (Owen Kline) that they are separating. The two boys are at odds about how to handle their parents' eventual separation and have chosen sides, all the while navigating adolescence. Fun fact: The movie's title is taken from the giant squid and sperm whale diorama over at the American Museum of Natural History, which you'll spot in the film.
The Darjeeling Limited (2007)
Three estranged brothers—Francis (Owen), Peter (Adrien Brody) and Jack Whitman (Schwartzman)—have not seen each other since their father's (Irrfan Khan) funeral, but reunite on a train called The Darjeeling Limited to reconcile. Each brother is afflicted with their own problems and hurt, and sees themselves returning to their old ways while on the way to see their mother (Huston once more) who currently resides at a Himalayan convent. Anderson co-wrote this film with Schwartzman and yes, Murray makes an appearance in this one, too: he's the businessman that bumps into Peter at the start of the film.
Fantastic Mr. Fox (2009)
Anderson forays into stop-motion animation with his 2009 film Fantastic Mr. Fox which borrows George Clooney's voice for the role of Mr. Fox, a columnist who breaks his promise to his wife Felicity (Meryl Streep) and returns to a life of stealing. Mixing both animal behavior and human culture, the film features anthropomorphized creatures like badgers and foxes and actual humans alike, with three human farmers being the main antagonists. Dafoe and Italian chef Mario Batali are also part of the cast, with frequent collaborators Schwartzman, Owen, Roman Coppola, Brody, and Murray lending their voices to the film.
ADVERTISEMENT - CONTINUE READING BELOW
Moonrise Kingdom (2012)
The film is set in 1965 in the fictional island of New Penzance where a community detached from the rest of the world lives in peace. Twelve-year-old orphan Sam Shakusky (Jared Gilman) falls in love with pen pal Suzy Bishop (Kara Hayward) and he escapes his scout camp to run away with her. A violent storm brews in the distance, and Captain Sharp (Bruce Willis) is quick to mobilize a group for a search party to find the two kids before the calamity hits. Anderson approached Coppola once again to co-write the script for Moonrise Kingdom, which also stars Edward Norton, Frances McDormand, Tilda Swinton, and frequent collaborators Murray and Schwartzman.
The Grand Budapest Hotel (2014)
The Grand Budapest Hotel is a famed ski resort in the kingdom of Zubrowka, and it's in tip-top shape thanks to its concierge Monsieur Gustave H (Ralph Fiennes). A junior lobby boy, Zero (Tony Revolori), quickly becomes his friend and protege. When one of the hotel's elderly patrons and Gustave H's lover Madame D (Swinton) dies, the efficient concierge is framed for her death, and finds a priceless painting in his possession. Fiennes leads a large cast of 17 actors, which includes Goldblum, Jude Law, Norton, Saoirse Ronan, Léa Seydoux, and Tom Wilkinson, along with actors that have previously appeared in Anderson films (Swinton, Owen, Brody, Dafoe, Murray, and Schwartzman). It's considered Anderson's most critically acclaimed film with four Oscar wins.
Isle of Dogs (2018)
ADVERTISEMENT - CONTINUE READING BELOW
Anderson makes a return to stop-motion animation with his 2018 film Isle of Dogs. The fictional Japanese town of Megasaki is hit with canine influenza and authoritarian mayor Kenji Kobayashi (Kunichi Nomura) orders the banishment of all dogs to Trash Island in order to prevent the spread of the disease to humans. Atari Kobayashi (Koyu Rankin), the mayor's nephew and ward, is the first dog owner to say goodbye to his dog and bodyguard Spots. Months later, Atari hijacks a plane and heads to the island (now called Isle of Dogs) in search of his pet. There, he meets stray dog Chief (Bryan Cranston), indoor dog Rex (Norton), dog-food endorser King (Bob Balaban), the chatty Duke (Goldblum), and the city's baseball team mascot Boss (Murray yet again), who help him find Spots.
Yoko Ono, Ken Watanabe, and Scarlett Johansson play characters in the film as well, with previous collaborators Coppola, Huston, Hayward, F. Murray Abraham, and Swinton lending their voices.
Share this story with your friends!
---
Help us make Spot.ph better!
Take the short survey
Load More Stories