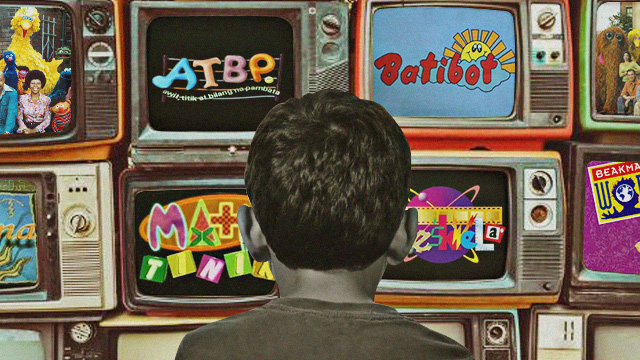 (SPOT.ph) The year 2020 is a very weird time to be a student. Classes in Metro Manila and nearby provinces were suspended for a while back in January during the eruption of Taal Volcano. (It feels like a lifetime ago, we know.) Two months later, everyone was advised to stay home as quarantine measures were enforced amid the COVID-19 pandemic. There's still no clear sign if this is ending anytime soon, but the government is set on starting the school year in August—whether through the Internet, television, or radio. The Department of Education calls this "blended learning;" but for some of us, the concept isn't really that new. Picking up life lessons from the small screen in the living room was part of everyday life for '90s kids, and these shows are some of the reasons we didn't mind.
ADVERTISEMENT - CONTINUE READING BELOW
Also read:
10 Pinoy Shows We All Watched in the '90s
10 Tagalized Cartoons That Will Make You Miss Your Childhood
10 '90s Cartoons That Were Naughtier Than You Thought
10 '90s Sitcoms You Can Stream for a Fun Flashback
These are some of the shows that taught kids their ABCs in the 1990s: 
Batibot (1985 - 1999)
Aired on: RPN-9, PTV, ABS-CBN, and GMA 
If American kids had Sesame Street, local students tuned in to Batibot on weekdays at 10:30 a.m. This long-running show was produced by Philippine Children's Television Foundation and co-created by Filipino playwright and children's literature author Rene O. Villanueva. It featured Pong Pagong and Kiko Matsing, who were based on Jose Rizal's The Monkey and the Turtle. And who can forget Kuya Bodjie and Ate Sienna? The show tackled a wide range of subjects, from the alphabet to moral values. Batibot was revived with a different set of characters from 2010 to 2013 by TV5; reruns are still being aired as of writing. 
ADVERTISEMENT - CONTINUE READING BELOW
Recommended Videos
5 and Up (1992 - 2002)
Aired on: ABC 5, GMA 
Pre-teens in the '90s were already #woke even before the hashtag became popular. This is thanks to The Probe Team's 5 and Up, which explained current events and world issues through fun segments, musical numbers, and skits. Some of its young hosts who grew up to become celebrities are Rayver Cruz, Chynna Ortaleza, and Maxene Magalona. Atom Araullo and Zak Yuson went on to become journalists, owing their passion to tell the news from their 5 and Up days. 
ATBP (1994 - 1998)
Aired on: ABS-CBN 
After Batibot came another show for basic education: ATBP: Awit, Titik at Bilang na Pambata. You may remember it for the lyrics "Ang alpabetong Pilipino, madaling bigkasin; sabayan niyo ako," the song "Awit ng Bilang," and the fictional puppet music group "Smokey and the Boondocks." 
Beakman's World (1992 - 1998)
Aired on: RPN-9
Stream it on: Daily Motion
ADVERTISEMENT - CONTINUE READING BELOW
Beakman's World may be an American show, but it entertained local students when it aired every Sunday afternoon on RPN-9. It was hosted by Beakman, an eccentric scientist who did cool experiments to explain a range of science concepts. 
Math-Tinik (1997 - 2004)
Aired on: ABS-CBN 
A brainchild of the late Gina Lopez, Math-Tinik was an educational show focusing on mathematics. It taught the young ones how to multiply and divide through role-playing and skits, fractions and geometry through fun experiments, and other hard-to-understand math concepts through songs and animation. 
Bayani (1995 - 2002)
Aired on: ABS-CBN
Stream it on: iWant 
Philippine history took centerstage in the show Bayani, which followed two fourth graders as they traveled back in time after they met an old man in a cave. Through this, they got to meet the likes of Jose Rizal, Andres Bonifacio, Marcelo H. Del Pilar and know more about Filipino heroes. 
ADVERTISEMENT - CONTINUE READING BELOW
Sine'skwela (1994 - 2004)
Aired on: ABS-CBN
Stream it on: iWant 
Sine'skwela was part of ABS-CBN's long list of educational programs made in partnership with what was then known as the Department of Education, Culture, and Sports. It followed a curriculum-based format, which meant that every episode was in line with the science classes taught to public school students from Grade 2 to 6. Sine'skwela was aired on television every weekday morning back in the day, but it was also used by teachers for film screening during class hours. 
Hiraya Manawari (1995 - 2003)
Aired on: ABS-CBN
Stream it on: iWant 
Educational shows in the '90s didn't just deal with math, science, and history. Values education was also tackled, and Hiraya Manawari tried to impart these intangible lessons through Filipino legends and all-original stories. 
Superbook (1981 - 1982)
Aired on: GMA 
Anime television series Superbook first aired in Japan and the U.S. in 1981, but it wasn't until the '90s that it reached our shores through GMA—dubbed in Tagalog, of course. It narrated stories from the Bible, starting from Adam and Eve all the way to the stories of the Israelites, through Christopher—a little boy who discovered the magical "Superbook" and time traveled to the days of the Old and New Testaments with his friend Joy and the red-colored robot named Gizmo. 
ADVERTISEMENT - CONTINUE READING BELOW
Sesame Street (1969 - present)
Aired on: GMA 
Legendary American show Sesame Street was one of the OG educational children's television series, but it remains so relevant that the show still runs in the U.S. through HBO. Here in the Philippines, it ran from 1992 to 2002 on GMA; and kids of the '90s were treated to fun life lessons taught by Bert, Ernie, Big Bird, and more.
Your guide to thriving in
this
strange new world.
Share this story with your friends!
---
Help us make Spot.ph better!
Take the short survey
Load More Stories