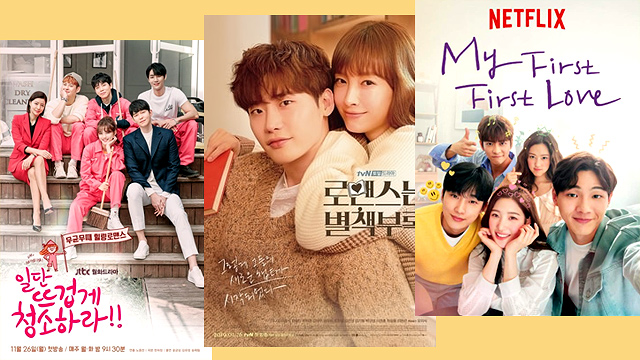 (SPOT.ph) If you need to take a breather from the daily grind, one great way to "escape" reality is by watching feel-good shows and movies. K-Dramas, for one, offer a wide selection of inspiring  coming-of-age tales, stories that revolve on second chances, and comic relief from unconventional plots and characters. Step back and take a break with this selection of Korean Dramas. 
ADVERTISEMENT - CONTINUE READING BELOW
Also Read:
10 Old-School K-Dramas That We Used to Love 
10 Classic K-Dramas That Deserve a Rewatch
Have a good laugh or get your dose of romance from these light and easy-to-watch K-Dramas:
Romance is a Bonus Book (2019) 
Where to stream: Netflix 
While the initial episode is a little heavy, it's a delight to follow the story of a mother who goes after second chances in her career and in love. Former successful advertising copywriter Kang Dan Yi (played by Lee Na Young) gets into a publishing house by lying about her credentials. She later finds out that the company is headed by Cha Eun Ho (Lee Jong Suk), her childhood best friend. 
Clean With Passion for Now (2018) 
Where to stream: Netflix, Viu 
Clean With Passion for Now is centered on two extremely different people, Jang Sun Gyeol (Yoon Gyun Sang) and Gil Oh Sol (Kim Yoo Jung). Sun Gyeol has a severe case of mysophobia or fear of germs, so it comes as no surprise that he owns and manages a cleaning company called Cleaning Fairies. He meets the charming Oh Sol who doesn't really care about her personal hygiene. Their opposing traits create an interesting dynamic for the story and makes for a fun watch! 
What's Wrong with Secretary Kim (2018) 
Where to stream: Netflix, Viu 
If you're looking for something that's extra fluffy with an easy-to-follow plot, then What's Wrong with Secretary Kim is right up your alley. Park Seo Joon plays Lee Young Joon, a pompous vice president of a company alongside Park Min Young, who plays secretary Kim Mi So. While Young Joon's arrogance makes Mi So want to quit, their interactions together will make your heart flutter.
Welcome to Waikiki (2018) 
Where to stream: Netflix
Unlike most K-Dramas, Welcome to Waikiki centers more on comic relief rather than romantic encounters. The TV series focuses on Kang Dong Goo (Kim Jung Hyun), Cheon Joon Ki (Lee Yi Kyung), and Bong-Doo-Sik (Son Seung Won), frustrated artists who run a hostel in Itaewon, Seoul in the hopes to finance their dreams of producing a film. It's packed with comical moments and crazy antics—all in the name of making their dreams come true.
ADVERTISEMENT - CONTINUE READING BELOW
Touch Your Heart (2019) 
Where to stream: Netflix, Viu 
If you haven't had enough of the Grim Reaper-and-Sunny love team in Goblin, this K-Drama is for you. In Touch Your Heart, Yoo In Na takes on the role of Oh Yoon Seo, a once-successful Korean actress who got involved in a drug scandal. After two years of inactivity, she is given another chance for a role as a lawyer but only if she learns the ropes in a law firm and where she meets Kwon Jung Rok (Lee Dong Wook). They get off on a rocky start but things take a turn for romance as the couple develop feelings for each other. 
My First First Love (2019) 
Where to stream: Netflix 
This heartwarming coming-of-age drama stars Ji Soo, Jin Young, Jung Chae Yeon, Kang Tae Oh, and Choi Ri, a group of friends who somehow ends up living under one roof. The series does not only focus on the idea of "first love," as the title implies, as it centers on youth, friendship, and the concept of figuring out what you truly feel and want.
ADVERTISEMENT - CONTINUE READING BELOW
Live Up To Your Name (2017) 
Where to stream: Netflix, Viu 
There's nothing like a good ol' time-traveling K-Drama for a good laugh. Heo Im (Kim Nam Gil) comes from the Joseon era and is recognized as one of the best acupuncturists and healers of his time. He is transported to present-day Seoul and crosses paths with Choi Yeon Kyung (Kim Ah Joong), a cardiac surgeon who believes only in modern methods. Despite their initial differences, Heo Im becomes Yeon Kyung's apprentice and slowly adapts to contemporary medicine. Along the way, they eventually discover that their destinies are intertwined.
Shopping King Louis (2016) 
Where to stream: Netflix 
Unlike most rich, male leads in K-Dramas, Kang Ji Sung or Louis (Seo In Guk) from Shopping King Louis isn't actually arrogant. It's just that he spends...a lot. He would buy anything that catches his eye no matter what the price tag is. The shopping habit ends when he loses his memory. Louis then meets Bok Shil (Nam Ji Hyun), a simple woman who teaches him to be content with having only what he needs. 
ADVERTISEMENT - CONTINUE READING BELOW
Extraordinary You (2019) 
Where to stream: Netflix, Viu 
If you enjoy a character breaking the fourth wall, then give Extraordinary You a try. Eun Da Oh (Kim Hye Yoon) isn't exactly thrilled when she finds out that she's just a support character in a comic book titled Secret and that her life was being written out for her. She decides to go after her own fate, and of course, her true love, who happens to be a nameless character in the comic. 
I'm Not a Robot (2017) 
Where to stream: Netflix, Viu 
While the premise of I'm Not a Robot is quite heavy, the little plot twists make it especially fun to watch. Min Kyu (Yoo Seung Ho) lives with anthropophobia or the fear of people. He lives in isolation, thinking he's actually allergic to human contact. He comes across Aji-3, a robot assistant who will act as a personal maid and happily purchases one. Unbeknownst to him, the "robot" sent to him is actually the human being who Aji-3 was based off of (Jo Ji A, played by Chae Soo Bin). 
ADVERTISEMENT - CONTINUE READING BELOW
Share this story with your friends!
---
Help us make Spot.ph better!
Take the short survey
More Videos You Can Watch
Load More Stories