10 Old-School K-Dramas That We Used to Love
Though we're pretty sure you still love some of these "Koreanovelas."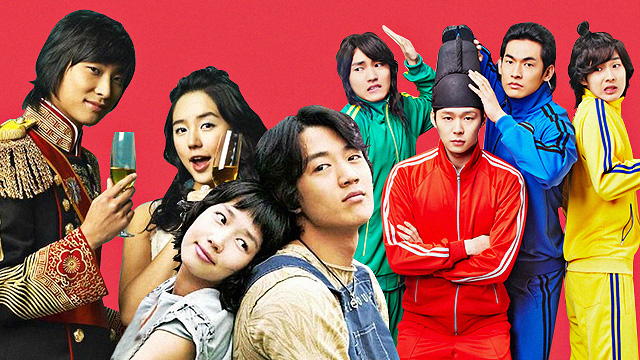 (SPOT.ph) It might be difficult to imagine, but there was a time when online streaming wasn't even a thing. Many of us who were not basically born with touchscreen devices at our fingertips can remember that binge-watching not yet really a thing during our childhood and teenage years—a generation that had to memorize the different time slots of our favorite TV shows. Staying up late past the normal bedtime was the norm for those who got hooked on K-Dramas (or Koreanovelas, which was a more popular term back then) at a young age. And like an invisible thread that binds us, we share memories of rushing home from school and ditching homework just to catch the next episode.
Also read:
The Ultimate K-Drama Playlist: 10 Songs From Your Favorite Shows
10 Classic K-Dramas That Deserve a Rewatch
10 Addictive Korean Dramas for Beginners
Take a trip down memory lane with these old-school K-Dramas we watched on TV:
Green Rose (2005)
ADVERTISEMENT - CONTINUE READING BELOW
Romance meets revenge in this K-Drama that follows the lives of couple Lee Jung Hyun (Go Soo) and Oh Soo Ah (Lee Da Hae). All is well between the couple until Jung Hyun discovers that Soo Ah's father is the chairman of the company he works for. While they were able to give their relationship another try, things take a turn for the worse as he ends up being accused of killing Soo Ah's father.
Fun fact: After airing the original version in 2005, ABS-CBN produced a local version of the series in 2011, starring Jericho Rosales and Anne Curtis.
CONTINUE READING BELOW
Recommended Videos
Playful Kiss (2010)
Based on the Japanese shojo manga Itazura na Kiss, this romance-comedy series gained worldwide attention when its first YouTube special episode reached over 520,000 views within two days after its release. (Yup, it was such a big thing back then that it even got featured on CNN.) It tells the story of how a scatterbrained high-school girl named Oh Ha Ni (Jung So Min) fell for her opposite, popular genius Baek Seung Jo (Kim Hyun Joong), whom you might recognize from the K-Pop group SS501 and the hit series Boys Over Flowers.
Fun fact: OPM band Shamrock and Rachelle Ann Go's "Pagkakataon" was used as the theme song for the local dubbed version that aired on GMA.
Attic Cat (2003)
Also known as Cats on the Roof and Rooftop Room Cat, this comedy-slash-drama touches on how spoiled law student Lee Kyung Min (Kim Rae Won) goes through great lengths to win the heart of his crush, who happens to be a high-school friend of Nam Jung Eun (Jung Da Bin). Due to a series of events, they somehow end up living together under one roof.
ADVERTISEMENT - CONTINUE READING BELOW
Fun fact: Their love story was captured by the theme song "Sa Kanya" by acoustic band MYMP when it aired on GMA.
My Girlfriend Is a Gumiho (2010)
This fantasy television series revolves around the tale of Gumiho (Shin Min Ah), a mythical nine-tailed fox who saves the life of college student Chae Dae-woong (Lee Seung Gi). To return the favor, he needs to spend 100 days as her boyfriend while carrying her bead or power source to help her fully transform into a human. 
Fun fact: My Girlfriend Is a Gumiho aired on ABS-CBN in 2011. It had a second run on the network in 2014.
Secret Garden (2010)
Long before audiences swooned over Hyun Bin as Captain Ri in Crash Landing on You, he played a wealthy bachelor named Kim Joo Won in the award-winning show Secret Garden. Due to his arrogant and annoying personality, he frequently bickers with Gil Ra-im (Ha Ji Won), a feisty stuntwoman with humble beginnings. Their love-hate relationship complicates further when they find themselves tangled in a series of magical events that causes them to switch bodies.
Fun fact: For the dubbed version that aired on GMA, the characters' names were changed to Owen and Jamie.
Princess Hours (2006)
Ever wondered what a modern Cinderella story set in South Korea would look like? Princess Hours introduces an alternate history in which a royal family still rules the country. Like in Netflix's original Korean series Kingdom, Ju Ji Hoon plays as a crown prince. He is betrothed to an ordinary girl named Chae-kyung Shin (Yoon Eun Hye) against his will.
ADVERTISEMENT - CONTINUE READING BELOW
Fun fact:It proved to be a well-loved romantic series when it had a second run on ABS-CBN in 2013.
Spring Waltz (2016)
This K-Drama series illustrates how the innocent childhood friendship of Lee Soo-ho (Seo Do Young) and Seo Eun-young (Han Hyo Joo) can withstand the test of time and blossom into true love. It continued the Korean Wave or Hallyu in the Philippines by completing the season-themed Endless Love series that also brought Autumn in My Heart, Winter Sonata, and Summer Scent. 
Fun fact: Spring Waltz premiered in the Philippines on December 25 as a Christmas treat for viewers. You can relive the heart-wrenching scenes filmed in Austria and Korea by singing along with the English version of its theme song "One Love," performed by Acel Bisa. Star Home Video even released a Tagalog-dubbed DVD of the series in 2008!
Rooftop Prince (2012) 
If you're up for a fantasy series with a dash of comedy, Rooftop Prince should be on your binge-watch list (or rewatch list). Just imagine the hilarious moments that would ensue when four men from the Joseon Dynasty are suddenly and mysteriously transported 300 years into the future. Just imagine the hilarious moments that would ensue when four men from the Joseon dynasty are suddenly transported 300 years into the future. Crown Prince Lee Gak, who is played by former TVXQ and JYJ member Park Yoo Chun, lands on the rooftop of a girl named Young Park Ha (Han Ji Min) after the mysterious death of his wife.
ADVERTISEMENT - CONTINUE READING BELOW
Fun fact: It was the most-searched show by Pinoys on Google Philippines for the first half of 2013.
Reply 1997 (2012)
Many years before K-Pop fans waved lightsticks in the air to create a spectacular light ocean at concerts, teen Sung Shi Won (Jung Eun Ji) was already fangirling about the first-generation idol group H.O.T. This lighthearted story reveals the secrets of Shi-won and her high school friends, now 33-year-olds, whose paths are set to cross again at their school reunion. Its storyline is quite similar to the American sitcom How I Met Your Mother, where viewers must guess which characters end up together.
Fun fact: Hoya, who played Kang Joon Hee in the series, visited Manila in 2013 with fellow members of Infinite for a concert.
Personal Taste (2010)
After Boys Over Flowers revived the F4 fever in the Philippines, fans got to lay their eyes again on Lee Min Ho as architect Jeon Jin Ho in this series, which is also known as Personal Preference. Hoping to advance in his career, he pretends to be gay to be able to stay at and get more information about a modernized hanok, a traditional Korean house where furniture designer Park Kae-in (Son Ye Jin) lives. And in case you were wondering, yes, this was the actress' unconventional romance series pre-Crash Landing on You.
Fun fact: It aired on ABS-CBN with the title Personal Match.
Share this story with your friends!
---
Help us make Spot.ph better!
Take the short survey
Load More Stories