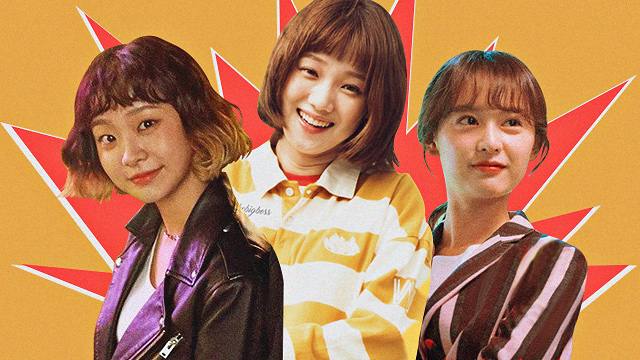 (SPOT.ph) Korean dramas are not just about the heartbreaking scenes, exciting storylines, or even their LSS-inducing soundtracks. Through these shows, we get to know characters that leave a mark in our minds, such as strong, empowering women. From the way they handle personal struggles to how they relentlessly chase after their dreams, these ladies prove that strength comes in different forms.
Also read:
Top 10 Most Badass Fight Scenes From the Movies
10 Badass Women in Filipino Movies
10 Badass Heroes in Philippine History
Get to know these empowering women in K-Dramas who are worth looking up to for their strength, skills, and more:
Fight for My Way (2017) 
Where to stream: Netflix 
Choi Ae Ra (Kim Ji Won) from Fight For My Way aspires to become the top emcee in South Korea, but the road to her dreams is not as easy as it seems. Ae Ra soldiers on in a totally unrelated job but pushes through to make her announcer dreams come to life even after facing countless rejections. We also love the fact that she doesn't try to hide her feelings, because showing your vulnerabilities is a courageous act.
ADVERTISEMENT - CONTINUE READING BELOW
Strong Woman Do Bong Soon (2017) 
Where to stream: Netflix 
It comes as no surprise that the adorable Do Bong Soon (Park Bo Young) is part of this list—after all, the title already says a lot about this character. She is dubbed as such for her superhuman strength that she inherited from her family. Bong Soon hides this power, worrying that it doesn't fit the ideal type of her crush (Ji Soo). It is only when she ends up being video-game CEO An Min Hyuk's (Park Hyung Sik) bodyguard that she starts to embrace her gift. She has dreams of creating a video game featuring herself as a main character—and we think that makes her all the more attractive. The clear takeaway from Bong Soon? Don't let anyone dull your sparkle.
Pinocchio (2014) 
Where to stream: Netflix, Viu 
Choi In Ha (Park Shin Hye) almost always speaks the truth because she lives with Pinocchio syndrome. This means that every time she tries to lie, she hiccups a lot. In Ha unsurprisingly grows up to become a very straightforward person, and her getting into a broadcast journalism career makes for an interesting watch. Ultimately, her dedication to both her work and family makes her an admirable character in this K-Drama.
Weightlifting Fairy Kim Bok Joo (2016) 
Where to stream: Netflix, Viu 
Rising weightlifter Kim Bok Joo (Lee Sung Kyung) can stand up for herself not only because of her physical strength. Having grown up with just her father and uncle by her side, she comes to terms with how to express her feminine side with a bit of experimentation (we still find that red-hair clip moment adorable) and rock it. Bok Joo also takes you back to the time when you fell hard for someone for the first time, and learned that love isn't about changing yourself to fit someone else's idea of a prospective lover—it's about being who you really are.
When The Camellia Blooms (2019) 
Where to stream: Netflix 
Oh Dong Baek's (Gong Hyo Jin) promise to care for her son stems from her own personal history—she was rejected by Kang Jang Ryeol's (Kim Ji Suk) mother (played by Chu Kwi Jung), which ultimately led her to becoming a single mom. Dong Baek shows that despite the many obstacles a single mother faces, what's important is to stay strong for the sake of her son, however difficult that may be.
Hotel del Luna (2019) 
Where to stream: Netflix, Viu 
Even before Jang Man Wol (IU) became the fierce and gorgeous owner of Hotel del Luna, she was a force to be reckoned with as the cunning thief of the Joseon dynasty who was brave and strong enough to take on any man in a duel. But somewhere along the way, she commits a grave sin which then causes her demise. She was cursed by one of the deities to simply not die. This is where she establishes the hotel as a resting place for troubled spirits before moving on. 
Itaewon Class (2020) 
Where to stream: Netflix 
Spunky Jo Yi Seo (Kim Da Mi) is not one to mess up with. A marketing whiz at a young age, her exceptional skills and guts lead her to a managerial job at a bar-restaurant owned by Park Sae Yori (Park Seo Joon). She is always up for a challenge and won't say no to taking risks. Yi Seo may also tend to be a bit harsh towards others, but being constantly sought after for her talent only shows that people value what she can bring to the table.
ADVERTISEMENT - CONTINUE READING BELOW
Doctors (2016) 
Where to stream: Netflix 
Feisty Yoo Hye Jung (Park Shin Hye) had a pretty rough childhood, and her struggles at a young age made her decide to shut herself out to the world. Everything changes when she meets a professor who helps her transform from a wayward gangster to a compassionate doctor. Hye Jung's relentless pursuit of her dreams only goes to show that the past does not define your future, and that revenge is something a person shouldn't be obsessed with.
Kingdom (2018) 
Where to stream: Netflix 
Bae Doona's Seo Bi proves that you don't always have to be a sword-wielding warrior to be seen as strong. For the past two seasons of the zombie thriller, the nurse has shown courage—and we're not just talking about her smashing zombies to death when needed. Her determination to save lives amidst a crisis is nothing short of admirable.
Crash Landing on You (2019) 
Where to stream: Netflix 
South Korean heiress Yoon Se Ri (Son Ye Jin) is the successful chairwoman of lifestyle brand Se Ri's Choice who accidentally "crash lands" in North Korea. While figuring out a way to go back to South Korea, she learns to adjust to a simpler life—ranging from the lack of lavish comforts to getting along with the North Korean villagers. Eventually, Se Ri returns to Seoul, carrying with her lessons she's learned from her unexpected stay in the North that have changed her for the better. Plus, who could forget her #girlboss outfits and that time she stood up to baddies in a rough neighborhood?
Share this story with your friends!
---
Help us make Spot.ph better!
Take the short survey
More Videos You Can Watch
Load More Stories