In This New Jason Momoa Thriller, You're in for Some Action...and Some Tears, Too
"[It's] the first 15 minutes, and you're like, 'Why am I crying?'" he says.
(SPOT.ph) In one of Sweet Girl's more dramatic moments, we see the often-physically imposing Jason Momoa break down, crying and wailing. It's a heart-breaking moment that we don't often see from the action star, who is best known for playing strong, tough, badass characters like Game of Thrones' Khal Drogo or the DCEU's Aquaman. 
Momoa's role as a grieving husband trying to keep it together for his daughter is very different from his usual work, and in a virtual press conference with the actor, Momoa revealed the difficulties of filming such a devastating moment. "That scene was without a doubt, the hardest scene [to film]," says Momoa. "To get in that headspace over and over and over. If this camera messes up or hits something, and we have to do it again. You have to go through the whole process again… I've never had to do anything like that before for a movie, or really, in life, to that level."
Jason Momoa on Sweet Girl
Dramatic thriller Sweet Girl stars Momoa as Ray Cooper, a devoted family man who goes up against the pharmaceutical company that is responsible for pulling a life-saving drug off the market at the moment that his wife (Adria Arjona) needed it most. When his search for truth leads to a violent encounter that leaves himself and his daughter Rachel (Dora and the Lost City of Gold's Isabela Merced) in grave danger, his mission becomes a dangerous quest for vengeance as he tries to protect his family from more harm.
ADVERTISEMENT - CONTINUE READING BELOW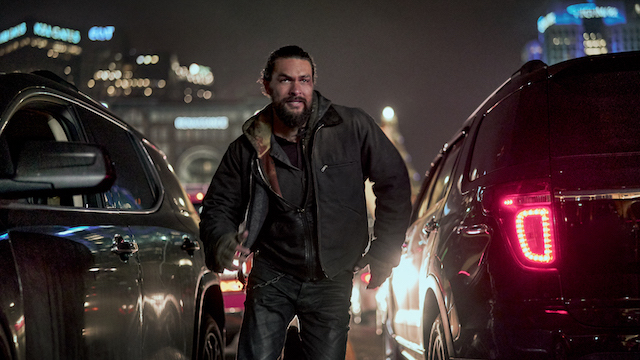 CONTINUE READING BELOW
Recommended Videos
Momoa is still sporting his signature long flowing hair, memorable beard, and his muscular build for this movie. He looks every bit the action hero we've seen before, so it's easy to think that Sweet Girl is just another one of his many films and shows out there where he plays a silent but powerful guy that beats people up for most of the runtime. While the film still has some intense action sequences and a thrilling story, Momoa believes his fans are in for a big surprise. "I think when people see the trailer, they're gonna be like, 'Alright, cool! It's Momoa, it's gonna be action, it's gonna be this,' and [then] you kick into the first 15 minutes, and you're like, 'Why am I crying?'" says the actor, laughing. "It's fun to watch. I watched it with quite a few friends, and they get pissed because they don't want to cry watching me. It's always fun to make the buddies cry."
ADVERTISEMENT - CONTINUE READING BELOW
Set roughly in the present day, the film tackles very real and contemporary issues, Big Pharma included. With no superpowers or cool gadgets to his name, the role of Ray might be the closest to reality the actor has ever played. As a husband with two young children in real life, Momoa seems to have connected with this role more than he has any of his previous roles. "I think there's a lot of things that I've just brought from my own personal life into it," the actor states. "What you see me as a father in this is not too far from what I'm probably really like in normal life. I'm more of a playful cat, but if I were in this position, this is how I'd be."
In the film, Momoa plays father to a still-learning but strong-willed daughter. The actor has said in the past that he's been wanting to play a father in a film, and he gets his wish here, happily recalling scenes where he got to act as a dad. "I really, really love scenes of us boxing, and playing, and teaching my kid how to do this, and how to teach her how to be strong, and if I'm not there, then what would it [be like]. I really like those moments. I just never had [a role like] this before."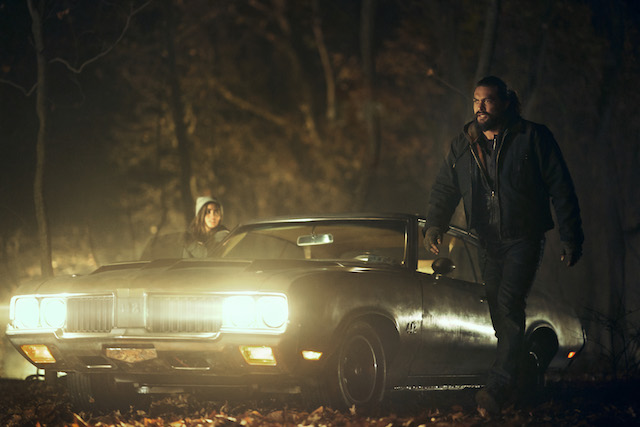 ADVERTISEMENT - CONTINUE READING BELOW
Former Nickelodeon child star Isabela Merced stars as Momoa's daughter. The actress has been starring in big blockbuster films like Transformers: The Last Knight and Sicario: Day of the Soldado over the last few years, and Momoa took notice. When it came to casting the role of his daughter, Momoa says that Merced was his only pick. "I've seen [Isabela] perform in other movies. My makeup artist was her hairdresser. I asked many questions about [her, and] found out information through mutual friends. She's just a phenomenal actress. And then when I got to meet her, it just felt like family," says Momoa. "I didn't have any other choices. I wanted her."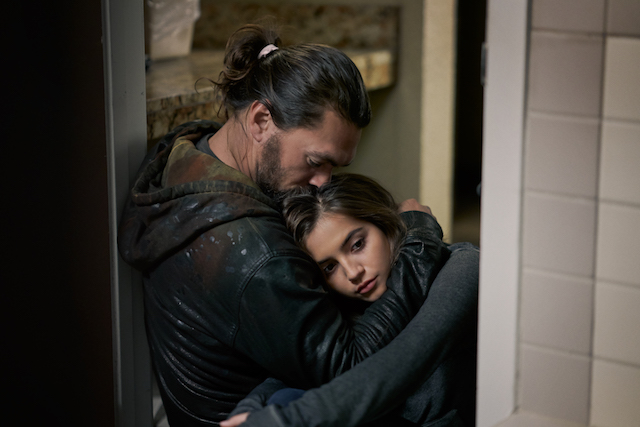 Momoa and Merced's chemistry really pops on screen, with Merced confidently taking after her on-screen dad. Despite being just over half her co-star's size, Merced keeps up with the towering star in the action scenes, and Momoa couldn't be more delighted. "I didn't know she'd be that good at fighting. That was like the "proud father" moment. [She's] really, really good." Momoa has nothing but praise for his screen daughter, citing that Merced is "one of the greats" he's ever worked with. "She's just really giving. She's been on so many sets. She's extremely comfortable. Almost too comfortable. But we're just kind of goofballs together, and I would love to continue on working with her for the rest of my life. She's only going to get better and better." Momoa also predicts that Merced will be donning similar tights to him in the near future: "She'll be a superhero someday, I can bet on it. She's got those skills."
ADVERTISEMENT - CONTINUE READING BELOW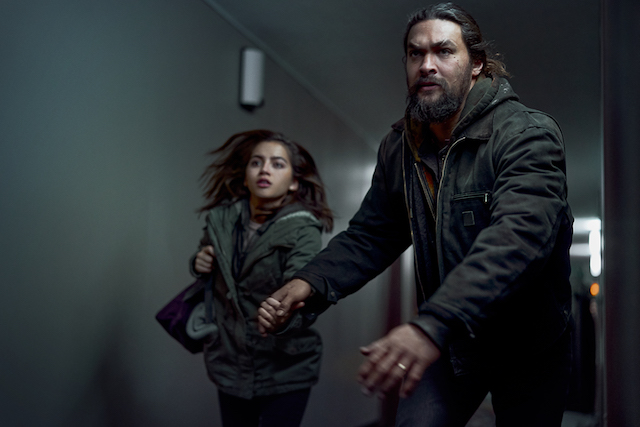 When asked if he's learned anything by playing a father on-screen, and if he's brought that to raising his own daughter in real life, Momoa takes a breath before answering. "You want to be the person who, you know, obviously gets her through all those tough times, [and] gets her through as a voice of reason," says Momoa. "As far as teaching my daughter how to protect herself, she's getting really, really good at it. She's actually beating up on me." But the actor also jokes that he hopes "we're never on the run and have to kill anyone."
As for portraying a close-knit family on screen, Momoa felt that it was crucial to get the dynamic right from the very beginning. "It's a very short time that we have Adria," the actor states, talking about Arjona who plays Ray's sick wife in the film. "[She] lives in montages, but we shot a lot of moments, and worked on a lot of different moments that you can feel it very much, and very quickly. That was really important for me in the script, too. It's like I wanted to have that little bit of a slow opening, which most people don't like. I really like [that it] lets you sit with the family. I feel like in this small amount of time that she was in, you really felt him be the husband he needed to be."
ADVERTISEMENT - CONTINUE READING BELOW
The role of Ray most definitely opened up the chance for Momoa to tap into a more vulnerable and sensitive side, yet still maintain that edge that makes him so popular among film fans. As a producer on the film as well, Momoa was able to shape the film from the very beginning. "When we originally had the script, it felt like I could identify what was going on in Ray's life. I felt that [Pittsburgh, Pennsylvania] was very much a character in the movie. Obviously, dealing with the pharmaceutical companies and the politics, our location was everything. The cast, we wanted from the very beginning. I don't think there was too much of a casting process, we knew who we wanted." This cast that Momoa speaks of also includes Justin Bartha, Amy Brenneman, Manuel Garcia-Rulfo, Raza Jaffrey, Lex Scott Davis, and Michael Raymond-James.
The film is directed by Momoa's producing partner Brian Andrew Mendoza, with whom Momoa shares the production company Pride of Gypsies. The two have worked together for over 10 years in projects like Road to Paloma, Frontier, and Braven, but this was Mendoza's first time directing a feature film. Even so, Momoa had full trust in his producing partners. "In the things that I produce, I write from a place of like, 'I'm writing for someone'. Or I'm writing for a certain place, and then you try to go out and get that. I didn't write this, but I think from my producing partners' point of view, too, when they went out to go do this, they felt the same way."
ADVERTISEMENT - CONTINUE READING BELOW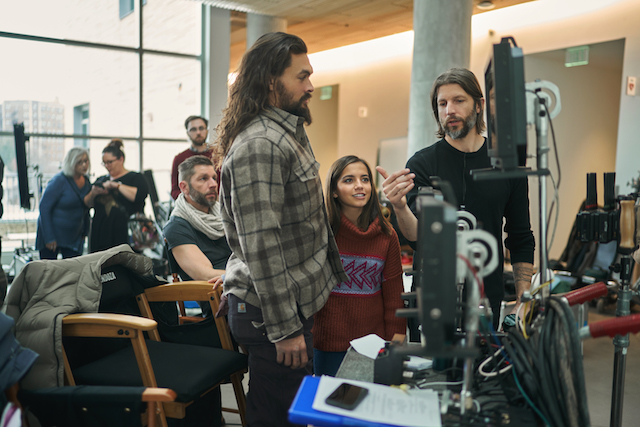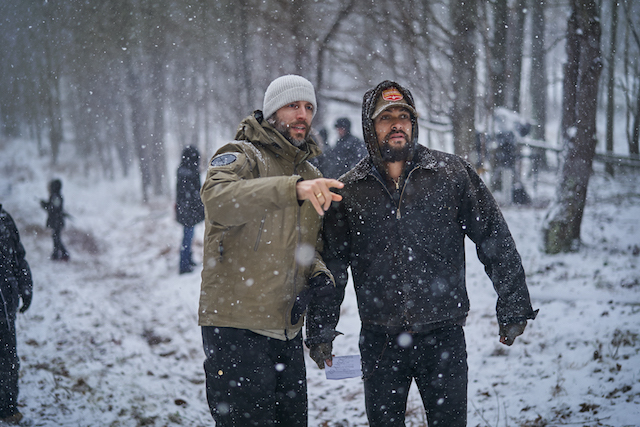 Sweet Girl has all the action and thrill we've come to expect from the Aquaman star, mixed with an affecting family drama that gives viewers a different kind of Jason Momoa we rarely get to see. The actor asks audiences to "buckle up," and promises a great movie with thrills, twists, and touching moments, but if that's not enough for you to boot up Netflix and play this film, Momoa has one more pitch to get people watching: "Guns N' f*cking Roses! How rad was that?"
ADVERTISEMENT - CONTINUE READING BELOW
Sweet Girl is now streaming on Netflix. Photos courtesy of Netflix.
Hey, Spotters! Check us out on Viber to join our Community and subscribe to our Chatbot.
We are now on Quento! Download the app and enjoy more articles and videos from SPOT.ph and other Summit Media websites.
Your guide to thriving in
this
strange new world.
Share this story with your friends!
---
Help us make Spot.ph better!
Take the short survey
Load More Stories