10 Horror Movies With Real-Life Elements For Extra Creepy Vibes
These are not for the faint of heart.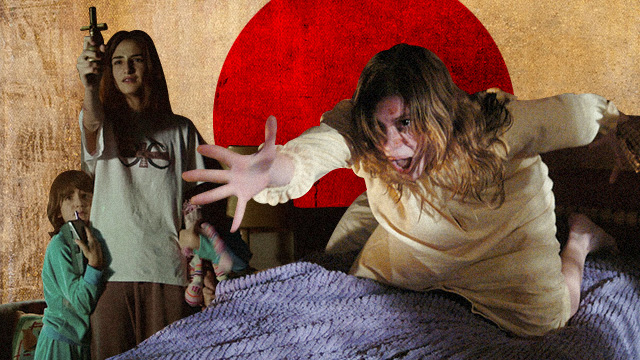 (SPOT.ph) Some of the best horror films are incredibly imaginative in how they want to scare their viewers. From monsters and ghouls to sea creatures and serial killers, terrifying movies turn what we can only imagine into something visual and often scarring. Sure, horror films often will have us covering our eyes or keeping the lights on, trying our best to remove those scary images in our heads. The good thing is, once you get out of the theater or the movie, you can just go back to your normal life.
But there are some horror films that are not just created out of thin air. Some tales are taken from real-life accounts and experiences by people that are far from cinematic. Whether you believe in these things or not, it's still uneasy knowing these horror films are based on "true" stories—at least in the sense that people claim it happened to them.
ADVERTISEMENT - CONTINUE READING BELOW
Also read:
10 Horror-Comedy Movies That Will Have You Screaming Between LOLs
Get Ready to Scream: 10 New Horror Movies You Can Stream on Netflix
As if real-life isn't horrifying enough, here are ten terrifying films based on true stories that you can stream right now:
The Conjuring (2013)
Streaming on: HBO Go; iflix
The Conjuring series, now on its third film, are films based on the cases of famous paranormal investigators Ed and Lorraine Warren. The first (and best) of the series, directed by James Wan, is based on the hauntings that befell the Perron family in 1971. The family claimed to experience frightening unexplainable events and hauntings that the Warrens investigated. The film amps up the scares and delivers an entertaining but terrifying thrill ride, with excellent performances from Vera Farmiga and Patrick Wilson playing the Warrens. The Conjuring 2, which based its story on the Enfield haunting case, and The Conjuring: The Devil Made Me Do It, which is based on the first ever murder trial that used demonic possession as a defense, are also streamable on HBO Go.  
Annabelle (2014)
Streaming on: Netflix
The Conjuring films are based on the cases of paranormal investigators Ed and Lorraine Warren. In one part of The Conjuring, we're introduced to Annabelle, a possessed porcelain doll that wreaks havoc among its owners. The demonic doll was so popular with fans, it spawned its own popular film series that adds more backstory to the terrifying toy. In real life, Annabelle is based on a supposedly haunted and possessed Raggedy Ann doll—a doll that the Warrens themselves kept locked in their occult museum.
CONTINUE READING BELOW
Recommended Videos
Veronica (2017)
Streaming on: Netflix
This Spanish horror film directed by Paco Plaza is often said to be one of the scariest films on Netflix—just straight up terrifying its viewers with effective horror scares and a disturbing story. Veronica is about a teenager who is haunted and possessed by a demon after she uses a Ouija board to contact the dead. It is loosely based on true events about a girl named Estefanía Gutiérrez Làzaro who died after performing a séance at a Madrid school in 1991, suffering from hallucinations and seizures before passing away mysteriously. It is also said that the film is based on the first police report in Spain where a police officer certifies having witnessed paranormal activity.
Child's Play (2019)
Streaming on: HBO Go
The popular Chucky doll has been the star villain of its horror series since 1988. In that original film, a serial killer uses a voodoo ritual to transfer his soul into a toy doll. Chucky the doll is said to be inspired by a haunted doll named Robert. While Robert may not have turned into an anthropomorphic murderer, the story goes that Robert was a voodoo doll that was gifted to a child by a woman who wanted to get back at the family that abused her, causing unexplainable events. While the original films are classics (and the sequels are found across Netflix and HBO Go), this 2019 remake has Luke Skywalker himself Mark Hamill voicing a modern version of Chucky.
ADVERTISEMENT - CONTINUE READING BELOW
A Nightmare on Elm Street (2010)
Streaming on: HBO Go
One of the most famous characters in horror-slasher films, Freddy Krueger, may not exactly be based on anything in the real world, but the whole idea of people being killed in their sleep because of nightmares inspired the classic 1984 A Nightmare on Elm Street. Director Wes Craven based the story on articles he read about Hmong refugees who, after fleeing to the United States because of war and genocide in their countries, suffered through awful and disturbing nightmares that they refused to ever sleep, and some died when they eventually did sleep – called Sudden Unexpected Death Syndrome more commonly known to us Filipinos as bangungot. This 2010 remake stars Jackie Earle Haley as Freddy, with Rooney Mara as 'Final Girl' Nancy.
Deliver Us From Evil (2014)
Streaming on: Netflix
While the plot of Deliver Us From Evil is an original idea written by director Scott Derrickson (Doctor Strange), the film is based on the non-fiction book Beware the Night. This book details the paranormal investigations of retired NYPD sergeant and Catholic demonologist Ralph Sarchie (played by Eric Bana in the film). Ralph and his former partner would carry around crosses and holy water, and assisted in exorcisms and demonic investigations—some of which had him cross paths with famous demonologists Ed and Lorraine Warren. The film depicts Sarchie investigating a terrifying tale of possession in New York City.
The Exorcism of Emily Rose (2005)
Streaming on: Netflix
Blending horror and legal drama before The Conjuring: The Devil Made Me Do It, Scott Derrickson's The Exorcism of Emily Rose, starring Laura Linney and Tom Wilkinson, is a film about a Catholic priest who is taken to court for negligent homicide after an attempted exorcism of a girl named Emily Rose. We see some of these terrifying and disturbing exorcism sequences during the trial, with enough images to keep you up at night. This film is loosely based on the story of Anneliese Michel, a German woman whose parents believed she was possessed. She then underwent dozens of exorcisms, and then died of malnutrition. Her parents and the priest were convicted of negligent homicide.
ADVERTISEMENT - CONTINUE READING BELOW
The Rite (2011)
Streaming on: HBO Go
Starring Anthony Hopkins and Colin O'Donoghue, this 2011 film from director Mikael Håfström is about a seminary student who travels to Rome to take courses in exorcism. While the film sometimes skews more spiritual than downright scary, it still dabbles with some disturbing tales of possessions and exorcisms. The film is loosely based on a book called The Rite: The Making of a Modern Exorcist, which is based on the actual events as told by a priest recounting his days as an exorcist-in-training.
The Exorcist (1973)
Streaming on: Netflix
No list about horror films based on true events would be complete without the definitive and masterful 1973 film The Exorcist. A movie that continues to terrify viewers until today, the Linda Blair-starring horror film is about the demonic possession of a 12-year old girl, and the attempts by priests and the girl's mother to save her. The film is based on a fiction novel by William Peter Blatty, but Blatty's book was inspired by an exorcism performed on an anonymous boy nicknamed Roland Doe in 1949. The boy's family were convinced that he was possessed, and the Catholic Church got involved.
Scream (1996)
Streaming on: HBO Go
A classic slasher film directed by Wes Craven, Scream changed the game for horror films in the 1990s, taking a meta approach to the horror movie, while at the same time giving birth to Ghostface, now one of the most recognizable horror villains in history. The masked killer character is loosely based on Daniel Harold Rolling, a serial killer known as The Gainesville Ripper. Rolling murdered five students in Gainesville, Florida, among many other awful crimes, often using a knife. The news report freaked out writer Kevin Williamson so much, he was inspired to write Scream.
ADVERTISEMENT - CONTINUE READING BELOW
Hey, Spotters! Check us out on Viber to join our Community and subscribe to our Chatbot.
We are now on Quento! Download the app and enjoy more articles and videos from SPOT.ph and other Summit Media websites.
Your guide to thriving in
this
strange new world.
Share this story with your friends!
---
Help us make Spot.ph better!
Take the short survey
Load More Stories