(SPOT.ph) "I'd love to be 13 again," said absolutely no one who had a normal childhood. 13 is when you had crushes you couldn't possibly justify today, thought a dress over jeans was an acceptable red-carpet look, and probably said some hurtful words you didn't mean to people you care deeply about. You wouldn't be the first.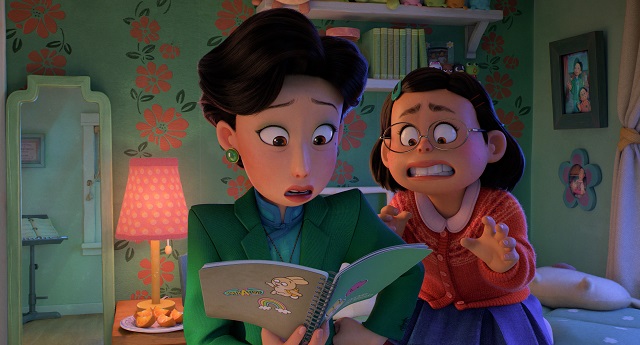 That's just one of the things Disney's latest animated release Turning Red wants you to know, regardless of age. Written and directed by Pixar veteran Domee Shi (Inside Out, Toy Story 4, Bao), this semi-autobiographical movie is set in Toronto, in the year 2002—a.k.a. the millennial wonder years—and embraces nostalgia, cringe, and familial love and loyalty with a tender, if mortifying, expert hand. Growing pains aren't called that for nothing, and those awkward teen years are an agonizing mixture of yearning to be understood but never wanting to be seen—the first baby steps of anxiety. Starring actual queen Sandra Oh (Grey's Anatomy, Killing Eve, The Princess Diaries) and up-and-coming star Rosalie Chiang as mother-daughter duo Ming and Meiling, this coming-of-age fantasy explores all the hurdles of adolescence, as well as its joys, through the lens of an unusual family secret. 
ADVERTISEMENT - CONTINUE READING BELOW
Also read: All the Ways Encanto's Madrigal Family Hits Too Damn Hard
Watch the trailer here: 
Pixar's Turning Red Is All About Accepting the Cringe 
We got to sit down with the actors to talk about growing up, getting wiser, and the power in learning to be true to oneself.
"I definitely draw from the other women in my life," says Oh on her impressive list of roles, "and I almost always end up playing my sister, who herself is a strong, loving Korean-Canadian mother."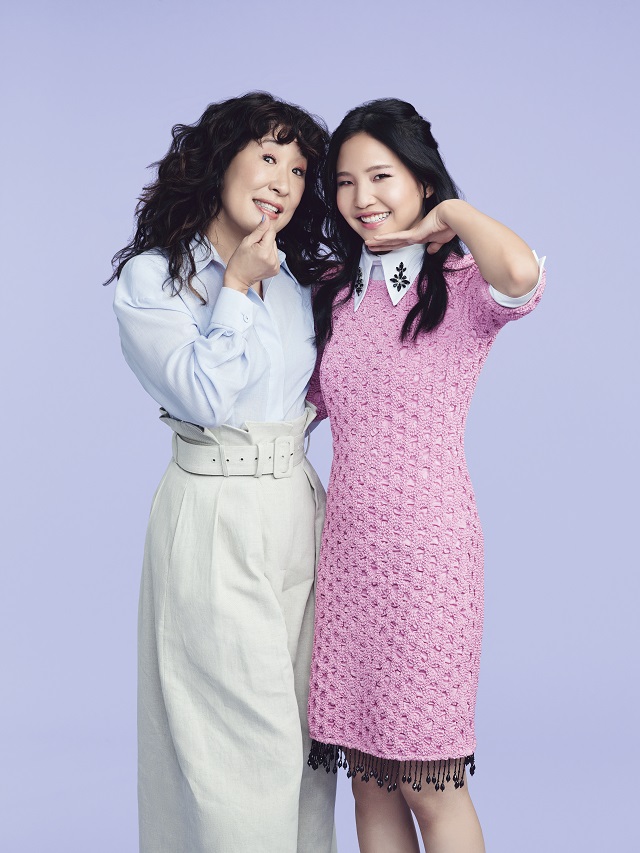 Chiang, for whom this feature was a long first dive into voice acting, first stepped into the recording booth at 12 years old—around her character's age at the time. At 16, when asked what she carries now from voicing Mei, she says, "I learned not to be afraid. In the studio, they have you do some pretty embarrassing stuff [to get the right sound], and at first I wasn't sure. But I literally 'panda-ed out' in the recording booth! And that was just so freeing! I was like, 'Oh! This is great, actually!' And that would be my advice to other kids, too: don't be afraid."
ADVERTISEMENT - CONTINUE READING BELOW
Recommended Videos
"It is freeing," adds Oh. "[Voice acting] is exactly as much fun as you think; plus you get to do it in your pajamas."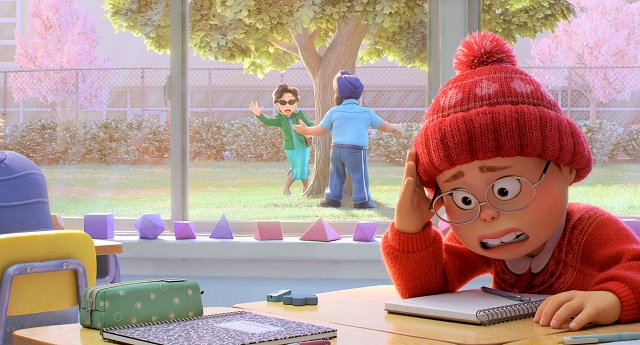 Turning Red will feel very familiar, especially to mothers and daughters, and already inspires memories of little family feuds in its stars. "My mother used to scold me for using the dryer—like, the washer-dryer—to dry my clothes. She'd be upset that I was wasting that energy," recalls Oh. "We'd put our laundry out in an attempt to dry in Canadian weather. If I used the dryer, she'd say to me, 'Who do you think you are? The Queen of Sheba?'" Chiang's eyes light up with recollection and laughter: "Mine too! We literally dry our clothes by hanging them outside! Mom goes, 'Ah, the electricity bill is so high, so high.'"
ADVERTISEMENT - CONTINUE READING BELOW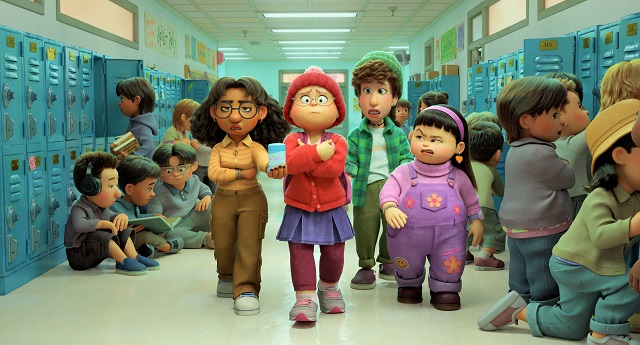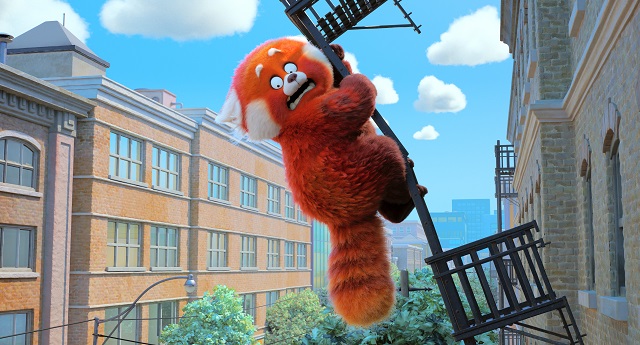 There's a flipside, too. From revered ancestors and long-standing traditions to boy bands and friends your mom doesn't exactly approve of, writer-director Shi gives us a nearly 360-degree look into a very specific experience: Asian, North America, immigrant, diverse friend group, budding sexuality, teen angst, changing family dynamic, stereotyping, spirituality, school and school bullies—all rolled up into the odd but adorable metaphor of a giant red panda. Both she and Oh will admit to relating more to Mei than to her mother, Ming. "My biggest act of rebellion was becoming an actor. Becoming an artist wasn't something my parents 'got.' Growing up in an Asian household, it's not something that's necessarily encouraged," says Oh, with a huffed laugh that tells us everything we need to know. "I will say, in the new generation, like with Rosalie," she gestures to her co-star, "she is very much encouraged. That change is so wonderful to see."
ADVERTISEMENT - CONTINUE READING BELOW
"I came of age as Mei did in the film," adds Chiang, on how the role has affected her in turn. "Now when I feel I might 'panda out' for real, I take a deep breath, clench my fists, and walk away. If a situation is that bad, I've learned it's best for me to walk away from that. And I've learned that change is something that's always going to happen, and needs to be embraced."
"This new generation," Oh continues, "they accept their inner panda. And I've worked very hard throughout my life to accept mine—it's, well, made my career."
But Turning Red is just as much about the pains of parenting as it is about the woes of youth. As millennials and zoomers know, if you think you know what your teenager is doing at all times, you don't—you've just raised a very good liar, and that's kind of on you. To give space is to build trust, but it is hard on a parent. "I think there's a particular, bittersweet feeling of seeing your child kind of move away from you, become their own person. You want them to do that, of course, but you don't want them to do that, because it hurts," Oh remarks.
"I hope that parents will see Ming, and know that pain through Ming, but also that this slight parting of the ways is okay. It is so, so painful, in a way children don't usually comprehend, but it's natural. As someone who is a parent's age, I can see my character walking that line between the parent you want to hate, want to blame—and someone who just wants to be understood."
ADVERTISEMENT - CONTINUE READING BELOW
Some may say it's a timely production, being released in the era of COVID-19 and in the wake of anti-Asian hate crimes—it is and it isn't. Despite not addressing these issues directly, the movie's existence is a message in and of itself: We are here, and will diminish ourselves for no one. Closely following Encanto, Filipino audiences may find the doses of generational trauma landing a little too close to where we live, but neither film comes up short on levity, warmth, or humor. We can already see this feature fulfilling the great Disney-Pixar two-fold tradition of being a tearjerker today, and a whole curriculum of life lessons ten years from now.
We are now on Quento! Download the app and enjoy more articles and videos from SPOT.ph and other Summit Media websites.
Share this story with your friends!
---
Help us make Spot.ph better!
Take the short survey
Load More Stories