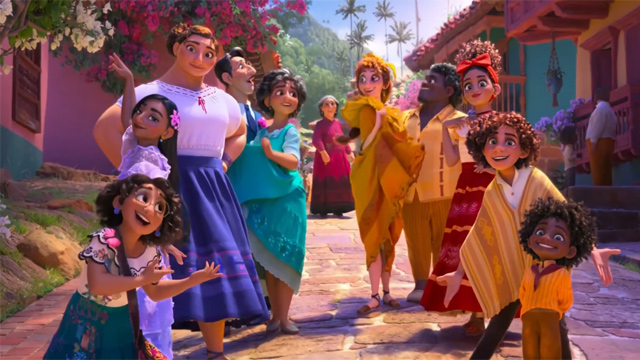 (SPOT.ph) Whoever said cartoons and animated films are only for kids probably hasn't seen the complex world of emotions in movies like Soul, Inside Out, or even the whole Toy Story franchise. Sure, the characters and stories are relatable to children, but their nuances hit too damn hard that adults can't help but shamelessly shed a tear (or more) in the most dramatic scenes.
ADVERTISEMENT - CONTINUE READING BELOW
Most recently, it's Disney's Encanto that is giving us all the feels. The movie had a 30-day theatrical run in November 2021 in the U.S. and Canada, dropped on Disney+ a month later, and went on to become one of the highest-grossing animated films of the year. The soundtrack, which has songs written by Lin-Manuel Miranda of Hamilton fame, has gone viral; and the song "We Don't Talk About Bruno" reached fourth place on the U.S. Billboard Hot 100.
Also read: 10 Lesser-Known Disney+ Series That Are Giving Us Major FOMO 
In case you haven't gotten around to erm...finding a way to watch Encanto, here's a quick rundown: The film follows the Madrigal family, where most of the members have what they call the "Gift" (a.k.a. a magical power). They also live in a magical house they call "Casita" and everything relies on keeping a candle's flame alive. While it sounds right out of a children's book, the layers of this story are so much more than that. 
Here are all the signs the Madrigals in the Encanto movie are just like a traditional Filipino family:
Coping with intergenerational trauma
The APA Dictionary of Psychology defines intergenerational trauma as "a phenomenon in which the descendants of a person who has experienced a terrifying event show adverse emotional and behavioral reactions to the event that are similar to those of the person himself or herself." In Encanto, Abuela Alma Madrigal (María Cecilia Botero) suffers a terrible loss in her past. As a young mother of three infants, she and her husband Pedro are forced to leave their home amid an armed conflict. While on the run, he sacrifices his life to save his family; and by some form of "Miracle," a candle saves Alma and the kids, blasts away the men in horses, transforms a forest into a magical town bordered by mountains, and creates the Madrigals' "Casita." 
ADVERTISEMENT - CONTINUE READING BELOW
With her descendants gifted with superhuman abilities through the candle, Abuela has put it upon herself and her family to be as perfect as possible and to serve the whole village—lest they once again lose their home, at least that's what she believes. Knowing only pain and loss, Abuela is put off by imperfection, which is why she's so mean to her granddaughter Mirabel (Stephanie Beatriz), who doesn't have the so-called "Gift." She also pushes away his son and seer Bruno (John Leguizamo), who has less than perfect visions about their future; pressures Mirabel's second eldest sister, Luisa (Jessica Darrow), to use her superhuman strength to do all the heavy-lifting in their town; and pushes Mirabel's oldest sister, Isabela (Diane Guerrero), to keep up her glitz and glamour. Abuela carries the weight of fear of losing her home and her family, as well as the guilt of being saved by her husband and a candle. 
ADVERTISEMENT - CONTINUE READING BELOW
Such trauma is common among immigrants and families in developing countries. Grandparents and parents coming from less-than-ideal situations always pressure the next generation to do better: graduate from college, win a lot of awards, become a successful doctor or lawyer, and so on. There's a reason "tiger mom" is a prevailing stereotype among Asian-heritage parents. 
Struggling to find our self-worth 
Encanto's protagonist, Mirabel, is the only one in the Madrigal family, who doesn't have the "Gift." This is revealed to viewers during a flashback, where—instead of opening a bright and shiny door to a fantastical world—little Mirabel's door disappears right in front of the whole village's eyes. Still, she grows up with a lot of optimism, helps out in any way she can, and genuinely loves her family.
But behind the smile is insecurity about her place in the family. It doesn't help that Abuela treats her as an outsider (e.g. not including her in family photos and telling her to let their gifted family members do all the work at home). "I will never be good enough for you, will I? No matter how hard I try... no matter how hard any of us try," Mirabel tells Abuela in a heartbreaking scene. Brb, getting a roll of tissue paper. 
ADVERTISEMENT - CONTINUE READING BELOW
Shunning the black sheep 
The Encanto song "We Don't Talk About Bruno" surpassed a number of Disney songs when it rose to fourth place on U.S. Billboard Hot 100. It went viral on TikTok, where the track struck a chord among our young social media users.
"We Don't Talk About Bruno" is where the whole Madrigal family, well, talks about why they don't talk about Bruno—son of Abuela; and brother of Pepa (Carolina Gaitan) and Julieta (Angie Cepeda). Aside from having an eccentric personality, he is known as the family's "black sheep" for his doomsaying visions. He also has an ambiguous vision with two possible outcomes: one is a ghost-like figure of Mirabel standing in front of the damaged "Casita," while the other has a more positive image. Bruno later goes on a self-imposed exile, hoping to protect his niece from the vision. (Spoiler Alert: Turns out, he lives on the other side of the kitchen wall, where he pretends to have dinner with his family every night.) 
ADVERTISEMENT - CONTINUE READING BELOW
The idiom "black sheep" is used to describe a member of the family who doesn't fit in. It stems from the fact that a black sheep stands out from a flock of white ones. In our parlance, the "black sheep" of the family is often that drunkard uncle, a nephew or niece who dropped out of college, a brother that has no job—you get the picture. We seldom see them in family reunions, where they are talked about in hushed voices. 
Ignoring mental health 
Another common trait among members of the Madrigal family is their tendency to repress their emotions and bottle up their feelings. In the song "Surface Pressure," Luisa tells Mirabel in confidence about her anxiety: "Under the surface, I feel berserk as a tightrope walker in a three-ring circus [...] Under the surface, I'm pretty sure I'm worthless if I can't be of service." She experiences the pressure of carrying the burden of her family and the whole town.  In "What Else Can I Do?," Isabela shares to Mirabel during a rather cathartic scene how her seemingly perfect life is actually filled with hard-to-achieve expectations. 
ADVERTISEMENT - CONTINUE READING BELOW
These things are not often discussed among family members, especially with the stigma and discrimination surrounding mental issues. We mean, just look at Bruno. And with Encanto's undeniable clever take on our range of emotions, we can hopefully change things for the better.
Share this story with your friends!
---
Help us make Spot.ph better!
Take the short survey
More Videos You Can Watch
Load More Stories