(SPOT.ph) With the arrival of Disney+ in the Philippines and the holidays just around the corner, now is the perfect time to sit back, relax, and make the most out of family-bonding time. And what better way to do so than by going all-out binge watching all the shows that made our childhood memorable? We round up just a few of the Christmas movies up on Disney+ Philippines—from animated classics to cult films to newer modern live-action— to help get you in the festive mood. Plus points if old scenes suddenly take on new meaning you'd have never understood as a kid. 
Also Read:
Disney+ Lands in the Philippines Next Month
10 Lesser-Known Disney+ Series That Are Giving Us Major FOMO
'Wag Ikuwento Si Bruno': Tagalog Versions of Encanto Songs are Here
So You Want Both Disney+ and Netflix? How to Stream What You Want Without Breaking the Bank
10 Must-Watch Titles on Disney+ to Stream ASAP
ADVERTISEMENT - CONTINUE READING BELOW
Bring out the hot cocoa and stream these Disney+ Philippines Christmas movies
High School Musical: The Musical: The Holiday Special (2020)
If there's something remarkable about a lot of Disney movies, it's the song-and-dance portions that get you groovin' to their catchy beats. And this is what HSM is so good at. Aside from the traditional Christmas songs with a twist, the movie that Tim Federie directed and wrote features those for the New Year and Hanukkah. The characters give us a trip down memory lane as they recall all the good, embarrassing, and not-so-special events that transpired that year.
Nutcracker and the Four Realms (2018)
Ashleigh Powell's movie is a must-watch if you're looking for something under the princess-y fantasy genre. It's a story of a girl named Clara who inherited an egg-shaped box from her mother. And of course because this is that type of movie, the inheritance is more than just a box but the key to worlds she has never seen before. No complaints here; all we want is a feel-good ride sometimes.
ADVERTISEMENT - CONTINUE READING BELOW
Recommended Videos
Lego Star Wars Holiday Special (2020)
Fans of the unmistakable construction toys, rejoice! You're in for a treat as Disney+ is dropping an animated Christmas special that's closely linked to another massive franchise—Star Wars, no less. The story revolves around Rey and her effort to train Finn so he can become a Jedi someday. She comes across a key that helps her travel back in time, followed by a rollercoaster of events which has her rediscovering things that she never gave much notice to before. Lego Star Wars Holiday Special is a show directed by Ken Cunningham and written by David Shayne.
Home Alone (1990)
Chris Columbus' Home Alone is your go-to movie if you're feeling nostalgic and in the mood for a marathon of comedy movies. No mistake about it—this isn't your ordinary slapstick type of film. More than the trickery and silliness this show brings is the wit and a layer of lessons both for children and parents alike; there's a reason this Macaulay Culkin classic has stood the test of time.
ADVERTISEMENT - CONTINUE READING BELOW
One Magic Christmas (1985)
This movie is for the books. One Magic Christmas is a 1985 fantasy film directed by Philip Borsos and co-written with Barry Healey and Thomas Meehan. The show is about Santa Claus giving a special assignment to one of his Christmas angels. The task is quite straightforward: get back the Christmas spirit of a mother of two. While the assignment sounds simple, the execution is another story, because the family is going through a lot of downs at the time days before Christmas eve. Will the Christmas angel accomplish his mission on time or will the family go through one heck of a challenging holiday season for the year?
Richie Rich's Christmas Wish (1998)
This John Murlowski movie is another classic Disney addition to your long list of throwback shows and rightfully so. The show's premise is simple yet profound and familiar: Be careful what you wish for; you just might get it. And get it indeed was what happened when he wished he was never born.
ADVERTISEMENT - CONTINUE READING BELOW
The Christmas Star (1986)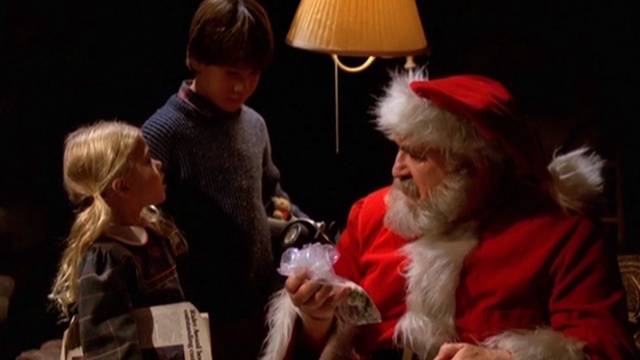 If there's one significant holiday personality that's plastered across a lot of establishments, it's got to be the red-suited chubby guy. But what if the real deal got swapped just as the moment of giving and receiving gifts rolls in? Not that we still believe in Santa Claus, so let's just treat this as a what-if situation. The Christmas Star by Alan Shapiro does a good job of reframing what we think about Santa in this movie that takes us to the story of a prison escapee who looks like Father Christmas. Will he get to successfully escape with his coveted loot while going under the radar of two unsuspecting kids?
ADVERTISEMENT - CONTINUE READING BELOW
Nightmare Before Christmas (1993)
What's this, what's this?! A Tim Burton movie directed by Henry Selick, that's what. It's the story of Jack Skellington (Chris Sarandon), the skeletal remains of what was once the Pumpkin King who governed Halloween Town, a world that's mainly dedicated to the celebration of the spooky season. What happens if the king of the frights suddenly arrives in a town that's full of merry and cheer? The Nightmare Before Christmas, that's what.
12 Dates of Christmas (2020)
At some point, you may have tried to go on a blind date—maybe out of curiosity, or maybe more than just that. If the date was not at par with your expectations, you probably wanted to change reality pronto, but what if destiny or some other unseen force has other ideas? James Hayman's 12 Dates of Christmas gives us an idea of what reliving a horrible blind date over and over again is like through a young woman named Kate. Will Kate get through the weird situation or will she eventually get used to dating the same guy all over again? Watch the show to know more about the juicy details.
ADVERTISEMENT - CONTINUE READING BELOW
Die Hard 2 (1990)
Why is this even on the list? Is it because it's just great having a rush when you're on Christmas mode, or is there actually some holiday magic to be had in this movie? Renny Harlin's Die Hard 2 proves Christmas movies can be action too as John McClane (Bruce Willis) once again go for a series of events that should have been your usual holiday routine, except it's a Die Hard movie so you can expect gun-slinging, crime busting dudes to drive and chase their way through the nooks and crannies of Washington.
Share this story with your friends!
---
Help us make Spot.ph better!
Take the short survey
Load More Stories