(SPOT.ph) More Filipino job hunters are demanding a better work-life balance and are ready to turn down job offers for it, job search site JobStreet Philippines said Wednesday, March 1, highlighting the shift in priorities after their experience during the COVID-19 pandemic.
While financial compensation remains the top consideration for employees when hunting for jobs, work-life balance is now the second major consideration for job seekers. This is according to 11,438 Filipinos surveyed for the "What Jobseekers Wish Employees Knew: Unlocking the Future of Recruitment" study by JobStreet, Boston Consulting Group, and The Network. It's surprising given it didn't even make the top three deal-breakers in the past, said Kim Viray, marketing head of JobStreet Philippines.
"After the two years of the pandemic, we experience as job seekers time for work, time for family, time for plantitos and plantitas because that itself is something we like during the pandemic. It caused a lot of gray areas in the way we work because we cannot now separate what is work and what is family or private space but we loved it," said Philip Gioca, country manager of JobStreet Philippines, during the launch of its global report tackling the future of recruitment.
ADVERTISEMENT - CONTINUE READING BELOW
Also read:
What Filipinos Look For in a Job: Security, Work-Life Balance
Bye, Great Resignation: The Great Reconfiguration Is Here Thanks to Gen Zs
Top 10 Deal-Breakers for Job Hunters in the Philippines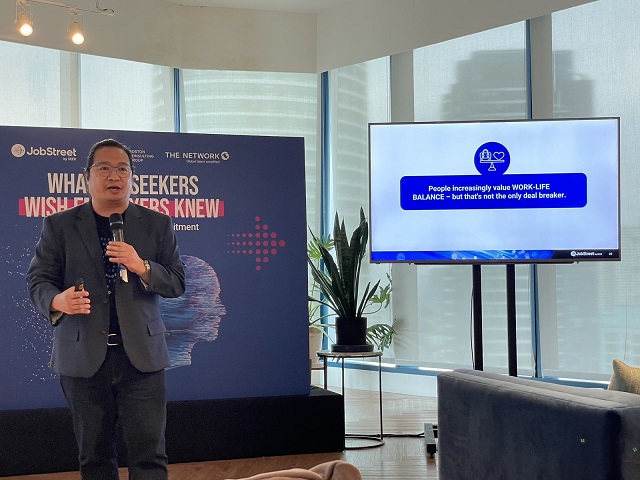 In the Philippines where inflation soared to a 14-year high of 8.7% in January 2023 (and take note, it may have accelerated again this February), it's not surprising that Filipinos' top consideration for job-hunting is compensation. It slightly deviates from deal-breakers of job seekers outside the country, where work-life balance is the major determinant.
Describing Filipinos' top priorities, Gioca said: "If the salary is not good enough, then it's a deal breaker. If there's no work-life balance, I will not take it. Finally, if there [are] no retirement benefits, I will not take it."
Also read: 10 Employee Perks You Should Really Be Taking Advantage Of
Aside from compensation and work-life balance, Filipinos also consider the following factors as potential deal breakers in their job hunt:
Financial compensation (salary, bonuses) - 35%
Work-life balance - 28%
Retirement and insurance benefits - 27%
Job security - 25%
Flexible work location and/or work schedule - 25%
Amount of paid time off / holiday - 24%
Family support solutions - 21%
Additional benefits (i.e. free meals, sports) - 21%
Appreciation for your work - 19%
Learning & career development possibilities - 17%
ADVERTISEMENT - CONTINUE READING BELOW
Also read:
How Much Should Your Salary Be? This Tool Lets You Check If It's Above or Below the Pack
This Is Your Sign to Ask for a Salary Increase and Stop Ranting
Know Your Worth: How to Negotiate a Higher Salary
The Long-Term Motivations for Filipino Workers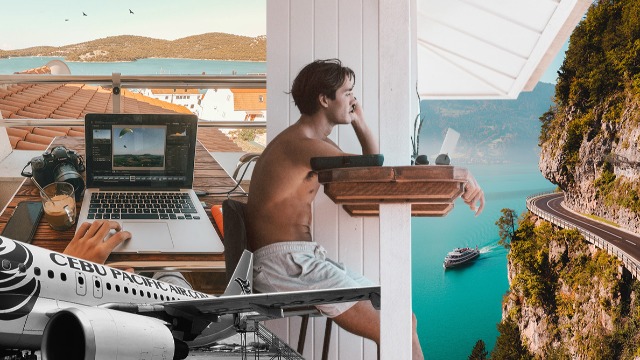 When it comes to their ideal career path, most Filipinos prefer a stable job allowing them to have a good work-life balance so they can spend more time with family and friends, and even their hobbies. The survey also shows how more Filipinos are rekindling the fire for entrepreneurship.
ADVERTISEMENT - CONTINUE READING BELOW
"We see a lot of young Filipinos trying to venture [into] new business. When I was younger, it was just graduate then get a new job. But right now, many people, because of many startups: graduate, get a job, get experience, and finally, land or probably create my own business," said Gioca.
Top nine motivations and considerations of Filipinos when it comes to jobs:
I would like a stable job with a good work-life balance, so I have time for family, friends, and hobbies - 73%
I would like to join a good company and progress to a leadership position - 50%
I would like to build my own successful business - 32%
I would like to try different careers by reskilling to new professions throughout my life - 29%
I would like to work on exciting products, topics, or technologies - 26%
I would like a stable part-time job and run my own projects on the side - 18%
I'm not thinking that far ahead about my career, will take opportunities as they occur - 11%
Work is not so important in my life; I see it as a means for financial independence/to make a living - 9%
I would like to switch jobs and companies several times, but stay within the same field - 7%
ADVERTISEMENT - CONTINUE READING BELOW
The Ideal Work Model for Filipino Employees
In line with the common Filipinos' goal to achieve that work-life balance, almost half of them (46%) want to work in hybrid mode, meaning splitting the work week between onsite and working from home. Some 28% would like to work fully remotely, while 26% prefer to work fully onsite.
In fact, if a job opening shows that an employee can work from home, it gets twice the number of applications. If it offers remote work, it gets 3.5x more applications, said Gioca.
"That's why recruiters and companies need to ensure that attraction, the process, the onboarding is really great. This is so different from what I learned 20, 15 years ago na bahala ka, take it or leave it. Now, candidates have a choice. Mas demanding, mas naiintindihan na [ang gusto]. I think it's really good for the economy because we've matured enough to say no because I have options."
ADVERTISEMENT - CONTINUE READING BELOW
Also read:
How to Say "No" When Your Boss Asks You to Return to Office
I Came Back to Metro Manila for RTO and Now I'm Questioning All My Life Choices
Share this story with your friends!
---
Help us make Spot.ph better!
Take the short survey
More Videos You Can Watch
Load More Stories