Top 10 Things 2020 Has Everyone Saying
Take a shot every time you have to say "Your mic is on mute."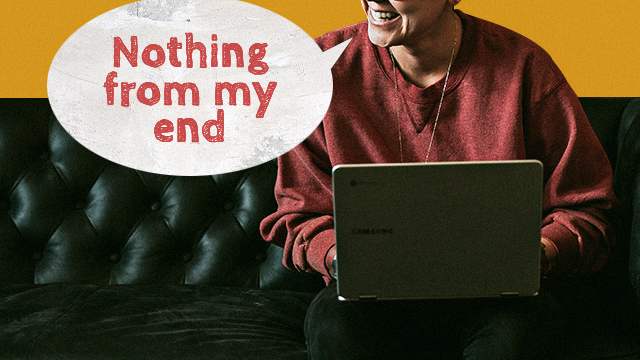 (SPOT.ph) We are now nine months deep into 2020—but it feels as if we've been waiting for it to be over for centuries now. If you can't wait to commemorate the year as if it's already over, we present 10 things pretty much everyone has been saying thanks to the strange circumstances—an understatement, we know—for you to cross off and vow to never say again. Or you know, you could take a shot each time you end up saying them for the nth time this year, just to make things more interesting. 
Also read:
Macoy Dubs' Hilarious Videos Are All of Us During Online Meetings
If Video-Chat Apps Were People, This Is What They'd Be Like
Isn't it over yet? Here are 10 things we say that only make sense because of 2020:
10. "Nothing from my end"
Imagine it: the virtual meeting is finally coming to an end after an hour or more of negotiating this new-ish digital platform. The speaker asks if there are any questions—and immediately everyone goes, "Nothing from my end." Nine times out of 10 you've got a delivery waiting for you and you just really need to dash to the door and check out your latest purchase. Very loosely translates to "Please end this so I can move on with my life."
ADVERTISEMENT - CONTINUE READING BELOW
9. "Please ignore the background noise"
A rooster crowing? Check. A too-loud electric fan? Double check. Random family members passing by? Oh, you know it. Working from home is challenging enough but add in the random household bits and well, at least it's never boring! There's just the dreaded awkwardness when you have something to say during your meeting and right then and there is when your fur baby decides it's time for a barking session.
8. "Can you see my screen?"
Not all WiFi connections are made equal. So best get used to the times you're presenting—but not entirely sure everyone in your meeting's on the same page (literally). Sucks if your connection's a little slower than everybody else's, too, cause then you get left behind during someone else's presentation. Maybe if we were Liza Soberano, this wouldn't be happening. 
CONTINUE READING BELOW
Recommended Videos
7. "You're on mute" 
No virtual meeting can go by without the pesky little mic problem. The strangely evasive mic icon seems to go under people's radars, usually resulting in you watching some poor soul continue speaking until someone has the heart to tell them they've been talking to the void. On the opposite end of the spectrum is "Does everybody hear me?"—when you've become the said poor unfortunate soul.
6. "Thank you, goodbye!"
And finally when the virtual meeting ends, you get a chorus of this. Half the time, meetings have just one person speaking—making it especially funny when an entire choir comes in at the end to say goodbye. The different pitches and versions ("Goodbye, thank you!" for one) make for a hilarious fake song.
ADVERTISEMENT - CONTINUE READING BELOW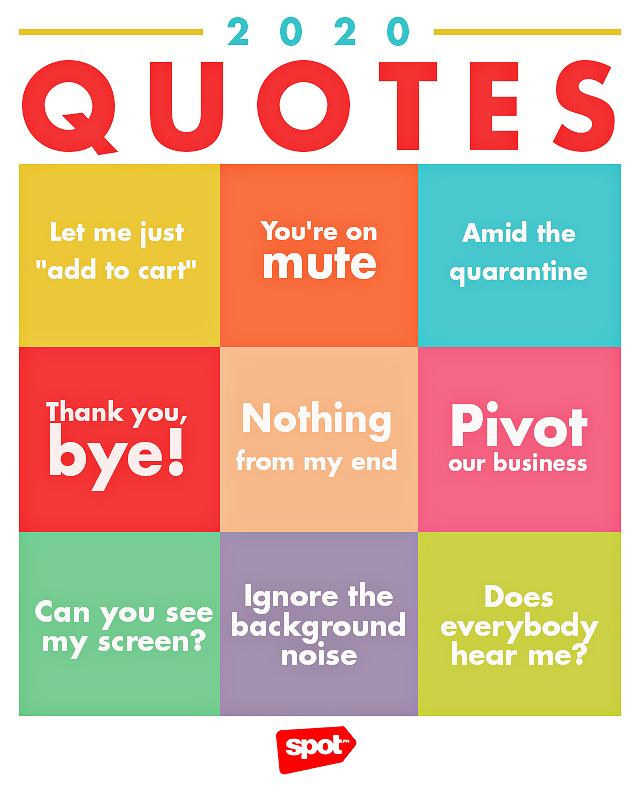 5. "Pivot our business"
As if this buzzword wasn't already used enough during the "Before Times," "Pivot" has come to a new level of usage in the past few months. So we've got a terribly generic example but we're sure you've heard it in use in that exact way at some point, along with all the other ways people can drom this word in the corporate setting. We dare you to go through one e-mail thread with your execs and take a shot at every mention. You'll be drunk enough to make a literal pivot, most likely landing on your bed, passed out. 
4. "Adapting to the 'new normal'"
Look, it's clear things will never be the way it was ever again so the craze around "new normal" is expected. But at some point "new normal" really just starts to sound like something straight from a dystopian young-adult book. So here are other terms you can use to shake things up a bit: "Post-COVID era," "Bye-bye Corona Times," or, fingers crossed, "2021." 
ADVERTISEMENT - CONTINUE READING BELOW
3. "Amid the quarantine"
Plus points when a journalist sprinkles in an "st" at the end to spice things up a bit. Basically every headline nowadays has this little tail attached to it—because yes, the quarantine is still very much in place, in case you forgot. We can't blame people for the lack of creativity when it comes to making the same point over and over again. How else can you say the pandemic is tearing this world apart but in a politically correct way?
2. "Pababa na po, kuya" or "Papunta na po, kuya"
Forget sweet little nothings from your now long-distance lover, there's nothing that gets your heart racing more than a text from a rider saying your package is finally at your doorstep. You could get a text at 5:27 p.m. and you'd reply "On my way to get it!" at 5:26 p.m. Magic! And even better if it's a food delivery; you can't possibly make the cold milk tea wait any longer. 
1. "Let me just 'add to cart'"
Retail therapy is now easier than ever. The year has everyone grasping for anything to make us feel better—and that includes the endless scroll of online shopping apps and then telling anyone willing to listen at home about your latest "add to cart" find. It doesn't matter if you're actually buying it, your shopping cart is just fun to look at every once in a while. Just say those three words, and practically anything is yours—no, not "I love you," "add to cart" is where it's at.
ADVERTISEMENT - CONTINUE READING BELOW
Hey, Spotters! Check us out on Viber to join our Community and subscribe to our Chatbot.
Share this story with your friends!
---
Help us make Spot.ph better!
Take the short survey
Load More Stories