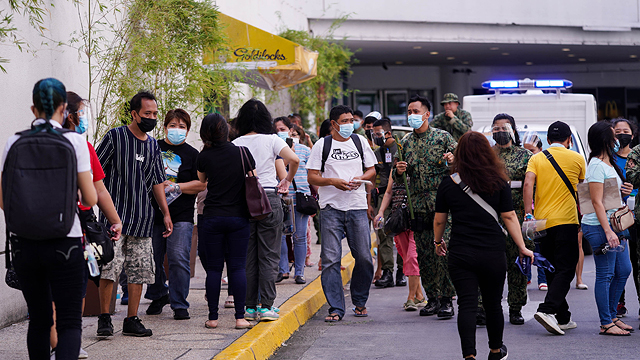 (SPOT.ph) Less than a month after the Department of Health confirmed the local transmission of the highly infectious Delta variant of SARS-CoV-2, which causes COVID-19, another variant has been detected in the country. The health agency reported on Sunday, August 15, that the Philippines' first case of the Lambda variant is a 35-year-old pregnant woman.
ADVERTISEMENT - CONTINUE READING BELOW
On Monday, the Department of Health explained that the patient tested positive on July 22, but it was only on August 15 that sequencing results came out to confirm that it was the Lambda variant. They also confirmed that this is a local case. She was asymptomatic, and has already recovered.
What is the Lambda variant and should we be worried about it?
Variant vs. Strain
We know how you feel: the past year felt like a crash course on virology. As a refresher, coronavirus is a group of related RNA viruses that cause respiratory tract infections. Coronavirus strains include SARS-CoV, which first appeared in southern China in 2002; and MERS-CoV, which emerged in Saudi Arabia in 2012.
Every time a virus is replicated, mutations occur in its genetic material. This is normal, but sometimes the changes increase their transmissibility or are resistant to treatments or vaccines. Think of it as a human being who changes and adapts to the environment to survive. When a strain like the SARS-CoV-2 changes even just minutely (ex. additional protein spikes), the resulting pathogen is a variant.
ADVERTISEMENT - CONTINUE READING BELOW
Recommended Videos
What is the Lambda variant?
Before the United Nations' advisory to call variants through Greek letters, the world named variants depending on where they were first detected. Formally named through the Pango nomenclature as C.37, the Lambda variant was first detected in Peru in December 2020 and was designated by the World Health Organization as a variant of interest on June 14, 2021.
A SARS-CoV-2 variant becomes a "variant of interest" when the genetic changes affect transmissibility, disease severity, and immune escape; and when it is identified to cause significant community transmission or multiple COVID-19 clusters in multiple countries. For comparison, there's also the World Health Organization's (WHO) designation of "variant of concern," which means that there's a detrimental change in COVID-19 epidemiology, change in clinical disease presentation, or there's a decrease in the effectiveness of public health measures. WHO has currently designated Alpha, Beta, Gamma, and Delta as variants of concern.
ADVERTISEMENT - CONTINUE READING BELOW
How is it detected?
While the reverse transcription-polymerase chain reaction tests for the presence of a specific pathogen through detection of RNA (in this case, that of the SARS-CoV-2), genomic sequencing lets experts know which variant of the SARS-CoV-2 is present in the swab sample. Here in the Philippines, the University of the Philippines' Philippine Genome Center is assigned to do the sequencing efforts in Metro Manila and other parts of the country to detect SARS-CoV-2 variants.
According to executive director Cynthia Saloma on June 28, the center has five machines for whole-genome sequencing. They've recently received a new supply of sequencing kits, which can boost their capacity to at least 40,000 sequences in one year from the previous rate of 36,000 samples per year. She also said that this can be improved if we have more facilities all over the country and an increase in manpower.
How dangerous is the Lambda variant?
When the Lambda variant was first identified in Peru in December 2020, infections caused by it were relatively rare. But the percentage increased in just four months with 100% of infections attributed to the Lambda variant by April 2021, according to a report by Forbes. It has also become the dominant variant in Argentina, Chile, and Colombia.
ADVERTISEMENT - CONTINUE READING BELOW
A paper titled "SARS-CoV-2 Lambda variant exhibits higher infectivity and immune resistance," which was published on July 28, 2021, by Izumi Kimura et al. from Japan, claimed that " the spike protein of the Lambda variant is more infectious." They've taken the variant apart and studied the mutation piece by piece. Their research showed that the T76I and L452Q mutations indicate high transmission, while the RSYLTPGD246-253N mutation signals high resistance to antiviral immunity. The Japanese scientists pointed out that one of the common features of the variants of concern (including the dangerous Delta variant) is the L452 mutation, which is also present in the Lambda variant through the L452Q mutation. In simple terms, the Lambda variant—like the Delta variant—is likely more infectious than the original strain of COVID-19. This study by Kimura et al, however, has not been peer-reviewed.
Are vaccines effective against the Lambda variant?
Another preliminary study titled "Infectivity and immune escape of the new SARS-CoV-2 variant of interest Lambda," which was published on July 1, 2021, by Mónica L. Acevedo et al. from Chile, concluded that the spike protein of the Lambda variant escaped the neutralizing antibodies of the CoronaVac (a.k.a. Sinovac). The specific vaccine was tested because Chile, where Lambda is currently the dominant variant among infected patients, predominantly used Sinovac. They have now fully vaccinated more than 60% of their population, and are already administering booster shots among their older residents who received Sinovac before March 31.
ADVERTISEMENT - CONTINUE READING BELOW
How can you protect yourself against the Lambda variant?
Vaccination is still the primary means of preventing serious symptoms of COVID-19. The risk of getting hospitalized or dying may be minimal for fully vaccinated individuals, but that doesn't mean that they can't be infected or experience mild symptoms. So stopping the spread is still key. Face masks should still be used consistently. People are also advised to avoid enclosed spaces, maintain physical distance, and avoid crowded places.
UPDATED (August 16, 3 p.m.): This article has been updated to indicate DOH's announcement that the Delta variant patient is a local case and has already recovered.
Hey, Spotters! Check us out on Viber to join our Community and subscribe to our Chatbot.
Share this story with your friends!
---
Help us make Spot.ph better!
Take the short survey
Load More Stories