From Karaoke Nights to Debates: How #BanlawSpaces Provides Sanity Amid Lockdown
#BanlawSpaces also hopes to fight misinformation through Twitter Spaces.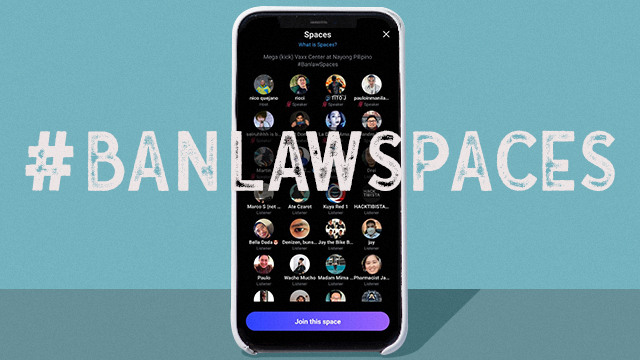 (SPOT.ph) While it may be a very distant memory now, people actually talked face-to-face in enclosed spaces, with knees and elbows almost touching, in the Before COVID times. Friends would catch a movie, then hang out in a nearby cafe to diss the bad film that they just saw—of course, between bits of gossip. Colleagues would make a beeline for drinks at the local watering hole to rant about their workload. Talking was (and still is) the best way to unload all the stress. And while the ongoing pandemic stopped us from meeting people outside our household, a small community of Filipino Twitter users found a way to reach out to both friends and strangers and make sure that everyone's sane amid the lockdown.
#BanlawSpaces was born in March 2021, following the rollout of the Twitter Spaces feature during the influx of audio-only rooms where social media users found comfort in joining random convos through messaging platforms. It was first made available only to selected Twitter accounts with more than 600 followers. Anyone who has that feature can host a live conversation on Twitter; and when someone you follow starts or joins a Space (a.k.a. a chat room), you see a purple bubble on the top part of your timeline as long as the conversation is ongoing. You can join in as a listener or as a speaker, depending on the controls given by the Space's host. There's no limit as to how many or who can participate.
ADVERTISEMENT - CONTINUE READING BELOW

CONTINUE READING BELOW
Recommended Videos
"#BanlawSpaces comes from the millennial use of the word 'banlaw,' which is Filipino for 'to rinse.' Before the pandemic, many of us would go out for drinks with our friends after a long day. Banlaw is that final round of beer after drinking hard liquor to wind down. For us, #BanlawSpaces is a space for us to discuss and flesh out ideas, views, and opinions about certain issues or topics—a way of flushing out the toxicity experienced during the day," @ricci_richy, one of the local Twitter users who pioneered the hashtag, told SPOT.ph in an online exchange.
Also read: These Audio-Only Chat Rooms Are Like mIRC But With Sound
Kalburo as a Conversation Starter in Twitter Spaces
It all started when one of #BanlawSpaces' group members, @pauloMDtweets, finally got the new Twitter feature. "We asked him to start one so we can try it out without any topic in mind," @ricci_richy recalled.
ADVERTISEMENT - CONTINUE READING BELOW
Earlier in the day, he tweeted about how he bought ripe mangoes that were unusually not sweet. That simple 280-character thought became their first-ever topic: Kalburo or the process of hastening the ripening of mangoes and other fruits.
"It was all fun banter until someone joined as speaker and explained the process. The conversation expanded and became more educational, and we noticed the number of listeners growing and engaging," he added.
What began as a random pow-wow about mangoes eventually became frequent late-night conversations through Twitter Spaces. Topics ranged from politics to kakanin, from the frailty of our healthcare system to the ridiculousness of ivermectin. The platform expanded from chat rooms to virtual stages, where artists and performers sing their hearts out to a listening audience. Sometimes, even guest speakers—like professors or journalists—are asked to sing a line or two after much urging.
"We didn't have a regular schedule until we started Broadway Karaoke Fridays. But in the spirit of banlaw, they are usually held at night around 9 p.m. onwards when everyone's free to discuss and process the events of the day. Most of the time, our Spaces are unplanned and we would just host a session to talk with each other and then it would evolve to a more serious discussion about that day's hot topic," @lakwatsarah said.
The people behind #BanlawSpaces "is very diverse and because of this, [they] are able to bring to the table different views and opinions," she added. They strive to keep their Spaces inclusive and encourage listeners not only to ask questions but also share their thoughts and opinions.
ADVERTISEMENT - CONTINUE READING BELOW
"What I love about #BanlawSpaces is because of the diverse backgrounds, mabilis ang flow ng conversation, kasi lahat may ambag from different perspectives. Meron from the medical field, students, [information technology], arts, lawyers. So hindi umiikot sa iisang lente 'yong conversation. Kaya ang diverse din ng naging topics. From ghosting to rolling brownouts, from mental health to ivermectin, from journalism to epal politicians, from community pantry to karupukan, from mega vaxx center to twin flames," @nicoquejano said.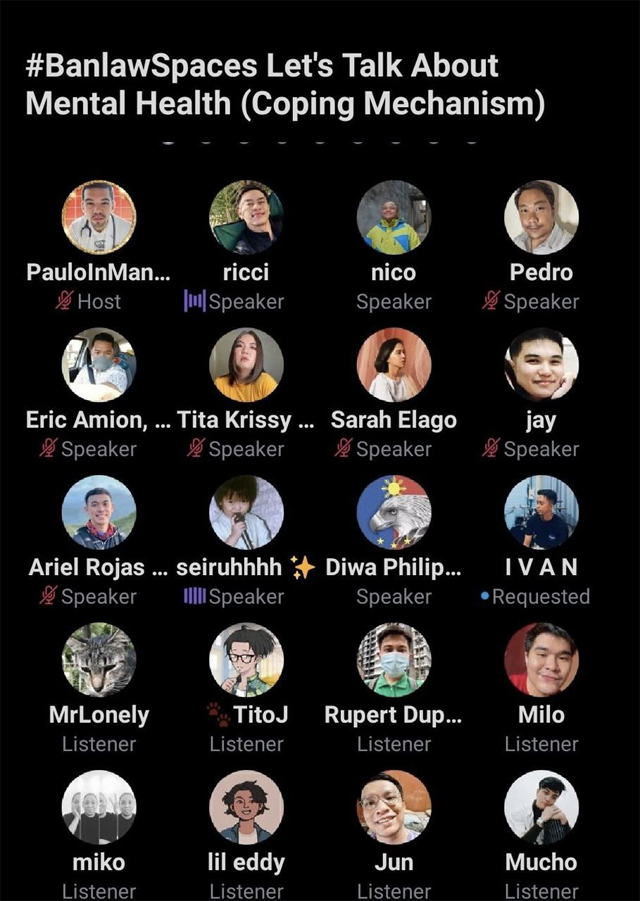 Twitter Spaces as a Platform Against Misinformation
#BanlawSpaces starters like @camtochris believe that Twitter Spaces can be an avenue to discuss current events and relevant issues, especially when put to good use. "In the advent of rampant disinformation and false news on social media, it can be another tool to spread awareness and disseminate information by inviting credible and reliable resource speakers about a certain topic," he said.
ADVERTISEMENT - CONTINUE READING BELOW
The platform serves as a free forum, minus the hassle of registering (like in university-based webinars) or the exclusivity of Zoom and Google Classroom. "It has a wide range of [audiences], and Twitter people are now familiar [with] it," @jlauverr said. It also helps that conversations are casual, as if you're just talking to friends while nursing a bottle of beer or two.
"Spaces allows for a more real-time and nuanced discussion of issues compared to purely textual exchanges. It is also another venue for Twitter users who are experts on a subject matter to clarify or correct false information with more urgency," @ralphwaldomc said.
Since they started six months ago, #BanlawSpaces has so far hosted discussions on mental health with medical professionals like Dr. Jake Villanueva and mental health advocates like Rep. Sarah Elago; issues surrounding COVID-19 with health care workers; and media ethics with journalists like Janvic Mateo of The Philippine Star and Jules Guiang of Rappler.
Sometimes, these Twitter Spaces become impromptu press conferences when journalists join in and start asking their questions. This especially happened during their discussion about ivermectin as a debatable drug against COVID-19.
"Doctors in public health were present, like Dr. Albert Domingo. But the session became very interesting when a pharmacist from Cebu joined in the conversation. She explained the process in obtaining the FDA approval for ivermectin. It became a news conference because the journalists inside the space started asking her questions. She gave wonderful insights about the topic. Masaya kasi makinig pag alam nila sinasabi nila," @nicoquejano narrated.
ADVERTISEMENT - CONTINUE READING BELOW
Discussions also become more engaging when listeners chime in. During the session on mental health, for example, abstract issues even became more tangible when people started discussing skin care. Sometimes, conversations lead from one thing to another—much like when you're talking among friends with all the sidenotes and segues.
"The most memorable guest for me would have to be Miss Pia Magalona because we weren't totally expecting her, but she popped in our space and we were all surprised and gushing because we grew up withFrancis M.'s music. We were all speechless for a moment because we couldn't believe it. And she chatted with us like we're new friends," recalled @lilyoftheveil17.
It is this accessibility to information and non-scripted discussions that drew more and more people to the platform. Eventually, listeners of #BanlawSpaces reached as many as 190 users at a time.
"#BanlawSpaces always tackles the hard-to-discuss issues in an accessible way. Everyone is welcome to contribute and are treated with respect," said @yogawithben.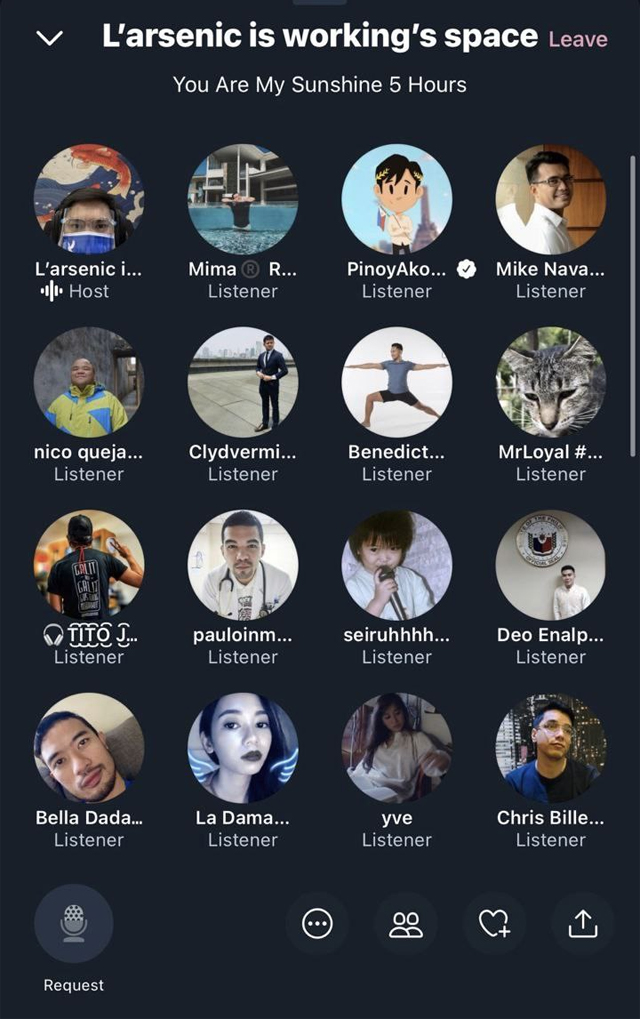 ADVERTISEMENT - CONTINUE READING BELOW
#BanlawSpaces as a Performance Art Space
Aside from medical issues and mental health awareness, the people behind #BanlawSpaces are also well aware how the ongoing pandemic affected the one thing that's common to all Filipinos: performance art, from OPM to show tunes.
"We like promoting the local shows like the streaming of Rak of Aegis. We just love theater and miss it, so we use it to connect with fellow theatre lovers and theatre performers," said @nicoquejano.
Filipino theater artists like Gab Pangilinan, Topper Fabregas, Jay Barrameda, Matthew Chang, MC Dela Cruz, Phi Palmos, Ralph Oliva, Teetin Villabueva, Floyd Tena, Jillian Ita-as, and Angelo Esperanzate have joined their karaoke nights. Other Twitter users like @adovillanueva, @tom_catli, @johnarielrojas @jlauverr, @kuya_daddy, @juanchovgam, @bebemoy, and @titosongerist also participated. Mike Navallo of ANC, Zandro Ochona of DZMM, and Anthony Esguerra of Vice Asia were also asked to sing online in the middle of some very serious #BanlawSpaces discussions.
"With theaters still closed and the state of live performances still unsure, every platform and avenue to perform is a great thing. But what separates #BanlawSpaces is the fact that the people in this community genuinely appreciates live performances and has long been avid supporters of Philippine theater. That's why there's a genuine appreciation and a level of respect given to performances even if it's only digital. Even if it's only a voice. The community was able to create new audiences looking forward to when we all come back onstage, especially when the Space is used for outreach and anything for a good cause," said Filipino artist @phipalmos.
ADVERTISEMENT - CONTINUE READING BELOW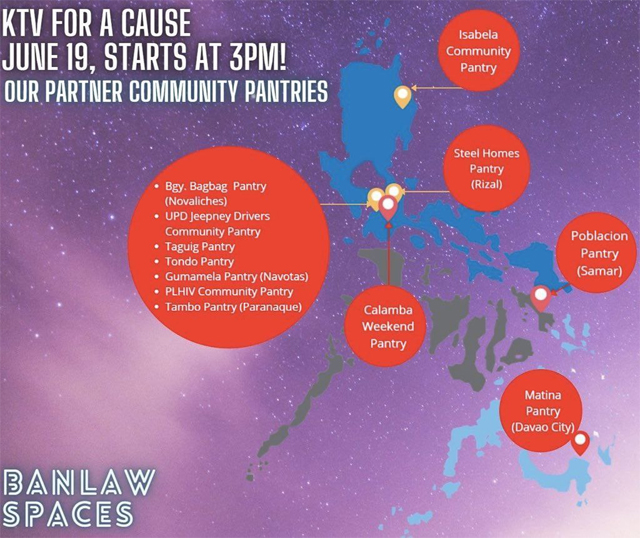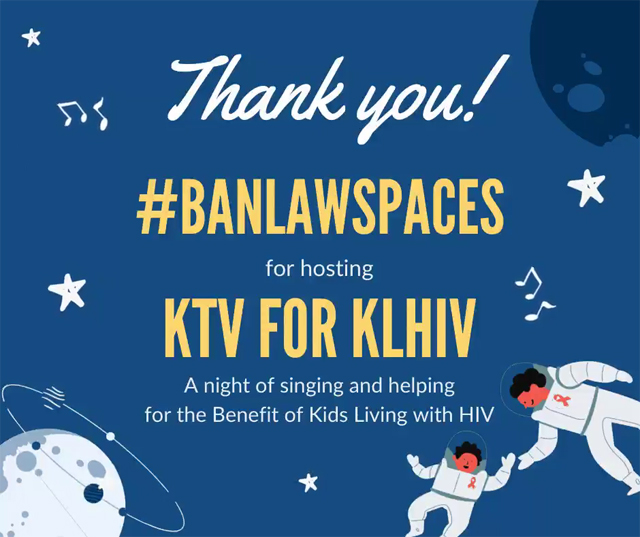 Back in June, #BanlawSpaces hosted KTV for a Cause, where people just came in, sang, and encouraged listeners to donate. The likes of Philippine Idol's Matty Juniosa, Tawag ng Tanghalan's Dale Blasquino, and True Faith's Medwin Marfil were there during the fundraising. In one of the sessions, which was dedicated to 12 community pantries all over the Philippines—from the Matina Pantry in Davao City to Isabela Community Pantry in Luzon, the group was able to raise up to P115,000. In another session, which was for the benefit of kids living with HIV, they collected up to P20,000.
ADVERTISEMENT - CONTINUE READING BELOW
"#BanlawSpaces has provided a safe space for people to sing their hearts out without the pressure of having to show their faces. You don't know what's going to happen whenever you enter a themed space. On some days, you can just be a listener and then on other days, you can choose to step up and sing for everyone there. You just see usernames and tiny circles with their pictures, and while other people send 'reactions', it still gives you a sense of community, of belonging. The show is literally created on the spot by people who moderate it and by the people who volunteer to sing in the audio-only room created online," said theater actress @teetinv.
While people have yet to come out of their homes without thinking about the risks of the pandemic, #BanlawSpaces provides a sense of connection in this seemingly disconnected world. It creates a safe space where everyone can listen, speak, or sing—without judgment.
"It gives voice to the voiceless," @ZandroDZMM said.
And in this period when dissent is frowned upon, #BanlawSpaces makes sure that everyone is heard without compromising the facts.
Hey, Spotters! Check us out on Viber to join our Community and subscribe to our Chatbot.
We are now on Quento! Download the app and enjoy more articles and videos from SPOT.ph and other Summit Media websites.
Share this story with your friends!
---
Help us make Spot.ph better!
Take the short survey
Load More Stories