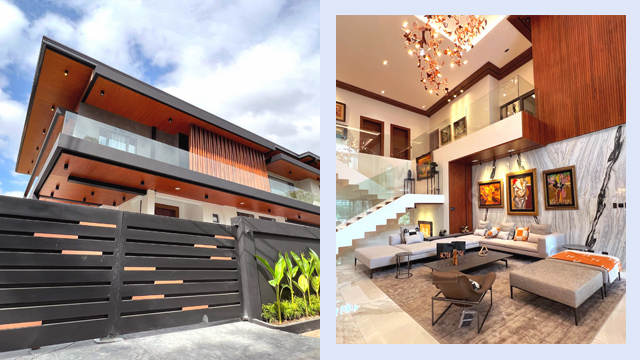 (SPOT.ph) Mansions, by virtue of what they are, will always look stunning from the outside in one way or another—but we bet there are few that keep that level of awe, heck, even take it up a notch or ten, once you take a stroll inside. Well, one art collector's home manages to do exactly that. The words "art collector's home" alone have probably piqued your interest and yup, this house tour from real estate channel Presello is definitely on another level. Disclaimer: This incredible home—appropriately dubbed the Luxe Heim—was built for the collector and their family by construction firm Draco Builders so while it's not on the market, we're definitely taking notes for our own dream homes. Hey, might as well reach for the stars, right?
ADVERTISEMENT - CONTINUE READING BELOW
Also read:
Must-See Space: This Cleverly Designed Starter Home Is Bigger Than You'd Expect
Must-See Space: This Upscale QC Home Feels Like Your Own Private Resort
Located in Alabang Hills, Muntinlupa City, this mansion houses countless works of art in its 1,400 square-meters worth of floor space: think names such as Orlina, Cobonpue, BenCab, Luz, and more. And to match all the art, the home has a modern design with some truly luxe details. 
No need to visit a museum when you can check out this Presello Luxe Heim house tour:
The modern façade is just the tip of the iceberg.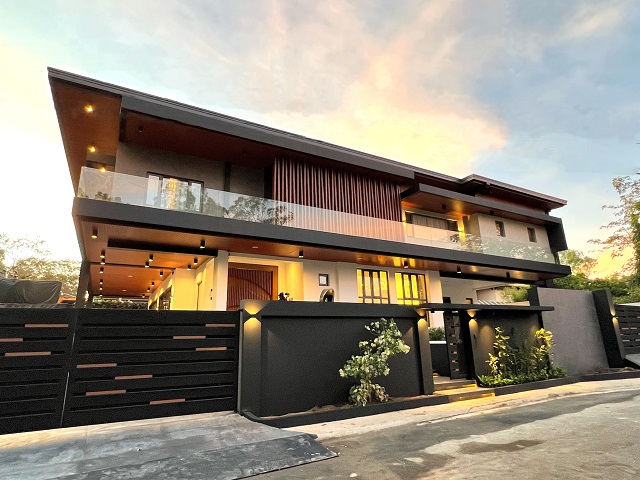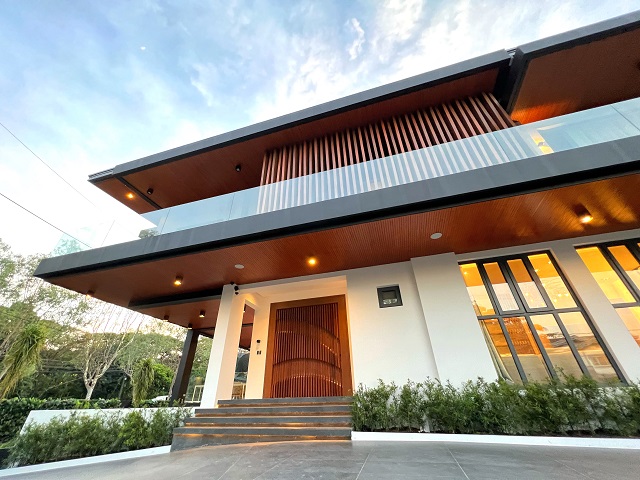 Seamlessly transitioning from warm wood to sleek materials, this home's façade  isn't one you can drive past without taking a long look. The dark fence and its accents are just a marker of what's inside—and yup, things get even better once you get past that 700-kilogram hardwood main door.
ADVERTISEMENT - CONTINUE READING BELOW
Entering the home transports you to a private museum.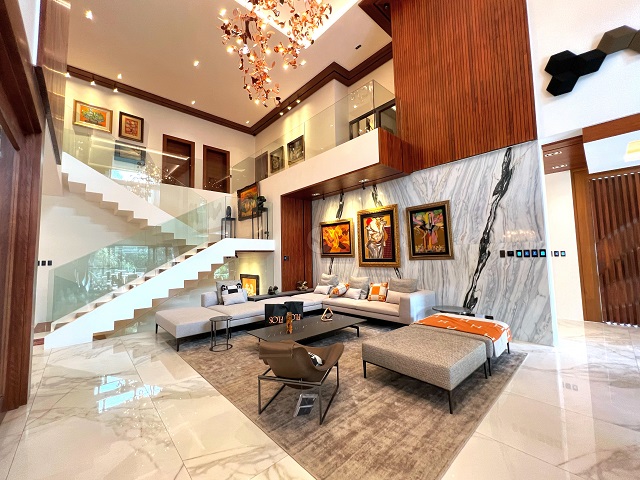 A massive, high-ceiling living space greets you upon entering. The heart of the home, this stunning space is dripping in rich detail; it is really where you get the sense that this is the private space of an art collector. 
ADVERTISEMENT - CONTINUE READING BELOW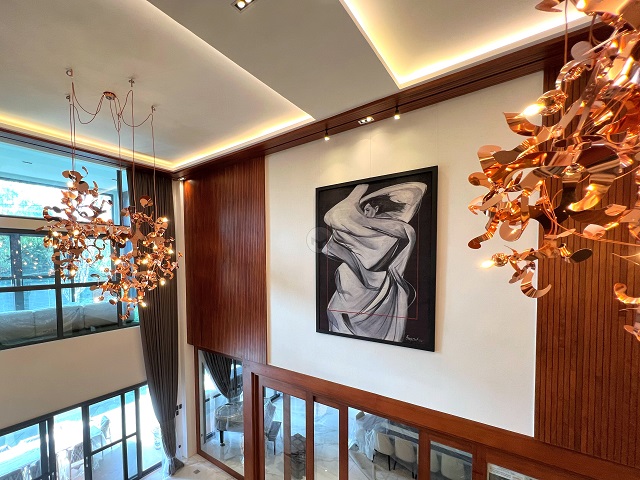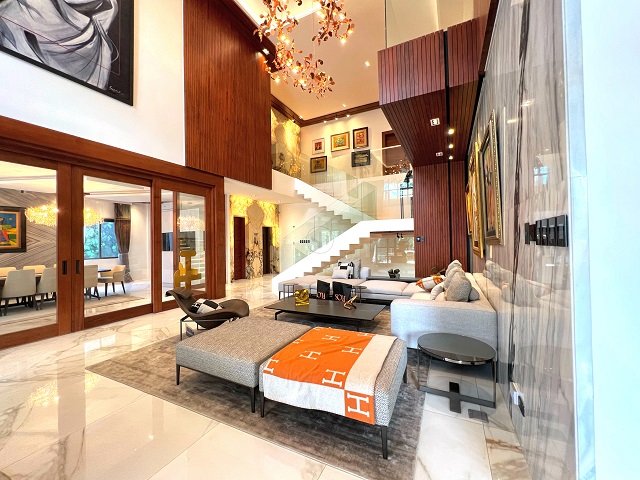 ADVERTISEMENT - CONTINUE READING BELOW
A piece by national artist Benedicto Cabrera (a.k.a. BenCab) hangs in a prime spot above the seating area while Kenneth Cobbonpue chandeliers light up the space, among other works of art—not to mention all the other little bits that set this home apart.
Crystal quartz walls accent the home office.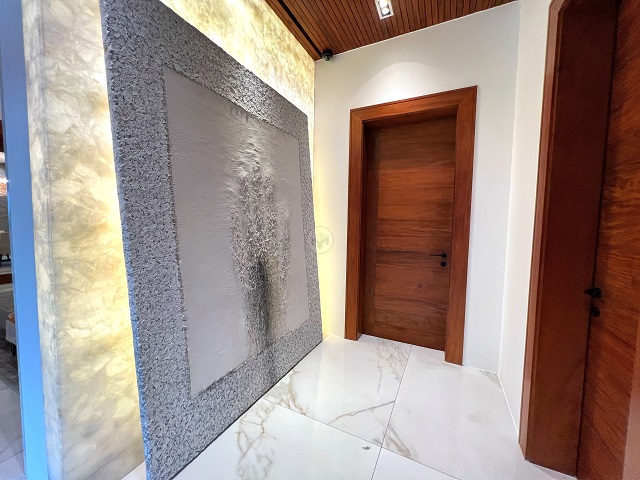 ADVERTISEMENT - CONTINUE READING BELOW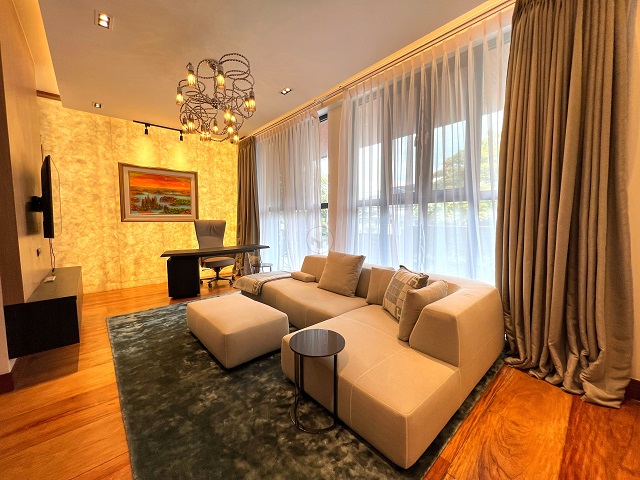 Ever heard of a home with walls made of crystal quartz? Now you have, it seems. The short hallway leading to the spacious home office is adorned with a backlit crystal wall on one side, complete with a stunning work of art. Once inside the office space itself, check out the other crystal quartz wall right behind the desk. Yup, they needed two crystal walls.
ADVERTISEMENT - CONTINUE READING BELOW
Saltwater aquarium in the dining room? Yup.
There's another cool tidbit hiding in the spacious dining room! Across one end of the lengthy dining table is a saltwater aquarium complete with real coral. 
Patagonia marble frames the elevator doors.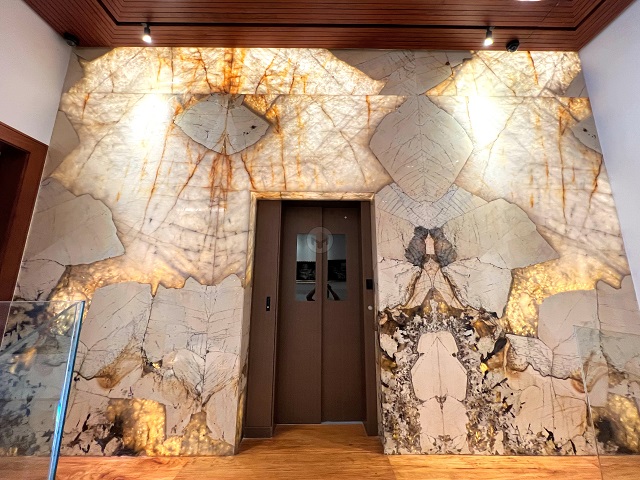 ADVERTISEMENT - CONTINUE READING BELOW
If we're talking details that truly make this home unique, then check out the elevators. We know elevators in mansions aren't exactly new, but when the doors on all three floors of the home—two main storeys and a decked-out basement—are framed by patagonia marble, then we have to mention it.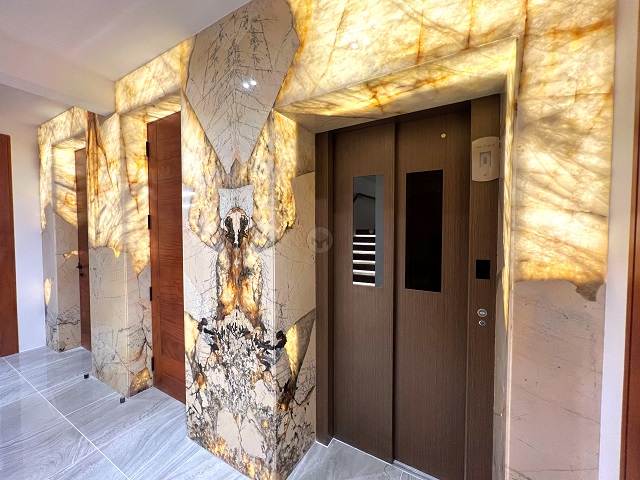 ADVERTISEMENT - CONTINUE READING BELOW
So what is patagonia marble? This rare stone is isn't exactly easy to acquire but seeing the effect the semi-translucent material has, giving the space an almost alive feeling with its warmth, sure makes us understand why they went through the trouble. 
One bedroom hides an awesome loft hideout.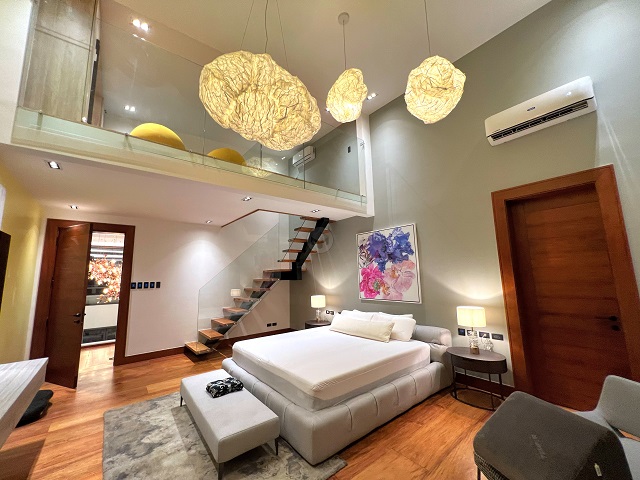 ADVERTISEMENT - CONTINUE READING BELOW
While all five bedrooms have cool details that make each space their own, this one stands out. The spacious and bright room gets plus points thanks to the cool upper-level-esque loft it hides. Imagine how cool the sleepovers would be here. 
A secluded sunroom is attached to the master bedroom.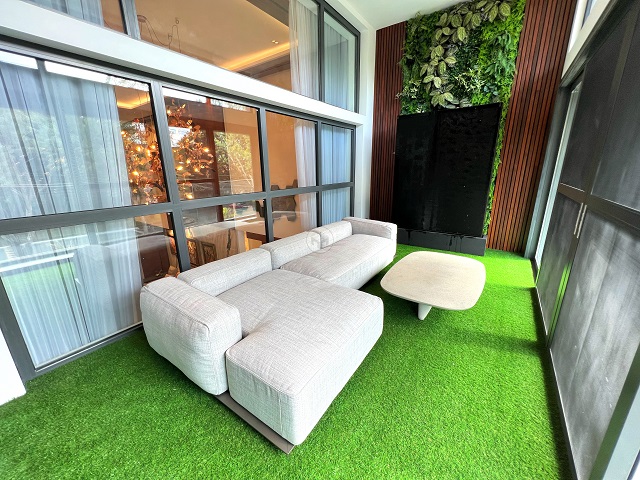 ADVERTISEMENT - CONTINUE READING BELOW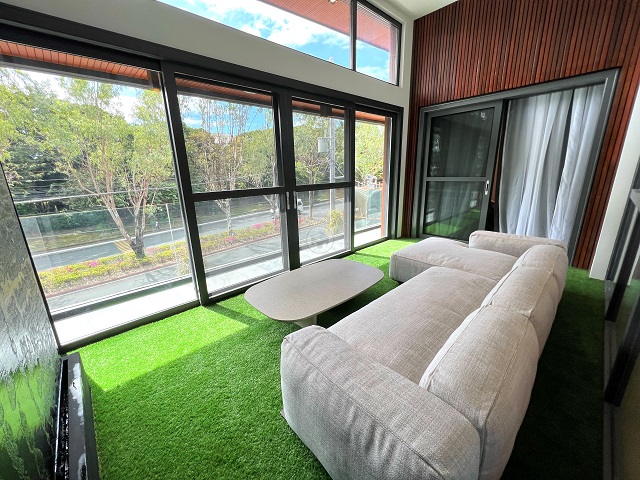 A bedroom is meant to be your own retreat and this sunroom takes that concept to the next level. A semi-hidden passage in the master bedroom leads to this truly private and airy space. Best part? This cozy nook opens up to the quiet road below on one side and the house's main living space on the other, giving the parents a chill vantage point to keep watch over their domain.
ADVERTISEMENT - CONTINUE READING BELOW
Check out the whole tour of the massive Luxe Heim below:
Share this story with your friends!
---
Help us make Spot.ph better!
Take the short survey
More Videos You Can Watch
Load More Stories