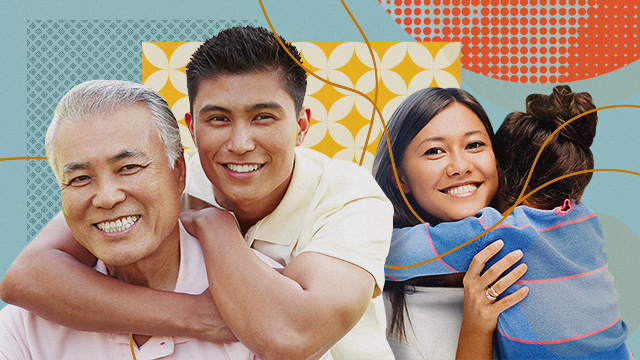 (SPOT.ph) The survey-based research titled "A Study on Filipino Values" by the National Commission for Culture and the Arts in 2021 identified a total of 19 values shared by most Filipinos. We're already familiar with most of them: "Resilience," "Kapuwa," Faith, and so on. At the very top of this list is "Family," specifically one that goes beyond the nuclear structure. It includes our cousins, aunts and uncles, grandparents, in-laws, nieces and nephews, and so on. We probably identified this Filipino value as "close family ties" in our Sibika or Hekasi class. And because most Pinoy households are composed of extended families, it doesn't come as a surprise that most of us are part of the cycle called the "sandwich generation." 
ADVERTISEMENT - CONTINUE READING BELOW
What is the Sandwich Generation?
First coined by University of Kentucky professor and social worker Dorothy A. Miller in 1981, "sandwich generation" refers to a batch of adults who take care of their aging parents while taking care of their young children. Thus, the term "sandwich," as they are a generation caught between two generations. This support extends from financial to emotional. 
Miller's paper—published in the National Association of Social Workers' journal—presents demographic data of adult children of the elderly in the United States. It posits that the "position of the children of the aging in relation to their parents, children, and grandchildren exposes them to a unique set of unshared stresses in which giving of resources and service far outweighs receiving or exchanging them." While her research establishes prevailing patterns in American families, there's no denying this phenomenon is very much present in Filipino families.
If you grew up with your lolos and lolas, then your parents are part of this generation. Or, at the very least, you go to your grandparents' house on the weekends or during the summer. Sometimes, these old houses are split into many rooms where your aunties and uncles are starting their young families. Just look at the enchanted "Casita" of the Madrigal family in Disney's Encanto and its underlying theme of intergenerational trauma. If you're starting your own family in your parents' house (or your own house, but with your mother or father living with you), then you are also part of the sandwich generation.
Eldercare journalist Carol Abaya breaks down three types of those in the sandwich generation. There's the traditional sandwich generation, which comprises adults in their 40s or early 50s sandwiched between their adult parents and adult children. There's the club sandwich generation, which can either be older adults in their 50s or 60s taking care of their elderly parents, their adult children, and even their grandchildren; or younger adults in their 30s or 40s taking care of their grandparents, their own parents, and their young children. Finally, there's the open-faced sandwich generation, who's involved in any form of non-professional elderly care. 
What is it about being Filipino that leads to becoming a Sandwich Generation?
In the Philippines, a lot of things factor in the existence of the sandwich generation. Aside from the Filipino value of close family ties, there are societal norms and national issues to consider.
Utang na Loob
The Filipino cultural trait "utang na loob" is translated as "debt of prime obligation" in a 1961 journal article by Charles Kaut. "Its full meaning in all its ramifications cannot be so simply stated, for embodied in this expression is an important system of reciprocal obligations and behavioral expectations which governs the lives of Tagalogs," he stated in the paper titled "Utang Na Loob: A System of Contractual Obligation among Tagalogs," published in the Southwestern Journal of Anthropology. Unlike a clear-cut debt with contracts, this kind of indebtedness may be paid back either upon demand or unsolicited reciprocation (a.k.a. freewill).
ADVERTISEMENT - CONTINUE READING BELOW
In terms of familial relationships, the phrase "utang na loob" is uttered when the issue of care for elderly parents comes up. Adult children are expected to hold their end of a supposed deal after their parents spent most of their life caring for them. Sometimes, this expectation is extended even when the elderly parents don't really deserve the "World's Best Dad" or "World's Best Mom" mugs. Phrases like "tatay mo pa rin 'yon" or "nanay mo pa rin 'yon" are quick rebuttals. Veering away from this societal norm is stigmatized as "walang utang na loob."
Patriarchy
In a 2020 research paper titled In search of Filipino "women in the middle",  University of the Philippines professor Excelsa C. Tongson looked specifically at demographic characteristics of women belonging to the sandwich generation. According to her, "female family members in the sandwich generation are typically 30 to 35 years old, legally married, college graduates, and living in their own homes."
ADVERTISEMENT - CONTINUE READING BELOW
This may be attributed to the patriarchal culture among Filipinos, wherein men are expected to work full-time while women are expected to take care of the house full-time (while also sometimes still working full-time outside the home). The adult men in the family are also often the first ones to leave the nest, while the adult women are expected to be left behind with their elderly parents. After all, it is supposed that they are the ones who know their way around the house.
The Economy
According to a report by the Philippine Statistics Authority, the poverty incidence among the Filipino population increased to 23.7% during the first half of 2021. The pandemic, of course, impeded economic growth; resulting in an increase in rates of poverty, unemployment, and underemployment. For 2022, there's the oil price hike, the Asian food crisis, and increasing tax requirements that Filipinos have to deal with. With all these factors, it is almost impossible for the head of the family to financially prepare for the future.
ADVERTISEMENT - CONTINUE READING BELOW
Parents would rather prioritize putting their children through school or ensuring food on the table than saving up for their own retirement. Or another situation could be that parents go into debt, later expected to be paid for by their children. This cycle continues when the adult children's wage is just enough to financially support their elderly parents, put their own children through school, and provide food on the table—with nothing left for their own retirement. (Repeat ad infitum.)
Low Financial Literacy
"Financial distress is a reality for Filipino families living from paycheck to paycheck, those relying on low-income livelihoods, and those dependent on remittances from relatives abroad. Even families who were doing relatively well are increasingly becoming vulnerable as the pandemic continues," said Bangko Sentral ng Pilipinas Governor Benjamin Diokno during the Financial Literacy Summit organized by The Global Financial Filipino Investors in 2020. Survey results, according to him, show that there is a need to improve financial literacy and capability among Filipino families. The study suggests that Filipino adults have little understanding of compound interest, the effect of inflation, investments, and other terms.
ADVERTISEMENT - CONTINUE READING BELOW
But who is to blame here? As mentioned, families living from paycheck to paycheck would rather eat than put money in the bank, to put it simply.
Also read: Turning Red's Sandra Oh and Rosalie Chiang on Accepting All the Cringe of Your Growing-Up Years
Breaking the Cycle of the Sandwich Generation
As much as we want to spend time with our parents in their twilight years, having them in our own household is not all rainbows and unicorns. They're wired, after all, to always have something to say about our lives—having made most of our decisions for us in our formative years (and maybe even in adulthood). And even when not physically living with their elderly parents, the adult children's expenses double or triple as they provide for both their own household and their parents' household.
In a GMA interview with sociologist and professor Virgel Binghay, she explained that Filipino parents often see their children as their "insurance" in the future, thus the move to have as many kids as possible.
ADVERTISEMENT - CONTINUE READING BELOW
"Maraming anak kasi parang nakikita nilang insurance nila 'yan when they become old so their children will help them," she added.
In what is possibly a way to break from this cycle of the sandwich generation, Filipino millennials (born between 1981 and 1996) are taking a more active stance in financially securing their own future. This means having to scrimp on their own expenses, taking on extra sources of income, and smartly budgeting their money to provide for their parents, provide for themselves (and their own family), and save or invest whatever's left. Think of it as budgeting for your past, present, and future.
So it also doesn't come as a surprise that young adults are delaying parenthood until they're financially secure. Having a child is just a whole different ballgame when balancing your expenses, especially in this economy.
"With the opportunities available to them, many women from the millennial and Gen Z [born between 1997 and 2012] generations now choose to have that career-driven life instead of bearing children because they know that when they bear children, it will be difficult to go back. They want to be established first before having children, knowing that it's expensive to have a child," said Asian Development Bank's Gender Consultant and Benilde Gender Studies professor Rachel Basas in a 2021 interview with The Benildean.
ADVERTISEMENT - CONTINUE READING BELOW
The younger Filipino generations are now more conscious of saving their money, budgeting their wages, and getting life and health insurance policies. They're also starting to invest in stocks, mutual funds, and even cryptocurrencies, especially as mobile apps now provide easy ways to do so. 
Also read:
How to Grow Money With Only P50 in Your Pocket
PayMaya Launches Crypto Feature, Here's Your Guide
A 2021 survey by insurance company Manulife looked at the financial and mental well-being of Filipino millennials and Generation Z. It observed that about 81% of respondents were taking the necessary steps to financially secure their future. The COVID-19 pandemic may have been a factor in this as young professionals saw limitations in funds and job opportunities during the global lockdown. The Manulife study also cited that GenZs are financially more aware than the preceding generation. Millennials have only begun saving at the age of 23 and investing at the age of 27; while the younger generation started saving at 17 years old and investing at 21 years old. This is despite the latter not being financially stable entirely amid the COVID-19 situation.
ADVERTISEMENT - CONTINUE READING BELOW
The younger generations are also taking a stand to demand more from the government, which ultimately influences a nation's economy. There are demands to increase the minimum wage so families can stop living paycheck to paycheck; tax the rich and make tax evaders accountable; provide job opportunities; and make sound decisions in alleviating poverty in the Philippines.
Though the elder millennials (the late 30s to early 40s) may still have to deal with being part of the sandwich generation, things are looking up for the succeeding adults in terms of breaking the cycle. It may still be in the far future (even still a couple of generations down the line), but there will perhaps come a time when everyone greets their own twilight years financially prepared.
Share this story with your friends!
---
Help us make Spot.ph better!
Take the short survey
More Videos You Can Watch
Load More Stories