(SPOT.ph) When we open ourselves up to the universe, magic happens. Local craft shop and collaborative brand Hey Kessy recognizes this, as they host The Universe Hugs You Back, a one-day pop-up event featuring creative collaborations and cosmic bling on November 16.
This pop-up event will serve as the launch of beautiful handcrafted rings. Playfully chic and experimental house brand Hey Kessy Jewelry and classic jewelry brand Dandy Ona collaborated with four Filipina artists—potter/papercut artist Mansy Abesamis, tattoo artist Gigie Bear, writer Macy Alcaraz, and tattoo artist/illustrator/author Wiji Lacsamana—to create a diverse range of rings that inspire wonder, hope, strength, or self-love, for wherever you may be on your own journey.
Here are four new jewelry collaborations from local brand Hey Kessy:
Hey Kessy X Mansy Abesamis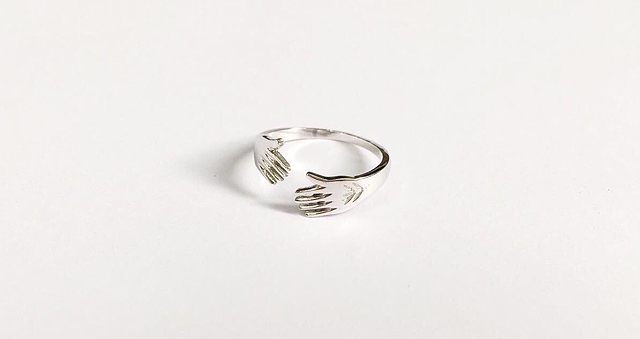 ADVERTISEMENT - CONTINUE READING BELOW
With its experimental aesthetic (they once had a jewelry collection made entirely from ceramics!), Hey Kessy Jewelry may look deceptively playful and light, but the pieces are not afraid to talk about the darker side of things. "Being lost, our heartbreaks, those moments we can't seem to figure out the puzzle, or versions of ourselves we can't seem to get over with, and our struggles," shares the Hey Kessy team. By collaborating with different artists for casual yet elegant jewelry creations, Hey Kessy hopes to offer you and your favorite people a piece of home.
In designing The Universe Hugs Us Back, the signature ring of the new capsule collection, Filipina potter and papercut artist Mansy Abesamis reveals, "The ring reminds us that yes, the universe hugs us back but we have to do it first. Everything starts with us—our dreams, plans, goals, and everything else that makes up a well-lived life. Even our worries and fears—it's always good to realize what they are so we know how to face them." 
ADVERTISEMENT - CONTINUE READING BELOW
Recommended Videos
Abesamis, who found her calling in pottery and advocates slow (but sparkly!) living, attests, "We are the initiator even if it doesn't feel like it. When we are brave enough to jump for our dreams or to face our fears, the Universe blesses us. It also gives us, the wearers, the courage to come back home to ourselves and embrace who we are, wherever we are, and what we have right now."
Hey Kessy X Gigie Bear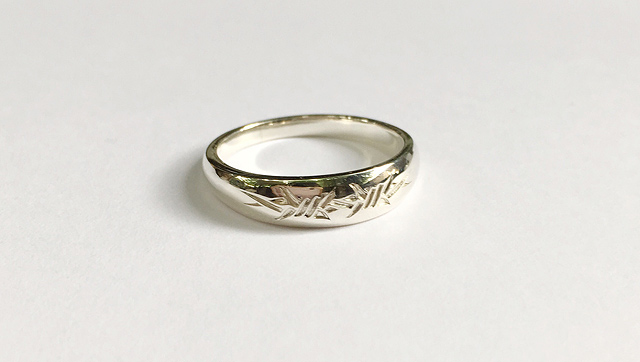 ADVERTISEMENT - CONTINUE READING BELOW
For her ring design entitled Enclosed in Thyself, tattoo artist Gigie Bear etched barbed wire as a way of grounding the wearer to withstand the daily storm of modern concerns. Gigie Bear shares, "This barbed wire is a symbol of strength; to be self-enclosed/self-contained. To just be yourself and not mind what other people say because they don't really know your struggle, what you have to go through to be who you are today."
Dandy Ona x Macy Alcaraz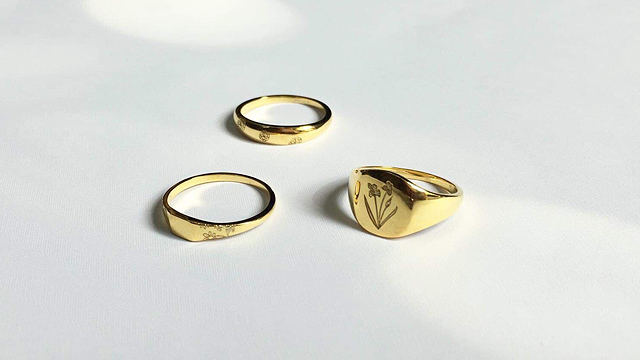 ADVERTISEMENT - CONTINUE READING BELOW
This is Dandy Ona's second collaboration with writer and creative Macy Alcaraz (remember their lovely Prima barrette collaboration from 2018?). Alcaraz once again lends her nostalgic aesthetic to Dandy Ona to create the Signorina Collection, a delicate signet ring collection specially designed for women.
The creative team shares that signet rings symbolize authority and importance; from aristocrats to powerful patriarchs, these rings establish one's place in society. "We wanted to build a thoughtful collection that took what the signet ring stands for and honor women with it. For this delicate signet ring collection, we've taken three classic signet ring designs and put a modern, feminine twist on them. This is a tribute to all the important women in our lives."
Named after Alcaraz' precocious young niece, the Miranda ring features an iris flower engraved on its oval face. "Iris is the Greek word for rainbow and the name of the Greek Goddess for rainbow. Miranda is a reminder that we can be anything we want," shares Alcaraz. 
ADVERTISEMENT - CONTINUE READING BELOW
The Julieta ring is inspired by the juliet rose, one of the most expensive blooms in the world, whose outer petals open up to reveal neatly arranged petals nestled in the middle of the flower. "Named after my paternal grandmother, Julieta is a tribute to the women in our lives we aspire to be like," Alcaraz reveals.
The name Remedios means to heal, and thus, the Remedios ring features delicate etchings of chamomile, a daisy-like flower that's used in herbal infusions for natural remedies. "Remedios is named after my maternal grandmother. It's a message that tells us we will be okay, no matter what challenge comes our way," shares Alcaraz.
Dandy Ona X Wiji Lacsamana 
For her second collaboration with Dandy Ona, tattoo artist and illustrator Wiji Lacsamana created the Knowing ring, inspired by the planet Saturn, and is engraved with the word "knowing," which touches the wearer's skin. 
ADVERTISEMENT - CONTINUE READING BELOW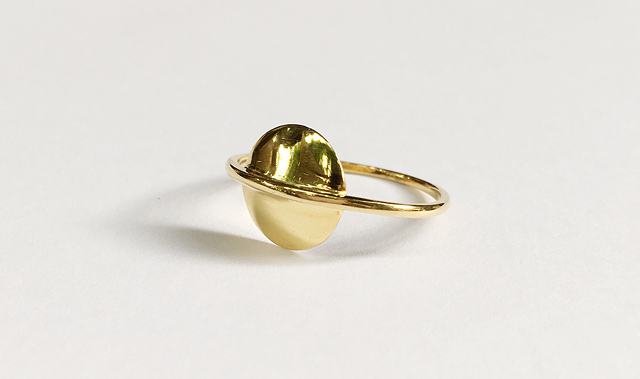 Lacsamana designed the Knowing ring to be worn on the middle finger, as a "talisman for an unwavering, deeply rooted inner knowing." She attests, "When you know who you are and what you really believe in, what really constitutes your very core, you will be the strongest, most authentic version of yourself. You will then leave space in your life only for what serves you and your loved ones well, and you will breathe in life much better."
ADVERTISEMENT - CONTINUE READING BELOW
Lacsamana shares how she has always been drawn to Saturn, but never really knew much about what the planet represented until she started getting more into my spirituality. It's when she tried out Kundalini Yoga that she learned that the middle finger, the 'Saturn' finger, represents akasha or connection. She explains, "It carries the energies of stability and strength. In palmistry, the middle finger—the base of which is called 'Mount of Saturn'—provides clues about the person's take on discipline and responsibility. In astrology, Saturn is known as 'the great teacher.' The planet's rings are symbolic of the limitations that surround us, and how we learn to deal with these challenges."
She adds, "These may seem stifling to some, but these are things that I needed to learn as someone born under a fire sign. I have always been very rash at decision-making, and I needed to learn discipline, I needed to learn patience. I needed to see that creativity can be fueled further, and in more interesting ways, by limitations. I needed to learn how to navigate my life around these. I even got Saturn tattooed on me!"
ADVERTISEMENT - CONTINUE READING BELOW
All these four new jewelry collaborations can be custom made in your size, in the metal of your choice—silver, silver dipped in gold, or 24k gold. 
The event will also feature art booths by Ivy Pangilinan and Tin Espinas; the debut of clothing line Love You Long Time; tarot-reading sessions by Practical Magic; a creative journaling workshop by Nica Cosio, a pottery workshop by Mansy Abesamis, and the launch of Hey Kessy's sawsawan-inspired ceramic plate collaboration with comic-book artist Apol Sta. Maria.
The Universe Hugs You Back happens on November 16, at Hey Kessy, UP Town Center, Quezon City. For more information, visit Hey Kessy's website or Dandy Ona's Facebook page. 
Photos courtesy of Hey Kessy and Dandy Ona
Pierra Calasanz-Labrador is a former magazine editor turned freelance writer, stylist, and author of two poetry books (The Heartbreak Diaries and Dear Universe). A staunch advocate of pretty, Filipino finds, follow her local treasure hunt on Instagram.
ADVERTISEMENT - CONTINUE READING BELOW
Share this story with your friends!
---
Help us make Spot.ph better!
Take the short survey
Load More Stories