10 Exciting Things to Do in Batangas
From heritage houses to food trips, here are some cool things you can do!
(SPOT.ph) While we hope you're not too familiar with the sting of a balisong, we're sure you're familiar with its creators: the brave and strong-willed people of Batangas (and yup, can't forget the equally stinging Rivermaya hit). With a rich history that dates back to pre-colonial times, it's incredibly apt that the province of Batangas is home to so many things you can only experience there: the butterfly knife is just one example. From historical sites, nature escapes, to, of course, food crawls, Batangas is an incredible place that deserves to be at the top of every roadies' list.
Just a few hours south of the Metro, Batangas is great for a day trip or a week-long escape. Take some time to veer away from the usual haunts of Tagaytay or Laguna and check out all there is to do in the province. To make it easier for you, here's a roundup of just a few of the cool things you can do in Batangas.
Also read:
10 Exciting Things to Do in Camarines Norte
10 Exciting Things to Do in Masbate
10 Exciting Things to Do in Sorsogon
10 Exciting Things to Do in Catanduanes
Here are 10 experiences to seek out in Batangas:
Watch horses race at the Metro Turf Racing Complex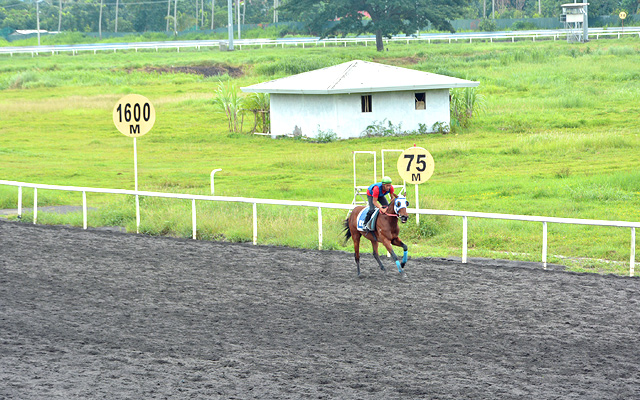 ADVERTISEMENT - CONTINUE READING BELOW
No, you don't even have to place a bet! The racing complex is open to all visitors who want to just experience the thrill of watching horses run at breakneck speeds. Horse racing has been around since the colonial times, and the Spanish have left behind a legacy: from the mighty breeds of horses to the jockey bloodline passed down from generation to generation. The Metro Turf Racing Complex in Malvar, Batangas covers around 45 hectares worth of land, all of it dedicated to taking care of, training, and of course, racing horses. The races happen around twice a week so make sure to check out their Facebook page beforehand.
Metro Turf Racing Complex is at San Pioquinto, Malvar, Batangas.
Visit the house of Dr. Jose Rizal's first love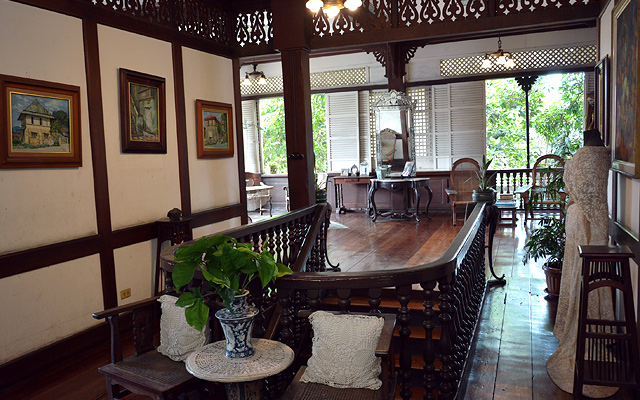 CONTINUE READING BELOW
Recommended Videos
Even our history's foremost playboy—and national hero—fell victim to puppy love: in the form of Segunda Katigbak, daughter of landed Lipa gentleman Don Norberto Kalaw Katigbak and Dona Justa Metra Solis. Both were teenagers when they first met while Katigbak was studying in the same school as Rizal's sister in Manila. Unfortunately, Katigbak had already been promised to Manuel Luz, who was also from Lipa's gentry. Their love—which was really mostly just stolen glances and a few veiled conversations—was doomed as Luz and Katigbak were eventually married in 1886. Luz and Katigbak raised nine children though in Casa de Segunda, and it is said Dr. Jose Rizal paid them a visit at their house on a few occasions.
Casa De Segunda is at 198 Rizal Street, Lipa City, Batangas.
Enjoy a meal at Imprenta—sans any preservatives or additives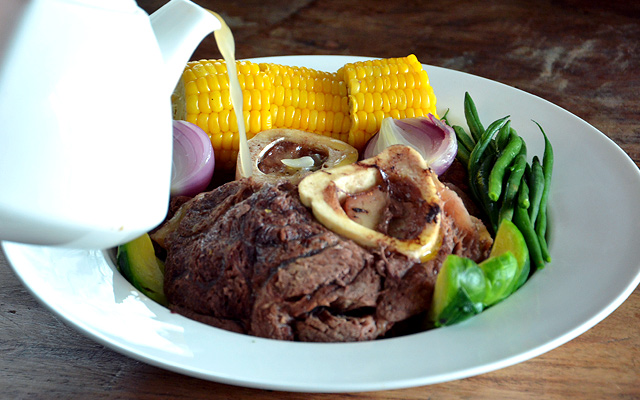 ADVERTISEMENT - CONTINUE READING BELOW
Hotel 1925 is a 16-suite establishment that houses Imprenta, an upscale restaurant that specializes in modern Filipino cuisine. Led by the same family that created Lipa City's very first Italian dining outlet, Casa Marikit, the Mojares' are now bringing you beloved Pinoy classics made the traditional way—no shortcuts or flavor additives—but with a fresh modern take. Be sure not to miss their Beef Bulalo (P645), served with French beans and Brussel sprouts, or their Boneless Crispy Pata (P745) which has-ultra tender meat and crispy skin.
Hotel 1925 is at Pilahan Street, Sabang, Lipa City, Batangas.
Watch a play staged by the Lipa Actors Company
Batangueños aren't about to lag behind in any field—especially not in performing arts. The Lipa Actors Company first made their debut in 2008, and they've been staging plays regularly since then. This August, they will be staging a play entitled Milagros 1948. Based on the Lipa Apparition of 1948, where Mary, the Virgin Mother of God, is said to have appeared to Carmelite Sister Teresing Castillo, it is set in the ravages of Lipa City post-World War II. Tickets are at P180 each and showings are at The LBX Studio at the Big Ben Complex in Lipa City.
ADVERTISEMENT - CONTINUE READING BELOW
For more information, visit Lipa Actors Company's Facebook page.
Take a break from the daily grind at Nayomi Sanctuary Resort
Nayomi Sanctuary Resort is an escape in many ways: it's got everything from glamping facilities, a restaurant, sprawling gardens, swimming pools, to amazing views of Taal Lake. Be warned though, there's absolutely no WiFi and signal is pretty scarce—it's called a sanctuary for a reason.
Nayomi Sanctuary Resort is at J.M. Katigbak Street, Barangay Alangilan, Balete, Batangas.
Get a different view of Taal with a lake cruise
ADVERTISEMENT - CONTINUE READING BELOW
There's nothing better than a cruise to really get a feel of how large Taal Lake really is. The Lima Park Hotel offers you this chance with their "Lady of the Lake" tours. The four-star hotel was the first to offer this kind of tour in 2015, and it has remained a favorite tour for many. Although the hotel is in Malvar, Batangas, the cruise departs from their port in Balete, Batangas, and will take you on a 60-minute ride around the lake.
For more information, visit Lima Park Hotel's Facebook Page.
Try to take in the largest basilica in all of Asia in one viewing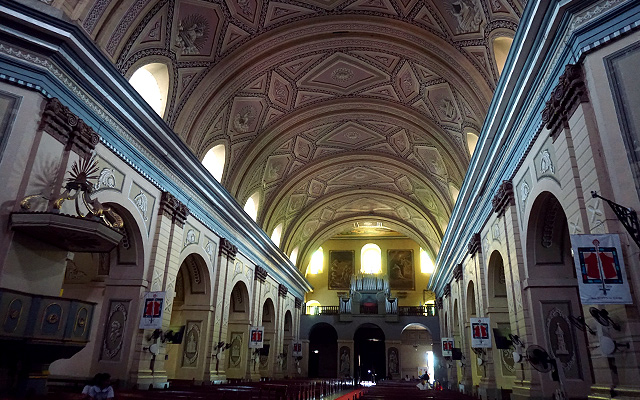 The Minor Basilica de San Martin de Tours, more commonly known as the Taal Basilica, is the largest Catholic Church in all Asia—measuring at a whopping 96 meters long and 45 meters wide. We can't imagine this was easy to build in the mid-nineteenth century, but they did it anyways. The church was established nearly four centuries ago in 1575, but construction for the present structure started in 1856. Make sure to take in all the colonial-era details (like the gravestones of the Illustrados who donated to the church's construction and the silver adorning the main altar) as well as its rich history.
ADVERTISEMENT - CONTINUE READING BELOW
The Taal Basilica is at Calle San Martin, Taal, Batangas.
Find out more about how our national flag was made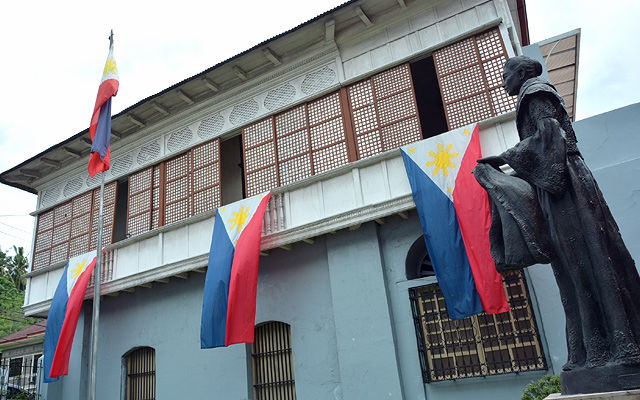 Who'd have thought an unassuming bahay na bato in one of Taal's narrow streets would house an important exhibit on our national flag? This is exactly what the Mariño ancestral home in Taal houses. Built sometime in the 1780s—making it one of the oldest houses in Taal—this building was once home to Marcela Mariño de Agoncillo. It was she who, along with her daughter Lorenza, and Dr. Rizal's niece Delfina Herbosa de Natividad, first put together the Philippine flag in 1898, upon the behest of General Emilio Aguinaldo. Her home now contains several galleries on her life and the significance of the flag she made more than a century ago.
ADVERTISEMENT - CONTINUE READING BELOW
The Agoncillo–Mariño House is at Agoncillo Street, Taal, Batangas.
Check out a 400-year-old well smackdab in the middle of a small town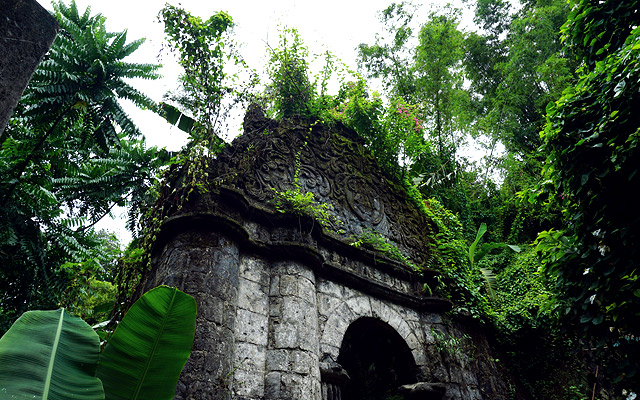 It may take some time to fully realize just how old Batangas is, but a visit to this 400-year-old-well might just cement that fact for you. Built way back in 1620, it was originally a church made in honor of Our Lady of Caysasay—whose story is just one example of the people's rich culture. Legend has it that in 1603, a fisherman captured a 12-inch image of the Virgin in his nets, which he then brought to the town's priests. The image was said to walk around the town and was often found at the well, prompting them to build a chapel there in her honor, which is now called the Shrine of Our Lady of Caysasay—yes, it still houses the image. They also built a marker over the well where it was usually found, now called the Banal na Pook or the Miraculous Wells of Sta. Lucia.
ADVERTISEMENT - CONTINUE READING BELOW
Our Lady of Caysasay is at Tagaytay Road, Agoncillo, Taal, Batangas.
Have lunch the way they did in the olden days
Apart from Taal's rich history, you can also experience Batangas through its food. The Goco Ancestral house is the perfect place to dine the way they did in the olden times: On heirloom tableware feasting on heritage dishes prepared by the family's cooks. Led by Pio Goco, whose grandparents Juan Cabrera Goco and Lorenza Deomampo built the house in 1876, the tour takes place mostly on your plate. They prepare special dishes like Adobong Dilaw, which is adobo cooked with turmeric to give it a bright color and vibrant flavor, and their Heirloom Bulalo, which has malunggay and misua. Don't miss their kapeng barako and tsokolate at suman; It's sure to be unlike any other version you've had before.
ADVERTISEMENT - CONTINUE READING BELOW
The Goco Ancestral home is at Marella Street corner Del Castillo Street, Taal, Batangas. Tours, which include other sites, start at P1,500 per person, minimum of six people. For more information, visit their Facebook page.
Share this story with your friends!
---
Help us make Spot.ph better!
Take the short survey
Load More Stories