(SPOT.ph) While October and November usually spell worsening Metro Manila traffic in due to the Christmas season, it also means colder weather and a season of wooly sweaters and colorful falling leaves in other parts of the world. Fortunately, you don't have to go on a long-haul flight to experience the best of autumn. Just four hours on a plane and you'll be touching down in Japan, where you'll find yellow and orange foliage everywhere you turn.  
Also read:
10 Cool Things You Can Do for Free in Osaka, Japan
10 Cool Things You Can Do for Free in Tokyo
10 Cool Stores to Check Out the Next Time You're in Tokyo
What to Buy When Shopping for Souvenirs in Tokyo, Japan
Want to know the best places to experience the beautiful colors of autumn in Japan? This list is for you:
Koishikawa Botanical Gardens (Bunkyo City, Tokyo)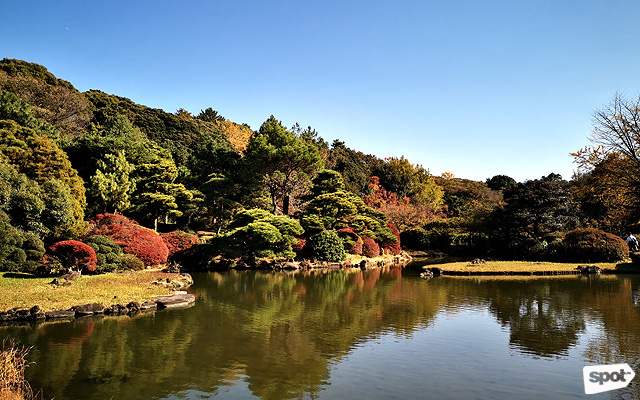 ADVERTISEMENT - CONTINUE READING BELOW
Whether you're walking or biking around Koishikawa Botanical Gardens, you won't just be met with beautiful fall foliage, you'll also be able to get up close with dried flowers and plants that add to the natural wonder of the season. You can observe how thousands of leaves change their colors during these months. And if you also find yourself in the area at the tail end of the season, you'll be able to jump around thick piles of leaves under rows of trees that are getting ready for winter.
Rikugien Garden (Bunkyo City, Tokyo)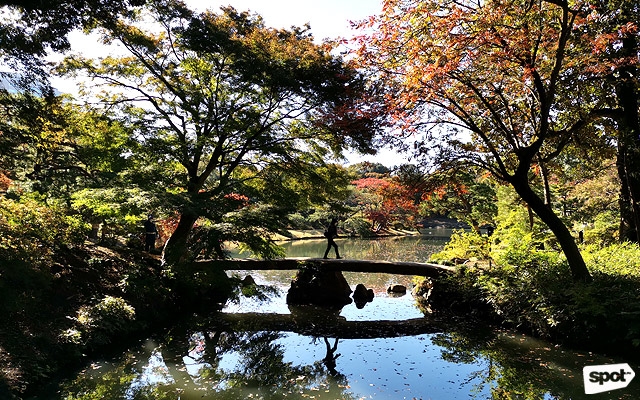 If you think autumn leaves are gorgeous during the day, head over to Rikugien Garden at night for a different view of fall foliage. The garden is all lit up at night during Autumn Evening Illumination in November. Go to Nakanoshima, the center of the garden where a small island of trees is illuminated to complement their autumn colors.
CONTINUE READING BELOW
Recommended Videos
Jingu Gaien Ginkgo Avenue (Minato City, Tokyo)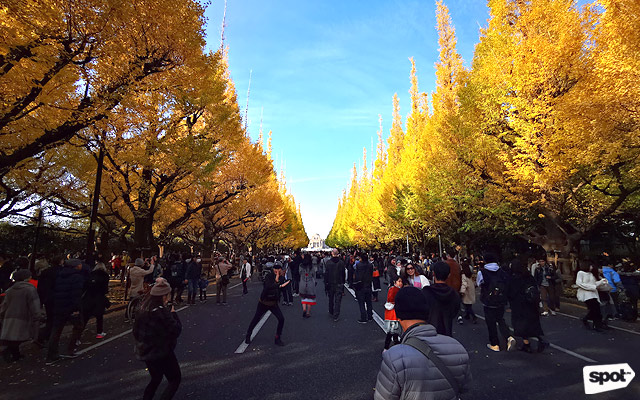 When we think of autumn, we usually think about multi-colored leaves, but Jingu Gaien Ginkgo Avenue is bathed with one color: yellow. The leaves of ginkgo trees that line this stretch of road turn gold or orange during autumn. It's already a sight to behold—stop and pick up a fallen leaf, and marvel at what looks like a flower's petal.
Kamakura (Kanagawa)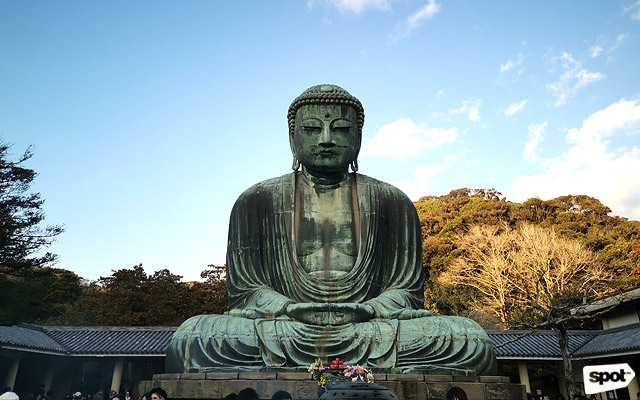 ADVERTISEMENT - CONTINUE READING BELOW
The historic city of Kamakura is known for its Buddhist temples and a rich heritage that makes it a great stop whenever you find yourself in Japan. Autumn adds a certain magic to the place as the trees change color with the seasons. The impressive Kamakura Daibutsu—an 11.4-meter bronze statue of Amidha Buddha, for example, is even more unforgettable against stunning fall colors.
Mount Takao (Hachioji City, Tokyo)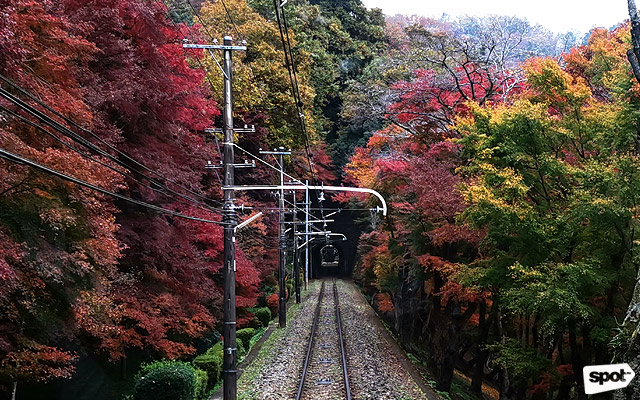 If you want to explore the outskirts of Tokyo, Mount Takao is a great place for a day trip. It offers many outdoor activities, from hiking and trekking to taking cable cars and al fresco dining options. Autumn is the perfect time to visit; not only is the weather cool and bracing, but you will also be surrounded by fall foliage covering the mountain as you explore the area and do outdoor activities such as hiking.
ADVERTISEMENT - CONTINUE READING BELOW
Osaka Castle Park (Chuo-ku, Osaka)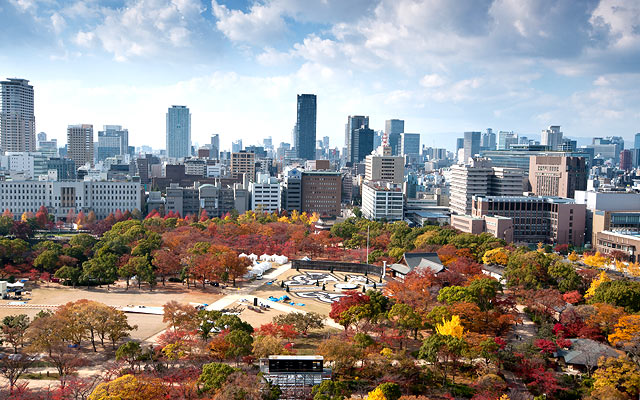 No matter the season, Osaka Castle Park is always a picturesque place. The surrounding park is laden with cherry blossom trees during spring that turn into beautiful fall foliage in October and November. The vibrant red, gold, and green leaves frame the beautiful castle and makes for a breathtaking view.
Arashiyama (Ukyo, Kyoto)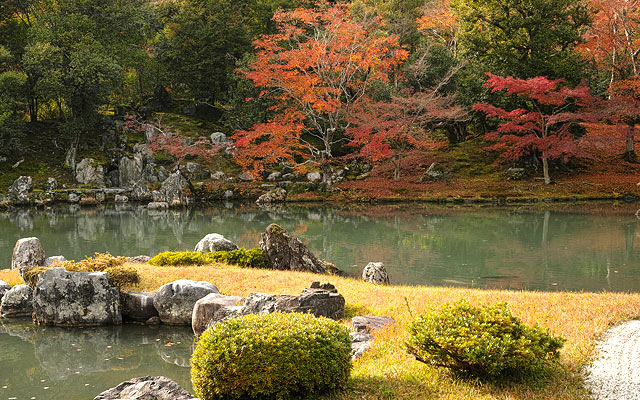 ADVERTISEMENT - CONTINUE READING BELOW
In the tourist hotspot of Arashiyama, the Togetsu-kyo Bridge may be the best place to enjoy the colors of autumn. It serves as a viewing deck for the mountain range that turns into crisp orange, yellow, and green during November. Even if you're elbowing your way through with so many tourists taking selfies, the cold weather and the guarantee that you won't run out of picturesque angles to take a photo make it worth a trip.
Iya Valley (Tokushima Prefecture)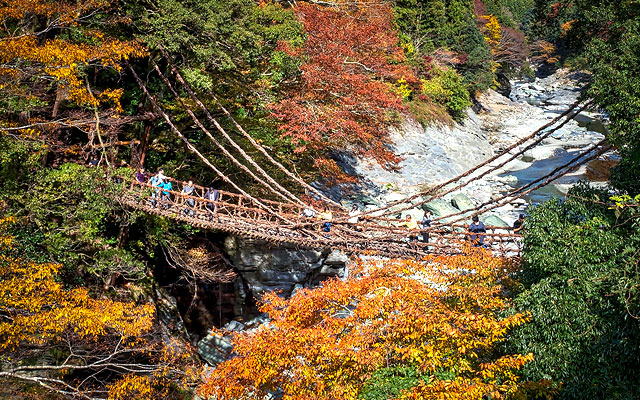 If you're looking for something a bit off the beaten path, Iya Valley on Shikoku Island is an hour and a half flight away from Tokyo. It boasts a beautiful view especially during autumn as well as thrilling activities to enjoy the season. Walk through a hanging bridge and be surrounded by autumn colors while getting a great view of the waters below. If a swaying bridge isn't enough to satisfy your adrenaline, you can take a wooden cable car that you have to manually pull to operate.
ADVERTISEMENT - CONTINUE READING BELOW
Chichibu (Saitama Prefecture)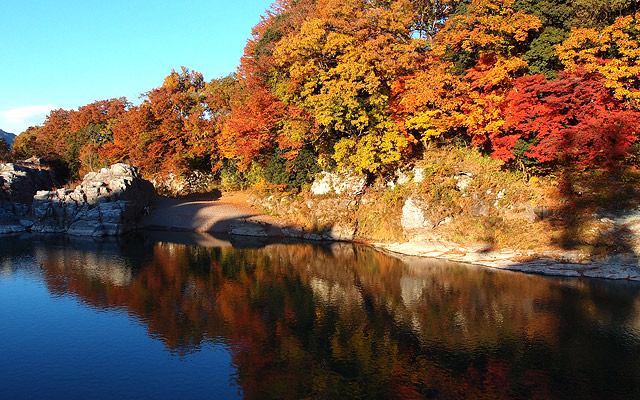 The entire month of November is Fall Festival in Chichibu, where you can enjoy the fall views not just during the day but also at night. During the Nagatoro Autumn Leaf Festival, you can see canopies of trees in rich red color that turn your usual visit to the park into an otherworldly experience. The Tsukonioshi Momiji Park, in particular, is dense with Japanese maple trees.
Nara Park (Nara Prefecture)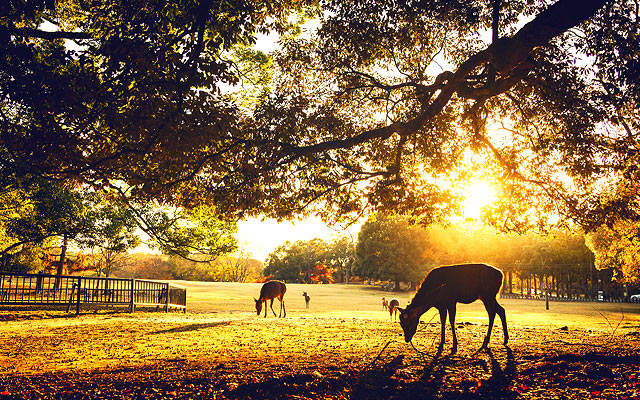 ADVERTISEMENT - CONTINUE READING BELOW
Nara City is famous for its free-roaming deer, and there's an abundance of them at Nara Park. What could be more fun than taking selfies with these cute creatures against gorgeous fall colors? Walk through the park towards the famous Todaiji and Kofukuji Temples and you'll be surrounded by trees that have changed color. Along with the cool air and the friendly deer, it will make for a pleasant and picturesque walk.
Share this story with your friends!
---
Help us make Spot.ph better!
Take the short survey
Load More Stories