10 Things You Can Do in Leyte Other Than Cross the San Juanico Bridge
From island-hopping to tracing historic spots.
(SPOT.ph) Think of Leyte and what comes to mind would probably be the fulfillment of General Douglas MacArthur's earlier promise: "I shall return." History has it that the U.S. officer left the Philippine shores via Corregidor after the Japanese successfully took hold of the country in 1942. Two years later, he landed in Leyte and made a radio broadcast to say: "People of the Philippines, I have returned!" The situation may be a whole lot different, but this Visayan province is really worth returning to by any traveler because of its diverse sights.
Also read:
10 Things You Can Do in Siargao Other Than Surfing
10 Things You Can Do in Albay Other Than Gazing at Mayon
10 Exciting Things to Do in Samar
Here's a quick checklist for how you can make your own Leyte landing worthwhile: 
Retrace historic World War II spots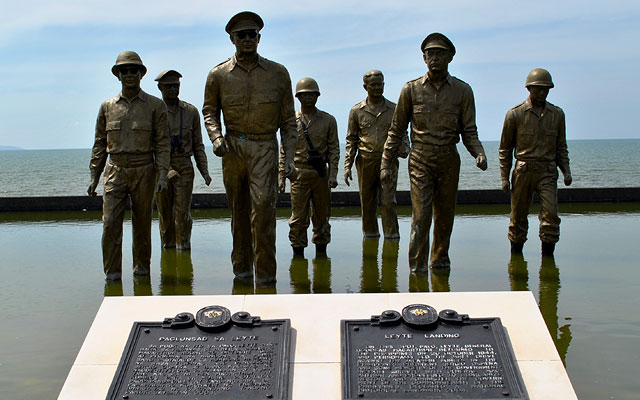 A must-see is the MacArthur Leyte Landing Memorial National Park, where you can find large bronze statues of the general and his troops—a depiction of the historic arrival of the Allied Forces in Leyte Gulf on October 20, 1944. Other significant sites are Tolosa beach, where boy scout Valeriano Abello helped direct U.S. artillery towards the Japanese troops, and Hill 120 in Dulag town where the American flag was first hoisted during the Liberation.
ADVERTISEMENT - CONTINUE READING BELOW
Make your way through Tacloban's heritage sites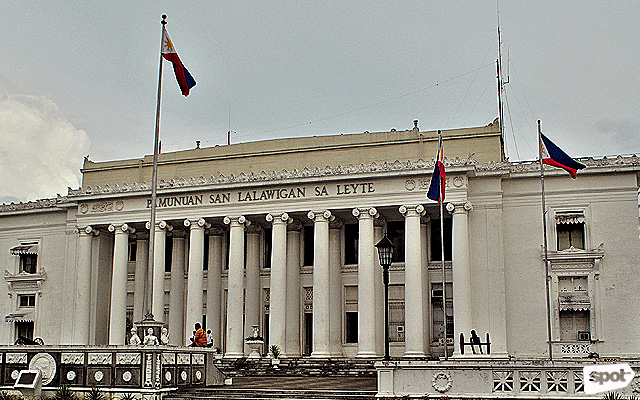 CONTINUE READING BELOW
Recommended Videos
Tacloban, the capital of Leyte, is dotted with spots which reflect its rich cultural heritage. Among these are the postcard-pretty Provincial Capitol Building and the Price Mansion, which figured in MacArthur's return; the Sto. Niño Shrine and Heritage Museum; the Sto. Niño Church, which houses the city's patron saint; and the MV EVA Jocelyn ship hull, which was swept onto shore when supertyphoon Yolanda hit the country in 2013.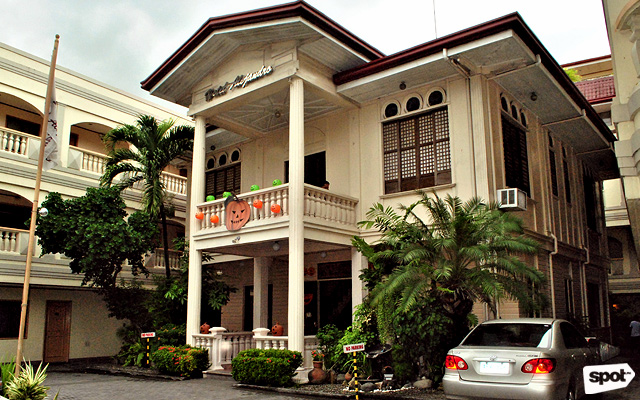 ADVERTISEMENT - CONTINUE READING BELOW
Hotel Alejandro, a former ancestral mansion, houses a mini gallery of vintage photographs and memorabilia pertaining to the Leyte Gulf Landings. The Madonna of Japan, also known as the "Peace and Friendship Monument," is a gift from the Japanese to the Filipino people to symbolize their shared hope for world peace. 
Cruise down San Juanico Strait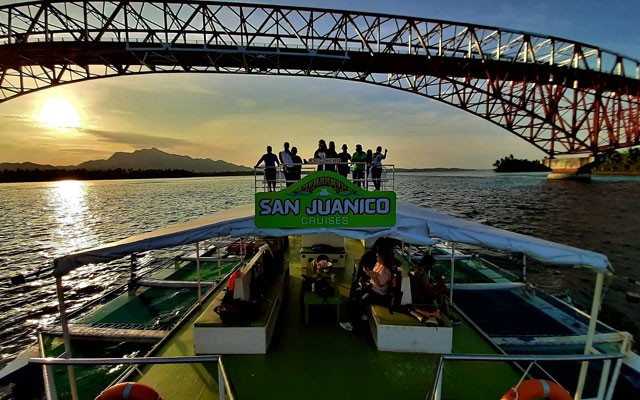 Hop aboard the Aqua Momentum boat, which takes you from the Leyte Park Hotel and down the San Juanico Strait. From the waters, you can take a majestic view of the two-kilometer San Juanico Bridge—the Philippines' longest bridge over a body of seawater. Enjoy some cocktails and a round or two of videoke to make the cruise more fun.
Indulge in local cuisine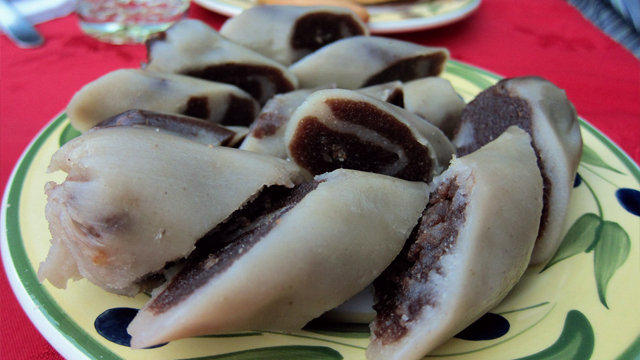 ADVERTISEMENT - CONTINUE READING BELOW
Sink your teeth into moron and binagol, two of Leyte's most popular sweet treats. The local version of the suman, moron is an elongated sticky-sweet rice cake? often with a chocolate filling, while binagol is a regional rendition of kalamay placed inside a coconut shell. Around Tacloban, among the must-try restos are Ocho Seafood Grill, Giuseppe's Italian-Filipino, The Little Green Kitchen's Village Chefs and Calle Z Cafe. For gourmet dining, The Oriental Leyte, the region's only four-star resort hotel, has a wide array of Asian and international cuisine. 
Go island-hopping in Kalanggaman, Cuatro Islas, and Canigao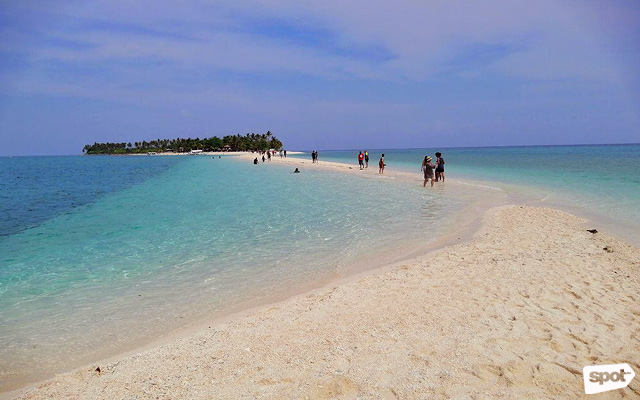 If beaches are your thing, bask in Kalanggaman Island in Palompon: consistently named among the country's most amazing sandbars, it boasts a powdery 200-meter sandbar, crystalline water, and rich marine life, making it ideal for scuba diving.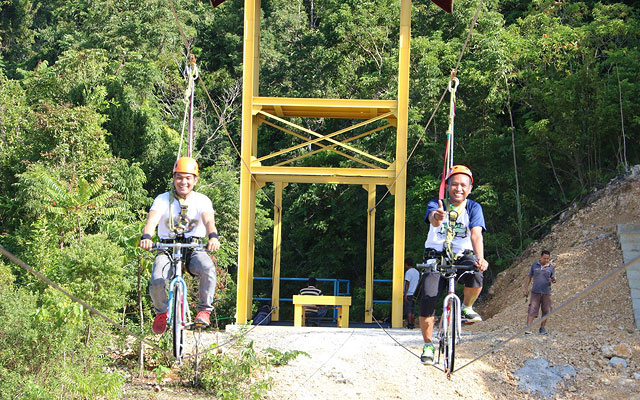 ADVERTISEMENT - CONTINUE READING BELOW
On the mainland, you can go on an adrenaline-pumping experience through a ride on a skybike and zipline at the Palompon Terrestrial Eco-Adventure Park. You can also go to Cuatro Islas in Inopacan and Canigao in Matalom to complete your tropical getaway. 
Take in the beautiful view of Lake Danao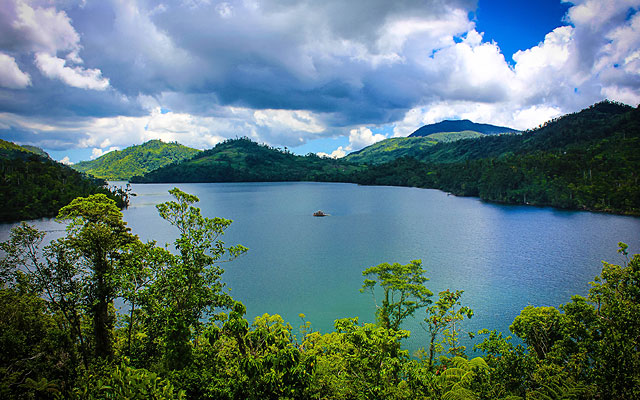 Known for its sweet-tasting Formosa pineapple, Ormoc City has a hidden natural wonder in the form of Lake Danao, a guitar-shaped mountain-top lake known for water sports like rafting and kayaking. At an altitude of 650 meters, the lake covers an area of 148 hectares in the heart of the lush 2,193-hectare Lake Danao Natural Park. 
Glide above the greens in Albuera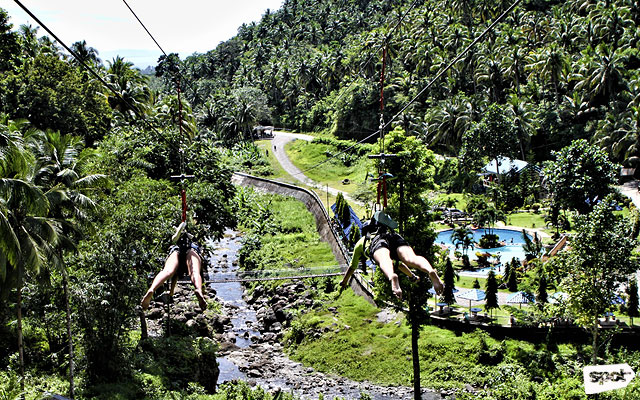 ADVERTISEMENT - CONTINUE READING BELOW
Albuera's claim-to-fame is the Sibugay Mountain Resort, a recreational adventure park located atop a mountain. It has a swimming pool, picnic gazebos, a river dam, and a 270-meter zipline, which will let you glide above lush greenery. Albuera also has some of the coziest beach resorts on this side of the Camotes Sea. 
Take a photo amid 16,000 flowers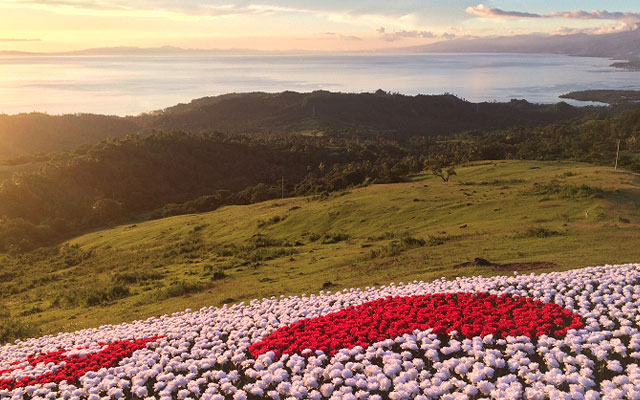 There's no better place to express your love for Leyte, specifically Baybay, than the city's highest point. Up to 16,000 red and white LED flowers spell out the phrase "I Love Baybay," which makes for perfect photographs. The eco-park has a commanding view of the outlying islands and a pavilion for musical and public events.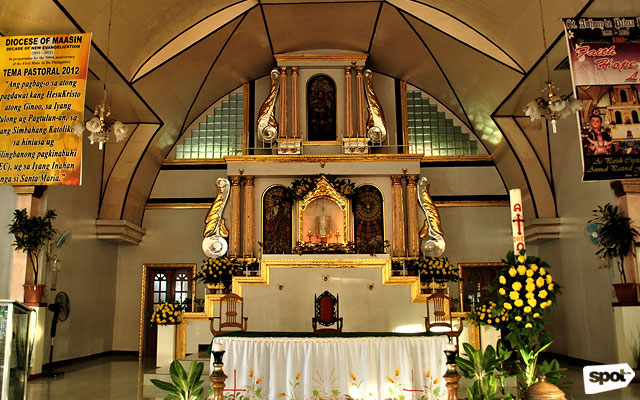 ADVERTISEMENT - CONTINUE READING BELOW
Baybay City takes pride in its ancestral houses and the Spanish-era Immaculate Conception Church. The city is also home to the Diocesan Shrine of San Antonio de Padua, which draws hundreds of thousands Catholic pilgrims annually. It is believed that the century-old image of the saint is miraculous.
Join the festival revelry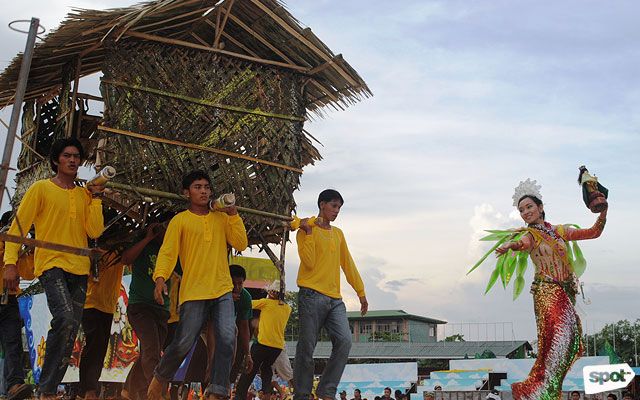 Kasadyaan is a province-wide celebration held in June which showcases all festivities across Leyte's municipalities. It is highlighted by the Pintados of Tacloban, a celebration of the pre-colonial tattooing tradition in the Visayas. Other noteworthy fests are Sangyaw of Tacloban, Binoyugan of Abuyog, Binaybayon of Baybay, Lawig of Palompon, and Pinya of Ormoc.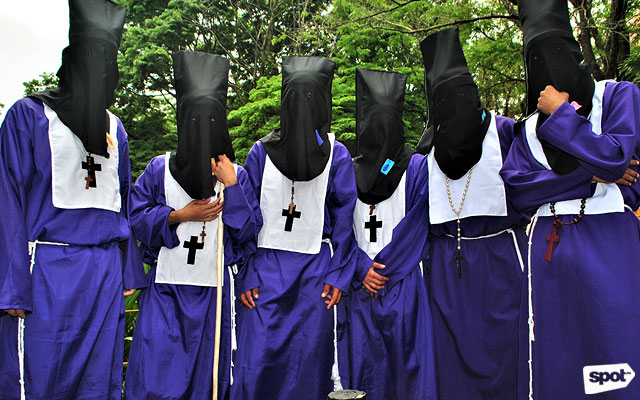 ADVERTISEMENT - CONTINUE READING BELOW
In Palo, there is a unique Good Friday tradition called the tais dupol, a group of barefoot penitents wearing Spanish-style capirote headwear and masks and a cenaculo reenacting the passion of Christ. Those with active lifestyles shouldn't miss the Abre Grande of Palompon in November, which features a 15-kilometer kayak marathon, a dragon boat race, a triathlon, and other sporting events. 
Explore the rest of Eastern Visayas
With a full-service airport located in Leyte, this province is a traveler's gateway to other tourist spots in neighboring Samar, such as Sohoton Cave and Natural Bridge in Basey, the Ulot River Torpedo Boat in Paranas, and Langon Gobingob Cave System in Calbiga. Down south in Southern Leyte, you can go scuba diving in Sogod Bay and marvel at the amazing underwater ecosystem and get a chance to swim with the butanding. Meanwhile, Biliran boasts countless waterfalls on top of white-sand beaches.
ADVERTISEMENT - CONTINUE READING BELOW
Share this story with your friends!
---
Help us make Spot.ph better!
Take the short survey
Load More Stories