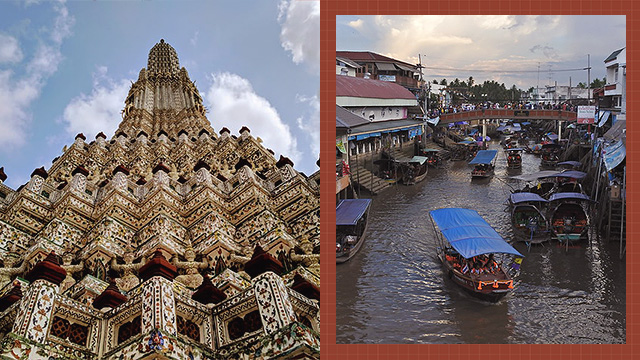 (SPOT.ph) It's not difficult to find something that will delight you in the Land of Smiles. Bangkok delivers, from the strange and occult to the romantic and luxurious—you and your long-term partner won't fail to find new ways to get to know each other all over again.
Also read:
10 Places to Visit in Taipei for Couples
10 Romantic Things to Do in Kuala Lumpur for Newlyweds
10 Places to Visit in Seoul With Your Significant Other
Here are things to do and places to visit in Bangkok for long-term couples:
Partake in the occult at Wat Mahabut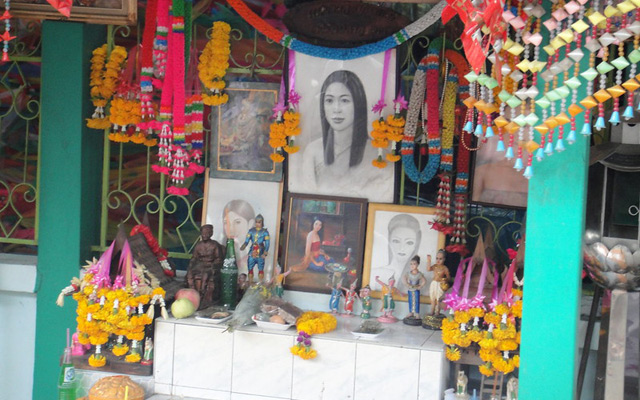 ADVERTISEMENT - CONTINUE READING BELOW
Whether you believe in destiny or think that divination is all good fun, the shrine of Wat Mahabut is thronged with fortune-tellers and astrologers who will offer you a bargain in exchange for a reading of your romance.
And if you're just in it for the kooky, Wat Mahabut itself is a shrine dedicated to Mae Nak, the protagonist of one of Thailand's most famous ghost stories. No one knows if her story is true, but that hasn't stopped people from praying to her anyway. Hers involves a military draft, death in childbirth, and spousal devotion that transcends death. You'll find a tree swathed in colorful tulle, various unsettling statues of Mae Nak, and a live video feed pointed at her main effigy. You can also buy her a dress; it's said that if you don't, your blessing will be taken away. 
The Mae Nak Shrine at Wat Mahabut is open 24/7 at 747 On Nut Soi 7.
ADVERTISEMENT - CONTINUE READING BELOW
Recommended Videos
Marvel at the local art museums
There are two museums in Bangkok that are must-sees for the artsy couple, especially if you're on a budget.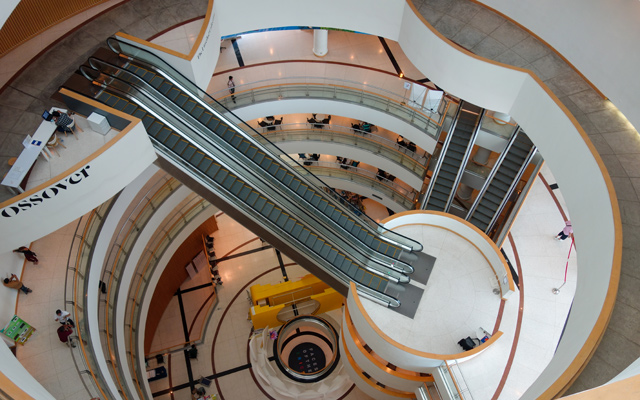 The first is the Bangkok Art and Culture Center, where the entrance is free—very generous, considering that the building itself is an architectural marvel with an interior reminiscent to the whorl of a shell. At the entrance, you'll be greeted by the giant white statue of a seated man with an elongated head. The exhibits are a mix of contemporary Thai art and international pieces, so you can explore at your comfort and pace. 
ADVERTISEMENT - CONTINUE READING BELOW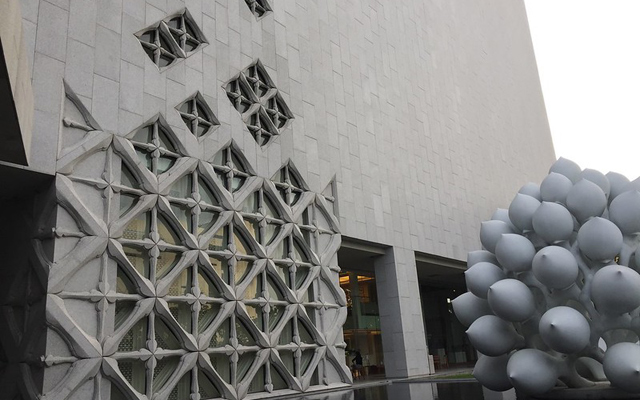 The second is the Museum of Contemporary Art, which comprises 800 contemporary artworks from the private collection of Boonchai Bencharongkul, which was amassed over a period of three decades. You'll find attention-grabbing sculptures, mood-setting abstracts, and beautifully colored depictions of Thai Buddhism. The Museum of Contemporary Art (MOCA) has a couple of very specific rules: Don't bring any ballpoint pens, inks, or paints to the museum; and if you're going to write or sketch, it should be with pencils in sketch pads or notebooks no bigger than 21 by 29.7 centimeters. Crowd size may also determine if you can continue sketching or not. The MOCA doesn't have WiFi, so don't expect to do any Instagramming on the spot—but this may be a blessing in and of itself, as you and your S.O. can be present in the moment and with each other.
ADVERTISEMENT - CONTINUE READING BELOW
The Bangkok Art and Culture Center is open from Tuesday to Sunday, 10 a.m. to 9 p.m. It's located at 939 Rama I Rd, Wangmai, Pathumwan. Visit Bangkok Art and Culture Center's website for more details.
The Museum of Contemporary Art is open from Tuesday to Sunday, 10 a.m. to 6 p.m. The address is 499 Kamphaengphet 6 Road, Ladyao, Chatuchak. Book your tickets ahead of time by sending an e-mail to info@mocabangkok.com or visit Museum of Contemporary Art's website.
Bask in Bangkok's famous sunset along Chao Phraya river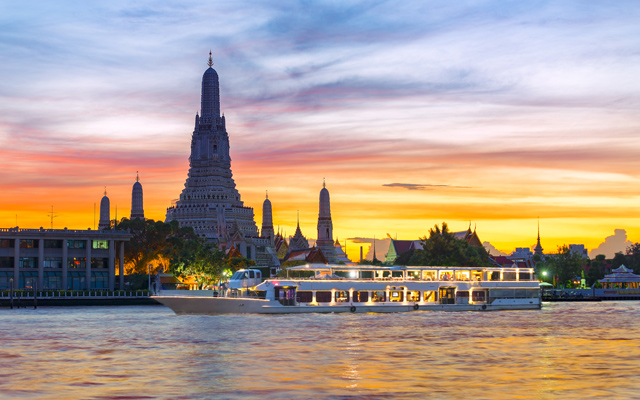 ADVERTISEMENT - CONTINUE READING BELOW
Each sunset is unique and there are countless ways to enjoy them along the Chao Phraya River (also called the River of Kings). It all depends on what you and your partner feel like doing. How about a river cruise complete with a banquet?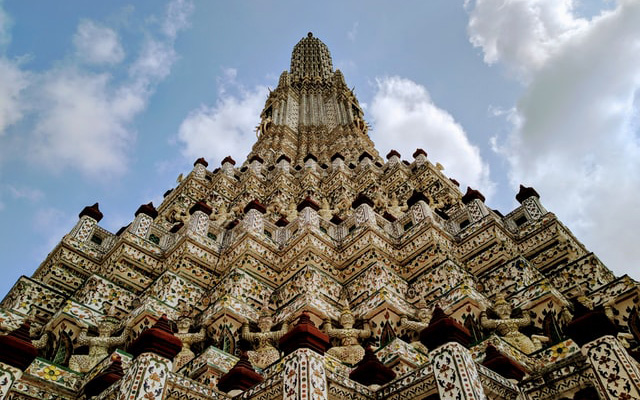 If you're looking for more wallet-friendly options, check out Wat Arun, a popular Buddhist temple on the west side of the river and climb to the top of the tallest prang. There, you and your S.O. will get a beautiful view not just of the Chao Phraya, but of Bangkok itself. Entry is 50 baht for tourists, but fair warning: this is not for those who fear heights or those who keep skipping leg days. Wat Arun itself is scenic for those fascinated with Buddhist architecture.
ADVERTISEMENT - CONTINUE READING BELOW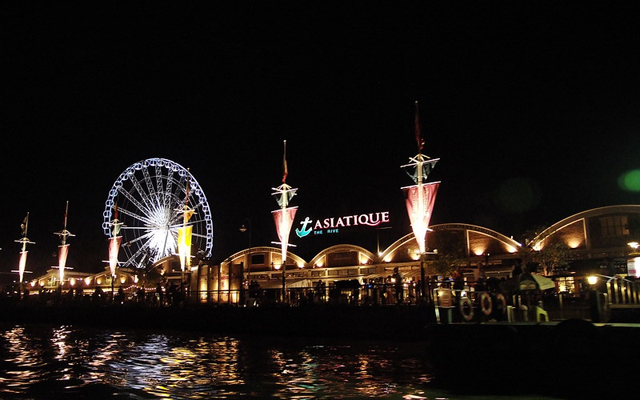 You could also head on over to Asiatique the Riverfront, a nighttime mall along the river that also happens to host the best ladyboy show in Bangkok at the Calypso Cabaret. But leave that for later, if you and your love feel like taking it in. The sunset is best enjoyed while having authentic tom yum goong soup at one of the Asiatique's many restaurants' outdoor dining areas. The best part is, nothing like a little river breeze to cool you down in the humidity.
ADVERTISEMENT - CONTINUE READING BELOW
Wat Arun is open every day from 8:30 a.m. to 5:30 p.m. Find it at 158 Thanon Wang Doem, Wat Arun.
Asiatique the Riverfront is found at 2194 Charoen Krung Rd, Wat Phraya Krai, Bang Kho Laem. It's open from 4 p.m. to 12 a.m.
Have a fairy tale time at Magic Land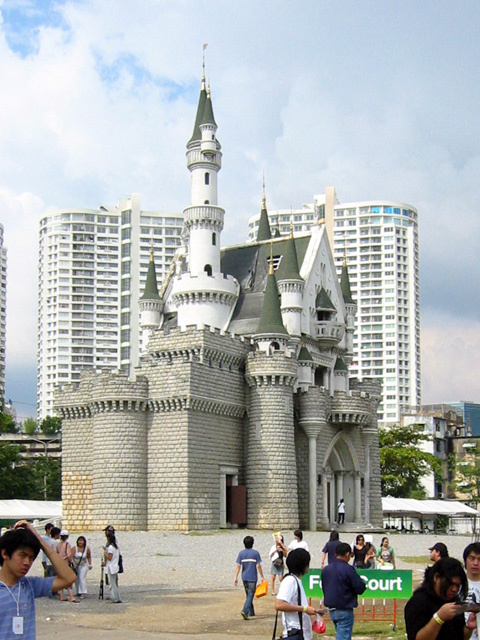 ADVERTISEMENT - CONTINUE READING BELOW
Can't go to Disneyland? That's fine, there's a Sleeping Beauty-style castle in Bangkok where you and your love's fairy tale dreams can come true instead. A former amusement park called Magic Land ("Dan Neramit"), this castle is now an Instagrammable memorial where you can spend a fun afternoon go-kart racing. You two might also end up visiting during one of the many events held against this fairy tale backdrop.
Visit the former Dan Neramit at 1096, 1 Phahonyothin Rd, Chom Phon, Chatuchak. Open every day, from 1 p.m. to 9 p.m. from Monday to Friday, and 10 a.m. to 9 p.m. from Saturday to Sunday.
Work out together at a free public aerobics class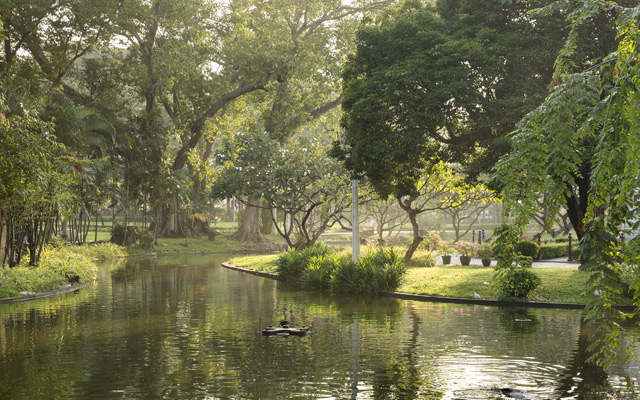 ADVERTISEMENT - CONTINUE READING BELOW
Nothing like working out in nature to bring out each other's sense of fun (and perhaps competitive best)! Saranrom Park is just across the Grand Palace and the Wat Pho temple complex; it's the scene of a huge evening aerobics class that's free for all to attend. However, if you and your love prefer something more intimate, there are areas for weightlifting and table tennis. Just watch out for the monitor lizards!
Saranrom Park is open from 5 a.m. to 8 p.m. Find it at Charoen Krung Rd, Khwaeng Phra Borom Maha Ratchawang, Khet Phra Nakhon, Krung Thep Maha Nakhon. 
Get a couple's Thai massage at Wat Pho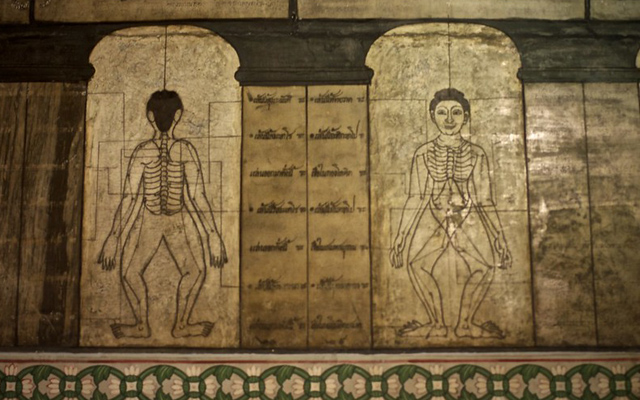 ADVERTISEMENT - CONTINUE READING BELOW
Across the street from Saranrom Park are the Grand Palace and the Wat Pho temple complex. If people go to Saranrom to get their blood pumping, they go to Wat Pho to relax.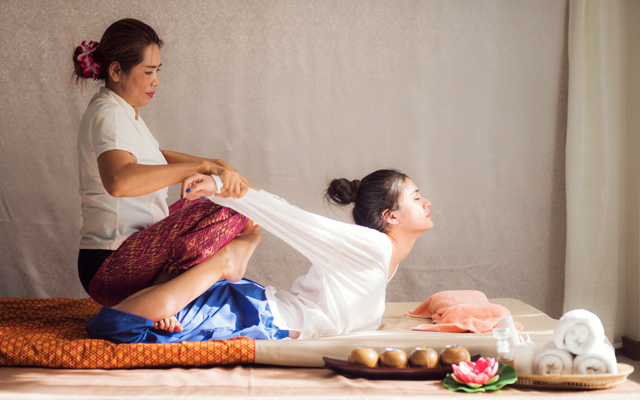 Yes, most people go to the Wat Pho temple complex to see the 150-foot reclining gold-leaf Buddha and the wonderful pagoda-punctuated skyline. Maybe even for the bowlful of coins that you can toss into the 108 bronze bowls for your wishes. But Wat Pho—once a university—is now known as a traditional medicine and wellness center. It's also where the best massage school in Thailand, the Wat Pho Massage School, is situated. If you and your love have never tried a Thai massage before, you can't go wrong with a one-hour session at the Wat Pho massage pavilion on the premises for 480 baht. Thai massages are more about stretching than working on knots, so come in stretchy clothes. It's recommended to book ahead of time because this area is often crowded. 
ADVERTISEMENT - CONTINUE READING BELOW
Also, since the Wat Pho complex contains revered images, remember to dress appropriately. That means no off-shoulder blouses or shorts above the knee. 
Visit Wat Pho at Maharat Road, Phra Nakhon. Open seven days a week from 8:30 a.m. to 6:30 p.m., with massages available until 6 p.m. For more details on the massage, visit the Wat Pho Thai Traditional Medicine website.
Learn the ancient Chinese way of scuba diving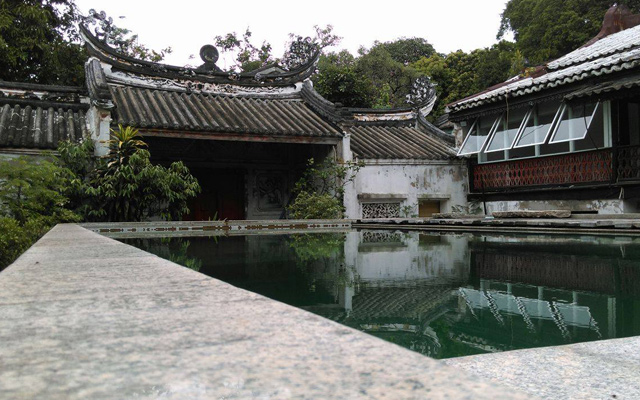 ADVERTISEMENT - CONTINUE READING BELOW
Nothing like learning something new with a partner—all the more when the knowledge is gained in a secret historical gem. We bet thousands have walked past the So Heng Tai Mansion without realizing that this 1800s Hokkien-style mansion in the heart of Rattanakosin houses a diving school. Within the mansion is a four-meter-deep pool where one of the descendants of the original family is cultivating his 24-year passion for teaching diving. If you both like to be in the water but the beach isn't appealing to either of you, So Heng Tai Mansion is the place to go without ever leaving Bangkok. Just call ahead to book a session.
Visit the So Heng Tai Mansion at 282 Soi Wanit 2, Khwaeng Talat Noi, Khet Samphanthawong, Krung Thep Maha Nakhon. Visit their Facebook page for details.
Eat at one of the many themed cafés
Are you and your S.O. foodies? You're in luck because Bangkok has a thriving themed café scene—and there is truly a range of the places you and your significant other can go food tripping at.
ADVERTISEMENT - CONTINUE READING BELOW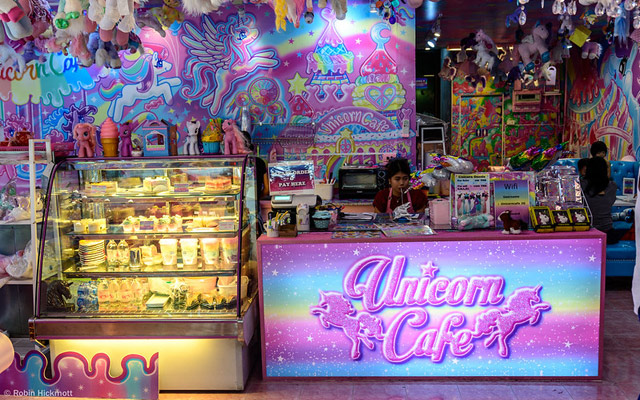 Unicorn Café looks as if Lisa Frank threw up pastel pinks and purples on the cakes and the walls. Expect to sample rainbow-hued pastries and drinks among a forest of unicorn plushies hanging from the ceiling. If either one of you wasn't already a fan of unicorns before this visit, you will be afterward.
ADVERTISEMENT - CONTINUE READING BELOW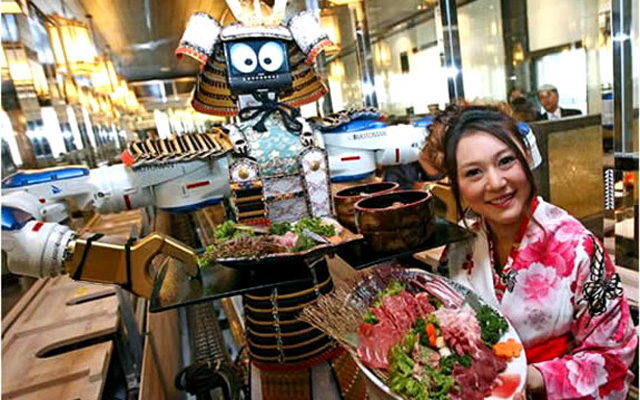 Meanwhile, Japan has come to Bangkok in the form of Hajime Robot Restaurant. Their specialties are shabu-shabu and yakiniku, and they will be served to you by a smiling robot that will also bust a move every half hour.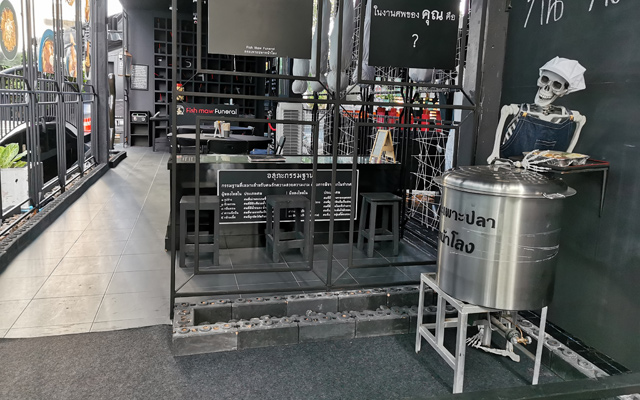 ADVERTISEMENT - CONTINUE READING BELOW
Lastly, there is the Kid Mai Death Awareness Café. You read that right—a death-themed cafe, but not in a gothic sense. The cafe, created by a Thai university professor for his Ph.D. thesis on how to do away with greed, is meant to make you more aware of your mortality from the death-themed dessert drinks (with names like "Painful," "Born," "Elder," and "Death") to the actual coffin by the tables. You are encouraged to spend three minutes inside the coffin, wherein you'll end up thinking about what it's like being dead (although you can refuse if it gives you the creeps). Those who lie in the coffin for three minutes are given a 10% discount on the cafe's food offerings and encouraged to write about their experience in Kid Mai's "death awareness" notebook. Now if you're wondering how could this be in any way romantic, you're guaranteed to be thinking about spending more time showing your significant other how much you love them. How's that for a date?
ADVERTISEMENT - CONTINUE READING BELOW
Unicorn Cafe is located at 44/1 Soi Sathon 8, Silom, Bang Rak. It's open from Tuesday to Sunday, from 12 p.m. to 8 p.m. 
Hajime Robot Restaurant is located at 27 Rama III Rd, Khwaeng Chong Nonsi, Yan Nawa. Open daily from 11 a.m. to 10 p.m.
Kid Mai Death Awareness Cafe is located at 1191 Phahonyothin Road, Samsen Nai, Phaya Thai. Open daily from 9 a.m. to 6 p.m.
Score bargains at the markets
Going to a market is one of the most affordable and educational ways to soak in a foreign culture, and Bangkok just happens to have a plethora of unique markets for you and your other half to go bargain hunting in.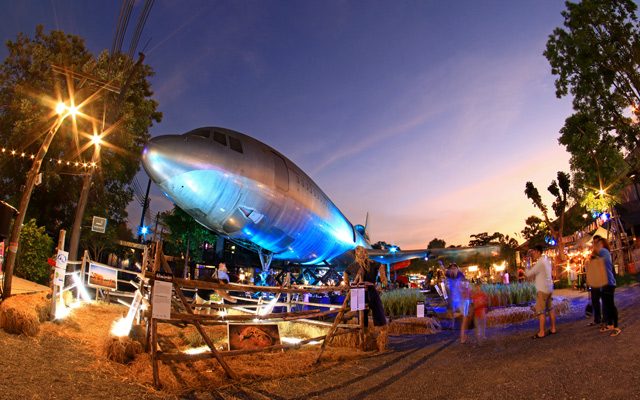 ADVERTISEMENT - CONTINUE READING BELOW
Chang Chui Plane Market was built around one centerpiece: a huge, decommissioned aircraft. It's a creative park, designed for many uses, and built for a more upmarket crowd. There are two zones: the green zone (open from mid-morning to late evening) and the night zone (open from late evening to the wee hours). The green zone features goods you might find at more mid-level shops and a food court with an elevated ambiance that makes no-fuss dishes feel extra special. The night zone, the only part of the Chang Chui where you can get alcohol, is truly for the night crowd. Craft beers and live performances are just some of the things and experiences on the offer.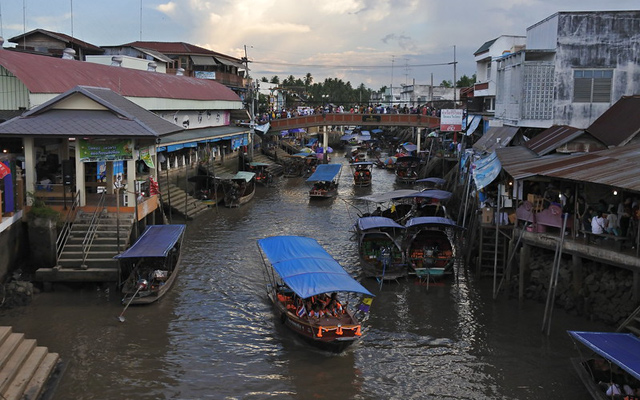 ADVERTISEMENT - CONTINUE READING BELOW
Last but not least, for a more authentically Thai experience, you may have to go outside Bangkok. Check out Amphawa Floating Market, which will delight seafood lovers. If you happen to be allergic to seafood, desserts of the sweet and sticky variety are plentiful here. While it's smaller than the more famous Damnoen Saduak and about 90 kilometers from Bangkok, tourists throng this Amphawa less. You can take this market in by walking along the banks or taking a boat ride; Amphawa also comes recommended for its evening firefly boat ride tour. Shops are both situated on the banks and in the boats themselves.
Visit Chang Chui Plane Market at 460/8 Sirindhorn Road, Bang Phlat. Open every day except Wednesdays, opening hours are from 11 a.m. to 11 p.m. on weekends and 4 a.m. to 11 p.m. on Mondays, Tuesdays, Thursdays, and Fridays.
Come to Amphawa Floating Market at Amphawa, Amphawa District, Samut Songkhram. Open Friday to Sunday from 10 a.m. to 9:30 p.m.  
ADVERTISEMENT - CONTINUE READING BELOW
Have a heart-to-heart in a swan boat ride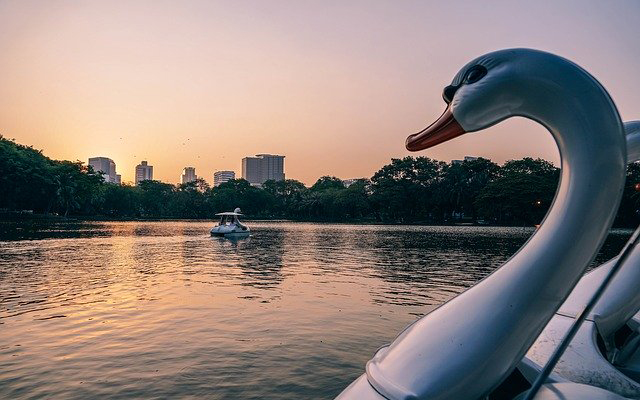 Do you feel perhaps that, thanks to the busyness of life, you and your partner haven't had a chance to have a deep, engaging conversation? Well, there isn't a better place to get to know each other all over again than on a swan boating excursion in Lumphini Park. And if, for some reason, it's hard to find something to talk about at first then there's an astounding array of wildlife to ogle at on the banks of the river, from turtles to monitor lizards (don't worry, they won't attack). Renting the boat costs 40 baht per hour, and you will need to put down an 80-baht bond. 
ADVERTISEMENT - CONTINUE READING BELOW
Visit Lumphini Park at Rama IV Road, Lumphini, Pathum Wan District. Open every day from 4:30 a.m. to 9 p.m.
Share this story with your friends!
---
Help us make Spot.ph better!
Take the short survey
Load More Stories