(SPOT.ph) 2019 left most of us with empty wallets, and for good reason: it was a big year for international musicals, local plays, and a whole lot of reruns. We were at awe when the curtains opened for The Phantom of the Opera and Cats, rewatched Ang Huling El Bimbo and Eto Na! Musikal nAPO! as if it's our first time, and made sure that we worked out our weekend schedule for back-to-back shows. As we start another theater season, we look back at the plays and musicals that were worthy of our time and money. 
Disclaimer: This list is not ranked.
Also read:
Theater Preview: 10 Plays and Musicals to Watch in 2020

Here are 10 theater plays from 2019 that deserve a standing ovation (and, maybe, even a restaging):
Stop Kiss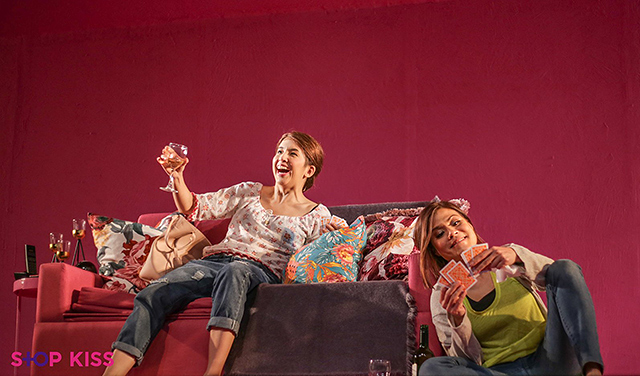 ADVERTISEMENT - CONTINUE READING BELOW
Jumping back and forth between the past and present wasn't a problem in Ed Lacson Jr.'s direction of Diana Son's 1998 play Stop Kiss. It is told in non-chronological order, unfolding subtle-but-butterfly-in-stomach moments that lead to the first kiss between Callie (Missy Maramara) and Sara (Jenny Jamora). (It's kilig until it's not. There was a lot of stifled sobs from the audience in between scenes.) 
But more than Lacson's innovative set design and Son's carefully laid out dramatic structure, this production of Stop Kiss was made even more powerful by the actresses—who, by the way, starred in the same play 16 years ago. The scene with two simultaneous timelines was probably the most heart-wrenching performance delivered by these two gems in Philippine theater. 
Stop Kiss opened in July at Power Mac Center Spotlight in Makati City.
Every Brilliant Thing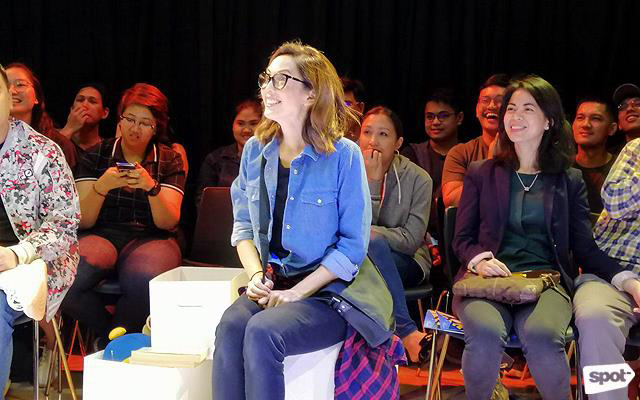 ADVERTISEMENT - CONTINUE READING BELOW
Recommended Videos
Teresa Herrera's brilliant portrayal as Angela in Duncan MacMillan's Every Brilliant Thing was more than enough reason to sit through the 90-minute monologue that sparked discussions on mental health. The audience laughed, cried, and went through a whirlwind of emotions as Herrera's character listed down a million things that make life worth living. It was highly interactive, too—reminding us of the way we need to be when dealing with all of life's issues: involved and connected. The Sandbox Collective has also created a safe space for everyone at the Zobel de Ayala Recital Hall, where the audience members freely spoke about mental health during the talkback after every show. 
Every Brilliant Thing opened in March at BGC Arts Center in Bonifacio Global City. 
Angels in America: Millennium Approaches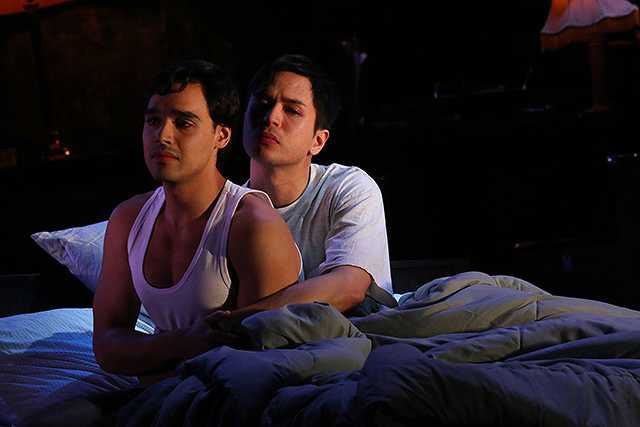 ADVERTISEMENT - CONTINUE READING BELOW
Three hours of Angels in America: Millennium Approaches was well worth everyone's money and time during its run. Topper Fabregas gave so much life to the dying Prior Walter that you just know there is no one else in the local theater scene who could take on this character this well. His trademark mannerisms—the twitching nose and flicking fingers—combined with his ability to easily shift from a terminally ill yet optimistic HIV-positive patient to an enraged yet pining lover, left everyone enthralled. There was a big cliffhanger—Angels in America is a two-part play, after all, and we can only hope that Atlantis Theatrical will stage the second segment in Manila very soon. 
Angels in America: Millennium Approaches opened in March at the Carlos P. Romulo Auditorium in Makati City. 
Lam-ang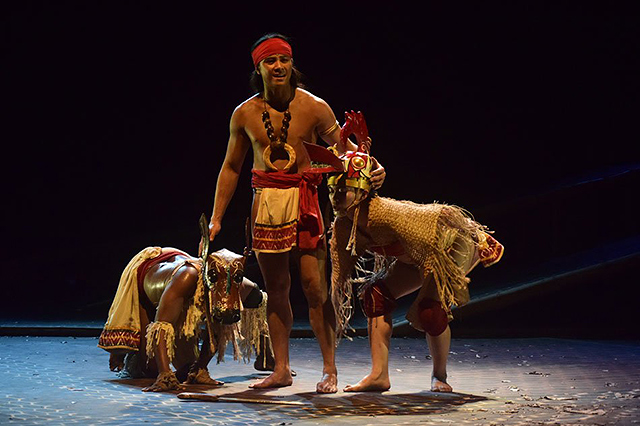 ADVERTISEMENT - CONTINUE READING BELOW
Lam-ang's limited run left audience asking for more; and wishes came true after Tanghalang Pilipino announced a restaging of the ethno-epic musical based on the Ilocano legend Biag ni Lam-ang in August 2020. Much to be applauded is the set design by Marco Viaña, who also served as co-director alongside Fitz Bitana. Habi Iloco was incorporated in almost everything, from the costumes and props to the overall stage design inspired by a weaving table. JM Cabling's choreography and TJ Ramos's music were instrumental in transforming Tanghalang Aurelio Tolentino into Lam-ang's battleground. 
Lam-ang opened in December at the Cultural Center of the Philippines in Pasay City. 
The House of Bernarda Alba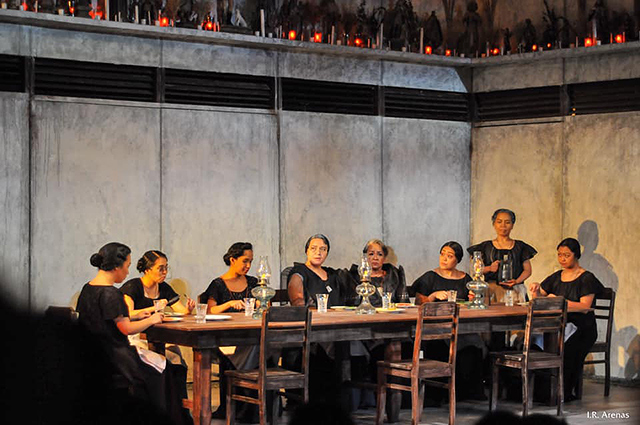 ADVERTISEMENT - CONTINUE READING BELOW
Offstage, Dulaang Unibersidad ng Pilipinas' The House of Bernarda Alba had its share of controversy after late dictator Ferdinand Marcos' daughter, Irene Marcos-Araneta, stepped on the UP campus grounds to attend the opening night. The irony isn't lost on us: this 1936 play penned by Federico Garcia Lorca is a cautionary tale of what unreasonable demands and fascism can do inside a home, the basic unit of the society. It tells the story of five daughters who rebel against the oppressive matriarch Bernarda, played by Gigi Escalante, who gave an outstanding performance for the Filipino version of the same play, Ang Tahanan ni Bernarda Alba. 
The House of Bernarda Alba opened in September at Wilfrido Ma. Guerrero Theater in the University of the Philippines - Diliman. 
Coriolano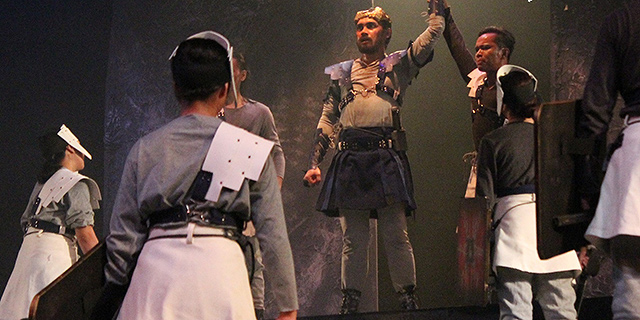 ADVERTISEMENT - CONTINUE READING BELOW
The success of Tanghalang Pilipino's Coriolano ultimately relied in Carlos Siguion-Reyna's masterful direction. From start to finish, audience members felt the intensity of its criticism of a system that favors personality over principles and a society that is easily manipulated by the government that represents it. Guelan Luarca's translation of the rarely staged Shakespearean play was also one for the books, as its register of the Filipino language elegantly relays the downfall of the soldier-turned-tyrant while still being relatable and conversational. 
Coriolano opened in February at the Cultural Center of the Philippines in Pasay City. 
Spring Awakening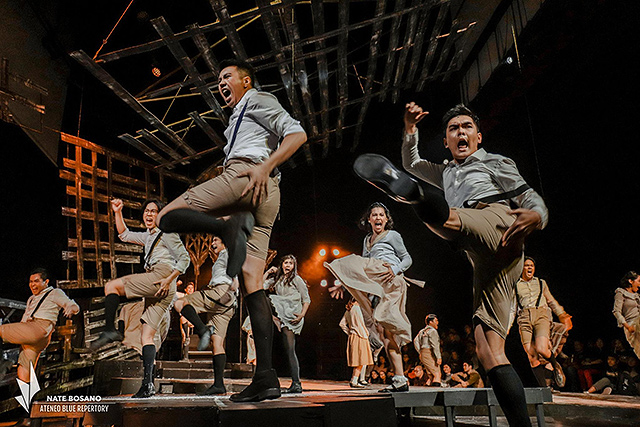 ADVERTISEMENT - CONTINUE READING BELOW
Ateneo Blue Repertory surprised everyone with an outstanding staging of alternative rock musical Spring Awakening by Duncan Sheik and Steven Sater. Director Missy Maramara led the group into a standing ovation-worthy performance, which matched the themes of teenage rebellion and sexuality with explosive choreography. The chosen set was also a welcome break from the usual, with rustic beams and floors designed by Ohm David and lights by Miyo Sta. Maria. 
Spring Awakening opened in March at Ateneo de Manila University's Areté in Quezon City. 
Anak Ka Ng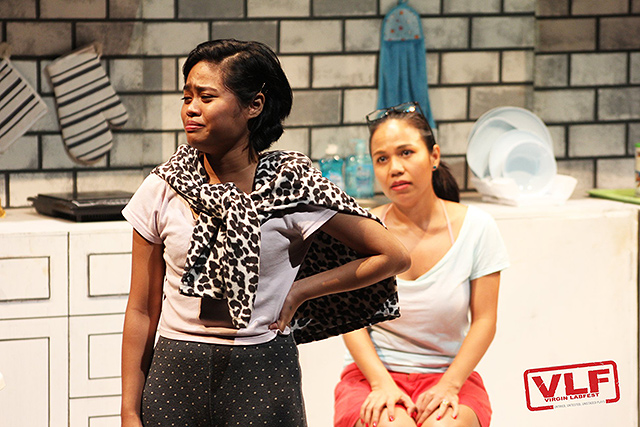 ADVERTISEMENT - CONTINUE READING BELOW
Krystle Valentino (as Pina) and Skyz Labastilla (as Connie) starred in U.Z. Eliserio's Anak Ka Ng, which is directed by Maynard Manansala. For a good 40 minutes, the audience was pulled into the dysfunctional mother-daughter relationship between the two characters. While both grieving the death of the man of the house, they are separated by the facts that Pina grew up without a mom and that Connie struggled abroad to provide for her family. It was a story filled with laughter and tears, and most of all—the sad truth behind families of OFWs. 
Anak Ka Ng was part of the Virgin Labfest 15, which opened in June at the Cultural Center of the Philippines in Pasay City. 
Nana Rosa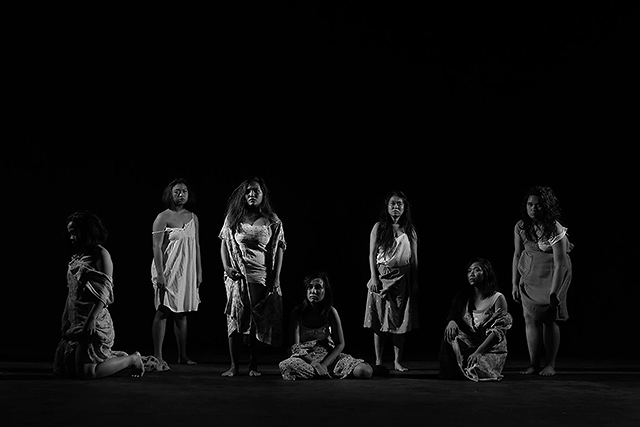 ADVERTISEMENT - CONTINUE READING BELOW
Immensely haunting, Rody Vera's Nana Rosa is a painful retelling of the struggles, injustices, and abuses done to Filipina comfort women by the Imperial Japanese Army during World War II. The story's poignancy lies in the symbolism of how we, as a nation, deal with the ghosts of the past—most especially the battle that is yet to be won by the Filipina victims of the war. And yet it still evokes a feeling of liberation, making one realize the things that need to be let go of but should not be forgotten. 
Nana Rosa opened in February at Wilfrido Ma. Guerrero Theater in the University of the Philippines - Diliman. 
Laro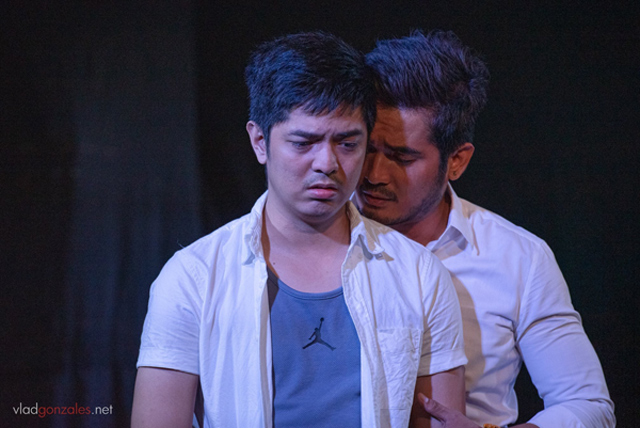 ADVERTISEMENT - CONTINUE READING BELOW
With the issues surrounding the legalization of same-sex unions, the passage of the anti-discrimination bill, and "praying the gay away," the restaging of Floy Quintos' Laro couldn't have come at a better time. It explores different kinds of relationships by presenting permutations and combinations of the 10 characters, from a callboy looking for true love to an aged philanthropist who'd rather be jaded than heartbroken. Though the story calls for an all-male cast, the themes transcend gender, social class, and religion. And maybe that's what living this life is all about—love, respect, and kindness.
Laro opened in June at Arts Above in Quezon City.
Share this story with your friends!
---
Help us make Spot.ph better!
Take the short survey
Load More Stories